Integrate Radio extension and stream audio content 24/7 in the app.
Important!
If your app is already live in the Stores and you are about to add Audio content for the first time, your app will need to be resubmitted. In that case, please contact our Support team.
How to add Radio screen to your app
Go to Screens → press the + button → search for Radio in the pop-up window → click on it to add it as one of the screens of your app.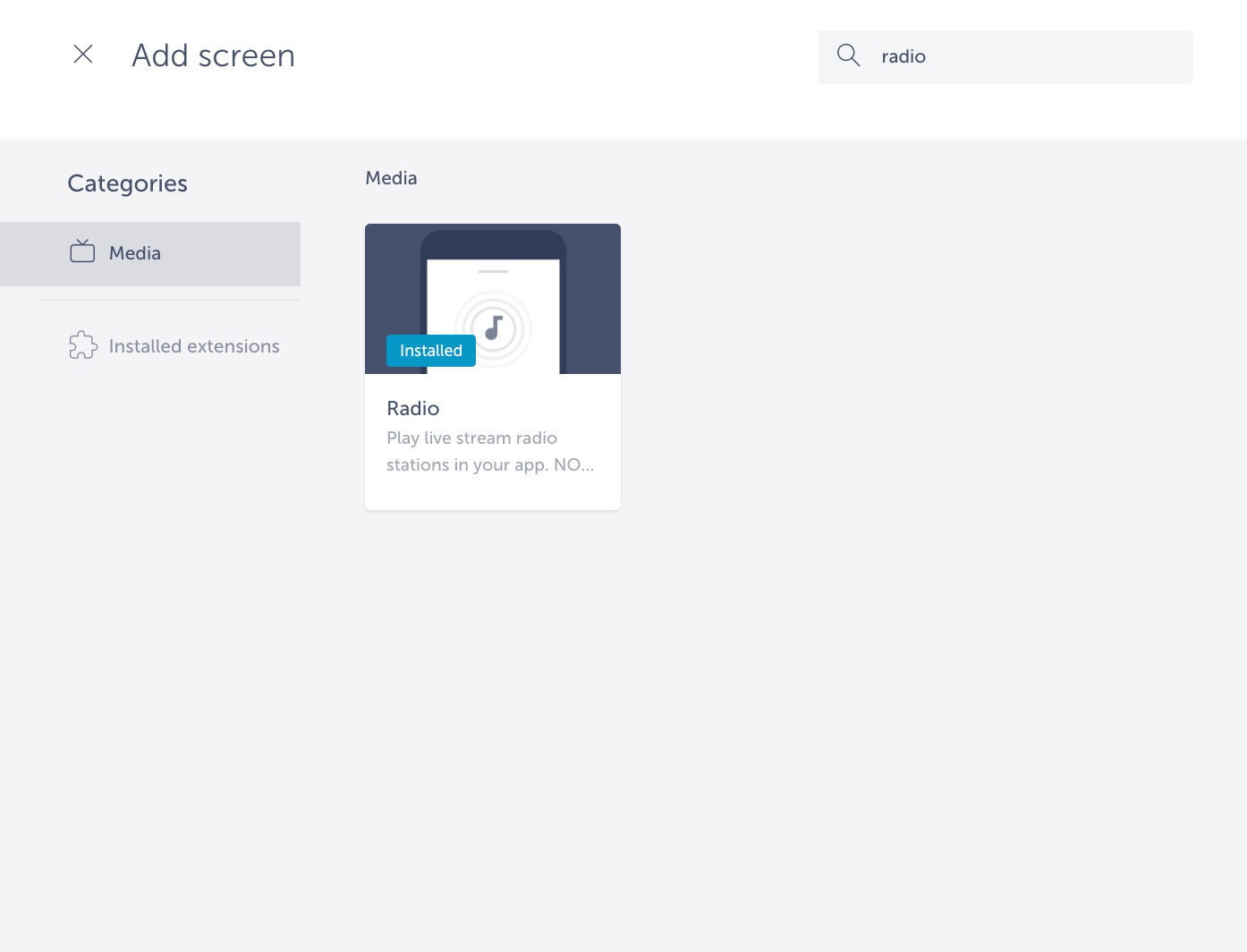 If you don't have it installed yet, you will be prompted to do so beforehand.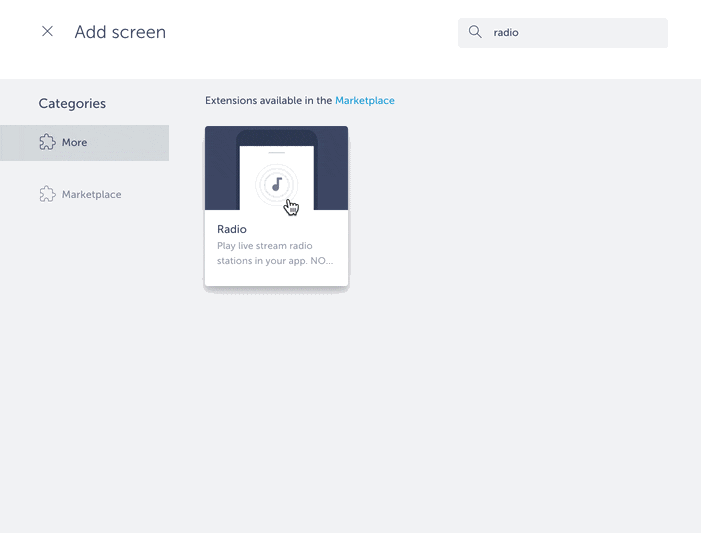 Radio settings options
Settings consist of:
Background Image URL


– Only static image formats are supported (e.g. PNG, JPEG)


–

Minimal size of the screen background is 750×1136

Navbar Title
–

This title will be displayed in the Main Navigation area in the app and the optimal length is up to 36 characters

Stream URL
–

Place a direct link to your stream and make sure it is not a link to some online web-based radio player

Stream Title
–

This title will be visible only while your stream is playing

Sharing option
When this is enabled, in the navigation bar area share button will appear. Your app

users will be able to share your Stream URL outside the Shoutem App via native

options offered by their mobile devices (e.g. SMS, e-mail, WhatsApp messages, Viber messages, Facebook, etc)

.
How Radio screen looks like in the app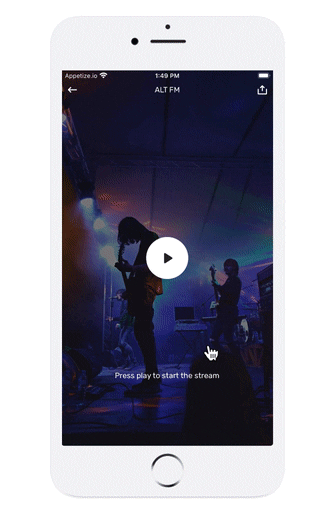 What happens when I lock my mobile device?
Your radio stream will continue to work in the background until you completely close the app. While the mobile device is locked, these audio controls will be present.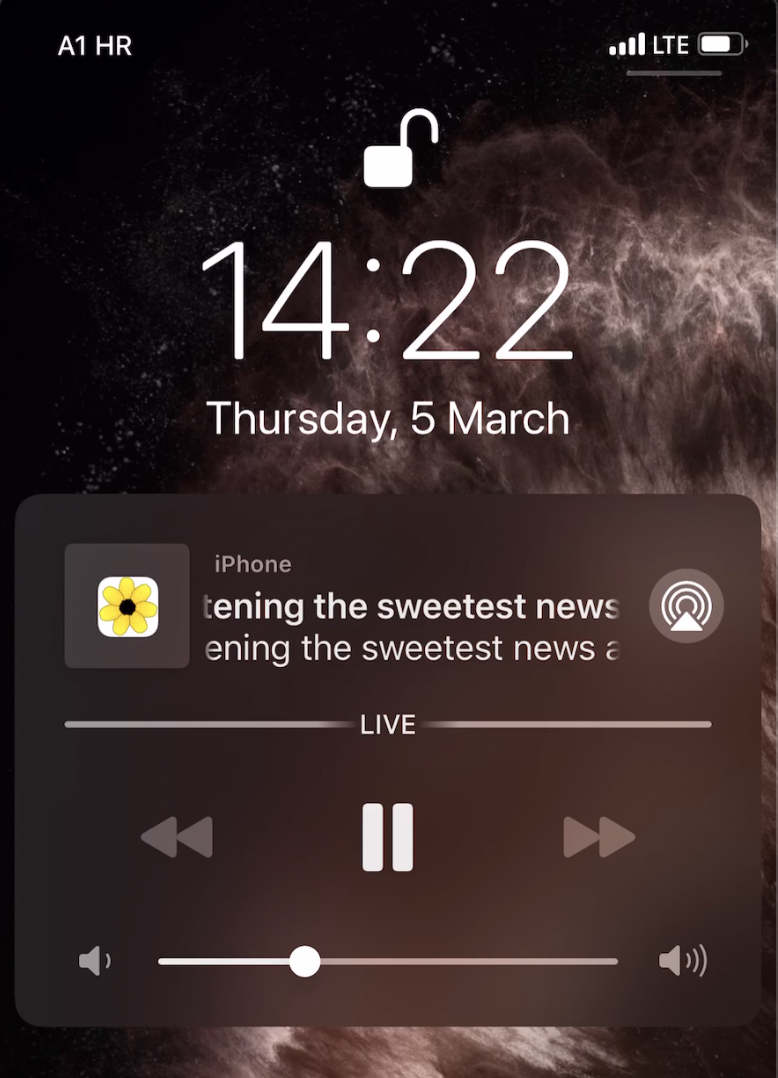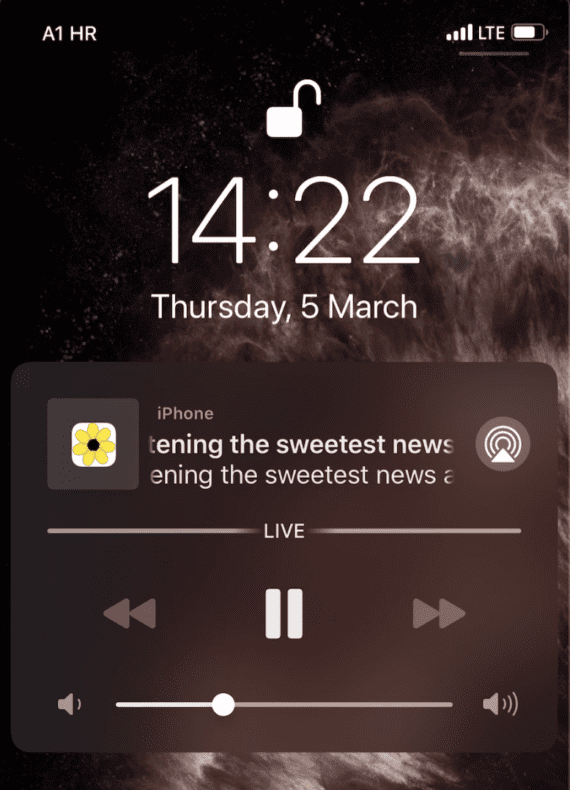 In one Radio screen, only one stream can be added, that is why you can't navigate through your streams with back and forth controls, but only Play and Pause.
Which stream formats are supported?
Radio extension is developed with React Native's track player, so mostly all regular streams are supported – plist, M3U, XSPF, MP3, m4a, mp4, etc. If you are not sure if your stream is supported, we strongly advise you to test drive the feature using our Shoutem Preview app for Android.
Why can't I hear my radio stream while previewing the app in the builder?
This behavior is intended since our preview is not a real device and doesn't have technical capabilities to play audio files.
Can I stream radio while connected to a different device via Bluetooth?
Yes! You can play the audio on headphones or speakers via Bluetooth.
For Apple Family only – By using Apple's amazing AirPlay feature you can listen to radio from your Shoutem app across multiple compatible speakers.
If you will need more information about Radio feature, contact us at support@shoutem.com.