Screenshots in the Apple App and the Google Play Store are visually communicating with the app users, so it is important to provide nice images of your app in the best quality.
These screenshots need to showcase your app, highlight the features it brings, and functionalities.
For that reason, we have provided you an option to take screenshots in the builder using our simulator devices. Another best thing is you don't have to worry about the appropriate screenshot size, our Store metadata page will make sure the screenshots are in the required size.
In this article, we will introduce to you how to make nice screenshots of your app.
Simulator devices
We have two simulator devices in the builder, iPhone XS Max, and iPhone 8 Plus. You can easily switch the preview as showcased in the following video.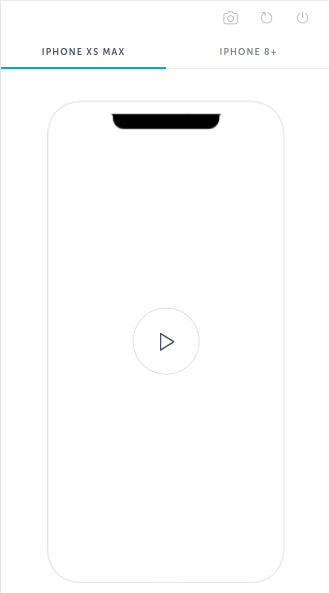 How to capture screenshots?
Option 1. Take screenshots and save them on your computer.
If you would like to re-use your app's screenshots and create nice designed templates, click on the Camera icon and screenshots will be downloaded automatically.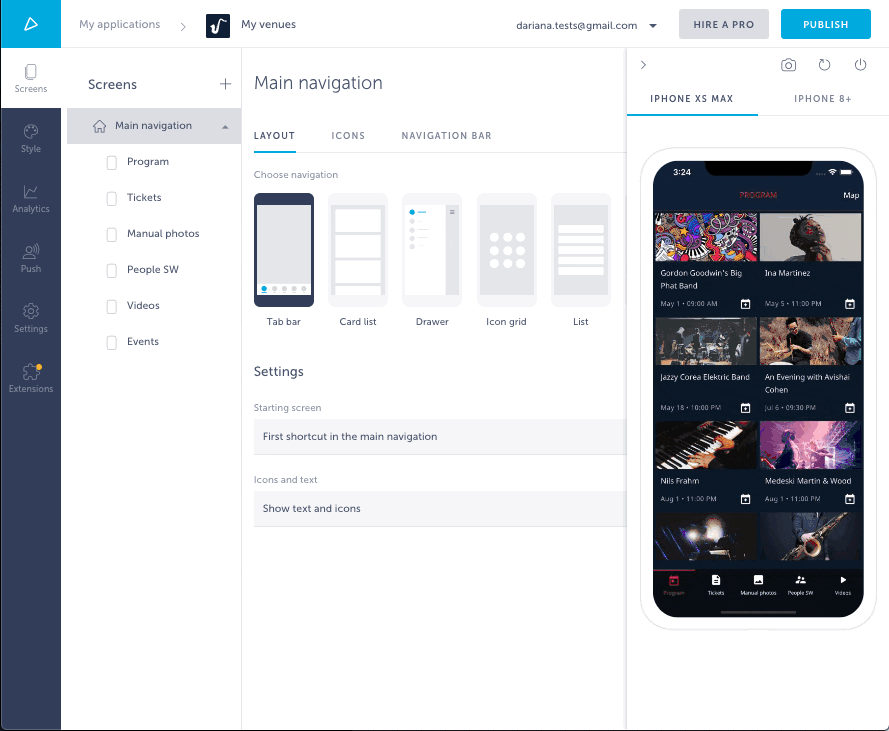 Option 2. Take screenshots and upload them automatically in the Screenshots image area.
After taking a screenshot, the builder can automatically save in the Screenshots area. For this to work, start the preview simulator.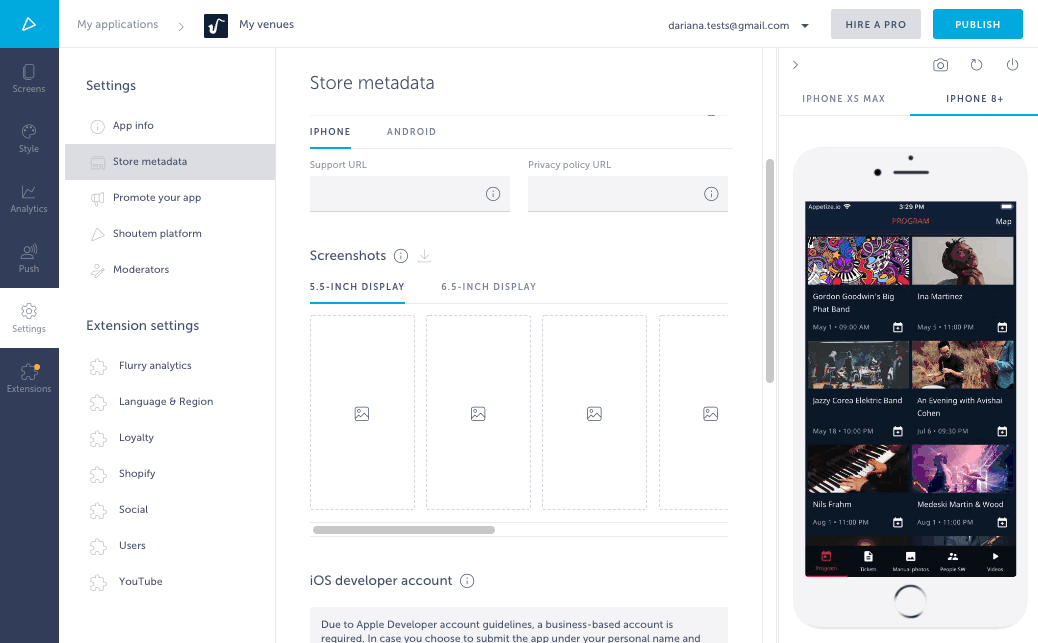 Apple App Store Screenshots
As you probably already know, they have strict guidelines everyone needs to follow in order to have app distributed via their App Store.
Having plainly designed graphics with no app indications and its features might result in rejection. With that being said, we strongly advise you to take this seriously and give some time to create your screenshots. They require two sets:
Screenshots for 6.5-inch devices iPhone XS Max
Screenshots for 5.5-inch devices (iPhone 6S Plus, iPhone 7 Plus, iPhone 8 Plus)
In the builder under Settings > Store metadata iPhone tab, we have provided two screenshots galleries for each set.
Using iPhone XS Max and iPhone 8 Plus simulators, you can create nice quality visuals of your app. Have in mind if screenshots have any Android-related indications, there is a high chance the app would be rejected.
Google Play Store Screenshots
For screenshots of your app's Android version, it would be nice to have screenshots created on an Android device using our Shoutem Preview app.
If that would be too much work in transferring images from your Android mobile device to your computer, and then uploading to the Android Store metadata section. You can use the iPhone 8 Plus simulator device in the builder, and create screenshots right on spot in the builder.