Create an App for Your Online Store with Shoutem's eCommerce App Builder
Quickly and easily launch your brand into iOS and Android app stores using Shoutem's no-code app builder.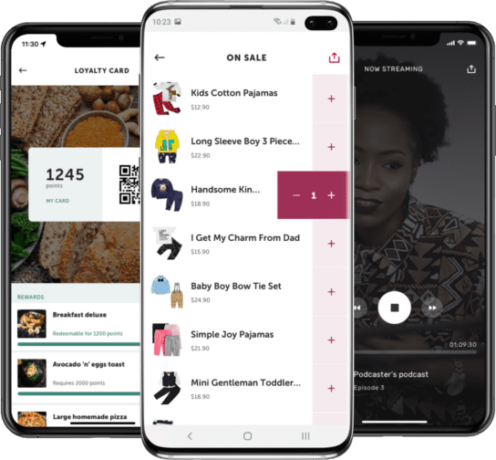 Shoutem's eCommerce App Builder Meets Every Need
Having a mobile app for your online store is more than just a nice-to-have; it's a smart way to connect with customers and grow your business.


Boost Brand Awareness
Implement strategic SEO techniques to find new customers as they browse the Apple App Store and Google Play Store.
Keep Shoppers Engaged
Send push notifications or special offers to app users when new products launch, or just to maintain customer engagement.
Promote Conversions
Shoutem apps provide a great customer experience, allowing shoppers to find what they want, complete the sale, and boost your conversion rates.
START YOUR FREE TRIAL
Create Your Own No-Code eCommerce App in 4 Steps
Shoutem makes building an eCommerce app effortless. No coding knowledge required!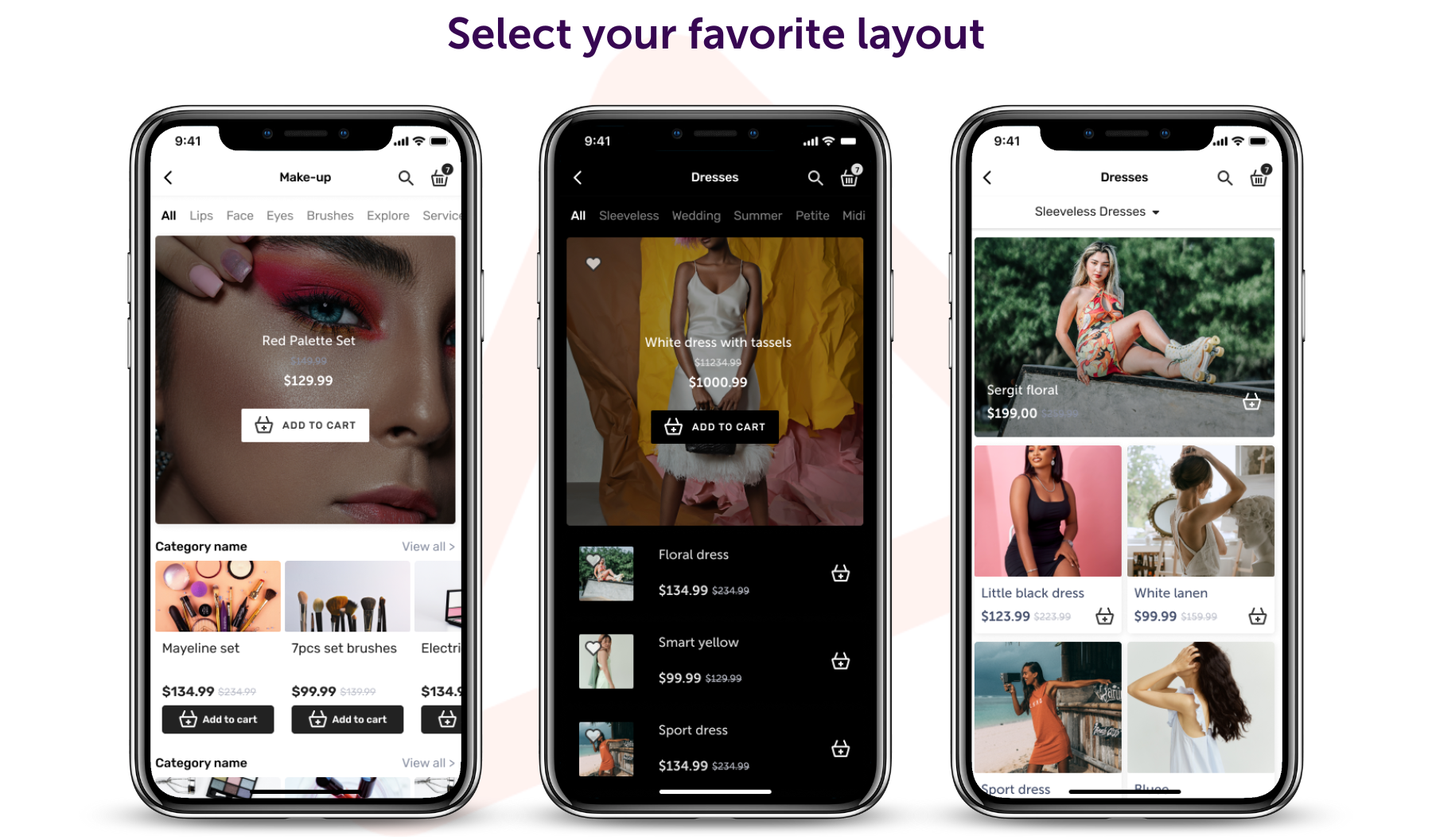 1
Pick a Template
Choose one of several app templates that best suits your needs, or opt to start from scratch. (We recommend the 'Products App' template.)
2
Choose a Layout
Set your preferred navigation, functionality, and visual design preferences. If you'd like, you can customize colors, fonts, alignment, and other settings.
3
Add Features
Simply click the 'Add' button for your favorite pre-built eCommerce features, then drag-and-drop to its spot in the app navigation.
4
Publish the App
Hit the 'Publish' button, draft app store descriptions, and our support team will publish your app to the Apple App Store and/or Google Play Store for you.
Why Choose Shoutem's eCommerce App Builder
You have choices when it comes to building your app. From hiring a developer to using an online tool, Shoutem isn't the only choice … but it is the best one. Take a look at everything Shoutem brings to the table.
Create an App in Days With No Coding
Building an app yourself using a no-code app-building tool can be done in just days or hours, with zero coding knowledge required. To date, our customers have built more than 10,000 apps – all of them compatible with both Android and iOS – without using a single line of code.
You can either start from scratch or use one of our robust templates to minimize the upfront work and analysis paralysis. Shoutem's drag-and-drop app builder employs pre-built eCommerce templates that automatically include a wide variety of done-for-you features.
From there, you can add and delete screens as necessary, modify your navigation bar, choose how to display information within each screen, select from hundreds of icons, preview changes, and more.
Additional easy options let you brand your app so it looks like you went the high-end development route. You can upload content or listings in bulk, preview and test using our built-in preview tool, and easily publish your finalized mobile application to the app store with professional assistance.
With high-octane features such as offline mode, discreet monetization options, and more, Shoutem truly offers it all under one umbrella.
Instantly Integrate with Shopify, WordPress & More
If you're looking to create a mobile eCommerce app, chances are you're already running an online business. This isn't your first rodeo, so you're going to need options that integrate with the eCommerce platform(s) you're already using.
Shoutem is up to the task. We offer pre-built integrations with Shopify and WordPress, as well as an in-app purchasing system: IAPHUB. Each is easy to set up, and again, there's no code needed. Here's integration at a glance:
Shopify: Once you've set up all your collections and listings within your Shopify store, all you have to do is create an app within the Shopify dashboard. Go and grab that Storefront access token and install the extension into the Shoutem app builder.
WordPress: Running your shop using the WordPress engine? Not a problem; it's just as easy to upload content by adding WordPress to your Shoutem app in its own screen.
IAPHUB: If you're starting up a new shop using Shoutem, you can use IAPHUB to offer memberships, subscriptions, and in-app purchases to customers. These options are all gated within protected app screens, so no one who hasn't paid for access can get to them.
Once set up, your eCommerce app will connect to and communicate with your online store. It's as easy as that!
Build Out App Content in Moments
Ready to get your new eCommerce app up and running fast? We're here for that, which is why we offer several ways to upload and build out your app content in minutes, including:
Bulk upload all site content to your app through .CSV file uploads.
Use RSS feeds to push new content from your online store directly to your app, the moment it's published.
Add photos, videos, pages, text descriptions, and more to your app through our well-rounded screen categories: commerce, media, content, users, and more.
Name, rename, and delete screens as needed.
Style your newly added content with options such as tap bars, card lists, drawers, icon grids, lists, tile grids, and more.
Clone apps to recreate your app structure whenever you create a sister site.
In addition to building out app content the first time around, you can update content easily whenever you need to and see your changes easily using the preview tool.
Sound like a lot? Not to worry … Shoutem offers a huge range of photo and step-by-step text tutorials to cover every aspect of building out your app content.
Pre-Built, User-Friendly App Templates
Our selection of pre-built app templates make it possible for anyone to create an app while protecting app user experience. You really can't go wrong! With user interfaces that are already tested and approved by real people, you can maintain complete confidence that users will be able to use your app easily and effectively.
Among our many app template options is one that's dedicated specifically to products. That means you'll get all the best eCommerce features and tools, in one place, laid out and optimized for you.
Whether you're in the arts, a retailer or reseller, or a purveyor of materials, you'll find Shoutem's product templates easy and customizable with a series of basic setup steps:
Choose a navigation style.
Stick with the default features (products, designers, videos, photos, and events) or customize them to your liking.
Set up feeds and processes to upload products and content in easy batches.
Finalize your template optimizations, then preview them using our in-app preview tool.
Upload to Google Play and the App Store when ready!
Support for Several Payment Gateways
At Shoutem, we proudly integrate with a number of payment gateways to ensure your customers find it easy and accessible to buy from you. The most popular payment methods today include:
Apple Pay and Google Pay: Both of these platforms allow users to pay for in-app purchases, subscriptions, memberships, and products within your eCommerce app. They are simple, and buyers usually already have them set up on their mobile devices before they even install your app, making it even easier to take payment.
PayPal: Trusted by users around the world, PayPal allows you to take payments online in numerous formats and currencies. Your users won't have to struggle to put through their payment and get your product in return.
Credit cards: Users frequently save their credit card information in their mobile wallets, making it easier than ever to complete purchases directly within your Shoutem app.
Stripe: With billions of annual transactions, Stripe is one of the most trusted payment gateways in the eCommerce world. Its specifically designed for retailers, helping you take payment both online and – should the need arise – in person.
Amazon Pay: With Amazon Pay, customers can experience convenience and security in making payments from the comfort of their couch, car, office, or favorite coffee shop.
If you use these and want to know more about how Shoutem can emulate their functionality with our user-friendly payment systems, just ask.
Integrated Budget Dashboard & Analysis
As an eCommerce business leader, you need to know that your app is successful in helping drive sales, and that your customers are able to use it effectively.
Shoutem's interactive dashboard shows monthly sales and budget analyses on a daily, weekly, or monthly basis. You can log in any time and run the numbers on your sales, ensuring you're attracting enough people and sticking to your budget.
This gives you a chance to update your forecasts, correct any overspending, tweak your marketing approach, and manage your funds wisely. Many app builders leave you guessing, but Shoutem's intuitive budget dashboard will fill in the blanks even for the non-accountants out there.
Always-Available Customer Support
It takes a village to raise an app. When you can't figure out how to do something, Shoutem offers multiple channels for customer support, so you're never lost for long. These include:
Email support: With fast replies to all your questions, Shoutem can support you right through your inbox.
Tutorial videos: If a picture is worth a thousand words, a video is worth a thousand pictures. We've got a huge range to get you going.
Step-by-step how-to articles: Need a handy textual guide so you can take your time? We've got them.
Shoutem peer community: Other users have answers, and we make it easy to talk to them.
The full-service team: Want premium access to us? You can hire our full-service app creation team for a fraction of the cost of traditional app development.
Start-to-finish support, today and every day.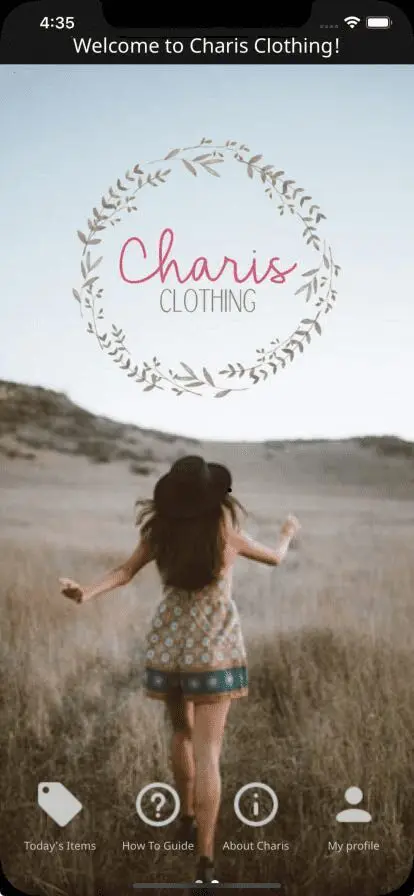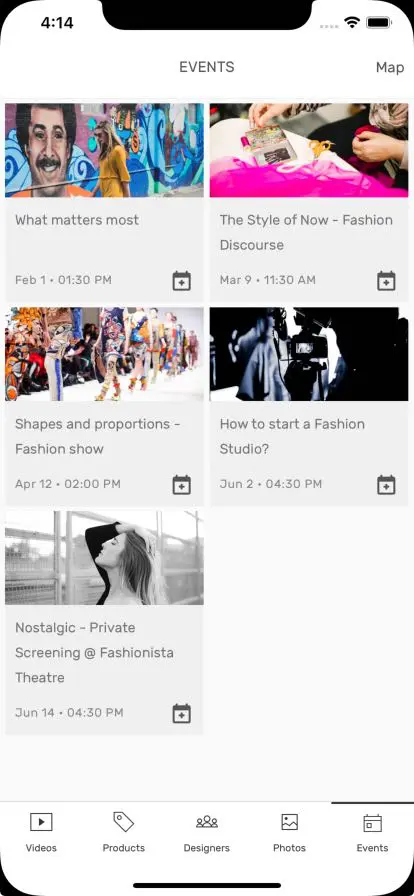 Featured eCommerce App: Charis Clothing
Charis Clothing is an online women's boutique, specializing in unique, high-quality merchandise at discounted prices.
The Charis Clothing team chose Shoutem to build their app because of how easy and effortless our tools and templates are.
The result: a user-friendly, sleek, and modern mobile shop interface that delivers daily deals to users via push notifications.
START YOUR FREE TRIAL


Best App Features to Include in Your eCommerce App
The list of potential features to add to your app could fill a small encyclopedia, so if you're scratching your head wondering where to start, you're not alone.
Our advice: Stick to the most important features your customers expect in an eCommerce app in order to create the best possible user experience. Here they are.
Push Notifications
Push notifications are one of the best ways to keep users engaged, make sure they follow through on that checkout process, and ensure they see new products as soon as they come out.
However, not just any notification system will do. Without segmenting audiences, you're likely to run into trouble by alerting the wrong people to the wrong sales, deals, and items. That in turn risks alienating people, either causing them to turn notifications off or find another purveyor.
Instead, use a platform like Shoutem that allows you to separate users into different audiences for different messaging. That way, you can be sure they're interested when you send out info such as:
Welcome notification with deals and information
New products, holiday sales, and clearance items
Recapture message for users who haven't logged in recently
Abandoned cart recovery messages, either with or without incentives (discounts, referral codes, and so on)
Personalized offers for customers who have made a purchase or signed up to a list
Upcoming event promotion, such as pop-up shops, in-store events, grand openings, and more
Sending such messages out to mobile devices in real time can make a measurable difference to your sales and profits, so don't choose an app builder that neglects them!
Shopping Cart
Your shopping cart might seem like one simple step on the path to a sale, but it's more important than you can imagine. The best mobile apps have highly informational, user-friendly, and memory-rich features. That includes:
Easy payment options to ensure your eCommerce store maximizes the customer experience and makes people want to return for more
A stylized and branded shopping app storefront that is appealing without being overwhelming
Obvious functionality, so customers can tell where to put a coupon code, insert their information, leave a personalized message, and more
Only a shopping cart that works seamlessly can guarantee that you're always maximizing sales and reducing cart abandonment.
Social Sharing
Why shout about your products when you could let your customers do it for you? By enabling seamless social sharing, you can dramatically increase the amount of free marketing you get.
Using Shoutem, you can leverage social media in a wide variety of ways. Now you can:
Publish your own social feed to the eCommerce app so that customers can learn the latest and easily find you in the social sphere
Enable users to instantly share their favorite products with their friends and audiences for that invaluable, yet free, word-of-mouth marketing
Allow customers to share their wish lists easily, so that gift givers can easily find your products and buy them for your devoted followers
Integrate with Facebook, Twitter, Foursquare, and other sites to make promoting your storefront that much easier
Combined, these tools are invaluable for boosting your brand with minimal effort.
Advanced Search Functionality
Ask anyone what they find most irritating in a mobile app, and most of them will tell you that not being able to find what they want is at the top of the list. Customers come to your app to shop, and when they can't even figure out how to spend their money on your products, they feel both annoyed and betrayed – and they leave.
You can avoid this in many ways. For instance, Shoutem's pre-built app templates are already tested for user interface and user experience, so they decrease the chances of this happening in the first place.
Building it yourself? No worries, our advanced search functionality adds an extra layer of protection to help people engage with your storefront the way you want. Now you can:
Sort and tag your products, such as color, material, price, size, function, room, style, and more
Set extremely precise search filters to help buyers sort through your products
Let users find the exact items they're looking for by employing strategic keywords
Never again will your customers feel let down by a shoddily designed storefront.
Analytics & Reporting
No eCommerce business is complete without a thorough backend system to help you sort through the incoming flood of numbers and determine what's working. This kind of information is critical for entrepreneurs who want to make sure they're on track.
Too many "done-for-you" app builders forget this step. That leaves you scrambling to make due with duplicate Excel spreadsheets, forced integrations, and half-baked accounting solutions. It's no surprise that easy no-code app builders are so often not that easy after all.
That's why Shoutem has created an incredibly detailed budget, reporting, and analysis system. You can access it easily within your dashboard and run reports on a daily, weekly, or monthly basis. Never again will you have to be in the dark when it comes to your finances!
---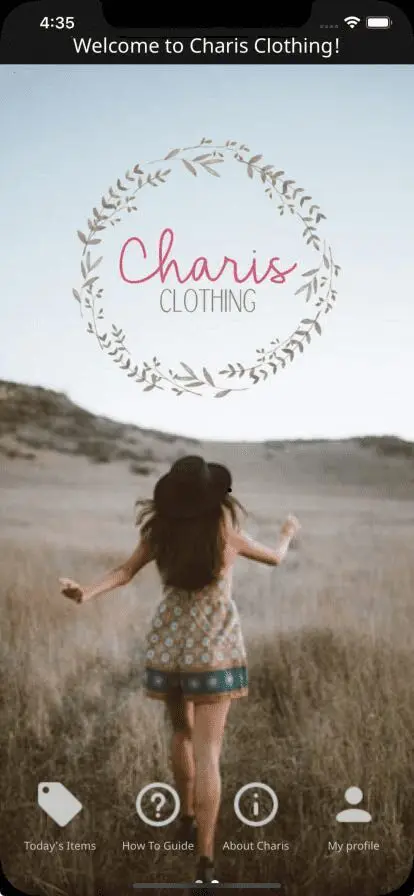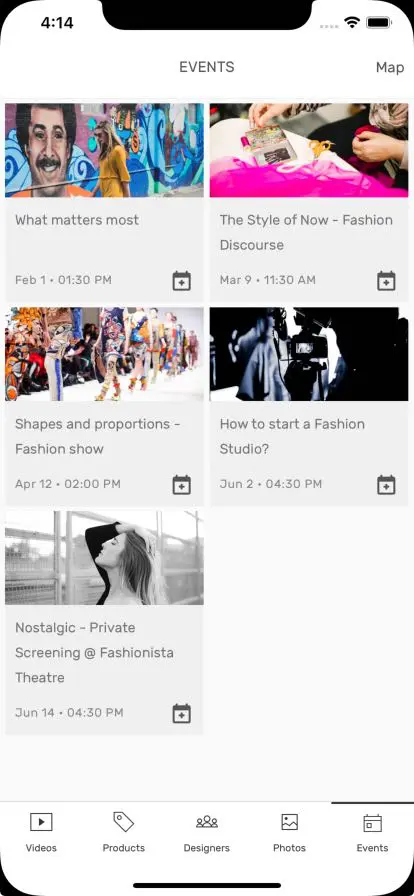 Build Your eCommerce Mobile App with Shoutem Today!
Your pathway to a successful eCommerce app begins here. Join us and start building today!
START YOUR FREE TRIAL
eCommerce App Builder FAQ
How do I create an eCommerce app?

Creating an eCommerce app can come in many forms, such as hiring an in-house developer; outsourcing to a mobile app development company or freelancer; or using a no-code tool to do it yourself.
While those first two options are expensive and time-consuming, Shoutem's no-code platform makes DIY app creation so easy. Our mobile app maker is flexible, user-friendly, and intuitive, and provides all the same benefits to users who come to your storefront. Plus, you can do it all yourself.
Of course, if you feel like having an expert design an eCommerce mobile app that will be ready for launch to the Apple App Store or Google Play Store in a fraction of the time it would take a dedicated developer, we're happy to help with that too! Get in touch to learn more.

How much does it cost to develop an eCommerce app?

You can pay thousands to develop an eCommerce app, but you don't have to. Shoutem's mobile app development platform offers you all the functionality and customization you need to match your eCommerce website in app form, but without the top-tier cost.
At Shoutem, we offer several plans to help you get your app built fast for Android or Apple. Check it out:

$49 per month, billed annually: This give you access to Android-only app development on our easy-to-use platform.
$79 per month, billed annually: Need iOS support as well? This low monthly price will enable you to design for both Android and Apple.
$149 per month, billed annually: Access our absolute top-tier features plus everything above.

Is there an eCommerce app builder without coding?

Yes, there are several eCommerce app builders that don't require coding. In fact, they're now a go-to solution for bringing your products to the global marketplace.
However, lower-shelf solutions tend to sacrifice app functionality and customization options. This leaves your app feeling disjointed from the rest of your brand, and leaves your customers frustrated.
At Shoutem, that's not our take. We want you to have the most robust possible app builder, whether you use pre-built templates or take a ground-up approach. We provide all the necessary templates and app features for a price you can afford.

Who are the best eCommerce app builders?

Although you do have choices, only our eCommerce mobile app builder offers every feature you could possibly need to build your eCommerce app. Shoutem has a huge range of tools and capabilities, including:

Prebuilt templates or a drag-and-drop platform for custom app creation
Easy and instant integrations with Shopify, WordPress, and more
Integrated budget dashboard and analysis
Push notifications and social sharing
Advanced search functionality for customers
Numerous options for payment gateways and shopping cart setup

Ready to build that app? Shoutem all the way.
Subscribe to our newsletter
We'll send you creative inspiration, plus bussines insights and tips — written or curated by us, every other week.