Technology nowadays has become an irreplaceable factor in everyday life. No matter whether you are at work, on the street, at school, home, or walking in nature, that notification sound interrupts you quite often, right? Today, there is an app for everything and anything and it is true, apps surely do make our lives easier and presumably, more fun.
Church Apps
You got an idea to build your church app, but do you need quality information to get things going? Continue reading to find more about the church apps, their function, and to get some church app ideas that might not cross your mind otherwise.
The most downloaded church app might be yours, so let's not waste any more time. Let's see what you can do to make your church app stand out among all others.
Church apps in Numbers
Let's dive into the numbers and see what church app statistics can tell us about the usage and popularity of church apps worldwide. The pandemic has closed us all in our homes. The number of social interactions has decreased and people are using their phones more than ever before. Take a look at the statistics provided by Pushpay:
81% of Americans use smartphones and the average time spent on mobile device is 5.4 hours a day
In 2019, 204 billion apps were downloaded worldwide and we expect this number to rise even more
Over 70% of gifts to church come from mobile devices through church apps
Recurring givers give 28% more in additional gifts
Over half of e-church customers see a 75% increase in recurring givers within the first year
What can we conclude from the numbers above? On this day, church apps are on the uphill curve, gaining both popularity and importance.
Who is using Church Apps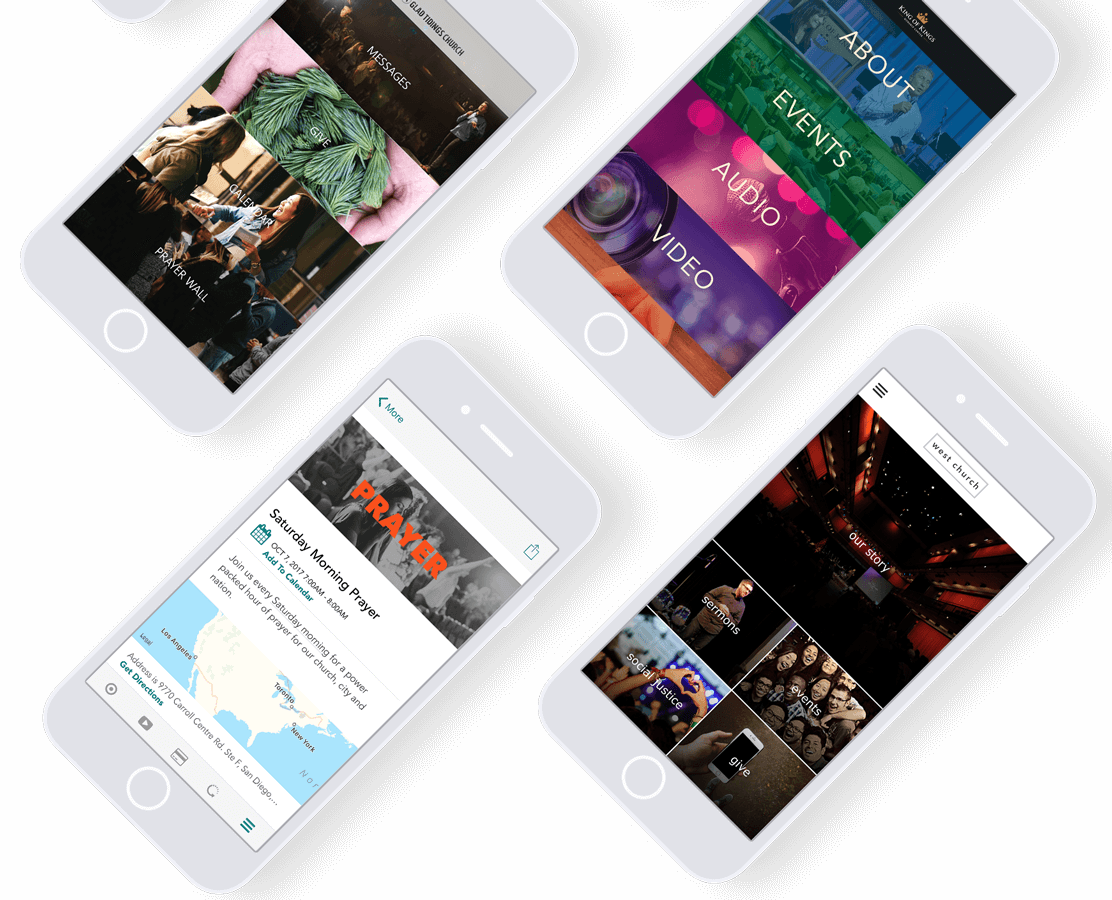 Using a church mobile app is extremely important for the spiritual well-being of all age groups and people who are highly religious. Parishioners are given a great opportunity to enhance their religious experience by using the features of a church app, like catholic daily reading, or listening to religious songs.
Religious leaders use the church apps to make the attendance reports, evaluate the level of participation in religious events, and write down notes, so the whole app can also serve as a religious diary.
Building a church app for children differs from the church app used by adults. Remember, children like to be entertained by visuals, videos, and interactive content. Younger users will highly appreciate solving tasks and quizzes or reading the Bible chapters with pictures.
Apps for Church – Mobile Ministry Solutions
Church apps are simple-to-use mobile platforms that engage the community to boost their religious practices and get connected to church wherever they are. They are mostly used by churches, ministries, or other religious organizations in order to connect with the community.
The whole world has gone online so even the churches are following the trend. Anyone can access the sermon or daily Bible reading without necessarily visiting the church. Of course, sometimes churches need help in funding, raising awareness, or putting their vision into reality.
Church apps can help immensely as they are providing opportunities for churches to get attention and recognition from the masses. Mobile solutions are key for making religious content more accessible to people who are not able to attend the sermons and for those who want to incorporate usage of church apps in their daily routine.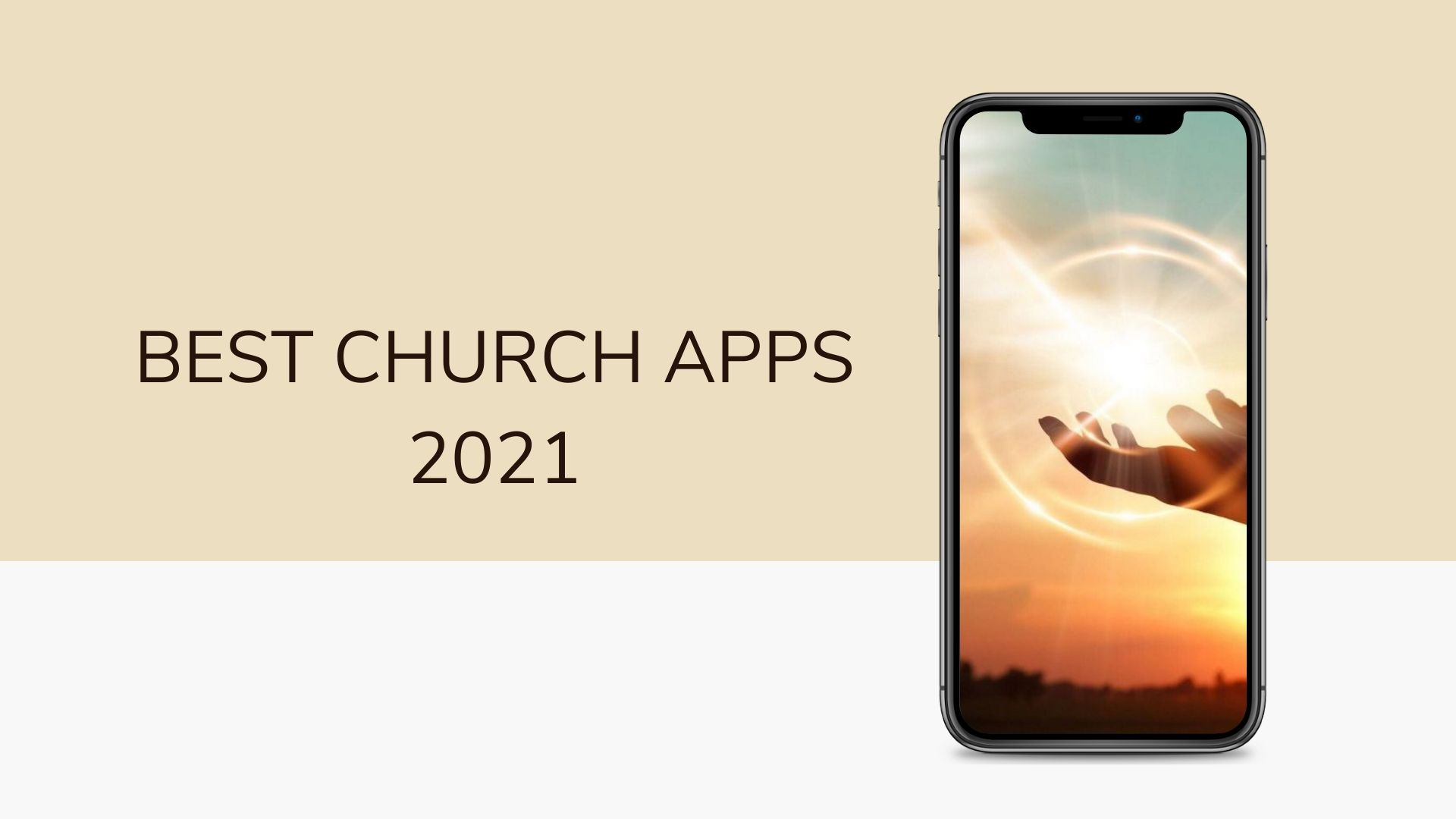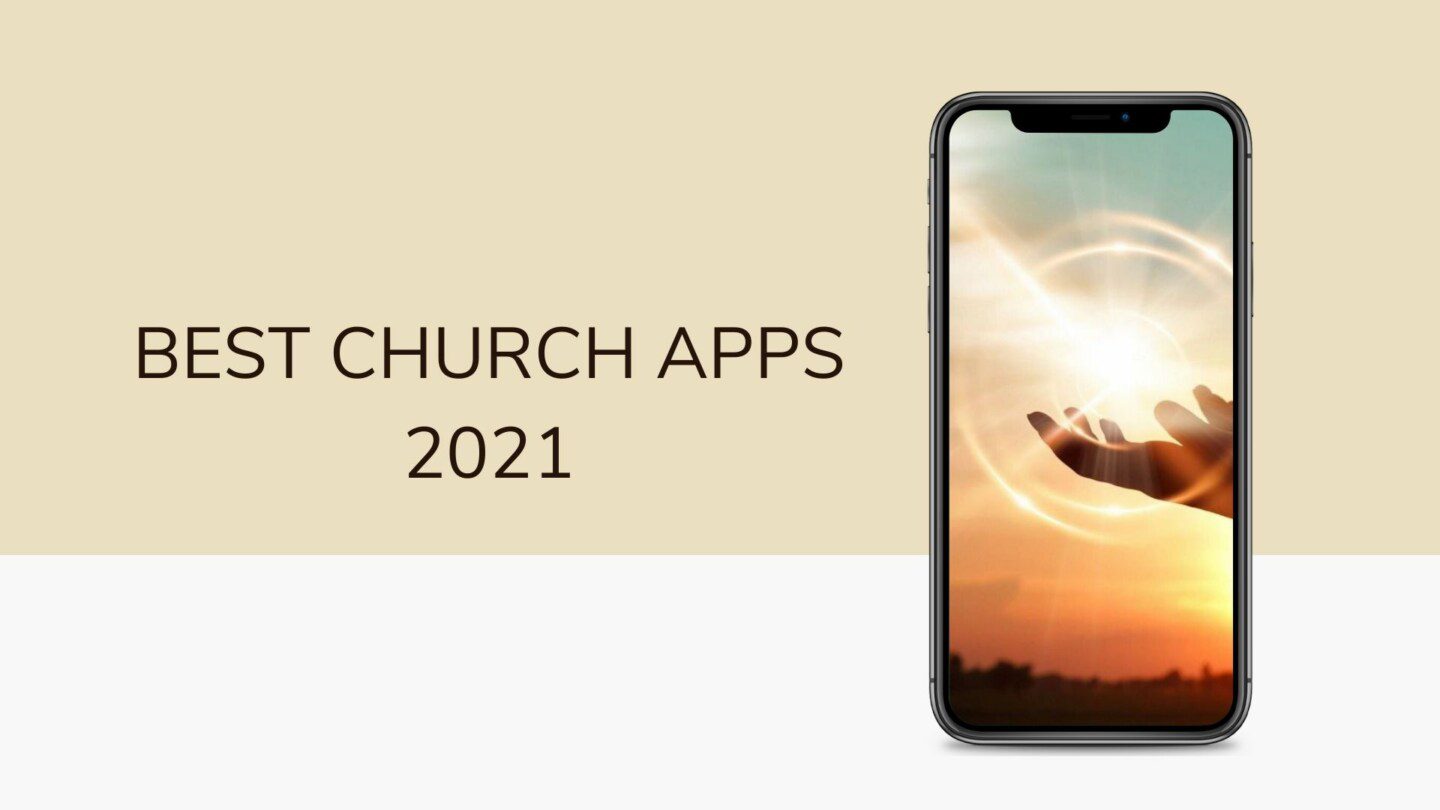 Best Church Apps in 2021
Today, the app store is full of thousands of apps, hundreds of them possibly in the same niche. How to choose the best one? Which one is the best for you?
If you would like to see some examples of successful church apps on the market right now, take a look at the example we have provided for you. All of them are user-friendly, easy to use, visually appealing, and available for free. Enjoy free church apps in the comfort of your home.
Church Center App
One of the most popular Church apps among many others is, without any doubt, Church Center App. Church Center is a mobile app and web experience where your congregation can explore, engage, and get involved throughout the week. Everyone can use it and all its features are completely free.
By downloading the Church Centre App, the first thing you need to do is find your church and sign in with your phone number. Once that is done, you can access church information, ongoing or planned events where you can sign up as well if that is something that you're looking for.
Chat option provides the connection with other users
"Give" option that allows you to donate money directly to church
"Prayer Request" is a section where you can get involved in a prayer chain for other people, or ask others to pray for you.

You can find the app at both Google Play Store & Apple App Store, and over 100 thousand people have already downloaded it and are using it.
Newlife Church App
Another very important mobile app in religious circles is the Newlife Church App.
Now, let's take a look at the most prominent features of this specific app.
Notes allow you to write comments next to the sermon of interest and later on send sermon enriched with your thoughts and feelings to your email
Media section of the app is full of audio and video material you can consume any time you want, it is that easy and accessible in a moment
Calendar shows all the upcoming events in New Life app but also has a feature of adding the event into your personal calendar and "direct registration button" for the event of your choice
Conect feature lets you send an invite to another person to join New Life, as well as chat with users, donate to church, or submit prayer request
Look out for the New Life app in Google Play Store and iTunes App Store.
Methodist Apps
Lastly, let's put The Methodist App into the spotlight for a moment. A brand new app from the Methodist Church in Britain is now available on all mobile devices. Some of the features of this app include:
Daily Bible studies, featuring different author each week
The latest news stories from the Methodist Church in Britain
Blogs from the President and Vice President of the Methodist Conference, Methodist Youth President and World Church Relationship team
Videos and audios on religious content and option to connect with other social media platforms
Don't mistake this new Methodist App for the old one. Users of the old one are required to delete it and download the new one. Find it out on the Apple App Store.
Church App Builder
If you would like to create your own church app, Shoutem Builder is here to help you. With over 40 built-in screen types and over 200 customizable layouts, you have a lot to choose from. Do not worry if IT is not your field of expertise, with our No-code concept, everything is simple and pretty straightforward. Your app will be functional on both Android and iOS no matter whether you are building an app yourself or having a mobile start-up. It saves both time and money.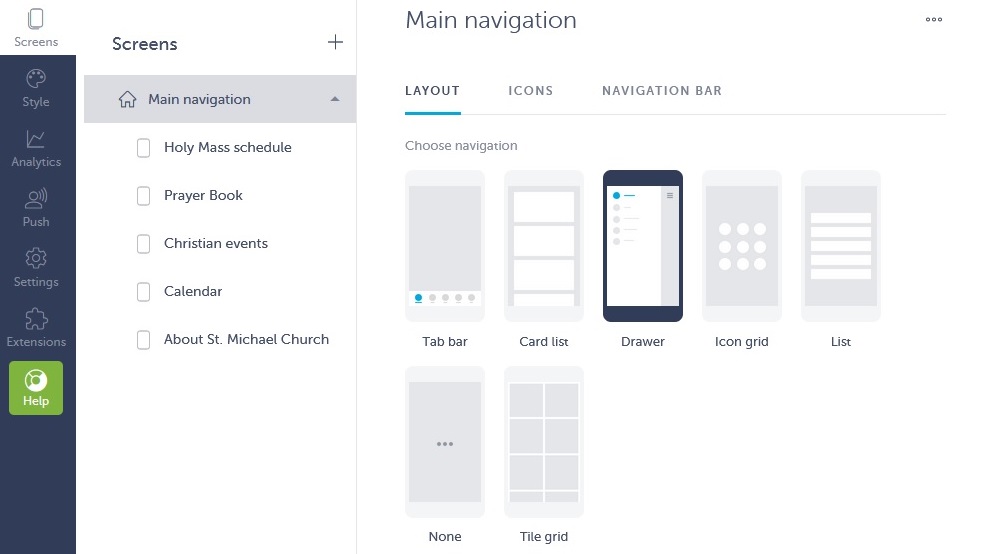 Shoutem Church App Builder allows you to build your church app easily. It is a great way to create a space for your sermon and educational resources and to communicate with your audience effectively by creating an app calendar with events, news, and more.
Three ways to build your church app

Choose the name and logo of your app – there is plenty of ready-made design templates at your disposal
Set features of your app – think of your goals and your audience, what they need and what will serve them most
Publish – it is that simple, just push the button, and we will take care of the rest
Most Important Features for your Church App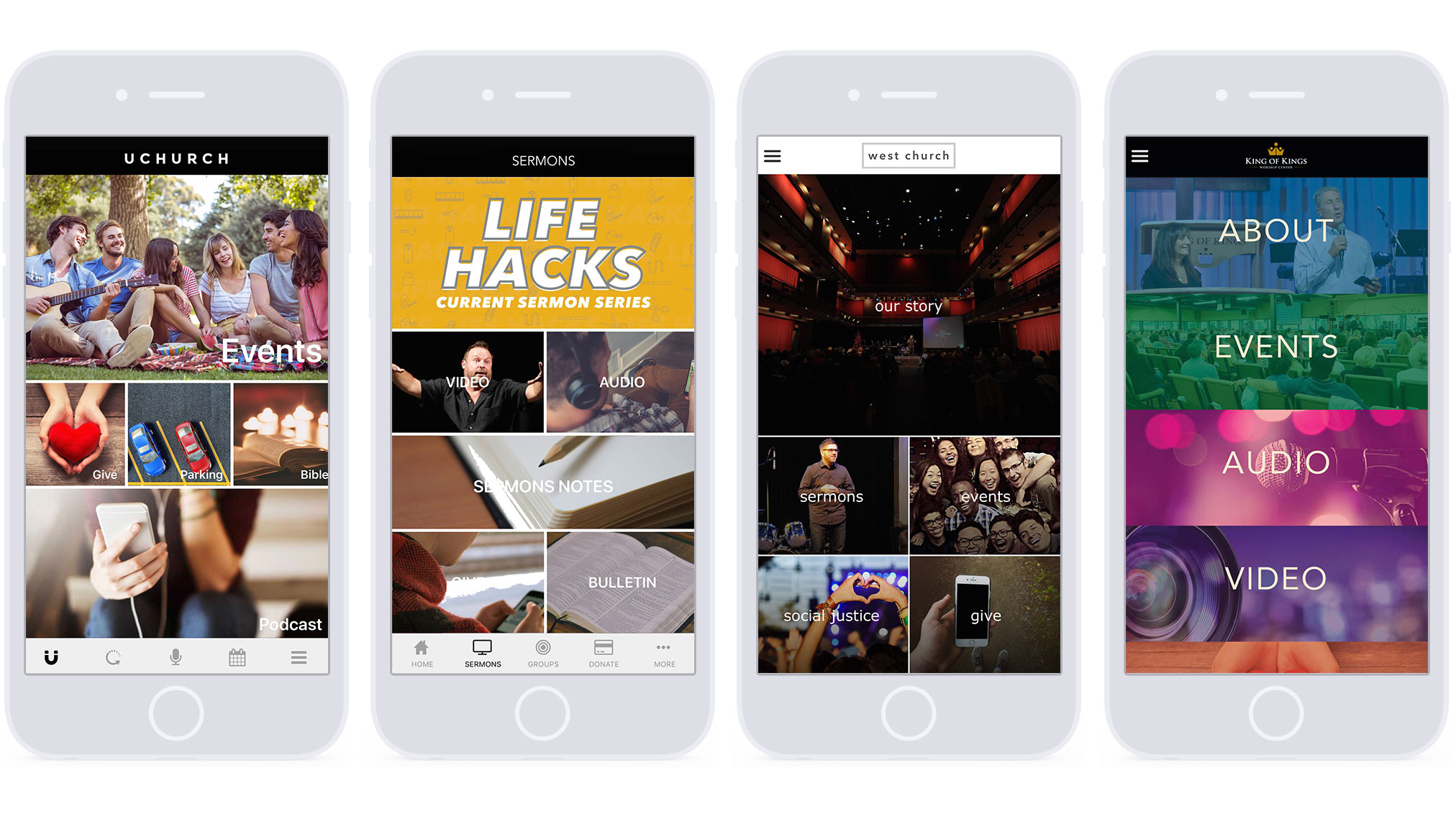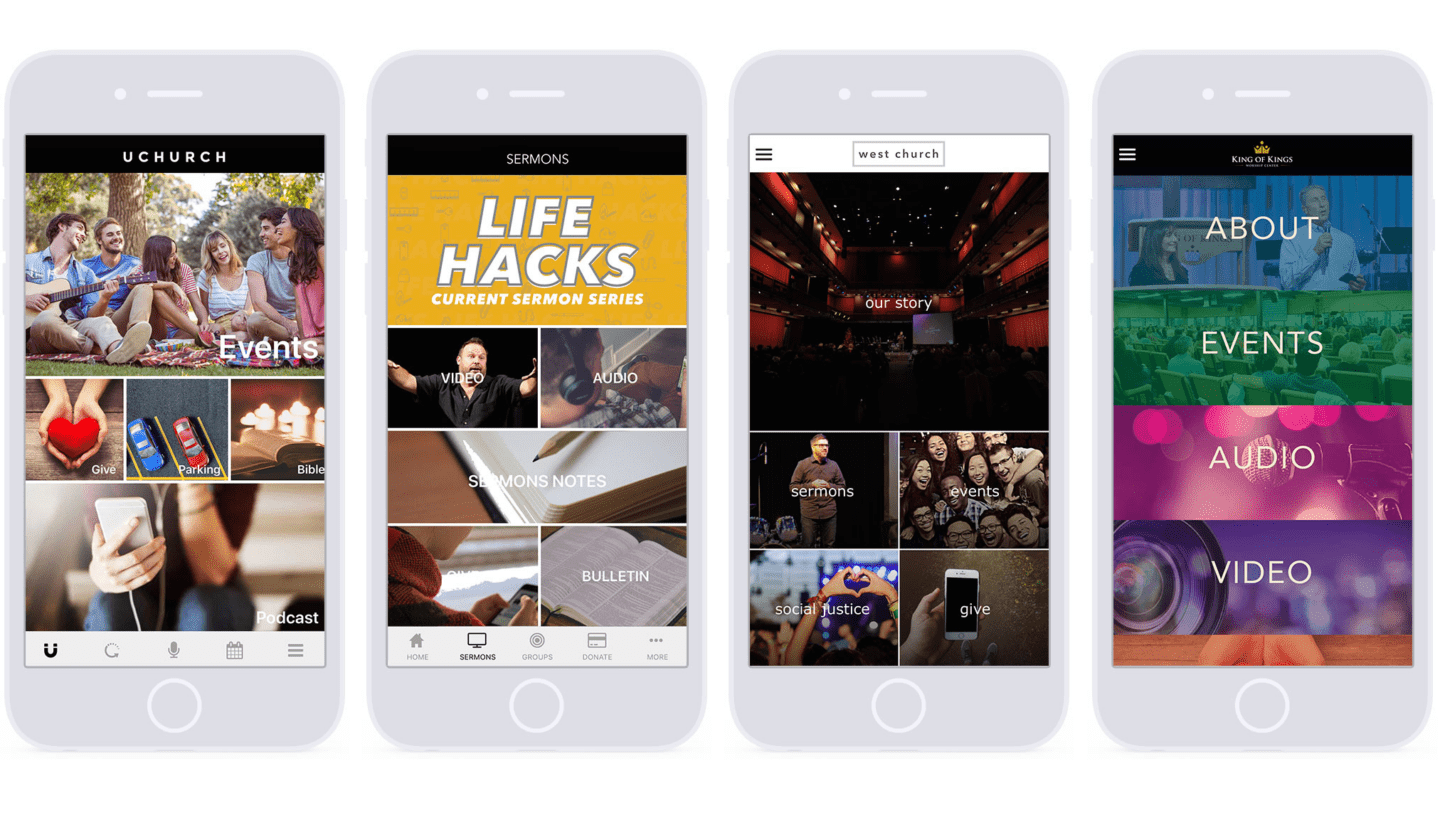 Assuming you have used a church app before, you will know the most important features of each church app. After analyzing some of the best church apps, here is a nice overview of the most notable features every church app should possess.
Information about the church is a must for every church app. For example, geographical location, historical facts, and contact information to get in touch
Donating to church has never been easier and more accessible than today. Anyone can support your church from their home. If they are unable to attend the ceremony and group prayer, they can send a donation anytime
The latest religious news keeps the users in touch with ongoing events either on a local or global scale. They can also pay attention to the upcoming events
Push notifications system will keep the parishioners aware of the new uploads, events, changes in the calendar, or anything else that might be important and catch their attention
Calendar is an amazing feature for people who like to have things organised and neat. Not only it is easier to find what you are looking for, it also looks visually appealing and gives sense of security that they will not forget any event, so keeping the calendar updated is essential
Daily Bible reading on the app has never been as fun. With a Bible app, users can write comments next to the sermon and enjoy new texts on daily or weekly basis
Audio and video content is abundant in most church apps. Imagine listening to the sermon while walking on a sunny day, or just resting with your eyes closed at home. Watching the videos from Youtube or some other platform that the app supports can upgrade enjoying religious content even more. Church streaming tv allows the users to watch the sermons live, now that is cool!
Listening to religious songs on Christian radio must be fun. Everyone can enjoy their favourite songs anywhere, anytime
Church blog posts can contain both fun and informative content, depending on needs and interest of the users. Commenting on the posts, sharing positive thoughts, quotes, affirmations, personal stories and even more. All of that is available on the church app blog
Integration with social media platforms significantly raises the number of people who are exposed to the content of the app. Not only does the app get more recognition, but also it gets new potential users.
Gallery is the place for those who want to enjoy the visually appealing religious content. Photos of churches, religious rites, celebrations, paintings, gatherings & events, you name it. It is all there!
In the end, we cannot forget group chats, meeting new people from your area, talking about religion, group prayers, and other types of social interaction through the app. It is always nice to have someone to talk to, right?
Let's Create your Church App Now!
Now, if this all sounds tempting but you are afraid of how it will all come together for you, we got you covered! We can help you to create your church app and get desired results easily.
Our mobile app experts will create a unique app just for you in our church app builder. And it gets only better and better from this point.
We are aware that building an app can be a challenging and daring task. For that reason, we have developed a Shoutem Pro package that ensures quality work from your idea to the finished app in the app store. We will combine our skills and knowledge to deliver a top-notch app with a stunning design, multiple features, of extremely high quality, and guess what, all that without any coding! Our pre-made templates save both time and money.
If you need more information, book a call at App Strategy Consultation where we will listen to your ideas and build an effective strategy together.