App market – high demand for mobile apps
Digital is here, and it's here to stay. Statistics show that more people use mobile vs. desktop internet traffic. Consequently, more and more companies decide to build their own apps to accumulate even more traffic, whether it's by creating loyalty programs, photo galleries or writing relevant content to keep their users engaged. Because almost 90% of mobile usage time is spent using apps, the mobile app development market is expanding each day, and mobile app demand is growing too. 
However, app development is complex and would require most companies to have an entire development team dedicated to building their custom app.
How do you keep up with the app market if you're not a developer but want to have your piece of the pie?
White label reseller programs
By outsourcing app building services from a third-party development team, you can include "mobile apps" with your other business services and not worry about additional overhead costs and development complexities. But before we dive into the reasons to become a reseller, let's clarify some of the terms:
A white label mobile app is an application unconnected to the developer or person/company that made the app. A white label mobile app can also be when a reseller offers a mobile app from another developer but changes and customizes the branding.
A mobile app reseller is a person or company that uses another company's technology to produce and sell mobile apps to its customers under new branding.
A white label reseller program offers and resells products or services created by another company. "White label" refers to purchased or rebranded products or services purchased by resellers.
Did you know that the term "white label" comes from when record labels gave DJs records to play on air before albums were released to the public? The center labels on those old LPs were white. Like today's reseller programs, those vinyl records were made by and for a particular company and later rebranded or licensed to other individuals or companies.
White label apps are nothing more than creating mobile apps for your clients on someone else's dashboard that you personalize and rebrand. By adopting white label CRM solutions, businesses can offer to make mobile apps without spending any extra resources or time developing system architecture or code because this can be done codeless with mobile app builders.
TOP 10 Reasons to Become a Reseller
1. Mobile-driven market
As we mentioned, mobile wins the mobile vs. desktop battle, and people are going mobile more than ever. Small and medium-sized businesses are using mobile apps to develop new strategies for communicating with their customers through different programs, deals, and push notifications, in addition to improving the overall customer experience: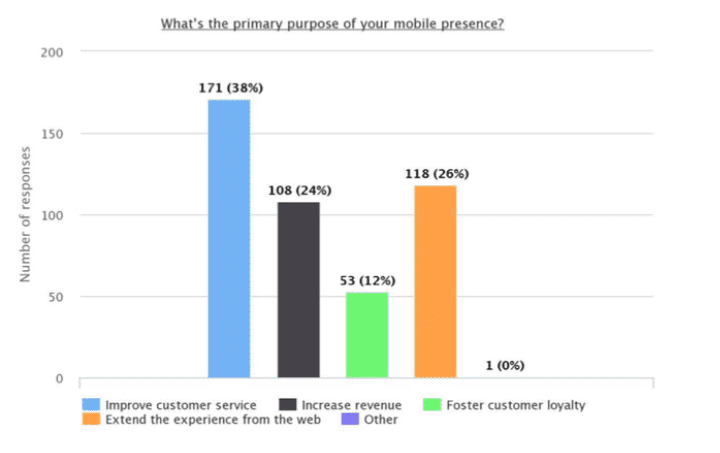 Additionally, mobile apps help businesses to build databases of prospects or customers. Mobile apps allow companies to gather different types of information on their customers. The more data a company has, the better it can meet customer expectations while creating a more relevant consumer experience.
2. It's an easy and inexpensive business to start
When considering the factors that affect starting any project or business, costs are always paramount. It's necessary to weigh the costs and risks of any investment and see if the scales are balanced according to benefit versus risk.
Are finances and your initial investment on "weaknesses" in your SWOT analysis?
Usually, they are. And they are huge. This makes starting any new business risky. Fortunately, unlike many other businesses, white label reseller opportunities aren't expensive. Becoming a mobile app reseller doesn't mean you need to invest a pile of cash in order to start reselling.
Using white label apps means you'll pay a monthly (or yearly) fee for using a mobile app builder and services (e.g., support team, system maintenance, app publishing, etc.). With this in mind, you can upcharge your clients at whatever price you see fit to meet your desired margins. 
You can use mobile apps as a part of your business schema or keep them as an individual service. Either way, you name the price for the job, and the more apps you resell, the more you save!
3. Being in the reseller business doesn't mean you have to know how to code
When you use a third-party app and white label it, you're essentially just paying developers for a readymade app. It's just like having an in-house developer, but for a fraction of what it would cost, especially if you are a reseller and resell more than one app! You won't have any hiring costs, monthly salaries, or annual appraisals to maintain. Thus, paying for a white-label mobile app builder is much cheaper than hiring an app developer for your mobile app development needs.
Also, using a white label app development platform like Shoutem doesn't require any coding skills. You don't need to understand anything about programming languages, either. Just imagine using a mobile app builder as a drag-and-drop tool for creating mobile apps and selling them as a product of your company — without looking at a single line of code. 
4. The benefits of a pre-made business schema
Using someone else's business schema and only reselling mobile apps lets you focus on your business values and growing your business' reputation. Having a third-party app builder enables you to provide more services to your client, making you a one-stop shop.
By reselling mobile apps, you can increase your revenue and profits since each new digital service you offer will create a new incremental revenue stream for your business. Also, a white label business schema lets you focus on your core values and brand. With less time on product fulfillment and figuring out nitty-gritty specifics about mobile app development, you can focus on what your agency does best and position your brand to stand out in the crowd.
5. Scaling
One of the most significant benefits of using a white label reseller solution is scaling since this allows you to grow your business in three different ways.
By leveraging white and private label solutions, you're able to add new products and services to your core offering instantly. You can quickly grow from entrepreneur to agency and beyond.
Another scaling benefit is undoubtedly cost. Using white label opportunities means that you're cutting overhead and resource expenses. You won't need development work or IT assistance to set up your products. Everything is turnkey.
Third, the most attractive benefit is scaling your revenue. With white label app development, you're adopting a bulletproof ROI model. Get all the features and ready-made app templates for one agency price, and resell under your agency's brand.
White label business opportunities are a great way to grow your brand, your reputation, and scale your revenue to the Nth degree.
6. It is pretty easy to become and obtain a mobile app reseller role
More and more millennials decided to have mobile apps for their small businesses (55%) because they better understand their utility. Clutch's findings reveal that nearly half (42%) of small businesses currently have a mobile app, and 30% plan to build one in the future, presenting big business opportunities for mobile apps resellers. 
There are four steps to become a reseller if you choose Shoutem's reseller solution as the best mobile app reseller program for your business:
Book a demo

First, book a call with one of our sales experts so we can see what reseller option would best suit your needs.

Take the opportunity to test a mobile app builder and its functionality

This step is actually optional and it depends on if you've had the chance to see our mobile app builder in action. If you want to explore the benefits of a reseller program, take a moment to explore all the possibilities and features your clients can have on your white-labeled dashboard.

Get a reseller subscription link and activate your reseller account

White label business opportunities begin with just a subscription link, and then you can start reselling apps.

Personalize your white label dashboard

Set your domain name and use your logo to brand your dashboard when you start the reseller program under your own company.
After setting up your white label dashboard, you can start promoting your new service. That's it, you are a reseller now!
After creating a couple of business mobile apps, you'll notice that some small businesses need similar apps because they need the same features. Having multiple clients in the same industry opens an opportunity to clone your existing apps and rebrand them! With just a few clicks of changing colors and logos, you can have a brand new mobile app ready for your new client without any extra effort. With less time and resources required to build additional apps, your returns can be massive.
7. Branding your white label dashboard
A white label reseller program means you'll create apps under your brand on another company's platform. It doesn't mean you'll work on a mobile app development system; it means you will get a readymade mobile app builder with your logo, colors, and branding.
What will that look like? Here is an example: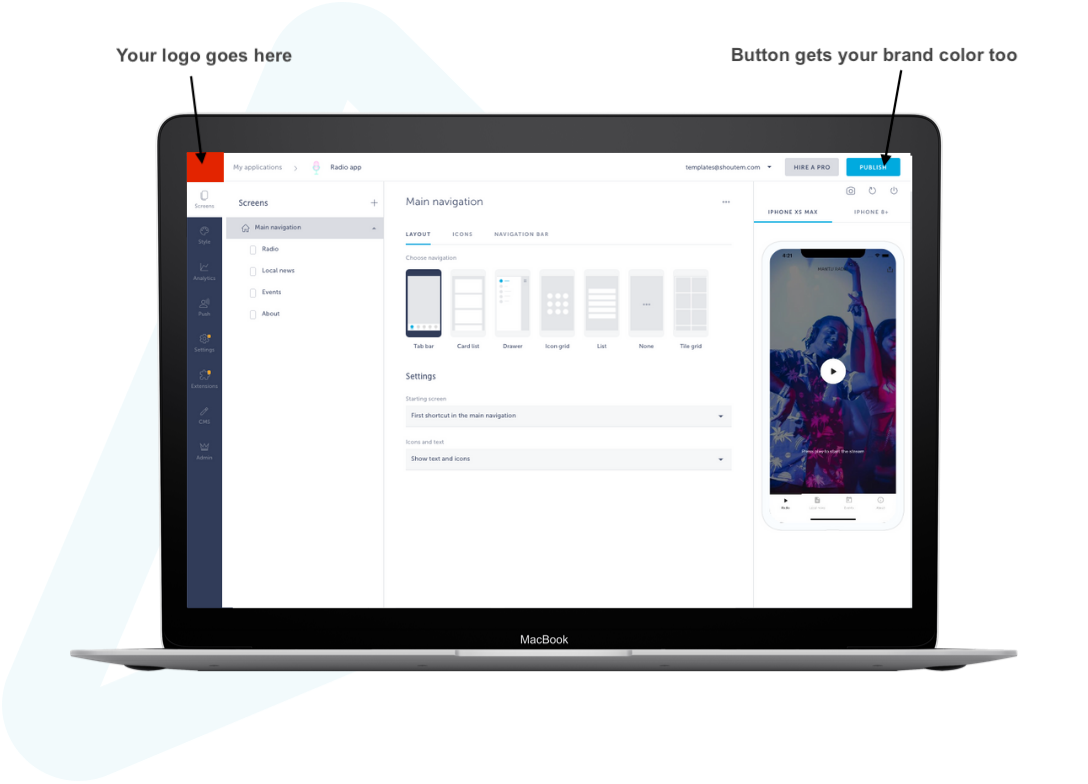 When a client logs in to their dashboard, they'll see your logo, brand, and colors of your brand, and you can manage all of that. Reseller tools provided by the mobile app builder will make it possible for you to personalize details that will help legitimize your agency from your clients' perspectives. 
Overall, managing all of your customers is easy because you both have individual access to different control panels, and that's where the magic happens.
8. Measuring your business' success
As we mentioned earlier, it is essential to create a profitable business strategy and figure out what choices you have that will pay off later.
When talking about the mobile app reseller business, the most important starting point is to deliver a functional and visually appealing mobile app to your client.
As a mobile app reseller, you should look out for metrics like app downloads, conversion rates, cart abandonment rates, and see if the app's gross revenue has increased after the app has launched.
The kind of metrics you'll look for depends on the type of app you made. For an eCommerce app, you need to look out for numbers. For some communication apps, you need to ask users for feedback and see how they behave. Do they enjoy it and spend hours on it, or do they uninstall it within the first 24 hours?
Remember that Google Play and iTunes have rating systems in place, and all apps are rated by users. Look at the reviews and make sure to upgrade the app if needed. With every resold app, your agency will get better and better. No one was perfect on their first try.
After time passes and you've created a large app portfolio, and your numbers show success, rethink your reseller program pricing structure and increase your rates onwards if it makes sense for new clients.
9. Mobile as a growing industry
With more and more small businesses needing mobile apps, the best mobile app reseller programs won't charge you for reselling "too many apps." Becoming a reseller means you're starting or upgrading your business with one of the top growing industries right now.


According to Statista, the current number of smartphone users in the world today is 3.5 billion, meaning that 44.87% of the world's population owns a smartphone. This figure is up considerably from 2016 when there were only 2.5 billion users, roughly 33.58% of that year's global population.
You can still join the game and become a mobile app reseller by scheduling a demo!
10. Make your own deals to entice clients
Becoming a mobile app reseller means you can create Android and iOS mobile apps very easily and sell them at the price you decide with the reseller program. Making attractive offers to your clients, or creating packages that can include all types of deals is up to you and your agency.
According to Endurance's small business customers and a survey on "Small Business Perspectives on Mobile," the majority of companies don't have mobile apps because they lack experience, time, and resources. The biggest barrier to creating a mobile solution or an app is that businesses are too busy and don't think they can build or maintain one.
As a reseller, you can eliminate all those barriers with Shoutem's white label reseller program.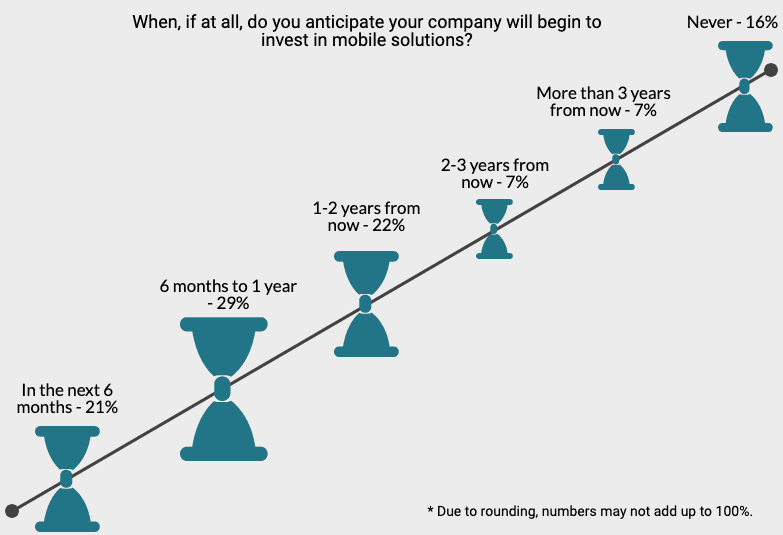 As the graph shows, small businesses understand the importance of mobile solutions, but they need to be shown that mobile apps are affordable yet simple improvements when offered by a reseller.
Many agencies think that creating mobile apps is too expensive, but you can adapt the price and become affordable for your clients as a reseller.
Think about offers and pricing; it doesn't have to be a one-time payment because many agencies might be afraid of the cost. Think about charging for mobile app setup based on the app's complexity, and then set a monthly fee for maintenance and software.
How to become a reseller?
First, there are 6 things you need to consider when choosing a white label partner:
All mobile features should already be tested by the partner.
The reselling partner uses the mobile app builder as their product too. This lets you know that there are no potential bugs that can harm your agency.
The partner provides onboarding and technical training and support.
App implementation and other processes are documented so you can work on your mobile apps without any barriers.
Your white label partner QAs every app that you make so you are sure of the quality of what you're reselling to your clients.
Your reseller partner takes care of publishing apps to the Apple and Google Play Store. They provide you continued support once the app is live in either store.
Summary
Becoming a reseller is an easy and affordable way to start a business. The mobile app market is expanding daily, and business opportunities for creating mobile apps are higher than ever because demand is not diminishing.
Providing mobile solutions to your clients can elevate your business in the market and make it stand out, especially with app solutions as part of your services.
Finding an app builder that suits your needs isn't hard work, but choose one that can provide you with those 6 things mentioned above.
At Shoutem, we're proud of our mobile app reseller program because we offer everything a reseller business needs. 
Schedule a call, and let's get you started with all the options you need for your agency.
Shoutem will provide your clients with a free trial when signing up to build an app, giving them a chance to try the platform out without spending any money. And, if they decide to stay with your white label reseller program, we'll take care of publishing apps in the app stores for you and your clients.