Shapes Studio
Shapes is an online pilates, fitness, and wellness studio dedicated to empowering its clients to achieve a healthy, long, lean body and balanced lifestyle without dieting, extreme workouts, or deprivation.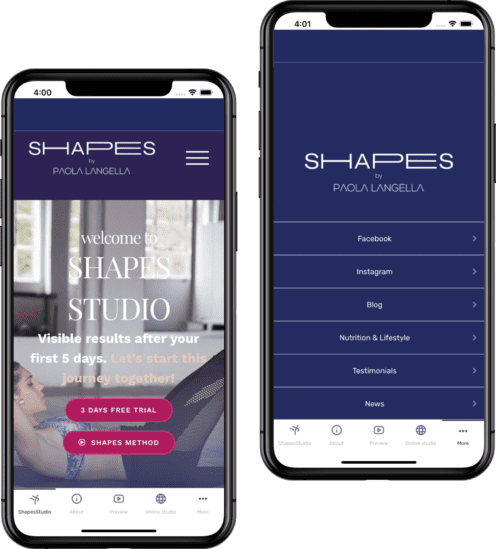 Process of making Shapes Studio
How did we started with this app?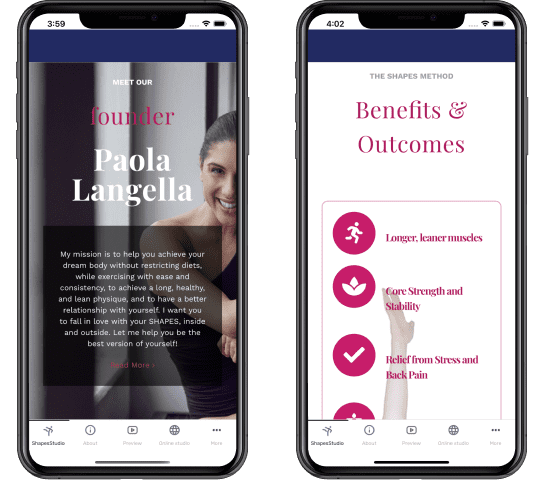 Paola Langella, the owner of Shapes Studio, reached us in order to broaden her online fitness studio with a mobile app.
Paola created an online version of Shapes Studio to connect with people around the world—to teach them, help them, and share her values as she does with her clients in her private studio in London. She already had a website so our job at Shoutem was to transfer all the data into her fitness mobile app within necessary categories.

Main features
How did Shoutem solved Shape Studio issues with premade features?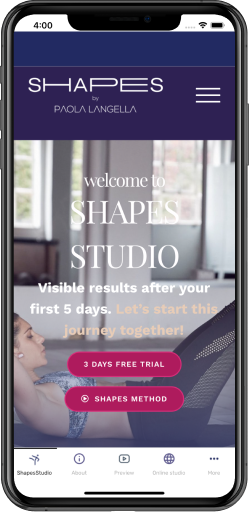 Shapes Studio Home
Wholesome experience with the brand was made by importing content from the website's home page. Visuals, images, and copy are connected to the original website, and by removing or adding content to the website, the app will update.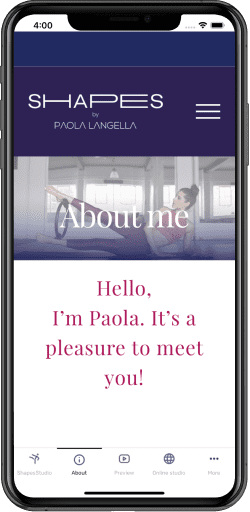 About
About us feature represents the screen that is used to tell a business's clients what the business is about, what are the core values and how it can help its clients/users. This About was also made to follow the website's content and update when the website updates.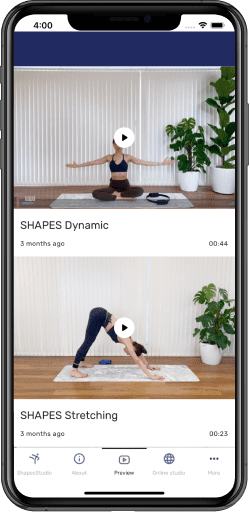 Preview
Videos extensions screen allows app users preview of fitness videos that can be found at Online Studio. Videos feature is one of the premade features that are readymade to use without further development.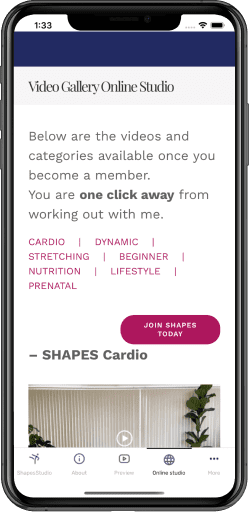 Online Studio
Importing all the categories and videos made this screen fulfilled. App users are able to work out at any time of the day by using the ShapesStudio fitness app.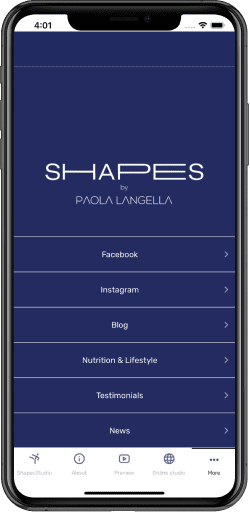 More
The last icon on the Navigation is another navigation and it extends for more options for app users. From here, the app users can access to the Facebook and Instagram page of ShapesStudio, read the Blog, and access the Nutrition & Lifestyle where Paola gives coaching on healthy lifestyle and optimal nutrition. Also, here are testimonials as a vital part of any business and Newsfeed where app users can read news articles and receive push notifications for new content.
From App builder to App Stores
What was the app publishing process like?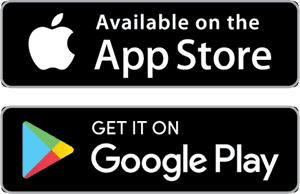 iPhone and Android users can have Shapes Studio
Shoutem Publishing Team took care of the app publishing process, for both Google Play Store and Apple App Store.
Check it out: Google Play Store & Apple App Store
What is Shoutems' Full Service?
Get an affordable business app within a week!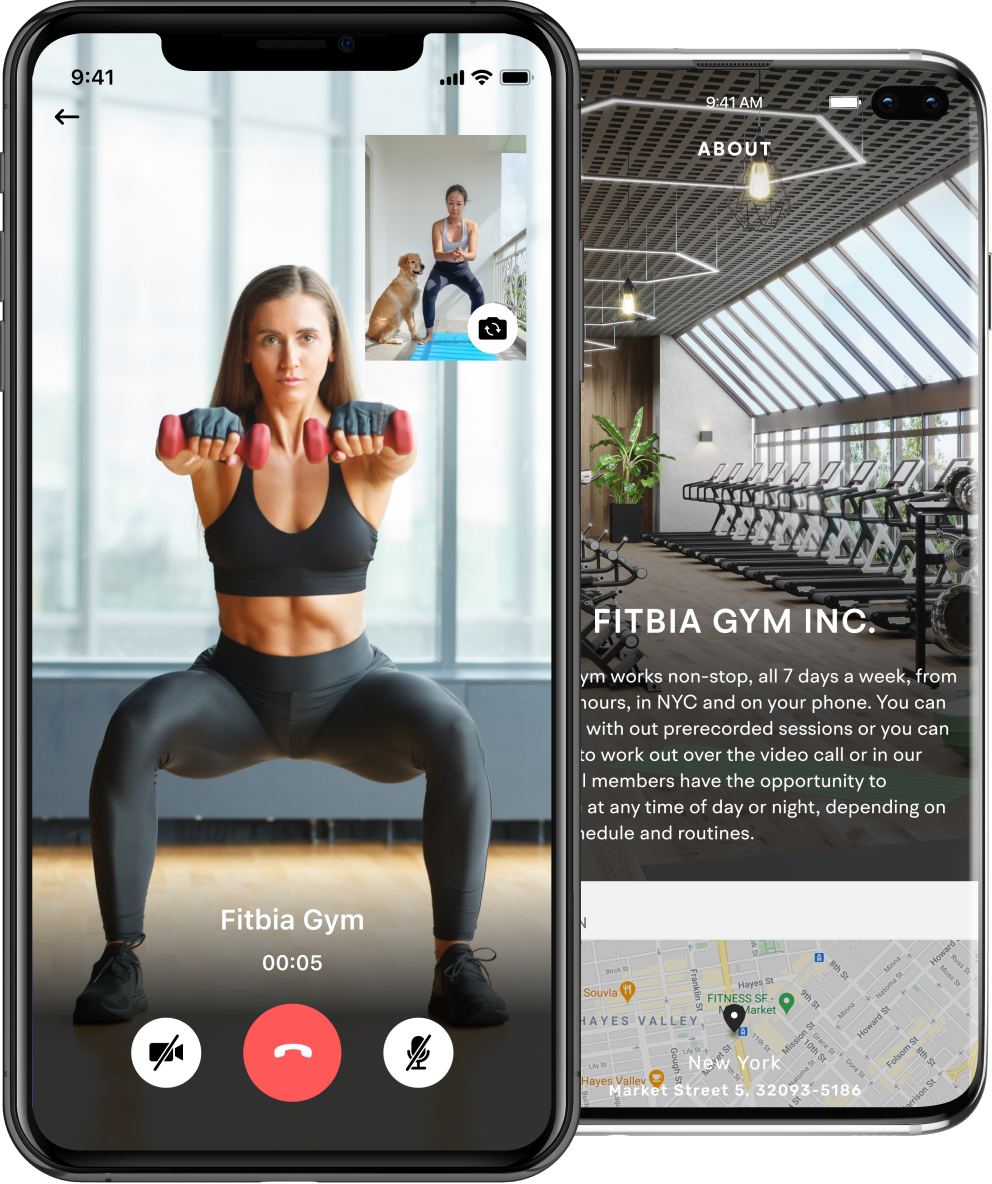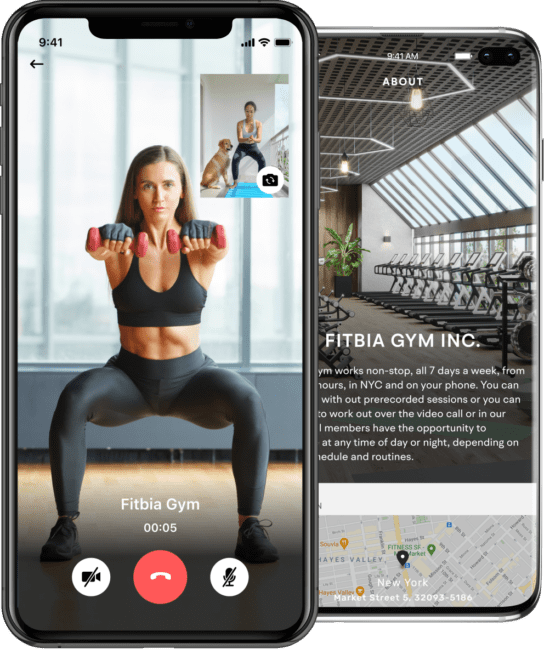 App Design

With Full Service we will create an intuitive app layout and easy-to-use mobile app considering your ideas and aligning them with industry best practices.

Features and Screens

Set up your app features and screens that are needed for your business to operate without any slowdowns.

Your content

All the content from your website in your app – optimized and ready for app stores

Publishing to stores

Google Play Store and Apple App Store are something we deal with on a daily basis. Our team will take care of your app publishing

Support Team

We have full team dedicated as a support for clients, and you can contact them any time
FAQ on Fitness apps
What are fitness apps?

Fitness apps are mobile applications designed and created for sports beginners and those who have been in sports activities for a long time. Through such applications, it is possible to train from home or from any place where the athlete is comfortable. Exercises are usually performed with videos where instructors guide (visually and by speaking) the athletes through the exercises.

How fast can my fitness app be done?

Depending on the needed features, but with Shoutem PRO, in just two weeks! We use our software and premade features, and that reduced waiting time. When we say app, we mean both Andorid and iOS mobile app!

What premade features does Shoutem has?

There are more than 40 features made just for the businessess that needs an app ASAP. With that being said, you can have image gallery, social media wall (for comments and likes), create a restaurant menu or connect an app with Shopify to list your products in just 5 minutes.

What if I have a website already, but want an app similar to the website?

No problems at all! Shoutem will create an app that follows your brand identity and connect the content with your website.
Subscribe to our newsletter
We'll send you creative inspiration, plus bussines insights and tips — written or curated by us, every other week.