SendBird chat extension is a Shoutem implementation of the SendBird service, primarily designed to bring your users more interaction through text messaging.
SendBird is a third party service that requires an active account with a valid subscription. As such, we offer two ways of bringing this feature into your app.
Depending on your app setup and your chat requirements, you can configure the SendBird extension using the Shoutem SendBird account, or by creating your own account on the SendBird portal. Regardless of the selected option, Chat extension is supported only in the Professional plan.
Important! Changing SendBird subscription settings in the builder will delete all existing chat conversations. This action is irreversible.
1. Using Shoutem SendBird account
Using Shoutem fair use, you are limited to 100 users per app. Once the limit is exceeded, you will be required to either buy more user space or upgrade to your SendBird account.
2. Using your own SendBird account
Once you have purchased your account, go ahead and create your SendBird application. The SendBird onboarding process should guide you through this part.
Once you've done that, you will need to find your app ID, and enter this inside the Shoutem settings page for the SendBird extension.
From within your SendBird application's dashboard, navigate to Settings → General. Under section Credentials, you should see the Application ID field. Copy this value, and paste it into the extension setting app ID field.
This part should cover service integration and already allow your users to chat. In order to receive push notifications for the chat messages, we also need to set up the push configuration for the SendBird app.
This consists of uploading your iOS push certificate and filling out the FCM API key for the Android app. You can either contact our support to provide this data, and enter it manually inside Settings → Notifications, or you can invite Shoutem admin user to your SendBird app, and our support team will set it up on your behalf.
Inviting Shoutem admin user to your SendBird app
Navigate to your SendBird organisation member page.
From there, click the Invite + button in the top right corner, and fill out the following fields:
Email: owner@shoutem.com
Role: Admin
Click the invite button, and our team will go through this setup, and get back to you as soon as possible.
Where to find the Chat feature in the builder?
Most extensions in the builder are already pre-installed, but this particular extension needs to be installed from the Extension marketplace before you could actually add a Chat screen to your app. The process is the same as when you are adding a new screen to the app.
Install SendBird Chat extension
In the builder under the Extensions tab, click on + symbol from where the Extension marketplace window will be opened. You can use the Search bar for easier exploration.
Add SendBird Chat screen
Once you installed the extension as shared in the previous step, you will be able to find it on the Screens list.
In the Screens area, click on + symbol and under the Users section, search for Interactive SendBird Chat screen.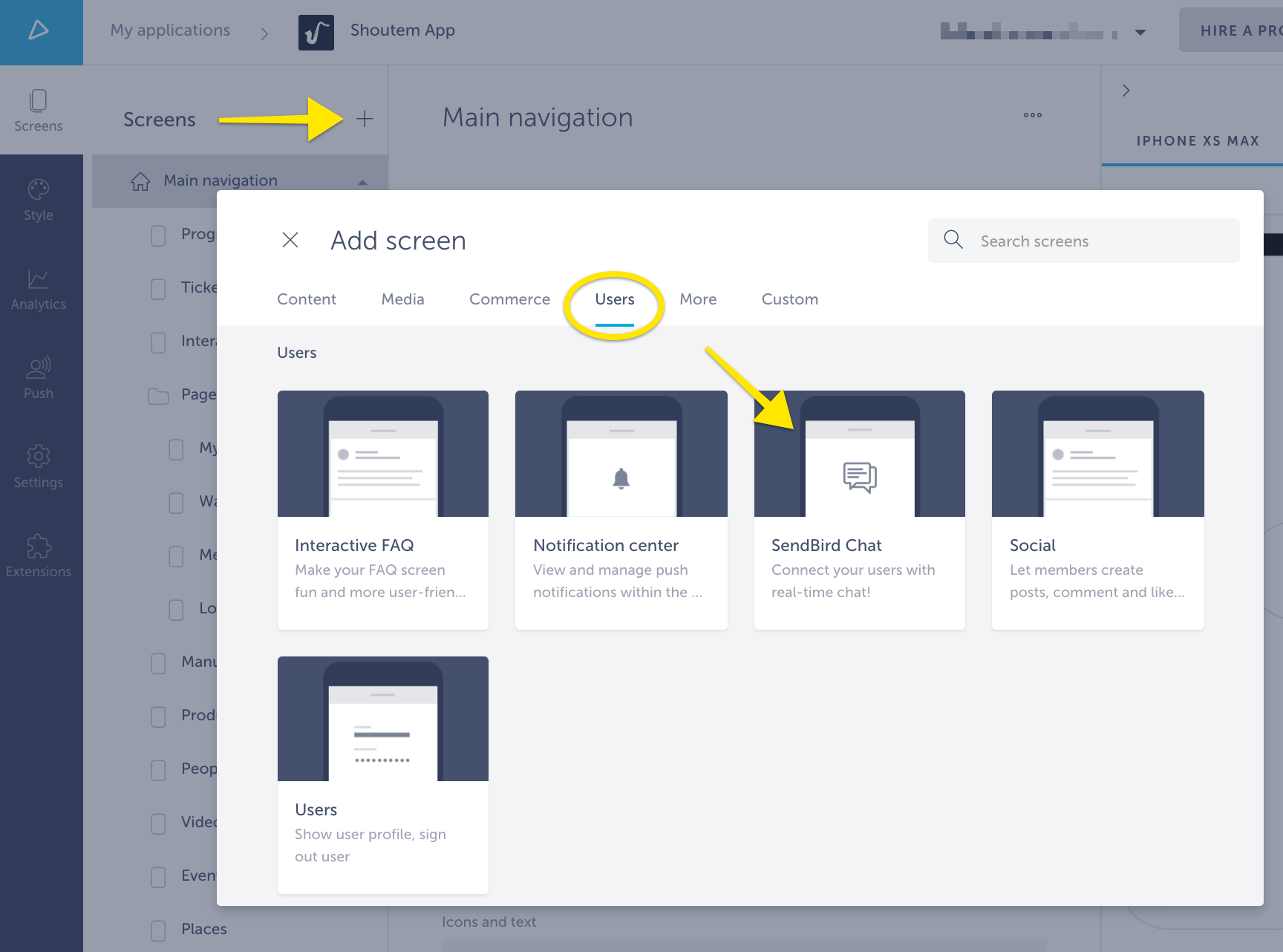 How to chat?
Login to the app with your user. Go to the Chat screen you previously added. Search for a user you want to chat with and start the conversation.
You have to log in at least one time in order to be able to chat once the app is installed.