We have come a long way when music is in question. Nowadays, the possibilities are countless. Whether you prefer watching music videos, listening to the radio, streaming the music, or if you like vinyl, all are cool. You do you! After all, music is proven to be the most popular and effective way to reduce stress and anxiety Sometimes we don't want to bother with the playlists, shuffling songs, or scrolling to find something that fits our mood. For instance, radio apps are perfect for discovering new music and new artists.
Have you ever considered making your own radio app instead of just downloading others? We wrote a full article on how to do that, and you can find it right here on the button below. Also, find the radio app template here as well!
In this article, we will present to you the top 10 best radio streaming apps available today. After trying them out, these are our impressions. Let's kick things off with app #1…
AccuRadio
Rating: 4.7 stars
Price: Free
AccuRadio grants access to tons of online radio stations available on the app, hence on the home screen, you'll find some of the popular channels on the app. You can either browse through that list or search for a radio station yourself.
Choose from more than 50 genres and you can ban artists from your station. Consequently, it leads to listening to the music you like.
Other cool features of The AccuRadio App are:
Save your favorite music channels and listening history
Rate songs and unlock your own "Five-Star"​ channel
Never run out of song skips
Ban artists or songs from a specific channel
Share your favorite channels and songs
The app is available on Google Play and App Store.
Radio Online (PC RADIO)
Rating: 4.7 stars
Price: Free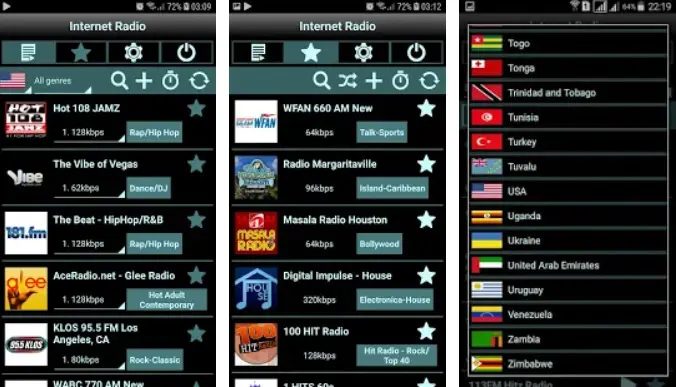 Radio Online is one of the simplest radio apps available. It does not require registration or sign-up. It is an app containing thousands of radio stations from different countries and genres available for free.
Radio Online App has a user-friendly interface, and all stations are sorted according to the genre. The app has a built-in equalizer and a sleep timer. It does contain ads though.
PC RADIO App works even with a low-speed internet connection. Because of that, it is a great option for those who want something simple without a bunch of extra stuff.
Download this app on Google Play.
Create Your Own Radio Station App
IHeartRadio
Rating: 4.6 stars
Price: Free (Plus at $4.99/ month; All Access at $9.99/ month)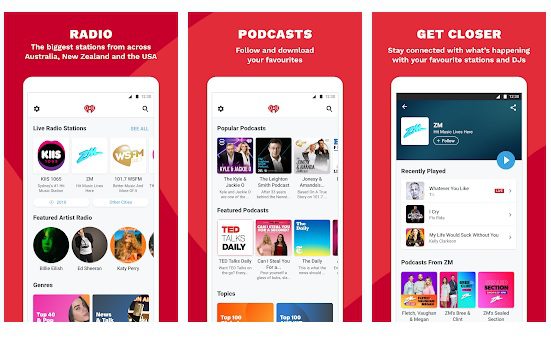 The IHeartRadio App lets you stream over thousands of radio stations along with a vast collection of podcasts.
As soon as you open the app, the prompt with music genres pop up. You can choose which genres you prefer (country, pop, hip hop, R&B, EDM, rock, alternative, classical, indie, folk, dance… the list is too long) and the app will recommend some radio stations you may like.
The app lets you create playlists and also filter the results based on your needs
Mood (party, workout, chill)
Genres
Decades
On the IHeartRadio app, you can listen to seasonal playlists like Christmas or Halloween playlists.
Premium, on the other hand, includes on-demand listening, unlimited skips and playlists, and offline listening.
Download the app for free from Google Play and App Store.
myTuner Radio
Rating: 4.6 stars
Price: Free (Premium for $3.49/ month)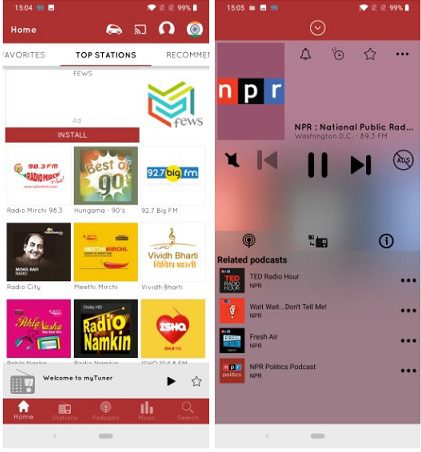 On the myTuner Radio App, you can search for the local radio stations nearby, giving you a unique listening experience depending on where you are.
The app boasts an impressive collection of over 50 000 music stations across 200 countries. Not only that, but it also supports over one million podcasts, internet radio, and FM radio.
The app features a beautiful and friendly UI, allows you to search by genre, and also share using Facebook, Twitter, SMS, and Email.
Lastly, myTuner Radio has a unique alarm feature that plays your favorite station instead of the standardly annoying alarm sound we all hate.
Here is where you can download the app: Google Play and App Store.
Steps to create a radio app
Radio FM
Rating: 4.6 stars
Price: Free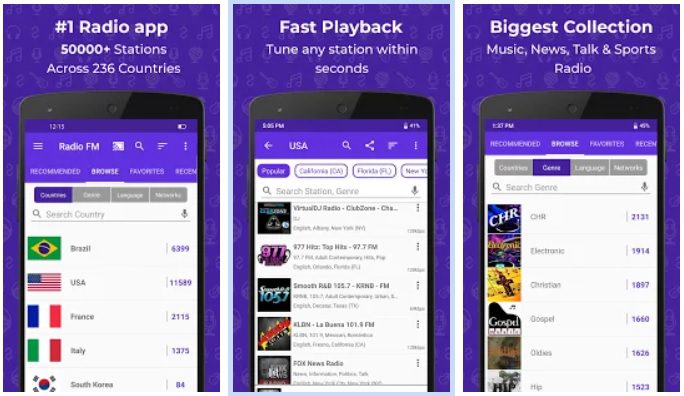 According to many, Radio FM is the best radio app for Android users. App users have access to FM, AM, music shows, live news, weather, sports updates, and podcasts.
The navigation between favorites, country lists, and recently played songs is easy and quick.
The music collection is sorted based on both countries and genres. Record and listen offline, as well as tune in to your local radio station.
Android users can download it on Google Play, while iPhone users can download it on the App Store.
TuneIn Radio App
Rating: 4.5 stars
Price: free (premium is charged based on the country)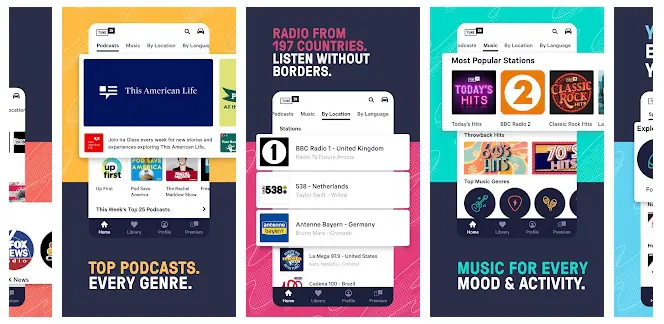 TuneIn brings you live news, sports, music, podcasts, and radio stations from around the world. Not only that, but you also get access to audiobooks, comedy, and talk shows.
There is something for everyone, don't you agree? Let's see what else you can do on the TuneIn Radio App.
Choose from more than 100 000 stations
Download and listen offline
Record the shows you cannot listen to or watch at the moment and save them for later
With the premium version, you can stream live NFL, MLB, NHL, and NBA, along with ad-free music streaming
Pin the stations you listen often for easy access any time
Get it on Google Play and App Store.
Simple Radio
Rating: 4.5 stars
Price: Free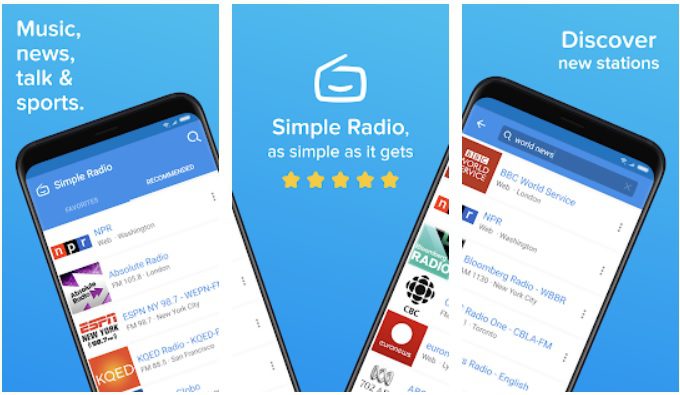 Last, but not least valuable radio app on our top 10 radio apps list is the Simple Radio App. As its name suggests, it features a simple user interface and design.
With over 45 000 free radio stations and 24/7 listening it offers a unique listening experience. The homepage consists of two tabs: "Favorites" and "Recommended". You can search for any radio station in any country or by the genre in the search bar.
You can download this app for free on Google Play or App Store.
Spotify
Rating: 4.4 stars
Price: Free (Premium $9.99/ month)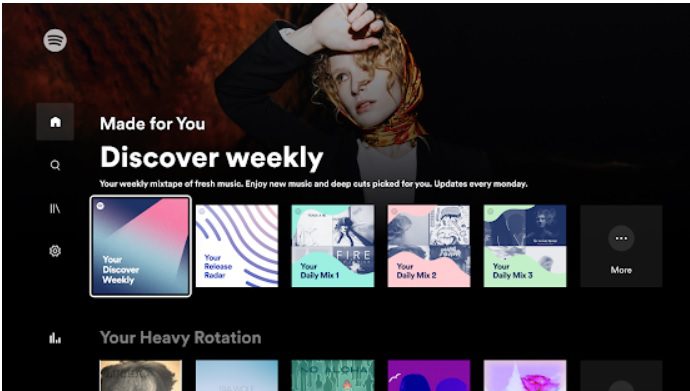 Spotify is another music streaming app focusing largely on radio-style streaming millions of songs and podcasts for free. You can discover new music, podcasts, top songs or listen to your favorite artists and albums.
Create your playlists with the latest songs to fit your mood or use personalized playlists done weekly for you.
Besides that, one cool feature of this radio app is that it promotes discovering new music and artists. It will include songs and artists you haven't listened to before. Discover Weekly generates 30 songs each week according to your past streamings suggesting what you may like.
On the other hand, the Premium option removes occasional ads, provides offline listening, and unlimited skips.
You can download Spotify Radio on both Google Play and App Store.
XiiaLive
Rating: 4.2 stars
Price: Free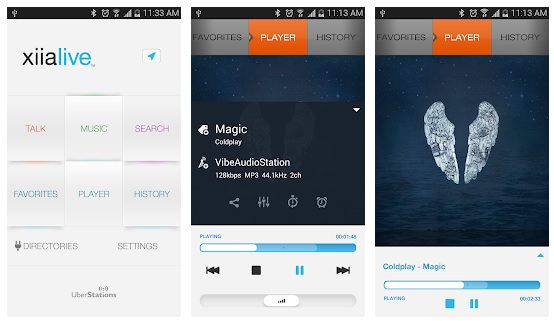 XiiaLive is available in 23 languages and it offers 50 000 music stations to choose from. The most popular genres on the app include alternative, rock, classical, electronic, and hip-hop.
Furthermore, other features of the app include listening to podcasts about business, comedy, news, and many others. You can also record preferred programs and listen when you see it fit.
The layout is colorful and engaging. In addition, the app is highly customizable concerning themes, app control features, restore options, etc. It also has a built-in equalizer.
It is free to download on Google Play and App Store with no in-app purchases and contains ads.
Pandora Radio
Rating: 4.2 stars
Price: Free (Plus at $4.99/ month; Premium at $9.99/ month)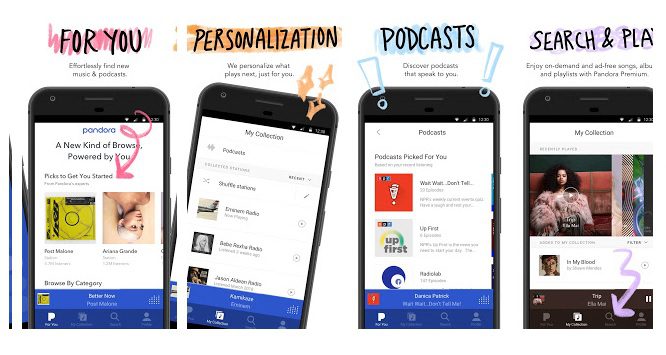 Pandora Radio is among the most popular radio apps. It gives you a personalized listening experience of your favorite songs, artists, or genres.
The cool feature this app has is the voice command mode. It lets you search, play, pause, skip, adjust volume, and rate music with a simple voice command.
Premium Pandora App features the following:
Search and play your favorite songs, podcasts, albums, and playlists on-demand
Create playlists, not worklists – on your own or powered by Pandora
Download the music you want for offline listening
Unlimited skips and replays
Higher quality audio
Listen to ad-free music
However, the downside is that Pandora Radio is currently available only in the US. Download from Google Play and Play Store.
Developing Radio Apps with Shoutem
There are things to consider before you create a mobile app, like market research, your app's functionalities, app development, app monetization options, and more.
You can create your radio station app as well. Make sure to follow the recommended tips for the best results and don't forget to read more about radio station apps.
If this all sounds too complicated or you simply don't have time, don't worry. With Shoutem Pro, you can hire our experienced team to build your app in the shortest time possible on Shoutem's platform and have it published on the iOS and Andriod store.
Enjoy the music and book a free consultation meeting with our support team for more information.