A well-written business plan is a key to attracting a target audience and potential investors. Deep cannabis knowledge & insights elements are precisely what investors are looking for in a typical cannabis business plan.
Still, making a traditional business plan isn't easy, let alone the cannabis one. If you want to know all there is to making a solid cannabis business plan keep on reading this helpful guide.
Why is Important to Make a Cannabis Business Plan
If you're entering the cannabis business plan, just know that you are getting into a lucrative and competitive industry. For example, just in Canada, online and retail store sales have reached $908 million since cannabis was legalized. You'll need a good business plan to get into this industry as a cannabis startup.
It will help you better determine your target audience. It will make your business organized and profitable. And, of course, it will help you rise above other competitor cannabis companies.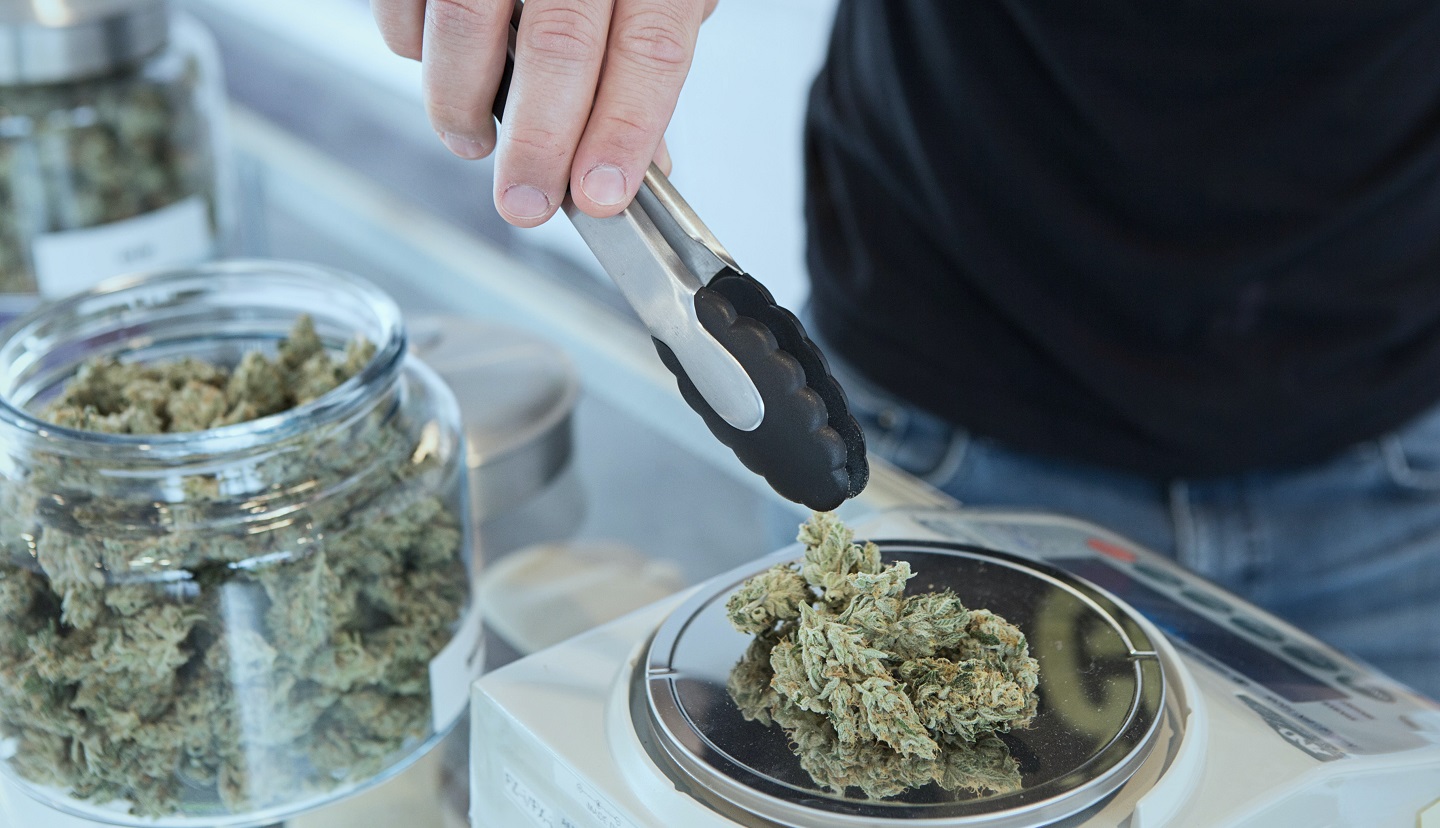 Three Cannabis Business Plan Challenges
While creating your business plan, you'll run into some challenges the cannabis industry is specific by. However, these can be just minor setbacks if you access them correctly.
Cannabis Business Regulation
It's well known that cannabis regulation laws are a lot stricter than those for other businesses. That's why it's essential to know the regulations before taking further steps. There has to be a lot of research done before even thinking about officially getting your cannabis business license.
Maybe the type of business you wish to open isn't even a part of the legal cannabis industry. Perhaps the law in your area requires different cannabis license applications or the tax rates are too big to handle. As thousands of these laws and regulations are changing daily, we even recommend hiring a special professional adviser.
Cannabis Business Taxes
Since legal cannabis products are still relatively new on the market, tax rates are often individual for each state and are usually pretty high.
For instance, in Canada, all territories have agreed that federal, provincial, and territorial cannabis-specific duties and taxes will be no more than a dollar per gram or 10% of the producer's selling price. Still, this doesn't have to be the case in your state. So make sure to double-check the taxes for your area so you can secure funding in time.
Cannabis Business Banking
Cannabis business banking is another item to deal on the cannabis entrepreneurs list. Unfortunately, banks are very skeptical when it comes to working with these businesses. They fear cannabis investment risk, so often, they deny the funding request. Still, with a great financial plan and mission statement, you can prove that your business will be safe and profitable enough.
Three Solutions to Help Setting Up Your Cannabis Business Plan
Setting any business plan can be challenging, especially if you're doing it alone. Cannabis start-ups face even more challenges since the cannabis market is subject to more specific rules. To complete any challenge to cannabis businesses, try these three solutions.
Cannabis Start-Up Incubators
Business incubators are institutions that help to stimulate the growth of start-ups. All incubators have their process, but the main goal is to make cannabis business ideas a reality. The benefits of working with business incubators are:
Funding for your business
Great mentoring
Better access to industry experts
Government Funded Cannabis Business Programs
You can also seek government funding for your cannabis company. Since the growth of the cannabis market, the government has seen the potential of this new niche. They are more and more open to the cannabis community and are willing to offer quite the funding. Some countries even have a special department dedicated to funding businesses in cannabis.
Cannabis Consultants
Cannabis consultants and advisory firms are experts specialized in the cannabis market. There are a few types of consultants, those specializing in horticulture and others in cannabis law. It's best to choose the experts that fit your niche. They can be of great help when creating a business plan. In addition, their experience with things like cannabis business license will make your business plan efficient and flawless.
2 Examples of Successful Cannabis Businesses
Grassdoor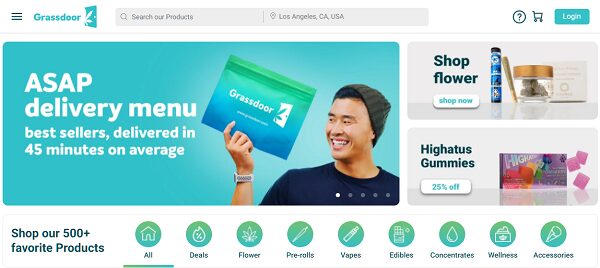 Grassdoor is a cannabis delivery service company. And they aren't just your regular delivery service; they are the fastest. Grassdoor delivers their product on your doorstep in 40 minutes or less in LA and Orange County.
On their website, you can find only the premium flowers. The cannabis connoisseurs constantly search for the best cannabis farms in the country to provide you with a variety of high-quality products.
Moreover, they have tested every cartridge and pen on the market and selected only the best ones to be delivered. Besides classical and exotic flowers, Grassdoors offers other cannabis-related products like pre-rolls, vapes, edibles…
They are aware of the importance of good customer service, so they are available to their customers 365 days a year, in the morning and afternoon.
Ginger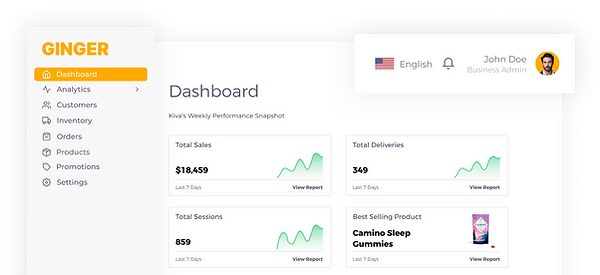 Ginger is a DTC company based in California specializing in cannabis. Their incredible and dedicated team has been tirelessly working to identify the flaws and disadvantages of traditional retailers and other DTC companies to provide the optimal business model for all.
That's how Ginger's business model was created. They are an innovative company that supplies cannabis brands with a platform to sell their products and services without the cost and intervention of third-party services.
The founders of Ginger are both distinguished experts are in their field. Roie Edery is a businessman that uses premium technology to produce the most innovative products and solutions on the market. Aside from Ginger, he has been involved in the cannabis industry with his CLICK spray, the most popular cannabis spray in America.
His partner, Aleksey Klempner, has immense software development and marketing knowledge. He is personally responsible for developing several companies in various industries, including cannabis.
Cannabis Business Plan – Complete Guide
A typical business plan consists of multiple sections, and a cannabis business plan is no different. A good business plan is a foundation for a successful business. Your funding request won't be refused with an excellent business plan, and there will be fewer unforeseen startup costs.
Since the cannabis industry competition is so fierce, a solid cannabis business plan might be just the thing to differentiate you from the competition.
How to Write Product Description in Cannabis Business Plan?
This part of the cannabis business plan is reserved for writing down all the specifics of the services or products you're selling. This means describing your product or service in a detailed manner and describing how and when it will be profitable.
Emphasize things like intellectual property, patents, and operating procedures. Investors love to hear that cannabis business owners know all the business details and know how to make a profit out of it.
How to Make Industry Analysis in Cannabis Business Plan?
With industry analysis, you and your investors will get the bigger picture about the cannabis market overall. Cannabis industry analysts should always have the most recent numbers and facts of the ever-changing cannabis market trends. It's also essential for a cannabis business to analyze regulatory considerations. Since risk is the investors' primary concern, it's necessary to have a clear plan for regulatory compliance.
How to do Competitive Analysis in Cannabis Business Plan?
Competitive analysis means evaluating the competitor cannabis companies. In this phase, it's essential to explore the differences between your and their products and services and emphasize how your's better.
When you understand the competition in your area, you'll also better understand the market itself. This will push you to create more innovative solutions and improve your business model.
How to Prepare a Marketing and Sales Plan in Cannabis Business?
A cannabis marketing plan is sometimes the most important in the whole business plan. The marketing plan analyses the target market, ideal customer and then finds the best strategies to meet them. When making a cannabis marketing plan, ask yourself the following questions:
How will you sell your cannabis products?
How will you promote your product?
How will you market your cannabis products?
How to Properly Prepare Operating Plan in Cannabis Business?
The operating plan describes how day-to-day work is handled and how the business operates in general. When making an operating plan in the cannabis business, it should answer these questions:
Who are your distributors, and how much are you paying them?
What are your costs and contracts terms?
Who will be in charge of managing key relationships?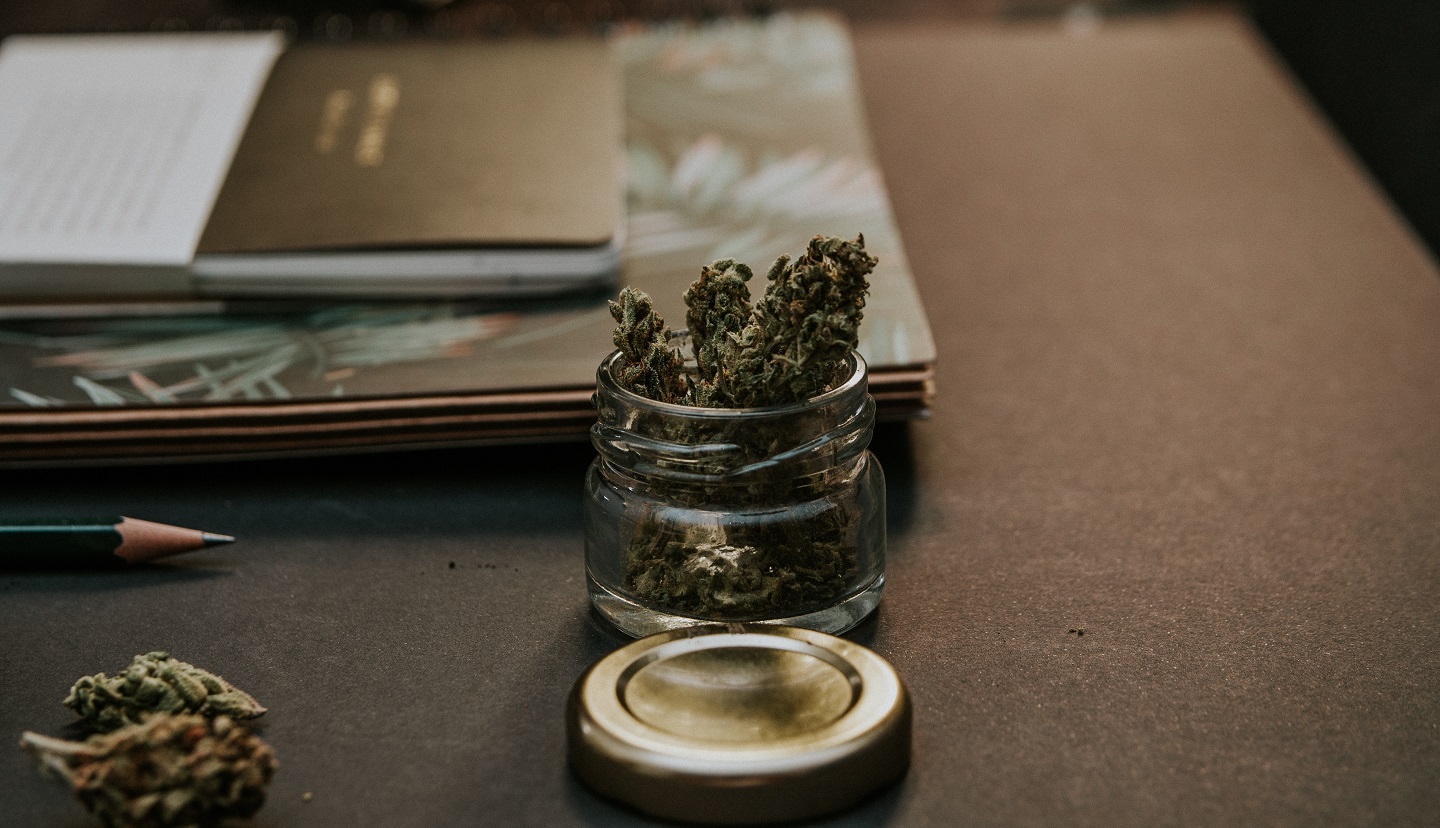 How Do I Start a Cannabis Dispensary Business Plan?
To start a cannabis dispensary business plan, you'll first need to make an executive summary. In it, you should state the business's mission statement, the location of your business, and a description of your dispensary business.
In the second section about company description, you should specify detailed information about your business, along with your value proposition.
Before the next bolder step, you need to do industry and marketing analysis. After that, build your cannabis business's organization and management structure.
Once you have all the information, permits, and everything else, apply for funding to the investor or government.