It feels nice when customers appreciate the hard work and effort you put into creating a powerful mobile app for your business. Now you have a dedicated business mobile app, which will allow you to connect, and get to know your customers. You will also be able to test new sales and marketing channels for every campaign and boost your brand awareness. However, you can step up the game and improve your mobile application. You can turn it into an additional revenue stream, with different mobile app monetization models.
Here are the top ways to monetize mobile apps and transform them into money-making machines.
Freemium App Monetization
Mobile games and streaming apps increasingly use the freemium model to introduce their apps to the masses. One can download apps from the app stores for free, but to access a full set of features, users need to upgrade to the paid app version. To do so, they can either spend real money on virtual goods, or they can subscribe.
To make progress in games, users constantly need to level up, attack other players, or train to get rewards. However, the freemium model always includes "timers," where users get a power-up every few levels, or within a specific period.
To progress more quickly, users can exchange real money to boost and speed up their progress. In order of popularity, Clash of Clans earned $1.5 million a day. On the other hand, Pokémon Go is the first app that has generated over $600 million since its launch.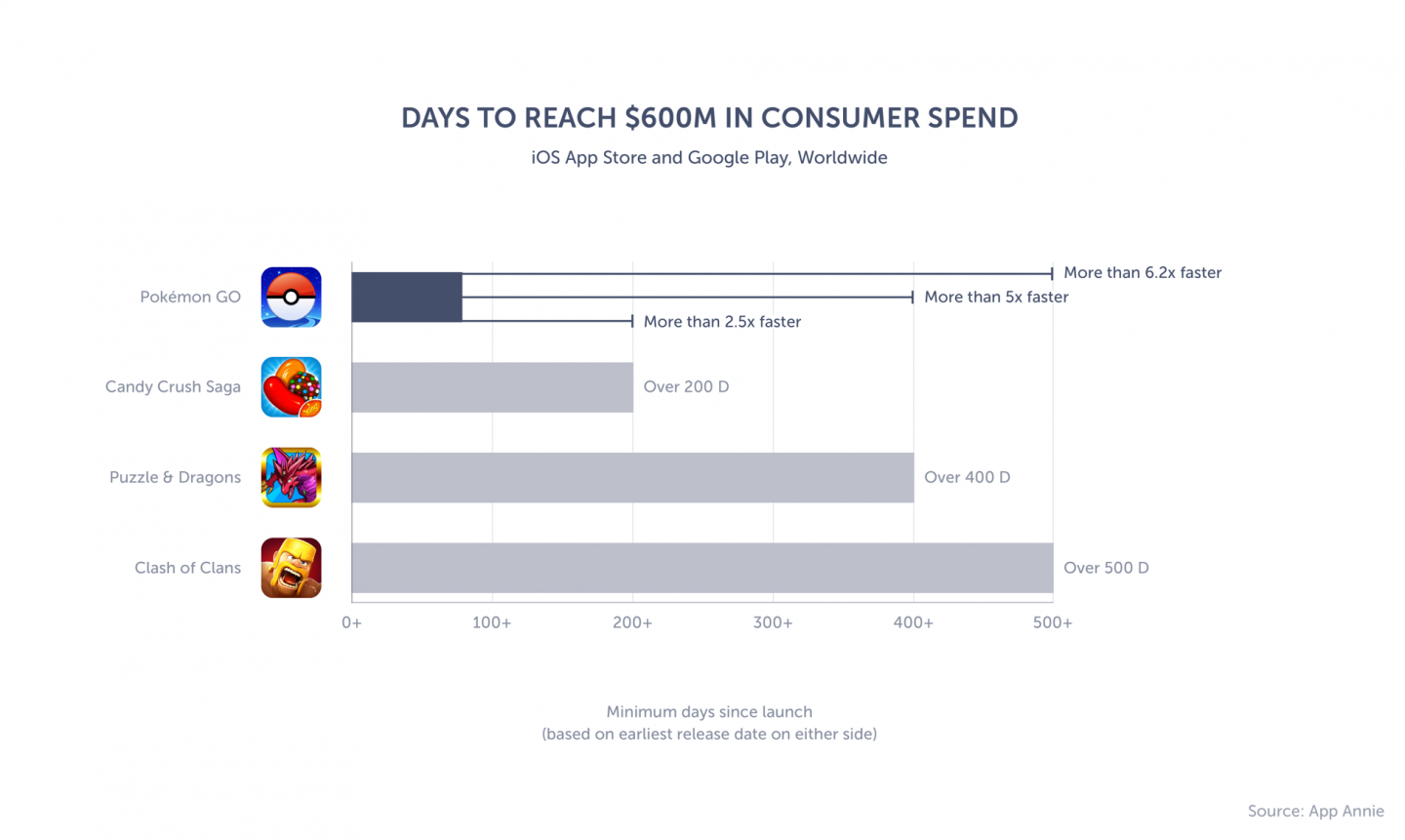 Spotify offers both free and premium versions to its users. The free version offers to listen to your favorite artists but with a few drawbacks. Firstly, ads will often interrupt you during your listening experience. It's the annoyance you cannot skip. Furthermore, skipping songs is not an option you can use as much as you want to either. If by any chance, you decide to upgrade to premium, you will get some benefits.
With premium, you can listen to any track, album, artist, or playlist you like at any time in any order with unlimited skips. Basically, you can listen to whatever music you want without any limitations in either the desktop or mobile apps. Not only that but also the audio quality will improve and there will be no ads to disturb your musical flow. You can listen offline and sync your playlists across multiple devices.
Premium (paid) Apps
Premium apps require users to pay for an app before downloading, or even trying it. The general rule for adding the paid app to the app stores is to have unique features, or, if it is a highly specialized app, to target a specific niche audience. The majority of users will be able to download the app; however, due to its specific features and complex functionality, they might have a poor experience. That may result in bad reviews.
According to the Gartner forecast, and based on many free and paid mobile app store downloads worldwide between 2011 to 2016 (in billions), download figures for paid mobile apps are projected to reach 14.78 billion by 2017, while free apps are projected to reach 253.91 billion.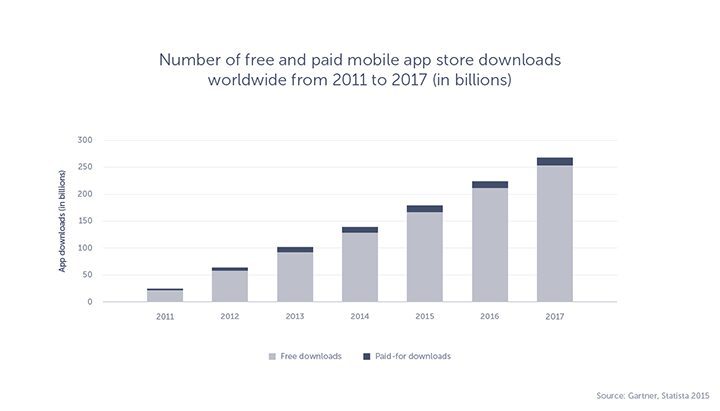 A great example of a premium paid app is Nintendo. When Nintendo released the game Super Mario Run for $9.99 on mobile devices, the high price was a risk. Despite some complaints, the mobile game generated $60 million in revenues. It is possible to succeed by using this approach but if you do so, invest in your app. Leverage positive feedback from users, guarantee rich UI, and enjoyable UX. Don't forget to optimize ASO for better visibility.
Weather Forecast Pro gives an extensive overview of the weather forecast. You might wonder why would anyone pay for a weather forecast when one comes pre-installed on most smartphones. Weather Forecast Pro is much more than that. It will automatically detect your location by its GPS network and show the weather report of that place. It gives you an insight into the weather in any country and city in the world, in detail. Download it from Google Play for the price of $3.99. It's not a big price to pay to be ready for any weather conditions at all times.
In-app Purchase
It is not uncommon to see in-app purchases in combination with the freemium business model. Even though apps are freely available for download, users can buy virtual or physical goods in exchange for real money. While this method has been implemented in the majority of game apps, shopping and e-commerce apps have also implemented an in-app purchase. This allows the users to buy directly from the app, which not only reduces the sales cycle but allows businesses to implement and track their sales campaigns faster.
Games use in-app purchases for consumable virtual goods. That means that people invest money into paid bonuses in games such as extra lives, more time, power-ups, etc. Often, one can find limited-time offers on such consumables, offered to users for a smaller price.
In addition, buying directly from the app creates a unique shopping experience. Shops like ASOS or marketplaces like Etsy are perfect examples of well-implemented in-app purchases.
ASOS invested millions of dollars in their mobile app to change the exhausting and stressful shopping experience into an enjoyable, easy, and profitable activity. About 58% of their customers shop online. One of Asos's strengths is its vast inventory of 85,000 products from 200 brands, and it's resonating with customers. How do you find your way around these numbers? With a good filtering system that requires several seconds to provide a visual representation of products you need. No need for walking around the store for hours when you can find all models, sizes, and prices in a second.
An app tracks a customer's shopping history to recommend similar or related products for future shopping. That is how you build shopping momentum and brand loyalty over the app.
Subscription App Monetization Strategy
In the past, newspapers and magazines mastered the subscription business model. In recent years, different types of businesses have introduced their subscription business models. These models are not limited to the industry or to the products and solutions that businesses offer. The online learning platform Lynda and Dollar Shave Club are perfect examples of this.
In the mobile app world, this model presents a hybrid of premium and freemium. As we have already mentioned, newspapers are the pioneers of this type of business model. Even in the mobile app world, and The Economist has applied this model perfectly. The business model behind it is to offer the app for free but to access its full content, users need to have an active subscription. Once the app is installed on a user's device, it offers a glimpse of the available content. The goal is to "hook" users and encourage them to subscribe.
Marvel Unlimited is another example. The app offers dozens of comics selected free of charge by editors, but the majority of content users without the subscription can only view a sample of them.
Non-newspaper apps also apply this business model, and an excellent example is Lumosity, a brain training app. Lumosity offers two types of subscription, with either a monthly subscription of $11,99, or an annual subscription of $59,99. It is a brain-training program with more than 50 games designed by neuroscientists to improve cognitive skills by practicing them over and over again with games.
Another good example of a popular subscription app is Netflix. Many would say the best streaming platform which is home to millions of movies, tv shows, and programs. Netflix no longer offers a 30-day free trial but instead, you have to sign up and subscribe each month to enjoy Netflix's content. Due to its reputation, customers are willing to pay the subscription, knowing their money is worth the high-quality service they get in return.
The key to the subscription monetization strategy is to provide new and fresh content to users on a daily, weekly, or monthly basis. If the app does not provide value by employing new content and features, there is no reason for them to keep the subscription active.
According to the Branchfire mobile study, 49% of app users are willing to pay a monthly subscription, while 39% of them are willing to pay for streaming TV/movies apps.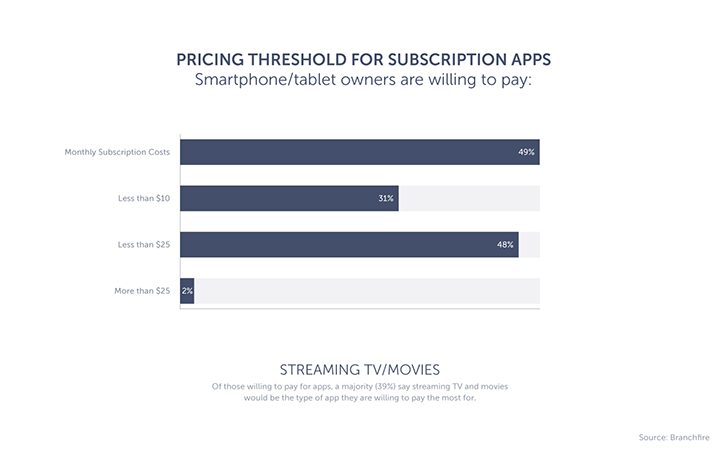 Advertising
Mobile in-app advertising is one of the most used ways for app monetization and it is usually used by free or freemium apps. The most common way of mobile advertising in the app is via the ads banner, although users usually despise this type of advertising. However, if the app is receiving a lot of traction in the app stores, ad banners can be a real money-making machine. Remember Flappy Bird? The game earned $50,000 a day from in-app advertisements.
Ad banners can be a great way for monetizing mobile apps; however, there are few conditions. Firstly, they should not disrupt the user experience. Secondly, you must choose wisely the type of ads you want to display to users.
Remove all non-relevant ads, as the risk of a poor experience, is almost instantly guaranteed. Different ad networks, like MoPub, AdMob, and DFP, collect user data. Based on this data, they display only relevant ads to improve the overall app experience and to deliver good campaign results.
If you do not want to risk using ad banners and bad UX, rather switch to native advertising. The format of the native ads allows the ads to blend in with the content of the rest of the app. That includes other design elements which provide a non-intrusive way of displaying ads.
Interstitial ads cover the whole screen and usually appear at the end of the level in the games or during the loading screen. They consistently yield high CTR, largely thanks to the demand for a user's attention. You cannot immediately close them, but don't necessarily view them until the end either. The close button usually appears after an ad runs for some time.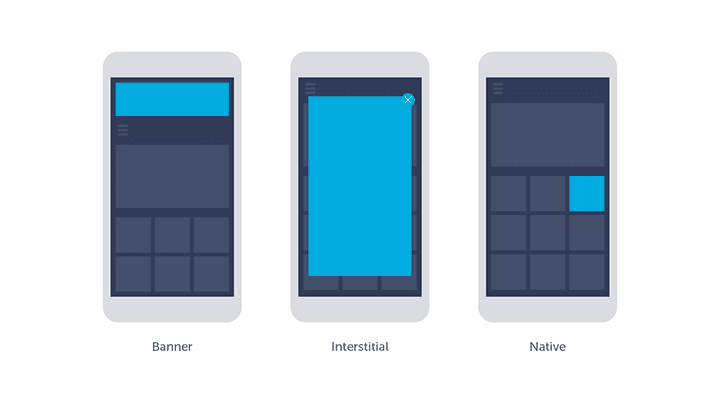 Instagram is a perfect example of a platform with an algorithm-filtered selection of ads, targeting a specific audience. Even though ads might come across as intrusive, they don't negatively affect the user experience. Over two million companies use Instagram for promotion and mobile ad revenue.
According to data from Polar and BI Intelligence, the average CTR rates for premium native ads on mobile devices were more than 4X higher than the average CTR of traditional, non-native display ads in the United States.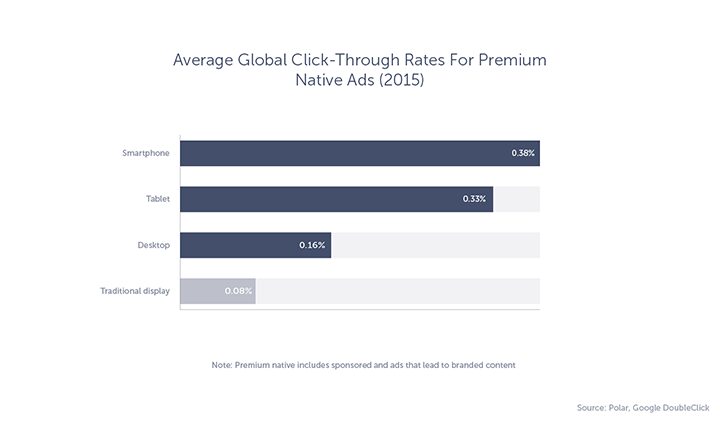 Sponsorship and Partnership
While they are not used on a large scale, sponsorship and partnership app monetization models are the right way to monetize your app. This model requires the partners to have a similar target audience or complimentary service that could initially spark the interest of a partner's audience.
This model works in the same way as when advertisers buy ad space on websites. Instead of serving random ads to users, you can offer ad space and top listings in different categories to advertisers. That will potentially interest your users in the goods and services that they provide.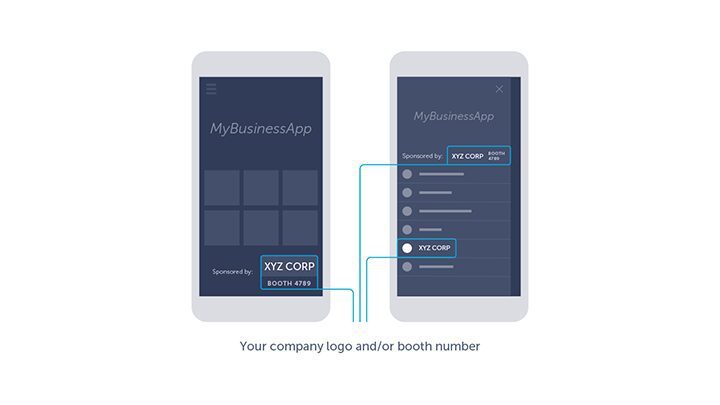 This type of promotion uses multiple formats, from an ad banner, native advertising, special sales promotions, discounts, etc. Both sides need to share the same values and have similar interests. A good example of a brand partnership would be the relationship between GoPro and Red Bull. Both have established themselves as lifestyle brands – in particular, a lifestyle that's action-packed, adventurous, fearless, and usually pretty extreme. The biggest collaboration stunt they've done was "Stratos," in which Felix Baumgartner jumped from a space pod more than 24 miles above Earth's surface with a GoPro strapped to his head.
Final Remarks
Multiple app monetization options are available. The decision of which one to implement should depend on the company's business model. While the ROI on your app investment should be positive, you mustn't become captive to short-term app monetization goals. App growth will come in no time, just focus on what truly matters.
The first thing on your mind should be providing value and the best possible user experience. Don't forget to keep the users engaged. If you can achieve all these, app monetization will be your newest and latest concern.