We are all subjected to a large variety of products every single day because of the large expansion of the D2C E-Commerce model in the modern market. Manufacturers and CPG (Consumer Packaged Goods) brands are increasingly using the Direct-to-Consumer (D2C) method to enter the market directly rather than through a middleman.
Going direct to consumer has numerous advantages, but to mention a few, it removes the barrier between the manufacturer and the consumer, allowing the producer to exert greater control over its brand, reputation, marketing, and sales strategies. It also allows the producer to interact with and learn from their customers directly.
Online retailers are becoming more and more popular while gaining maximum control over today's modern market. D2C's E-Commerce business model has allowed manufacturers to get rid of a physical retailer and achieve ultimate transparency with their consumers.
Want to make an app for your business? Create your mobile app without code!
What is Direct To Consumer Business Model? D2C Meaning & Definition
Direct-To-Customer, also known as D2C or DTC, is a low-barrier-to-entry eCommerce strategy that allows manufacturers and consumer packaged goods firms to sell directly to consumers. It eliminates the need to negotiate with a merchant or reseller to get your goods on the market. Brands sell directly to consumers through an internet medium in direct-to-consumer (D2C) sales.
Starting your business via a direct-to-consumer method provides a number of benefits, with competitive pricing being one of them. Other benefits include having direct touch with customers to develop a better understanding of them and the freedom to experiment with new product releases and test them with a part of your customer base to gather feedback.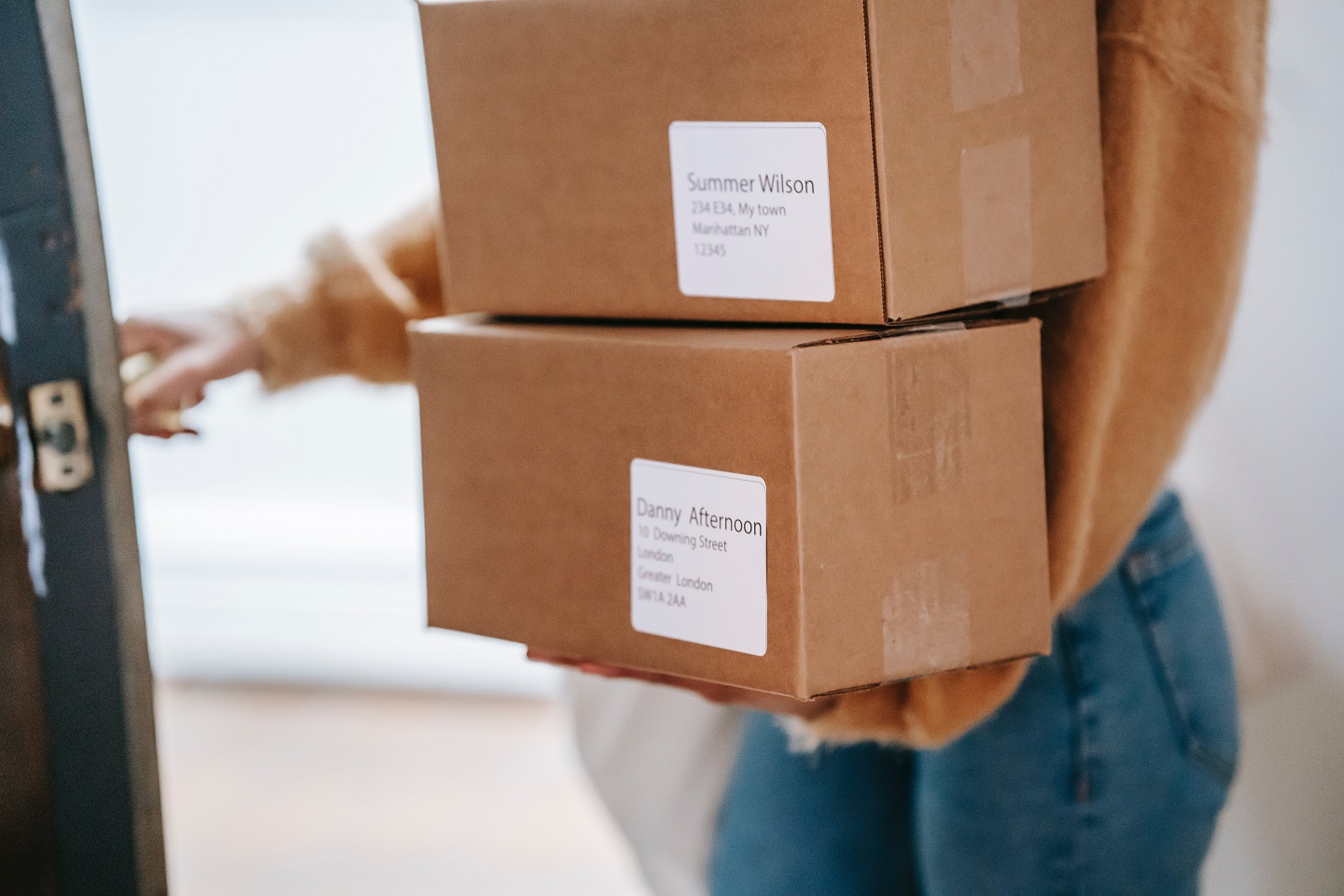 What are the Benefits of the Direct-To-Consumer Business Model?
An Omnichannel Experience
More Control Over Brand Reputation
Truly Understanding Your Customers
An Omnichannel Experience
In order to provide an omnichannel customer experience, companies must connect all of their various channels so that customers may pick up where they left off on one channel and carry on with their interaction in another channel. Increased availability, increased revenues and increased traffic are also all benefits of omnichannel retailing. Customers benefit from an omnichannel retail strategy because it enhances the customer experience and provides a wider range of options for purchasing goods and services.
More Control Over Brand Reputation
The traditional retailer business model has its rule to present each brand and decides what to stress, usually depending on the power of the brand and relations with it. In the case of D2C, the producer takes the whole control over presenting the product and reaching the end consumer. The effort puts into marketing strategies can improve customer experience and change the way they look at it. What is more, they can react quicker in a crisis and get direct feedback from both satisfied and unsatisfied consumers.
Truly Understanding Your Customers
With the D2C business model, you have every information possible about your customers, their behavior and their true needs. All this information, when analyzed properly can be crucial to a brand's success in the future. It allows you to be one step ahead and constantly surprise your customers.
Examples of Direct To Consumer Business Model
D2C marketing can be one of the most effective ways to reach your clients, as it bypasses the intermediary and allows you to build a devoted following. By using a direct-to-consumer or D2C marketing strategy, companies like Dollar Shave Club, Casper, and Glossier have been able to develop tremendously profitable businesses.
If you're considering opening a direct-to-consumer channel or are already selling directly and want to 'hack' your growth, we've looked at some of the most successful firms' strategies from online-first companies. Continue reading to learn 5 D2C marketing methods and strategies from companies used to attract new clients and stay ahead of the competition.
Ginger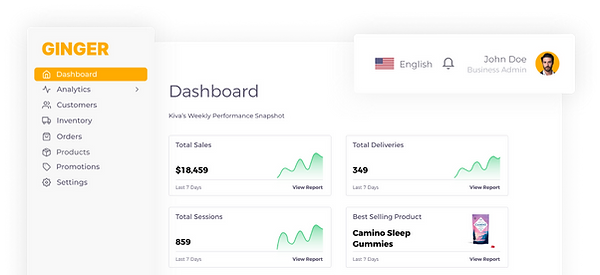 Ginger is a D2C solution that enables cannabis brands to sell their products and services directly to the customer. They are based in California and are the only real D2C solution in that area.
Their devoted team of employees has searched for the disadvantages of other D2C solutions and traditional cannabis retailers to develop the best solution possible. As a result, cannabis brands don't need third-party involvement on the Ginger website.
Their founders made sure of that. Roie Edery is a successful innovator in multiple industries and the Founder and CEO of Ginger Commerce. Knowledge of the industry and the impact he has had on the B2B market over the last decades have greatly reflected on Ginger.
The other founder and CTO of Ginger Commerce is Aleksey Klempner. He is responsible for everything in terms of software development and marketing. Together, they create a perfect team.
Grassdoor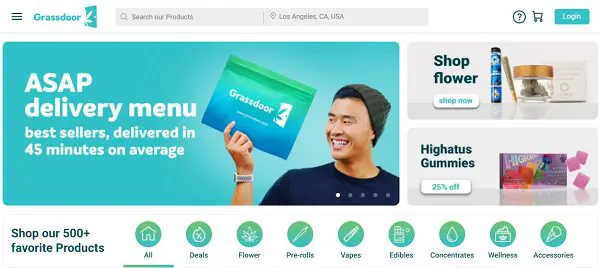 Grassdoor is a known quick and effective delivery service for cannabis goods. It's situated in California, and it delivers the products in 40 or fewer minutes to Los Angeles and Orange County.
Their safe, friendly, affordable, and most importantly, the quick approach has made them one of the most successful delivery companies. The management team that consists of cannabis connoisseurs ensures that only premium products are found on their website. They have tested every cartridge and pen out there and selected only the best of the best.
In addition to that, tirelessly, every day, they are looking for new cannabis farms so they can add a wider variety of flowers to their offering. Grassdoor also has incredible customer service available 365 days a year, all day.
Want to make an app for your business? Create your mobile app without code!
Glossier
---
Glossier started off as a beauty blog in 2010 and has since grown into a $1 billion company. Before launching a single product, Glossier had thousands of clients thanks to its well-received and creative blog. The online community has always been important to the Glossier brand and that was their money maker, trust. Their goal has been to provide a seamless customer experience from social media to a product purchase.
According to LiveArea Creative Director Benoit Soucaret, "connecting blogs, vlogs, YouTube channels, product pages, Instagram postings, and in-store touchpoints is important."
Glossier provides free shipping and discounted product bundles to entice clients to try new products and styles. "Their website and social media platforms show each product on a variety of skin tones," Soucaret explains. It also makes use of user-generated material by aggregating photos of actual people doing real activities from social media.
A person can search for reviews based on their age, skin type, and gender. It also discloses negative visitor feedback, boosting transparency and confidence." By integrating all touchpoints and guaranteeing brand consistency across the consumer experience, Glossier shows how to monetize an audience without alienating them.
Dollar Shave Club
Dollar Shave Club created an amazing D2C E-Commerce strategy, for example, is a well-known D2C website that relates to and visually appeals to its target audience. This company planned to create a razor subscription service and other grooming products. Dollar Shave Club entered a congested industry with big names and stand-apart products like Gillette and Schick, forcing them to stand out. As a result, Dollar Shave Club began experimenting with new marketing strategies.
Dollar Shave Club has received more subscribers as a result of its famous video. In 2012, the video became viral. Two years after the viral video, Dollar Shave Club achieved $65 million in sales. Dollar Shave Club continued to use funny advertising to humanize the business and set it apart from competitors as it grew. Dollar Shave Club's Father's Day promotion emphasizes on "dad bods" and how anyone can join the club.
Making an impression on your audience is easier if you stand out from the crowd. Secondly, keep true to your brand identity. One of the best examples of a direct-to-consumer website is Dollar Shave Club, which has stayed true to its brand identity from the beginning.
Casper
Casper is the third and final D2C brand we'll look at. Casper is a mattress brand that aims to make mattress shopping more convenient. Original, Nova Hybrid and Wave Hybrid are the only mattress varieties available. That way Casper limits its users' options and makes their buying decision quicker and easier.
Casper interacts with millennials through social media. They use Twitter and other social media channels to spread information to its target audience. The phrase "You up?" in Casper's Twitter message about how to fall back asleep appeals to its target group because of its subtle hint of comedy mixed with the intention of helping its consumers.
Casper also partnered with the world's number one influencer and celebrity, after her sister Kim, Kylie Jenner to promote its products.
People often forget how much actual power their audience influencers hold, they can be a great asset to any brand if there is a true and logical connection there. Do not be afraid to reach out and use marketing channels that will elevate your brand.
Away
D2C marketing examples for Away, a luggage company, are also included in this list. Away opted to position itself as a travel agency in order to separate out from the competition. Away provides its audience with a wide range of travel-related material and media.
Aside from producing travel-related information, Away also uses its social media to have fun with its followers. In order to connect with its audience, the company uses lighthearted posting styles, as a way of connecting with their followers to create a loyal consumer base. An everyday and monotonous object, such as luggage, is transformed into something entertaining and fashionable by the D2C marketing example of Away.
For its customers, the firm creates an experience around the suitcase. That's the key part, as a brand you need to learn your true value and find a way to convey it to somebody else.
BarkBox
BarkBox rounds up our list of direct-to-consumer brand examples. BarkBox is a monthly subscription service for dogs that delivers toys, snacks, and chews. To keep their items new and engaging for their customers, the boxes have a monthly theme. Every month, subscribers of BarkBox's subscription service receive a themed box. No one chooses the theme they want, and no one subscribes to a particular theme. There is a sense of community among subscribers because every subscriber gets the same box.
If you have a photo of your dog with a BarkBox, you're encouraged to use the hashtags #BarkBoxDay or to mention BarkBox in your post. For BarkBox, it serves as an excellent marketing tool.
Direct-to-consumer brands need to cultivate a feeling of community in order to succeed. Because you can't rely on a third party, such as Walmart or Target, to have faith in your brand, you need to establish your own. By developing a feeling of community and encouraging people to share their experiences with your brand, you can help build a strong community that trusts your business.
Want to make an app for your business? Create your mobile app without code!
Difference Between D2C and B2C Business Models
The key difference between D2C eCommerce and a B2C marketing model is that a B2C model relies drastically on suppliers to get their product on the market while in D2C the brand is involved and in charge of the entire customer journey and business process.
Because they retain control over the entire process, direct-to-consumer marketing allows suppliers to create an end-to-end brand experience. The business is in charge of creating a winning product, effectively attracting and selling it to customers, delivering the product or service, and controlling customer communication and experience. Suppliers may collect customer data and handle issues without having their messaging tainted by an intermediary retailer because they connect directly with customers from start to finish.
---
---
Direct to consumer brands are most commonly seen as online businesses since they access the market without going via a third-party provider. The fact that eight out of ten Americans purchase online regularly gives providers strong reason to focus their efforts on digital commerce for the greatest impact. However handling a D2C business requires more marketing efforts, considering that every expense falls into the hands of a brand.
We can for sure say that direct-to-consumer marketing has had a massive impact on how we as consumers buy different products, such as clothing, dentistry, hair products and other hygiene-related products like contact lenses. Considering all this we can certainly say that this model has disrupted many industries.
---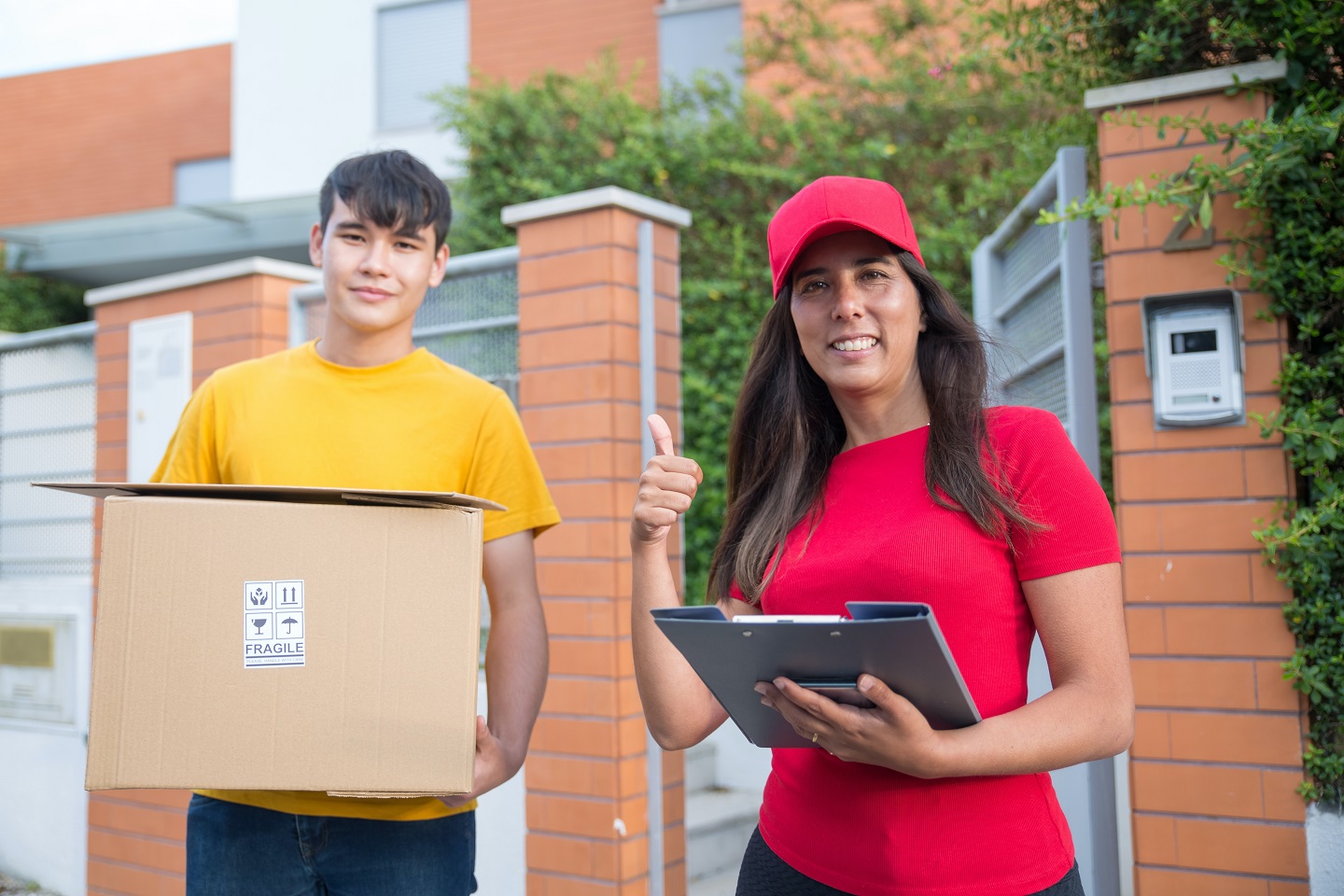 How to Start a Direct To Consumer Retail or E-commerce Business? Complete Strategy
Starting a new business can be a challenging experience and that is exactly why we created a few key e-Commerce insider bullet points for creating a D2C business startup:
Creating a clear business strategy and plan
Before deploying D2C, make sure you have a solid business strategy in place. If you have a business plan in place, it can help you gain an understanding of the market and devise methods that work best for your organization. These questions should be answered in your business plan: Why should I care? How do you intend to use your business plan? What information should be included in your business strategy document? What are the finest tools for your business?
Managing and obtaining CRM data
Many systems and applications on the internet are swamped with data, and it's easy to find useful and meaningless information. If a company had the ability to manage and organize this data properly, then it would be like winning half the battle. As a result, managing and interpreting data is critical for identifying opportunities in order to better understand the customer.
---
Want to make an app for your business? Create your cannabis app without code!
---
Maintaining Successful transactions
Many companies overlook the fact that how they handle transactions is a critical part of their customer relationship. Indicators of your dedication to your consumers include transactions like shipping and delivery. As a result, they can see how well you can meet their specific needs. An Accenture survey found that two-thirds of customers choose a retailer over another because of its delivery alternatives. If a startup has a smooth and easy return process, it will become a customer favorite and build a strong brand. A partnership with a third-party source like Amazon can help startups that can't meet demand on their own.
Taking a Brand first Approach
In order to be successful, a company needs to have a clear grasp of the market's potential. This is critical in establishing the brand's mission. Make sure you know why a brand exists and what its core principles are before creating a brand value. Since a startup's online presence is mostly determined by its brand, putting the brand first is critical. To boost your brand exposure, start populating your platform with extensive product descriptions, how-to videos, interesting content, and videos.
Innovating
Providing customers with the most recent technology isn't enough in today's digital age. The modern consumer is better informed and more concerned with their own interests. Offering a one-of-a-kind product or a unique platform experience to customers can help you stand out from the crowd.
"Innovation is seeing what everyone else sees and thinking what no one else thinks" is a crucial tagline for entrepreneurs creating a successful direct-to-consumer approach. By thinking beyond the box, you may provide customers with a unique experience while also increasing the value of your brand.
Creating the Best Consumer Experience Possible Through Customer Service
A platform is the basis of a consumer-manufacturer relationship and customer loyalty plays a key part in the companies success. Customers must be satisfied through messages, service interactions across all channels and content that builds trust. In the end, a satisfied customer should be one of the key company values.
Customers and markets can be addressed through posting high-quality content on websites, social media platforms, emails, and other methods. Customers can benefit from self-service options like FAQs and chatbots, as well as tailored e-commerce experiences, by studying their behavior. Along with intriguing material and viral videos, reaching out to social media influencers who can effectively market would be advantageous.
From luring customers through product delivery, a healthy customer relationship must be maintained.
AEI (Analyzing, Evaluating and Implementing)
As a startup, you need a business strategy that incorporates the right tools. These technologies make it easier to analyze consumer behavior and outcomes. Examining current development and customer feedback can help startups devise the best D2C strategy.
To reach realistic goals, start slowly and walk before jogging. Analyzing customer preferences and assessing your progress can assist. You must invest time, effort, and money to go D2C. Startups can better define their goals by assessing their current status and how near they are to attaining them.
The final step is to apply it. Implementing a plan can indicate its suitability for a corporation. To stay ahead of the curve, entrepreneurs must adopt a flexible approach.
Starting a D2c firm takes months of research and preparation, as well as cautious technology selection. To keep distributors and retailers on board, a flexible approach is required.
Direct-to-consumer sales can work if the right digital platform and technologies are used. The ability to be more creative and control your brand's image is required for further success.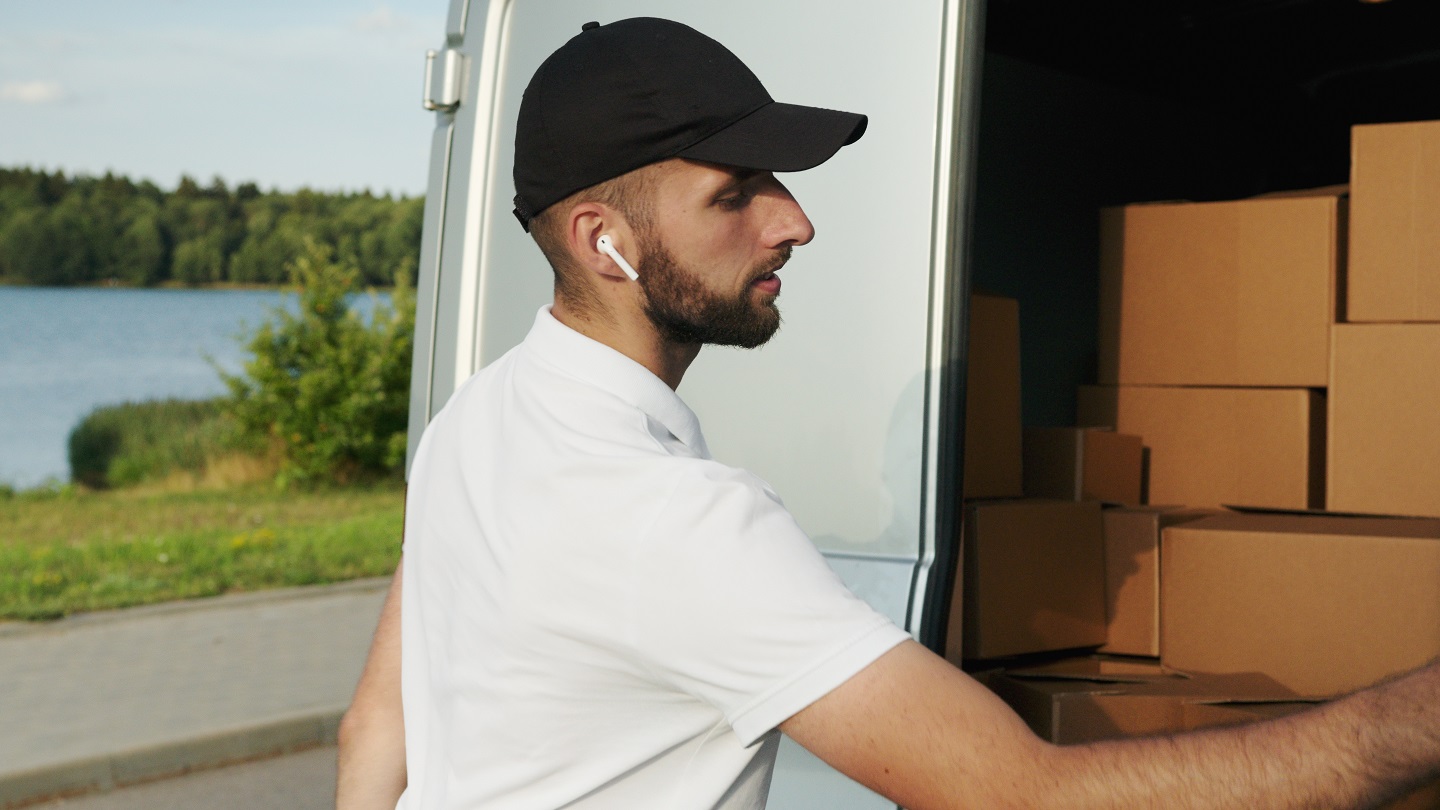 Bonus Tip: What Does the Future of D2C e-Commerce Look Like?
The direct-to-consumer (D2C) retail approach is showing no signs of slowing growth as we face 2022. A significant shift in the way customers browse for and discover new products has taken place, even after the D2C sector has seen the meteoric boom observed during the COVID-19 epidemic.
D2C brands are no longer referred to as niche consumer products or damaged goods. The D2C distribution model's transparency is becoming increasingly enticing to customers as they look for alternatives to the limitations imposed by traditional brick-and-mortar retailers. Retailers looking to get a piece of this profitable pie, not only start-up firms, should take note. To sum it all up Direct 2 Consumer model is the future in itself.
Additional resources: