Whether you're starting a mobile app development company or want to create an app for your business, there are several things you should consider if you want your app to be a success.
Unfortunately, there's no guide on how to create an app that will top the charts at the App Store or Google Play. But, when you are making an app, there are some things that you should consider before starting the development process. Knowing what's important will spare you from making some rookie mistakes that are common in the business.
What to consider before you design and develop
With over 10 years of experience and more than 10,000 published mobile apps, here's what we've learned from the apps that failed because of poor planning.
1. Why market research for your small business is critical
Market research means gathering information about your desired industry's market. Its goal is to show the market dynamics and then understand what features are essential for your potential users.
In this case, market research for a particular mobile application's needs would be a survey of companies that provide the same service to their users through an app or similar apps. How big are these companies, and what exactly are their apps for? Is the app solely for part of their business process, or is the whole business centered on an app?
You can break down market research for mobile app development into three segments:
Understanding your target group and their needs
Research the competition, their business, and their mobile applications
Research similar apps and what they offer via different functionality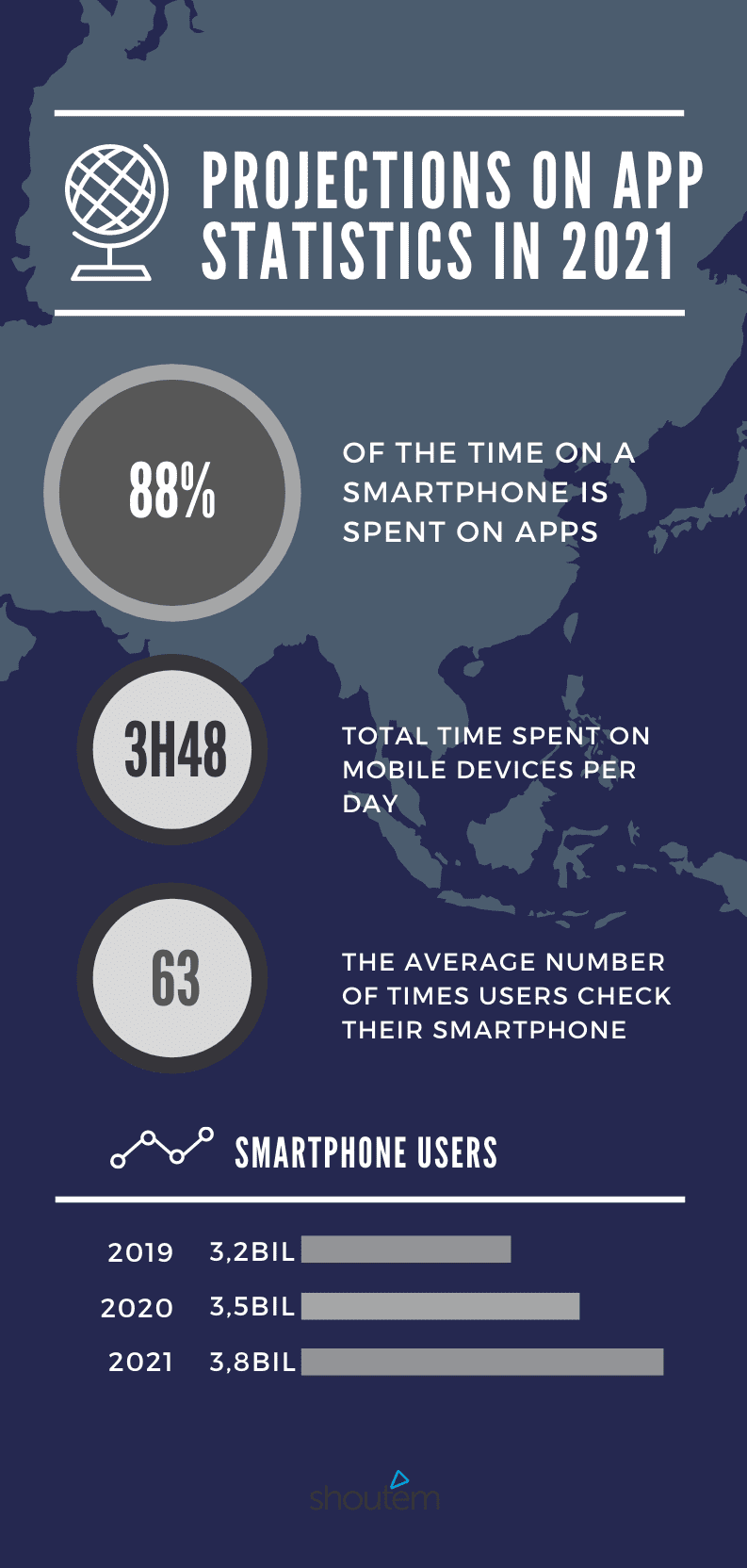 Example: Suppose a hair salon has a mobile app that primarily serves its loyalty program (which can be accessed only through the application). How many users use the app, how much has it contributed to the salon's business, and what else does it offer?
A loyalty program is just an example of a small business application. Still, in addition to their basic functionality, these kinds of apps also usually have textual content, like articles on current trends, information about products and hair cuts, and even locational details or info about its employees and their work.
How do you know if you've done good research? Try answering these questions with your collected data:
Who are my potential customers?
How large is my target market?
Who is my competition?
What are my competitors' strengths and weaknesses?
What functionality does my app need, and how does it differ from my competitors?
2. Android or iOS: which one is better for you?
Ok, you've decided to create an app. Your next decision is choosing what operating system you're going to launch on. Do operating systems even matter?
Yes, operating systems do matter. If you launch on the wrong platform, you could be neglecting your primary target audience. When it comes to your users, you should see some platform indicators in your market research. Also, creating an Android app doesn't mean you need to build one for iOS as well.
When it comes to market share, Android takes the throne. The International Data Corporation shows that Android has an 85% global market share in 2020, and iOS only 15%. What about specific countries?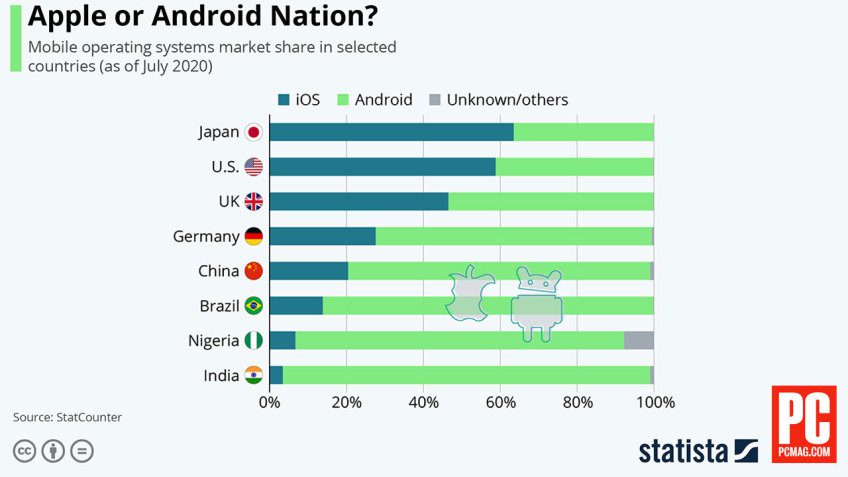 Look above, and you can see that global market share doesn't mean anything if you want to create an app for a Japanese market. It's not just about the total number of users. There are many other variables to consider, but it all depends on the type of app you plan to develop.
Furthermore, a study of 1,000 iPhone owners and 1,000 Android owners determined what your preference says about your personality — and even your spending habits.
Look at the infographic below, but you should also dig a little deeper depending on what your users prefer to use: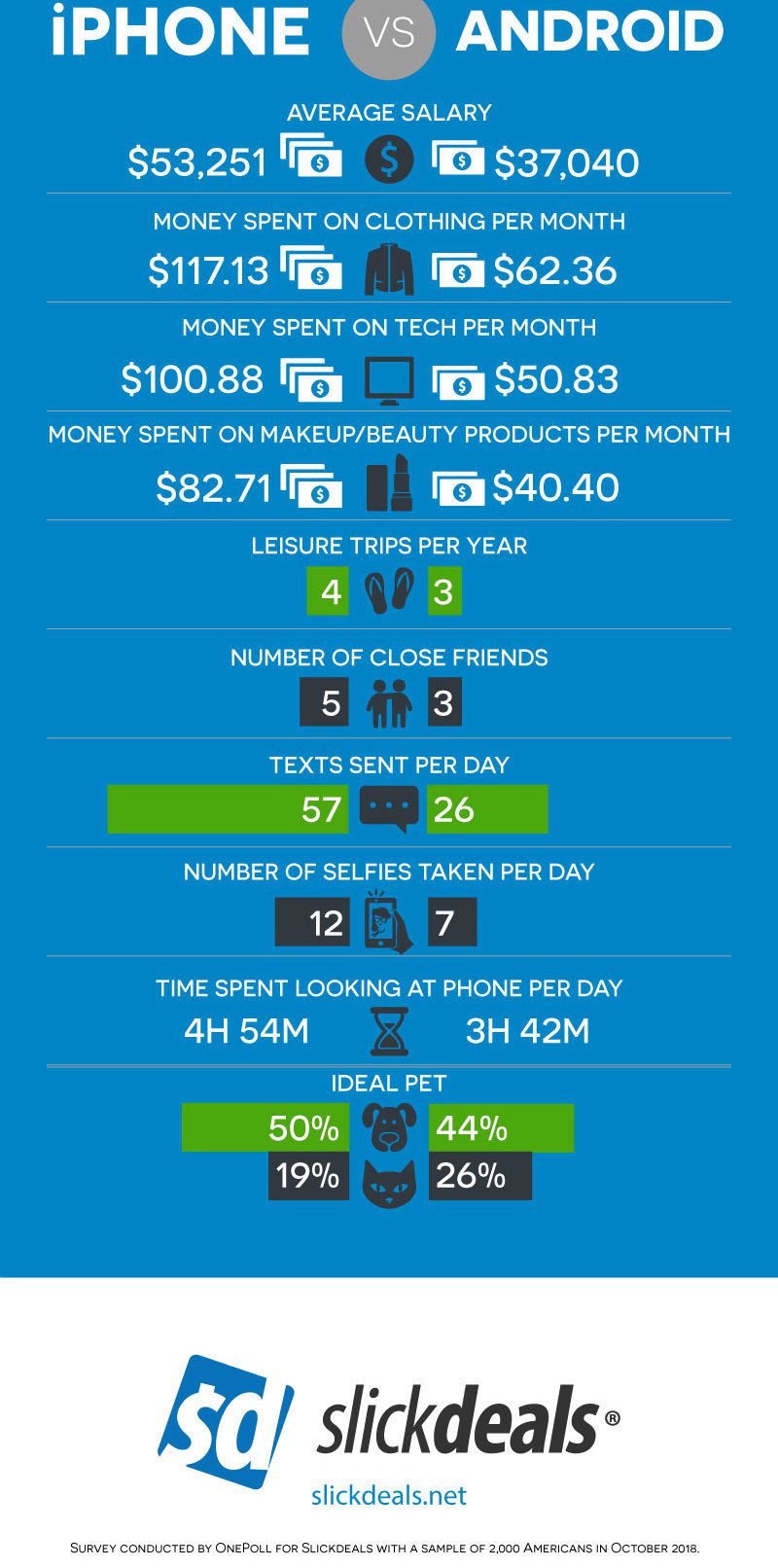 If you want to cover more than 99% of the market, choose an app that can be used on both Android and iOS platforms, and it's the smartest way to roll.
3. The most common mistakes when publishing an app
Mobile app development is a complicated process, but before designing an app, you need to see what can be published in the Google Play Store and the App Store.
There are rules for both platforms and stores. To learn more about each, read Google's Developer Policy Center for Google Play and the App Store Review Guidelines for Apple.
In our experience, here's what most frequently led to app store rejections.
Publishing an app that has a reference to another app store
One of the most common cases we've encountered are references to an app or something similar in another store. If you publish an app to the Apple App Store that contains an icon, logo, or URL on the Google Play Store or vice versa, your app will most likely be rejected.
Web-views in a mobile app
Experience has shown us that inserting a web view into a mobile app is not such a great idea. Many apps in the App Store were rejected because of a web-view that has something to do with Google Play or Google in general. Be careful.
Having "Donate" as mobile app functionality
Like with web-view, Apple thinks this is neither the best nor safest way to make a transaction. You can overcome this by using a third party to complete transactions, like leaving the app and then donating. Also, don't set the option "Donate" or "Leave some money" in your main navigation. The app stores don't like this.
Corona-related apps
Both app stores saw a massive influx of COVID-19 related apps in the last couple of months and rejected many of them. Because so many apps were submitted for publishing regarding COVID, each app store published requirements:
Intuitiveness & general user experience
This one mostly relates to Apple: don't make apps that are difficult to navigate, or follow basic UX standards, and are visually unappealing. Also, don't make apps where you have too many sections and features locked.
Apple will reject your app if you use Android screenshots in the App Store
This is self-explanatory. Use original screenshots for each store, respectively.
4. The costs of building an app
One of the main concerns of any project is the budget. How much does each part of a project cost, and, in the end, how much will the project earn? When making a budget for creating a mobile app, it is crucial to determine what the application will be like and what kind of functionality it will have.
What kinds of functionality determine an app's cost?
Android, iOS, or both?
Do users need to log into the app (email, social media account, or similar)?
Do users need to create a personal profile?
Will you make money up front from the app (upfront cost, in-app purchases)?
Will users rate or review products?
Do you want to connect your app to connect to your website?
How lush do you want your app to look (bare-bones, stock, or beautiful)?
Do you need brand assets, or do you already have brand visuals?
GoodFirms researched how much it costs to develop some of the top mobile apps in the stores, and it's not cheap:
Feature-rich, complex apps like Instagram or Uber can cost anywhere between $70,000 to $100,000
Compelling apps with medium complexity like WhatsApp or QuizUp cost between $61,000 to $69,000
User-friendly apps with the least functionality like Tinder or Periscope cost anywhere between $40,000 to $60,000


To find out how much your app could cost, check out this mobile app cost calculator.
5. Hire an app developer or use an online build service?
Or should you try to create your mobile application by yourself? Answering this question depends on your app's requirements and its level of functionality. If you think your app doesn't require many features or has a medium level of complexity, ask experts to create an app with premade features – it will be done fast and wallet-friendly! But if your app will have lots of complexity or lots of personal data, it's best to create your app with mobile application experts.
Businesses can take ownership of the whole app development process for more simple apps, from concept to design, and build and train employees to create an app with a no-code mobile app builder.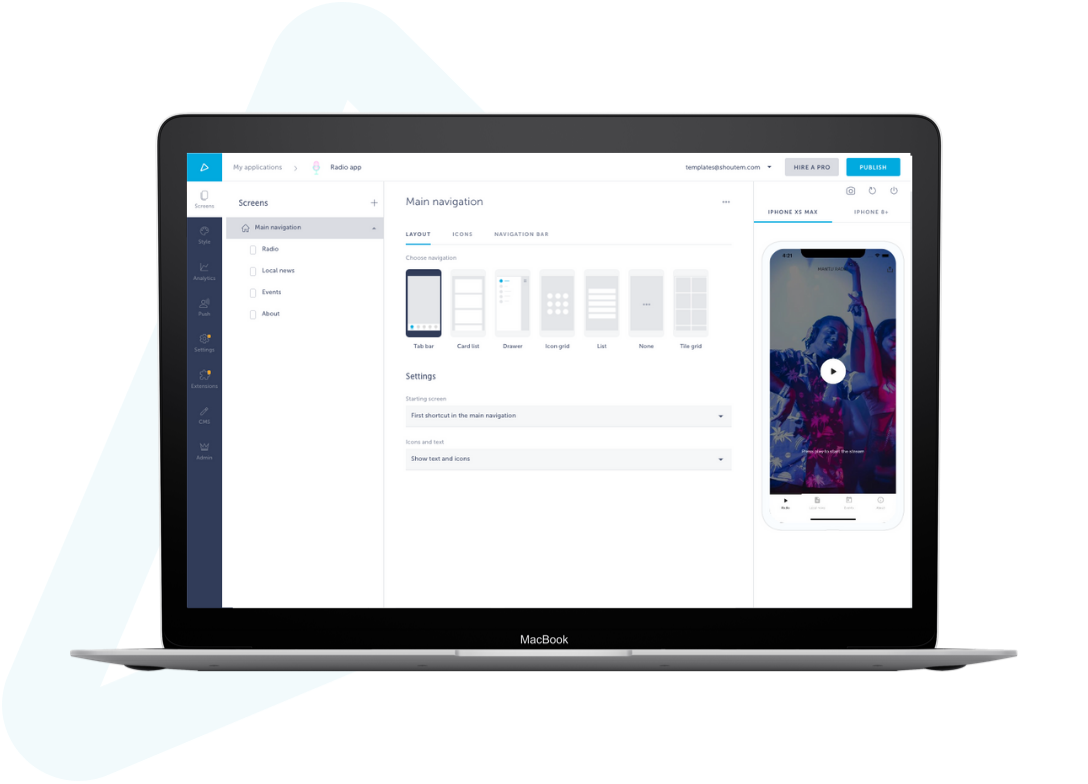 By using an existing and popular mobile app builder, you can invent your mobile app quickly and at a very reasonable price when you choose this path, leaving servers, security, and other technical details in the hands of experts who have been doing this for years.
6. Build one app, or create many and start an app business?
Starting a cross-platform mobile app development company is easy in today's market, but making the mistake of buying several plans for just a couple of mobile apps is a big no-no. Most mobile app builders have a white label reseller program, where you can create apps and sell them as your own.
So, if you created a mobile app for yourself, why not make an app for other businesses and start your own business?
Here you can find a list of reasons why to become a reseller since becoming one requires minimum effort while the market demand for mobile apps is high.
7. What about mobile app monetization?
For some businesses, their app only serves to inform customers and act as a brand awareness tool. Other companies make money through their app, while some optionally choose to make a profit as needed.

There are several ways to monetize your mobile application, and when you do, it's crucial to develop a quality user experience. So, what are all the ways you can monetize an app?
Here are the most common models:
Freemium apps
These apps are free to download, but users need to pay to unlock some features and content
Premium apps
Users are required to purchase these apps. If you want to use this monetization model, consider undertaking a more substantial marketing strategy because your users will need to pay for your product without knowing what's "inside"
In-app purchases
If you are planning to sell products with your app, this model will suit your business best
Subscriptions
Similar to freemium apps, your users need to pay a (monthly or yearly) subscription for some features or content
In-app ads
This type is most common. Your users don't pay to use your app. You provide advertising space within your mobile app without sacrificing user experience
Sponsorship
After attaining a large user base, you could partner-up with brands and advertisers. This arrangement is a win-win because brands pay for users' actions, and your app generates user engagement
8. What about timing, launching, and publishing?
Be aware of timelines. Many of our clients set deadlines that need to be pushed back because of delays in the publishing process. Google Play and the App Store need a couple of days to review mobile apps before publishing.
In the worst-case scenario, your app will be rejected, and you'll need to review and adapt your app to the stores' guidelines.
Usually, Google Play takes a day or two to review an app, and they don't send any information on the app publishing status; you need to search and see if your app is still "Pending Publication" or live.
The App Store takes up to three days to review an app, and they send you updates about its progress; if your app is rejected, you'll receive an explanation as to why, and if they publish it, they'll send you a URL for your app in the App Store.
Invent an app – Pro Tips
Inventing an app is easier when you have someone to pinpoint the important things for you. Here are some more tips to help:
Minimum viable app
This pro tip has saved many apps from having to be republished. A minimum viable product (MVP) is a basic version of an app. It usually serves a single purpose: to test its functionalities and user experience among a small group of people. Having an MVP is compulsory because it will answer critical questions about your product, like:
What exactly makes your app a must-have?
What is the most notable feature in your app?
What are the features you must have in your app?
What features should you prioritize?
App Store Optimization (ASO)
App Store Optimization is the process of optimizing your mobile app for the app stores to rank higher in each app store's search results. The higher your app ranks in an app store's search results, the more visible it is to potential customers.
The main ASO ranking factors for both stores are:
App icon
App name/title
Visuals and video
Short and long description
Read more about App Store Optimization on Google Play vs. the App Store and learn how to stand out.
Mobile App Promotion
Think about marketing and app promotion in advance. You can start with pre-marketing pre-publication, or after you publish your app. Either way, you must factor marketing into your costs and financial structure.
Here's a thorough, beginner-friendly guide on promoting your app and achieving a level of sustainable business.