We created a thorough, beginner-friendly guide to help you to promote your app and achieve a level of sustainable business marketing.
What is the Mobile App Marketing Guide?
Our step-by-step guide covers the basics of mobile app marketing so that you have the tools and know-how to reach your target audience and turn that audience into active app users.
You'll learn how to utilize different marketing channels efficiently and what tools you can benefit from along the way.
Who should use this guide?
This guide is for anyone who has created an app (or is planning to) and is unsure how to target their users. Small business owners, entrepreneurs, product managers, and marketers will find relevant and engaging subject matter here as well.
How much of this guide do I need to read?
We wrote this guide to share crucial steps and channels you should be aware of before starting work on your app growth marketing. Hopefully, the case studies we mentioned will give you additional ideas and encourage you to work towards your goals, no matter how good your competitors are.
Therefore, if you're serious about marketing your app then we recommend reading the App Growth Marketing Guide front-to-back. Go through at the pace that suits you best, begin with the chapters you are most eager to explore.
Finally, we will be bringing you more insights on each app growth channel, and we strongly advise you to keep exploring this topic.
Welcome to your mobile app marketing learning journey!
Explore the chapters:
TOOLS TO GET YOU STARTED

We'll help you to define crucial steps in creating your app growth strategy and suggest tools for every step of your marketing journey.

DATA ANALYZING
Before you draw any conclusions make sure that you've done your data analyzing homework well – we'll teach you how.

Acquiring users can be done by organic and paid channels – we've covered the essentials of both. Find out more.

The more your users are engaged, the higher the chances that they'll buy, return and share your app. We've shared tips on internal and external user engagement.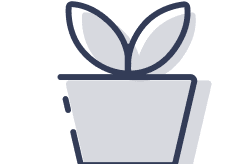 We compiled a list of app marketing growth hacks that brought great results for the mentioned brands, so you can get some ideas.
Chapter 1 – Tools To Get You Started

A quick intro…
Do you know what it takes to be successful in mobile marketing?
Before you answer, look at the statistics below.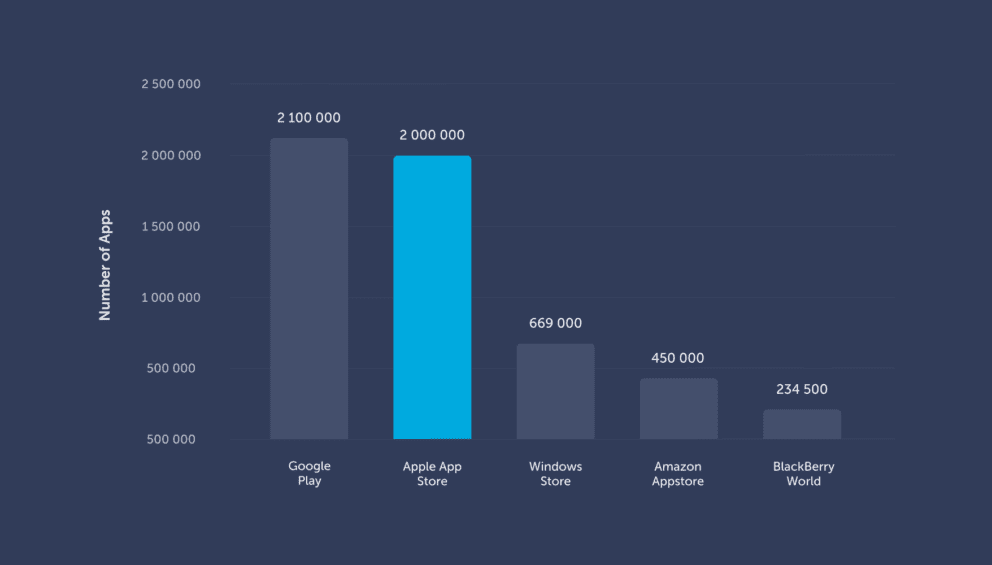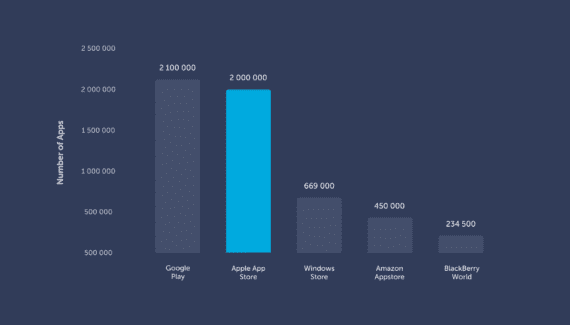 Just over a year ago, more than 60,000 apps were submitted to the Apple App Store alone. The number of apps in competing ecosystems — Google Play, Amazon App Store, etc. — continue to grow rapidly and their evolution continues. In order to stay competitive in each marketplace, marketers, app creators, and product owners need to re-think app growth strategy.
So, what hacks can help an app succeed in today's saturated market?
Let's dive in!
Don't underestimate the basics
First thing's first: don't skip any necessary steps in creating your growth strategy. Make sure to check the following off of your list:
Define your target audience: their interests, behaviors, demographics, etc.

Be clear about KPIs, north-star metric(s), and your budget to attain them.

Do your homework setting up analytics; be confident that tracking is working optimally.

Have a dedicated team with a problem-solving mindset that is capable of working towards your established KPIs.

Utilize the best tools in each segment of app growth.
Tools that can come in handy
For the last item in the above mentioned list, here is the tech stack that will get you set up for growth:
App Keyword Optimization Tools:
App Product Page Optimization Tools:
Review & Sentiment Analysis Tools:
A/B Testing Tools:
Search Ads Optimization Tools:
App Store Intelligence Tools:
Analytics and Attribution Tools:
Data Warehousing Tools:
Acquisition and Engagement Tools:
Your choice of tools, of course, depends on your needs, budget, and overall preferences. These are our suggestions, yet if you have more suggestions feel free to let us know in the comment section below.

Are you ready to start working on your app's growth? – Let's go to the next chapter where we'll show you how to analyze data in order to maximize your marketing efforts.
Chapter 2 – Data Analyzing

You need the right data to make accurate conclusions.
Before making any decisions or testing a channel, make sure you've collected the right data (the analytics tools in the tech stack listed in the Tools To Get You Started chapter will help).
Start by defining an event for each relevant experience in the app. Remember, when a user views a certain screen or reaches a certain level in a game, these actions qualify as events too.
At this point, no matter which analytics tool you choose, it will report to you the metrics that need improvement.
Understand these three subjects before you draw any conclusions:
Mobile attribution

, as defined by Localytics, is the

"process of tracking where users learn of your app and connecting them to key actions in their journey towards becoming customers." For app growth marketing, this means that you can get feedback on the efficacy of your marketing efforts. Without it, you can't know if your actions influenced a user's decision and whether there is anything you can do about it.

Source: Localytics

User behavior

can be determined by analyzing long-term metrics like retention rate, which tells you how many users regularly use your app, and engagement rate, which shows you how many users are making specific actions within the app. Usage interval is the frequency you can expect users to use your app.

Source: Amplitude
When you analyze these metrics, you can gain a greater understanding of how valuable your app is to your users — and then formulate certain predictions.
3. Deep linking/sources are links that point to specific content within an app. They are very important for mobile marketing because the mobile landscape is fragmented and in just a few seconds a user can switch from an app to a text message to an email to a website. Ensure that you have properly implemented deep linking so that your users land on the specific screen(s) that you desire.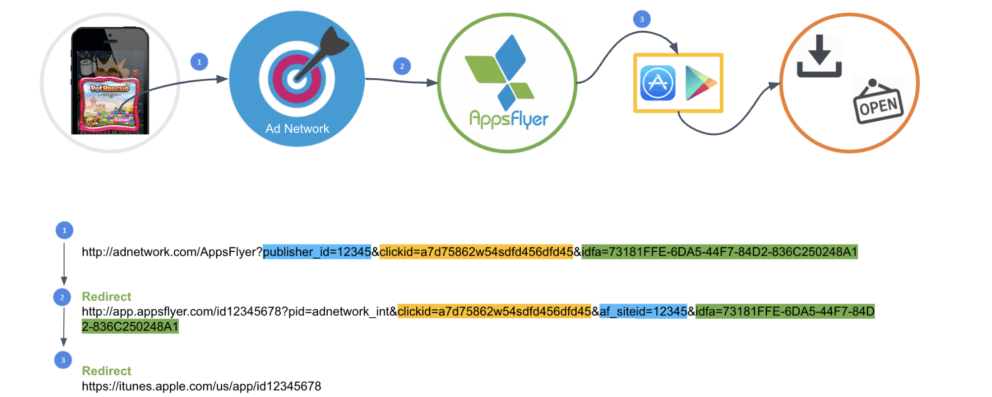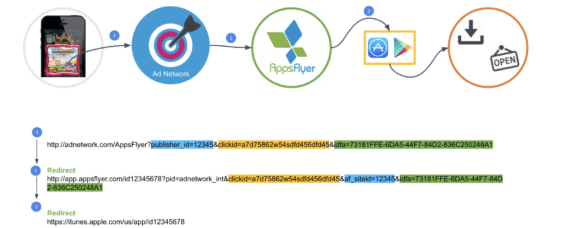 According to Marketing Land, "attribution and deep linking are key to an app marketer's growth stack." We'll add user behavior too because the combination of the three is an excellent benchmark to see if your marketing strategy is heading in the right direction.

You'll all set to dive into the next chapter and learn more about how to attract users for your app!
Chapter 3 – User Acquisition

Cast a wide net when it comes to user acquisition channels
When considering user acquisition channels, there are are two routes you can take: organic and paid. The combination of both will bring you the best results and ensure achievements in the long run.
The paid acquisition path
You need to spend money to make money
There is no scarcity of paid avenues that can work for your app; these four always deliver results:
Social media ads

Google's Universal App Campaign

Apple Search Ads

Video ads
Let's start from the beginning and we'll surprise you with some bonus channels.
1.

Social media ads
There were 3.196 billion social media users worldwide in 2018. The question is: How do you choose the right platform to attract users to your app?
As you consider which platform to use, remember that having a thoughtful, pre-defined target audience is of the utmost importance. Some platforms will be better than others when it comes to capturing your audience's ages, locations, and interests.
For example, if you're new to Facebook mobile ads, you may be overwhelmed by the platform's multistage structure and, because of this, underutilize its optimal audience targeting capabilities. Sure, you might acquire some users, but the results from a half-baked advertising campaign can't compete with the results from expert-managed campaigns.
Always remember these steps for each campaign you run:
Determine the business goals you want to achieve and choose your campaign objectives accordingly

Make sure your targeting is broad enough to achieve your goals

Leverage Facebook's

Audience Insights

if you don't already have an email list of potential users. If you've done lead generation beforehand, use

Lookalike Audiences

to attract similar leads

Test various bidding methods; start with higher bids and monitor them

Use attention-grabbing images

Use powerful headlines and CTAs

Always run A/B testing

Analyze your relevance score
"It is essential to identify what performed well on previous active campaigns and what was just burning money. Also, a thorough audit of event tracking is essential before you begin analysis. You need to monitor your campaigns daily and optimize them according to the data. Then bid, test, and pause your ads. You'll see your desired returns." — explains Matija from FIVE's growth team.
2. Google's Universal App Campaign
Google's Universal App Campaign, better known as UAC, is a one-stop shop for promoting your app with Google AdWords. You can share placements across Google Search, Gmail, Youtube, Google Play, and Google's Display Network, which includes over two million websites. You should also know that UAC gives you access to app listing pages in the Google Play Store and exclusive ad placements.
Launching a UAC is simple. You'll need to prepare your desired campaign goals, creatives, a target bid, and a pre-defined daily budget. Since UAC utilizes machine learning, it provides automated bidding and targeting. After analyzing loads of potential signal combinations provided in real-time (when we say "loads" we mean over 300 million!), UAC will provide you with the optimal decision for each ad.
Skeptical? Since 2015 it brought over 6 billion installs! Yup, billions.
Despite UAC doing almost all the work, there are some things you should consider to achieve even better results. Let's first define types of UAC so you can determine the best one for your needs:
UAC for Installs,

if your primary goal is, obviously, increasing the number of all installs.

UAC for Action,

if the primary goal for your campaign is ROAS or in-app actions. If this is the case, we advise you to bid on the target CPA of the in-app event. You might not get that many installs, but the users you attract will be more likely to complete the selected in-app actions.

UAC for Installs

can also be optimized for potential users who are likely to complete in-app actions. This way you can get both volume and "quality."
Even though UAC's algorithm is smart, you can still optimize manually. Here are some best practices:
Wait at least two weeks before making any conclusions and start judging the algorithm.
Don't change your bidding and budget more than 20% at a time. Have patience until you get 100 new conversions before the next change.
UAC is known to be very "video friendly" — try video campaigns because they have a proven record of performing well and increasing the number of conversions. However, don't expect magic just by adding a video to your campaign. There are certain best practices to be aware of: capture your user's attention within the first 5 seconds, and don't make the video longer than 15-30 seconds. Make sure it is full of engaging content from your app: include various formats (landscape, square, portrait) so you reach all available inventory.
Optimize. This should go without saying. However, many people underestimate the UAC Creative Assets reporting feature and optimizing according to the given reports. By "optimizing," we mean almost everything: videos, text lines, images, etc.
If you are still having doubts about Google UAC, here's how 37Games, a Chinese gaming company, used this channel to acquire new users, globally.
37Games case study


If you start in a local market, at some point you'll want to expand your user base globally. Here you'll face challenges ranging from different languages to varied user behaviors to color and font preferences. A good database can be helpful in this situation, and 37Games recognized the power of UAC machine learning to help them with this matter.
First of all, the 37Games team set up their goals and KPIs very well:
Increase their brand/game awareness

Increase the number of downloads and active players

Increase retention rate

Increase the number of "quality" users and profit (accordingly)
Here's what their approach was for each KPI:
The idea was to recognize target-user behavior by utilizing big data and finding similar users that would eventually lead to the desired increase of game downloads and players. Apart from having an idea of how to acquire new users, 37Games created a bunch of marketing solutions that were based on the levels players reach in the game itself in addition to their user behavior. For the last KPI (but certainly not least!), 37Games integrated in-game payment to pinpoint "quality" players and accordingly optimize their usage, which would eventually lead to higher profits.
In the first stage, building brand and game awareness, 37Games tried to understand as much as possible about the variations of user behavior. For example, they found out what games users had recently downloaded, what they watched on Youtube, and related topics users searched for. They applied these insights for targeting purposes rather than using typical indicators like demographics. This way, the target audience was refined, but it was now more accurate and geared towards potential users.
Secondly, since UAC gained a good understanding of all types of players within the game (heavy users and casual users), it could identify important events. With these insights, 37Games could perform segmented marketing and target various players depending on where they were in the game. This resulted in a greater retention rate within the game.
Finally, the UAC learnings helped 37Games recognize high-value users — users who were likely to spend more on in-game credits. After identifying players who tend to spend the most on in-game credits in other games, the 37Games optimized their ad campaigns accordingly.
The overall results were great and met all three KPIs:
Their game won Google Play 2016 "Best Popular Phone Game of the Year"

The retention rate increased by 50%, as well as player activity

They increased their monthly sales to $15 million, which made for 20% total game revenue growth
To wrap it up: 37Games faced a huge challenge, yet they set up clear KPIs and found a good approach for each one. They recognized and optimized the power of Google UAC's machine learning to gather insights about their audience. Most importantly, they used these insights to segment and target users later.
*Case study source: https://www.thinkwithgoogle.com/intl/en-apac/tools-resources/success-stories/uac-37wan-case-study/
3.Apple Search Ads
Apple Search Ads are very popular among app developers because they can secure a prime spot in App Store search results. The look is pretty "organic," and Apple Search Ads can get you quality downloads for a dollar. Despite these facts, getting ROI from this channel is challenging.
There is a specific approach required for this channel. However, the basics are:
Good ad structure

Relevant tech stack to help you analyze and optimize your campaigns
Here's how to start:
Find the right keywords. This is crucial for search ads. You don't need an expensive tool to find them. Find them by analyzing user comments, by understanding your app's key features, and by comparing your product to your competitors'. You can also use a Keyword Planner and a Search Match campaign.
With a Keyword Planner (there are a bunch of them you can try out), you can find keywords for competing apps that show up in search results.
The planner gives you insights on the keyword popularity, your app's position, competitors, and estimates for the number of impressions.
If you opt for a Search Match campaign, start by creating an average ASA campaign, but with Search Match turned on. This way, you can see ads for relevant search terms. The ads that generate the majority of downloads should be the starting point for your search campaign.
Next, group keywords into three sections to create your campaigns:
Brand related

Non-brand (for example grouping by search intent)

Competitors
Now you should make sure that your ads are running for Exact match keywords (just for the keywords you've added to the campaign) and not for a Broad match (synonyms and similar).
The last thing to master is bidding. Allocate your budget among the ad groups you've created, but start with a higher CPT bid as a hack for reaching a wider audience in the beginning. Afterward, choose from one of these three bidding strategies:
High bidding:

only on your app, developer name, or specific keyword that your app ranks first for in a search.

Outbidding:

bid on keywords slowly and mark which CPT is running what ad.

Bid bumping:

after you set a high CPT bid, you can identify the CPT bids of your competitors. The trick is to lower your bid to their CPT level. Apple Search Ads make sure that no matter how high your bid is, you will pay +1 cent more than your competitors.
Tracking campaigns regularly allows you to purge keywords that burn your budget.
Check how Waitr boosted its user acquisition by 440%!
Waitr case study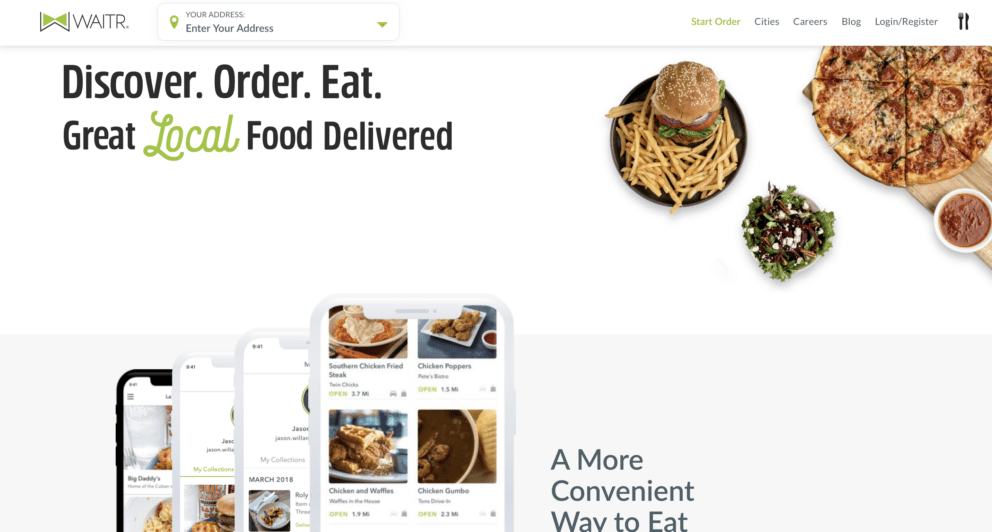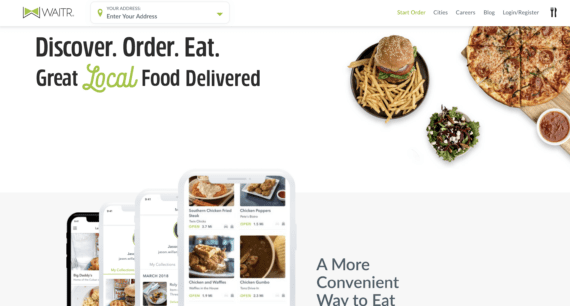 Waitr is a food delivery app that started in 2015 and focused on acquiring users based in US cities. When their team wanted to expand to new markets, they chose to test Apple Search Ads as a channel that could help reach their desired KPIs, which were to boost their app discoverability, reach engaged users, and, finally, to get new downloads.
They started by focusing on improving brand visibility, and using Apple Search Ads were a great addition to their user acquisition marketing mix. When a potential user searched for a similar app in the App Store, the user probably already saw Waitr several times on other platforms. This resulted in a very high conversion rate, above 80%.
However, there is always room for optimization.
Waitr's team segmented its target audience by the cities where the app was available and then created a different campaign for each keyword group: one focused on the brand term and second used Search March to find keywords that were not in their current set.
What happened? There was a 440% boost in downloads over five months!
Waitr used other advertising platforms too, yet CPA with Apple Search Ads turned out to be 47% lower than others and delivered a 729% ROI!
To wrap it up: Waitr's growth team started promoting their app on several platforms, so when a potential user saw the ad in the Apple search results, the user was already familiar with the brand. Despite the high conversion rate, the team continued to segment their campaigns intelligently by keyword category, and they refined their target audience for app promotion in various cities. All of these efforts resulted in a huge ROI and a user group that spends 13% more.
*Case study source: https://searchads.apple.com/advanced/success-stories/waitr/
4.

Video ads
Acquiring new users through video ads is one hack that marketers implement daily. Look at the statistics, and you'll understand why: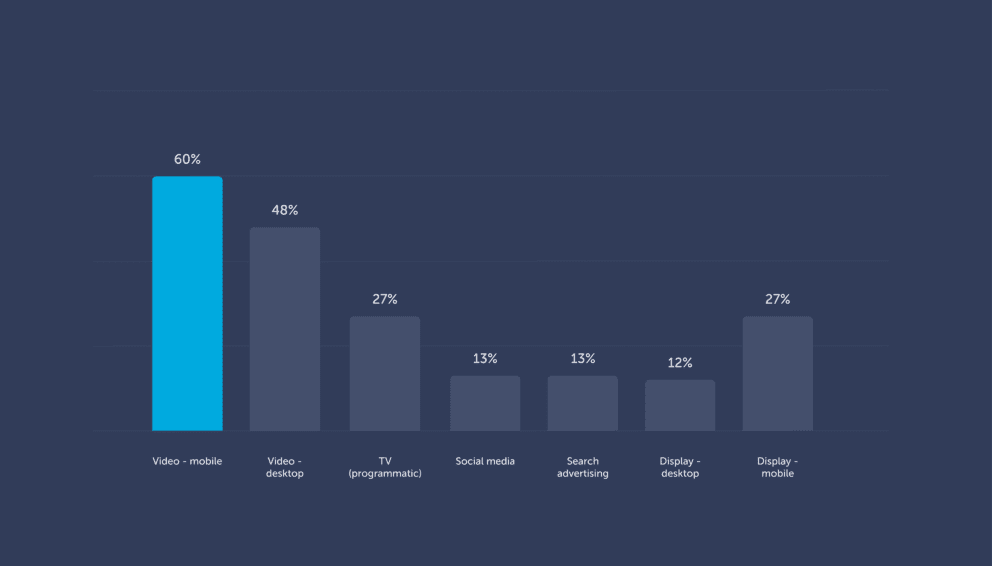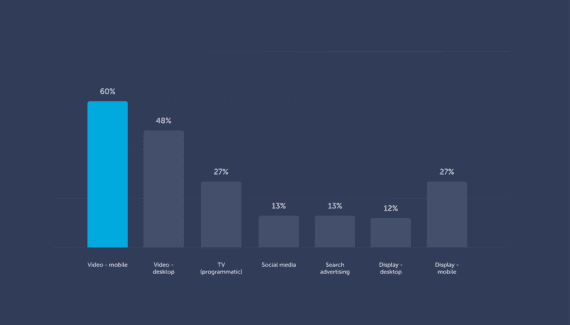 If you aren't leveraging this channel in your app acquisition strategy, you're missing lots of acquisition opportunities. Channels you should start with are Facebook and Instagram, but others, like Snapchat, Pinterest, Reddit, LinkedIn, and various ad networks, are showing great performance value for certain industries.
Whatever channel you choose to start with, you must make sure of one thing: your videos need to grab your users' attention (very) quickly!
Since the autoplay in someone's news feed (where the ad is showing) is updated as soon as a new post is up (and we all know that that can be in just a few seconds), the first 3 seconds of your ad are crucial.
How do you make these seconds count? Show off your most important app feature (not a logo!), and make sure that your ad is understandable without audio.
The rest is up to your creativity. Here are tips and best practices for better ad performance:
Use square formatting since it maximizes screen real estate.

When publishing ads on Instagram or Snapchat stories, add big text overlays, stickers, etc., to make them a better fit for the platform.

Leverage the fact that the majority of the users have their sound on when watching (Instagram, Snapchat) stories.

When using ad networks, find ones that support both horizontal and vertical videos and utilize A/B testing.

Ensure that your final screen has a "call-to-action," leaving a strong impression at the end of the ad.
Bonus
As promised, here are two more ways to advertise your app: in-app ads and mobile retargeting campaigns. Both of them can be a great source of traffic for your app and, even though they are not in the group of the above mentioned four most used app promotion channels, you should certainly leverage their acquisition "power."
In-App Ads
At first glance, you might find in-app ads irritating. From a user's perspective, they are, however, as an app developer or growth marketer, this channel can vastly improve your acquisition efforts.
Here are the three main reasons why:
Mobile users spend the majority of their time online via apps.

Networks that can provide you with these ads use such advanced algorithms that can ensure that your ads will be served to the right audience

Other app creators are open to promoting your ad to their audience
If you aren't familiar with ad networks that can help you to distribute your ad across other apps, here are our recommendations:
Explore and test advertising options to see which network fits both your app and budget. Once you find an algorithm that is a perfect match for your app, you will see how the benefits and ROI these platforms can bring.
Mobile Retargeting Campaigns
This tactic is very effective and can bring you great results if you have high-value churned users.
Let's start from the very beginning explaining what mobile retargeting is why should you test it:
It is a type of paid advertising that lets you send personalized ads aimed to re-engage users who've already downloaded/tried your app.

The users' segmentation is based on the level of interaction with your app.

The main goal of this type of messaging is to encourage users to perform a certain (customized) action: to (re)install the app or make an in-app purchase.
Before launching a retargeting campaign, gather a list of device identifiers; on Android, it's the Advertising ID and on iOS, IDFA. After you choose your advertising network, provide it with these identifiers. The network itself can target a certain segment of users based on the identifiers and serve adequate ads accordingly.
Although ad networks do most of the work, here are some tips on how to improve your ad performance:
Enable deep links in order to maximize re-engagement and monetization.

Track your campaign KPIs and act accordingly.

Segment your user base and target groups with different bids

Personalize your creatives so every group gets the best message
The organic routh
"Content is king" applies to app acquisition, too
Although paid acquisition methods can lead to much faster results, organic methods are something you should focus on too. They do acquire more of a time commitment, but don't let this deter you from exploring this method!
These are the main organic app acquisition channels you should leverage:
SEO

ASO

User reviews

Social media
1. SEO
You should have a website or at least a landing page for your app. If you don't, find a website builder and create one today!
After you set up your site, you need to optimize it for search engines. Before we go any deeper into SEO hacks and tactics, know that proper SEO is always a good investment! No matter how much time, energy, or even money (for SEO specialists or links) you spend, the ROI will surprise you. The results might not come overnight, but when they do, they'll bring you traffic for some time.
Here's another reason to invest in SEO: a recent study shows that more than half of a product's traffic comes from organic searches.
There are a bunch of in-depth SEO guides, but here are the main steps you should take in order to convert organic website/landing page visitors into app users:
Make sure your website/landing page is user and mobile-friendly.

Do in-depth keyword research in order to optimize the site's content.

Don't forget to optimize URLs, meta titles, and images accordingly.

Wrap your headings and subheadings in <h1> and <h2> tags.

Boost your site's speed.

If you opted for a website (rather than a landing page), make sure you've added proper internal links to all pages.

Boost dwell time.

Don't forget to add social media sharing buttons.

After everything is set, run a site "health" audit through a proper SEO tool like

Ahrefs

.

Make sure you have proper CTAs connect to app stores. You can use a heatmap tool (like

Hotjar

for example) and landing page testing tools (like

Optimizely

) to make sure these buttons are correctly optimized.
When it comes to off-page SEO optimization, there are lots of references online to help you learn advanced link building strategies to complement your on-page SEO efforts.
Here is a quick overview of the off-page SEO tasks you should focus on:
Contribute to other websites through guest posting.

Generate backlinks to your website by publishing Infographics or tailormade images to other websites.

Participate in roundups and organize them.

Submit your site to relevant directories.

Contributing to industry forums.

Establish partnerships, referrals, and affiliate programs.

Participate and organize events like webinars and podcasts.

Utilize social media marketing
The 57hours team made basic on-site SEO fixes, and the results turned out better than expected. The team is eager to find out how Google will reward them after they implement the rest of the SEO steps they've planned.
57hours SEO case study


Outdoor enthusiasts created 57hours to connect like-minded adventurers with professional, certified guides, and to make booking their next adventure easier. By providing insights, location reviews, and tips, and trips, 57hours is quickly becoming the online go-to platform where you can book and find your next adventure.
SEO turned out to be a channel that was bringing 57hours users right from the beginning. Their SEO specialist, gave us some insights on their analytics and explained what technical issues (or let's say on-page SEO) the project faced.
"The first thing we did is run a site audit using Ahrefs. When I saw that the site's health score is lower than 30%, I knew we'd have quite a few tasks ahead of us. Here's what we did:
Compressed files and images in order to improve the site speed.

Changed redirect to direct links.

Redirected 404 pages.

Edited broken images.

Adjusted meta titles and alt tags to reflect keyword research.
At first glance, it might seem that these were just a couple of minor edits, but Google quickly recognized them and rewarded us with a health score of 90%!


Our traffic, especially coming from organic sources, showed a significant increase (over 100%!).




One of the most important metrics when it comes to SEO are keywords and their positions. Ahrefs reported an increase from 300 to 2.4K new keywords! Furthermore, our main keywords are moving to higher positions daily.
Accordingly, the number of impressions rose as well.

SEO efforts can take time to yield results. But as we mentioned, we were rewarded early for some quick fixes. At present, we're focusing on the site's development and content creation, and Ahrefs continues to surprise us with recognition from Google for our efforts.
When it comes to content creation, do not underestimate thorough keyword research. We found niche keywords that had great potential for our market, so we created content accordingly. After we published our first round of original content, we submitted it to Google Search Console for indexing. We didn't expect results for at least a month, but three days later, we noticed new keywords ranking from the recently submitted pages!
We're eager to start off-page efforts and see how Google reacts,".
To wrap it up: the 57hours team is building their product thoroughly while paying attention to every detail; the same goes for their SEO efforts. They created their website according to SEO best practices, and Google has recognized their efforts. And we all know that users acquired by organic channels have a greater chance to convert and are more likely to become brand ambassadors and spread the good word about your product.
2.

ASO
App store optimization (ASO) can make a tremendous impact on app downloads because ASO increases your app's visibility when users search for similar products.
There is less work involved with ASO as opposed to SEO, and optimized app store search results will lead to direct downloads. Sounds promising, right?
Here are the basic ASO tasks you'll need to practice for ideal search results:
Keyword research

Optimization of the app store's textual elements (Product page)

Conversion rate optimization (CRO)

A/B testing in order to get (even) better results

Analytics and improvements
STEP #1 Keyword research
Every ASO and SEO specialist will confirm that good keyword research is the first required step to get visibility through ASO. Targeting the right keywords should be undertaken with a brainstorming session where you state your app's core value and which words showcase it best.
Also, do proper market research and spy on your competitors; you'll develop better keyword ideas this way. Find out what keywords they rank for and which ones produce traffic
— you'll need some help from the ASO tools listed in the first chapter.
When thinking of other keywords you can rank for, consider these questions:
What features set your app apart from its competitors?

What's your app's niche?

If it is a game – how many levels does it have? Who are the main characters?

Which language/language tone is your target audience speaking?

What ad copy is your competitors using – are there any useful keywords?

Do the keywords you've already chosen have synonyms? Can they be described with long tail keywords (you'll rank much easier for them)?

Have you checked keyword suggestions that your chosen tool(s) have generated for your app?
This should be a good start. Now it's time to optimize.
STEP #2 Optimize your product page
Include the keywords you've generated in your app listings so they seem natural! Don't forget to include them in:
App Name / Title

Subtitle (App Store)

Short Description (Google Play Store)

Keywords Field (App Store)

Description
STEP #3 Conversion Rate Optimization
You'd be surprised how some apps have lots of downloads but low conversion rates. This is why you should work towards optimizing your visual assets and user ratings:
Make sure your app icon is eye-catching and scalable.

Show off your app's features with screenshots and create a storyline that will grab your audience's attention.

Utilize the feature graphic on the Google Play store and make it memorable.

Because video is one of the most powerful tools you can use to showcase your app, make the most out of it. Just remember that on the Google Play store, you can't upload a video, but you can post a YouTube link.
STEP #4 A/B Testing
The final step is to optimize your visual assets through A/B testing and see which versions perform the best in terms of improving your conversion rate.
Running these tests is not hard, especially when you have help from third-party tools (for the App Store) and Google Experiments in the developer console (in the Google Play store).
Once again, here are some tips on how should you run these tests:
Don't test several elements at once; start with one and measure its performance.

Test different creatives and videos rather than only small edits.

Be patient for 5-7 days to see the new results and analyze them.

Don't forget to test the app icon no matter how attached you are to its design!

When testing screenshots, include combinations of dimensions (landscape, portrait)
STEP #5 Track and improve
If you followed the earlier steps, you should have a decent amount of traffic and conversions by now. You should also be able to track user behavior and draw conclusions. Always keep an eye on these KPIs:
App visibility metrics:

your keyword rankings, top charts rankings, category rankings, etc.

Conversion rate metrics:

the click-through rate (CTR), tap-through rate (TTR), and conversion rate to download (CR).

Number of installs.

Number and quality of user ratings and reviews

Monetization metrics:

user lifetime value (LTV), average revenue per user (ARPU), and total app revenue
BONUS!
We love to share bonus tips and ideas that you can try out to maximize your results, so here are some for ASO:
Don't underestimate user reviews when doing keyword research; use reviews to ideate. Also, Google Play store's algorithm recognizes keywords in reviews.

Seasonally change your app listing because it impacts your CRO.

Localize your app!

Add keywords in the URL and Developer Name; you can also optimize this.

Test categories: you may rank better in a different app category

Do some link building.
3.User reviews
It's a well-known fact that popular opinion can influence the decision-making process. You could say the same for downloading apps. App reviews can affect an app's positioning in a store's search results.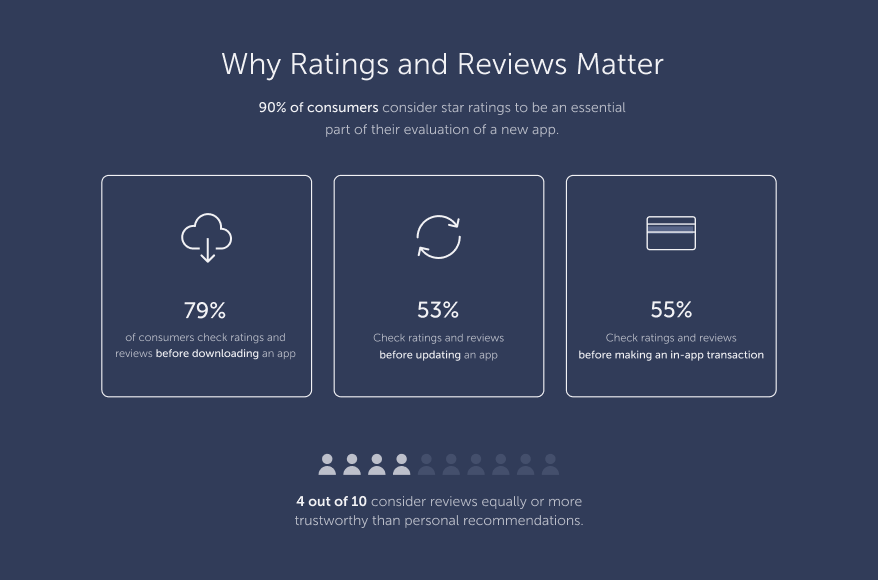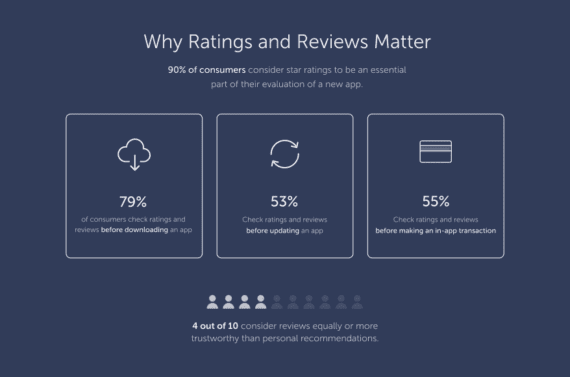 Start with positive reviews from friends and family. To boost your rankings more, you'll need to increase your efforts. If your app provides value to users, and if all UX elements are on point, users would be more likely to leave feedback, but this isn't always the case. Here are some tips to help you to get more positive reviews:
TIP #1 Try an app review plugin
If you don't ask, you'll never know, so ask your users to leave feedback while they are using the app. There are various turn-key plugins available for both app stores (check our tool stack at the beginning of the article) that will make it easy for your users to leave a review.
Be sensible when using these plugins; don't be pushy and ask users for reviews as soon as they've downloaded the product.
TIP #2 Give users an incentive to leave a review (be extremely careful!)
Although Apple removes apps that incentivize users to leave an app review, incentives still have their place; just exercise caution.
Because users usually ignore pop-ups, consider suggesting a reward — in-game points work well. This method can be a powerful incentive to get people to leave feedback.
After all, who doesn't like something for free?
TIP #3 Run a contest
Similar to the previous tip, holding a contest is an effective way to bring attention to your app and ensure reviews. Find popular app blogs and try running a contest with an iTunes gift card as a prize. The idea is to announce a winner by randomly choosing one of their (iTunes or Google Play) usernames. For these kinds of events, you can also use random.org.
Don't forget that there is much more manual work involved, especially when it comes to checking reviews. No tool can help you with that.
TIP #4 Timing is important
Adjust review prompts to the app's user experience. Wait until a user has accomplished a specific action within the app. If you ask a user to rate the app when he or she is having a good experience, you are more likely to create a win-win situation!
Learn from Clear Todos how to get great app reviews in the following (mini) case study.
Clear Todos case study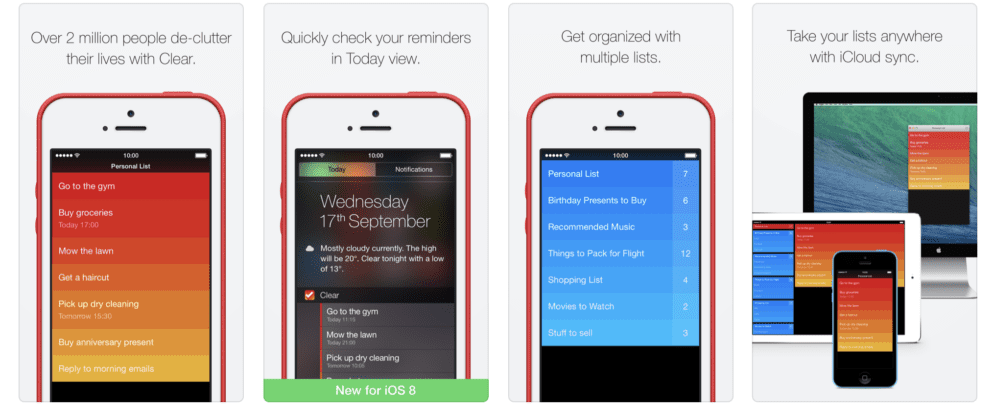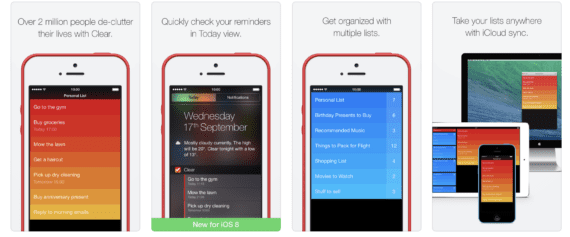 Clear Todos is an app developed by the team from Realmac Software. Their goal was to make an app that generates "remarkably simple lists," as it says in the app description.
In the App Store, the app rates 19th among other productivity apps, and has over six thousand reviews! Because Clear Todos has a four-star rating, the majority of their reviewers are pretty satisfied with their app experience. The reviews are not from bots either.
The Clear Todos team recognized that pop-up timing is crucial, so they use pop-ups with their users only after they've been using the app for a few weeks. However, there is one more filter: the pop-up shows only to users who've cleared all the tasks from their list. Because of this, they know that the pop-ups aren't interrupting and annoying who are using the app.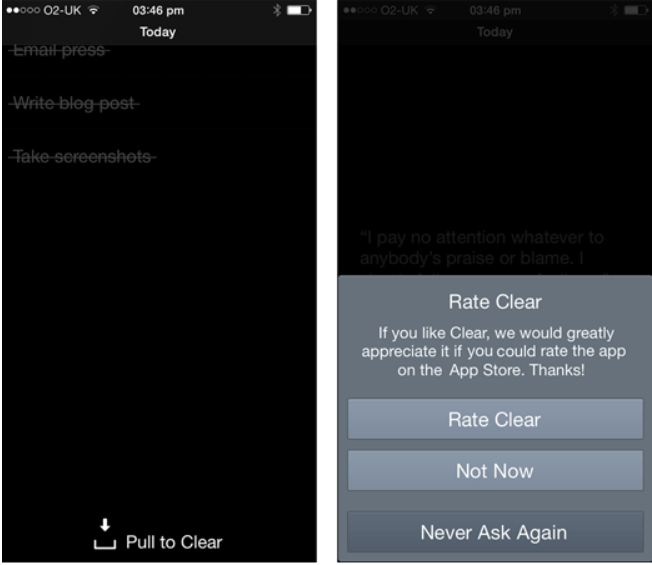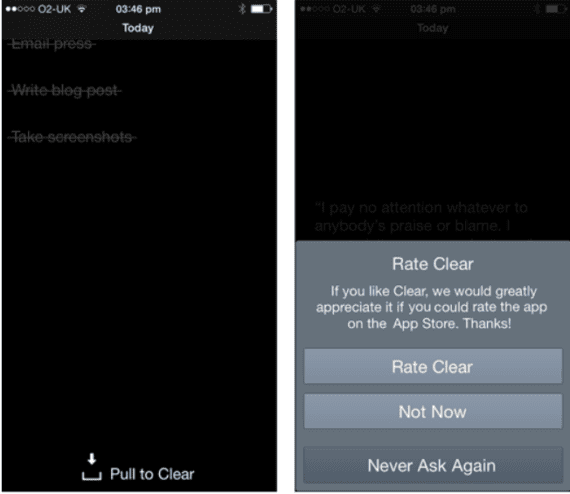 To wrap it up: The Clear Todos team was patient. They waited until the user was familiar with the app and recognized its benefits. They weren't afraid to ask users for a review, but they weren't pushy either. They let the user finish all tasks in the app before "cutting in" with a pop-up. Numbers speak for themselves that this tactic worked!
4.Social media
There is no need to explain how powerful social media is from a marketing perspective. If you don't already, make sure you have profiles on the main social media channels and put effort into running them optimally.
In this chapter, we want to give you advice on how to maximize your mobile app marketing through social media. Here are our top tips:
Create good content!

And create a lot of it. You need to produce and post content that will engage your audience to keep up with your profile. The content you post needs to be niche-related to your app, but don't be afraid to be creative. As soon as you gather a community that likes your content, spice it up with an app promotion. Remember, post valuable, informative, creative, or funny content (or combine for maximum results). Just a reminder that when we say "content," we mean videos too.

Engage influencers.

Influencer recommendations are probably the best way to attract users. It is worth investing your time in finding the right ones. Getting a prominent blogger, YouTuber, or Instagram influencer to review your app will give your product massive visibility and will also increase the probability of app downloads.

Test different social media channels.

Despite being the most popular for app promotion, Facebook isn't the only channel where you can spread the word about your product. Leverage audiences that hang out on Instagram, Quora, Twitter, and Reddit. Start by defining your message, tone of voice, design style, target audience, competitors, and budget. Afterward, test all available social media outlets and learn which one brings you the most engagement and traffic.
Check out how Sumo is rocking their Instagram account!
Sumo case study


Sumo is a plug-in that helps entrepreneurs gather email subscribers. How its marketing team uses Instagram is remarkable, though. Sumo's Instagram account focuses on motivational quotes directed at entrepreneurs, but when you scroll through the feed, you'll also see the Sumo team unobtrusively promoting their product. We don't know how much business this practice generates, but we know Sumo's engagement rate is very high.
By aiming their product at their target audience with on-topic brand guidelines, tone, and messaging, Sumo generated almost 100k users!
To wrap it up: Produce content that your audience will enjoy. Brainstorm topics that are catchy and design recognizable posts. Promote your product and remember that your main goal is to amass an audience that will spread the good word about your app!

Now that you've learned how to acquire users it is time to check our next chapter where we've explained how to engage them properly.
Chapter 4 – User Engagement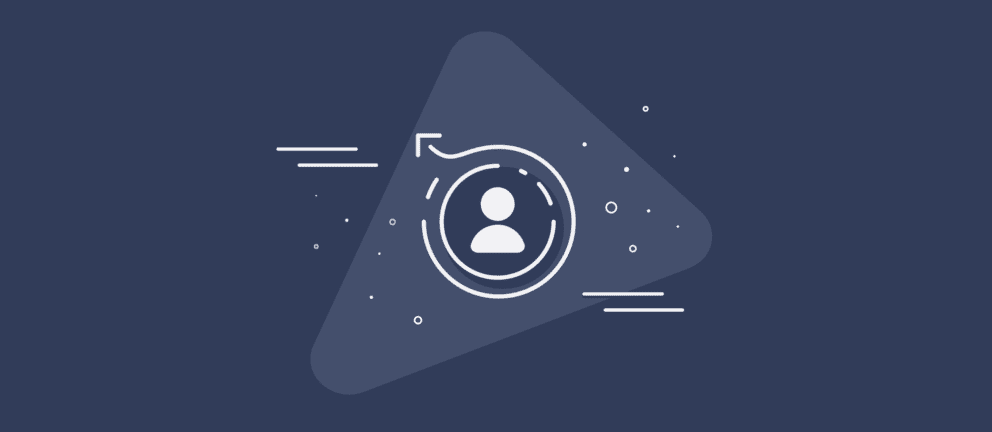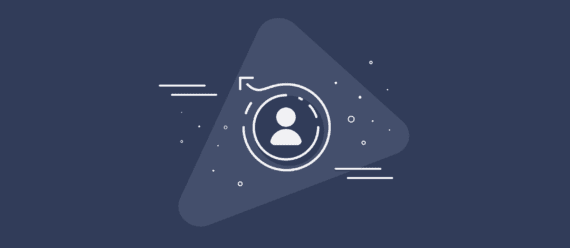 When it comes to user engagement, first define its meaning: Engagement is how active users participate in your app. The team from Braze describes engagement as the "process of actively building, nurturing, and managing relationships with customers," and they created a platform to help you with the process.
As a rule, a highly engaged user is one that has 10+ sessions per month.
Before we dive into tactics on improving your engagement rate, let's start with a quick overview of the metrics that need monitoring to make conclusions. As you could imagine, there are lots of them. Remember that they are guidelines for your engagement strategy. It's up to you to decide (per your app's business model) which metrics are most valuable for your app's users.
Here they are:
Daily/Monthly active users, or DAU/MAU,

are the daily/monthly average percentage of users that used/opened the app within a certain period of time.

Number of sessions

is the number of times the app is used/opened within a certain period of time.

Length of session

is the period of time from when a user opens the app until he or she closes it or the app times out.

Time in app

is the amount of time spent in the app within a certain time period

Session interval

is the length of time between app sessions

Retention rate

is the percentage of users who stay active on the app between sign-up and a designated period of time.

User lifetime value (LTV)

is the

profit from the entire (future) relationship with a user (via factually based predictions).

Screenflow

is how users navigate the app.

Opt-ins/Opt-outs

are the percentage/amount of users that sign up for or reject a notification/alert.

Interaction

is the number of users that took a certain action after receiving an instructional message — like to review the app.
There are two ways to engage your users, and it's best to combine them:
Internal: product design

External: email, in-app messages, push notifications, etc.1.
1.Internal user engagement
After you've defined your target audience, your app's core value, and the solution you are offering your users, start working towards the creation of your app user experience. At this stage, Neil Patel suggests experimenting with various engagement loops.
He defines them as "things users do over and over again when they're properly engaging with your app" and offers an engagement framework that you can align with your app and optimize it.
He calls it SHIRES: Show, Human, Incentivize, Reduce, Explain, and Supersize.
Show

: provide guidance to the user and create awareness. Create animations, videos, use wizards, and test UI elements, etc.

Human (touch)

: show your users how much you appreciate them as humans and as a community with support and customer success managers. Let them know that your content is curated. Apart from using chatbots, make sure that all replies are customized and that the point of communication is from a "real human."

Incentivize

: ensure from time to time that you organize giveaways, bonuses, and free features.

Reduce (barriers)

: think if there's a way to lower the cost of using your app. You can always try free trials, no credit card requirements, autocomplete, taps instead of logins, and reduced clicks.

Explain (your UX)

: provide a progress bar, so your users know how long things take. If they need to upgrade to a pricing model, give them an in-depth explanation of the benefits.

Supersize sunk costs

: before asking for an upgrade, allow users to do more by offering free versions, training, or by creating smaller purchases.
2.External user engagement
One of the most common mistakes made in app marketing is relying solely on the app itself. No matter how well you designed the overall product, confirmed that it was a good market fit, and had a decent engagement rate considered solely on internal engagement, all of this will not last forever. The mobile app world is becoming increasingly saturated, and you need to engage your users right from the beginning,
Braze's visual explains that over half of individual users who try an app in the first week after downloading it will return to it within the next three months.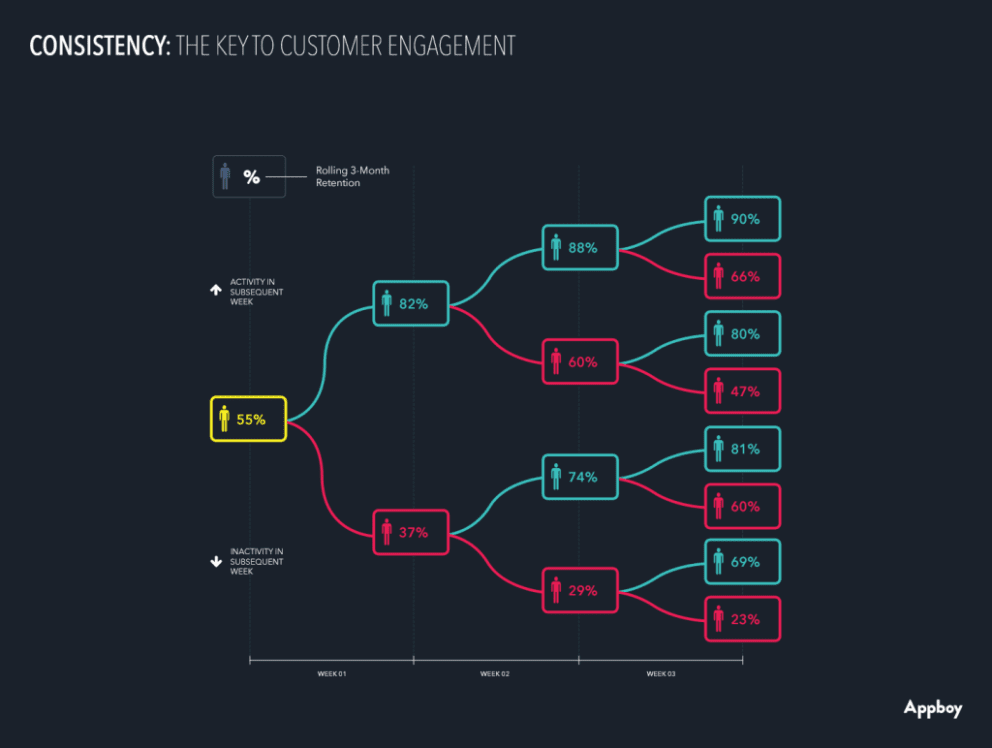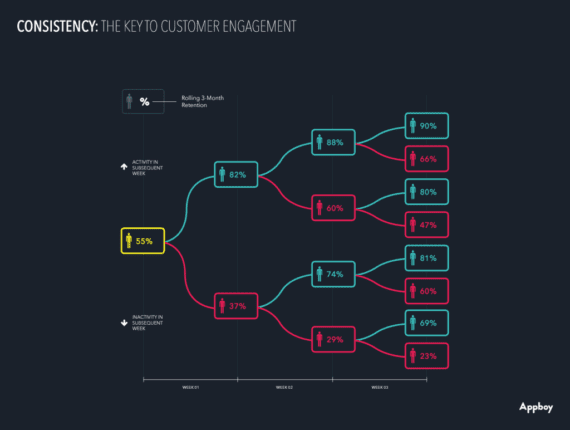 One of your goals should be to convince your users to return to your app as often as possible, and then your statistics will be much better —around 80% instead of 55%. Here are the best ways to achieve this goal:
1.Start with onboarding your users properly. The process of walking users through registration and other functionality in your app should be the first thing you focus on when it comes to retention.
Design your onboarding flow so that it represents your app's value, but make sure you don't overwhelm your users. Chances are very low that your users will recognize all of your app's features by themselves. Provide value, but make sure to guide your users too.
See how Evernote highlights its app's main value by focusing on how the app works.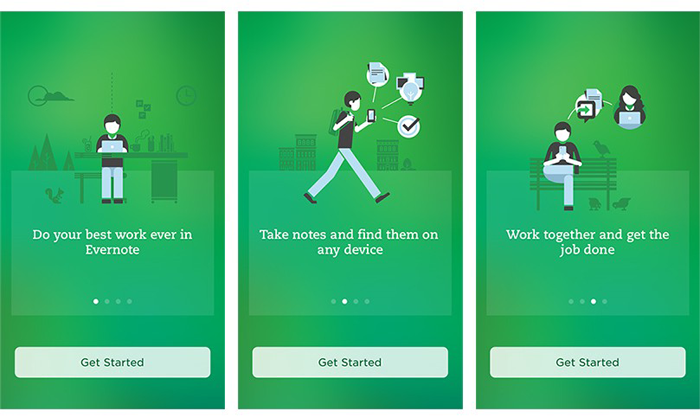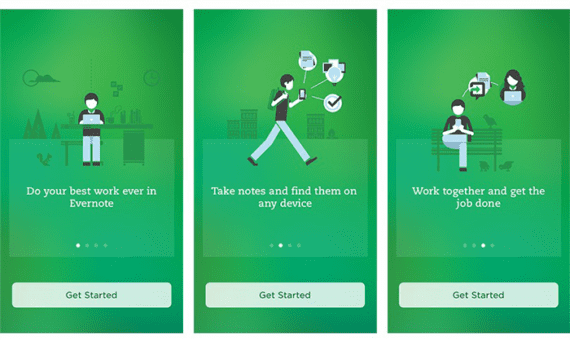 Remember, it's better to engage your users with images rather than long messages. Don't ask for sign-ups, camera access, or other permissions until your users become familiar with your app and recognize its value.
2. Increase engagement with messaging. You can do this in several ways by using emails, push notifications, and in-app messages. Don't forget that best practices dictate using app messaging only for reminders.
For example, an email or a push notification can remind a user to sign up, finish their shopping by purchasing items they've put in their shopping cart, or use a certain feature.
App messaging is not just for reminding users to do a certain action, but also for offering discounts and promoting new features and items — it all depends on your app.
Find an engagement tool that resonates with your needs and start A/B testing copy, creatives, visuals, and messaging channels.
When sending push notifications, always communicate worth. Before sending push notifications, make sure your engagement strategy communicates value to your users. Don't worry if the majority of your users don't opt in to receive notifications. The industry norm is around 30%, and it varies on the sector and the audience. Because of this, we suggest that you try to get higher notification-subscriptions scores; 50% is a good KPI.
Try to make your notifications as relevant as possible to individual users or groups of users based on behavior within the app. Research what engages certain individuals and groups; learn where they are in the customer lifecycle and include users' names in messaging. Avoid generic messages like "we miss you" and create communication that incentivizes action.
Another thing to keep in mind is the timing of sending notifications. Only send notifications when they are triggered by a certain event. For example, booking apps regularly send hotel promotion notifications only after users purchases a ticket.
Take advantage of in-app messages because they are an ideal channel to start a dialogue with a user. Don't consider these messages as another form of marketing. Instead, use them as an "app extension" to communicate new features or updates, promo deals, and new content. Again, aim to provide value to a specific user, and trigger in-app messages via deep links or CTAs.
3. Fix friction points. No matter how hard you've worked on app design, flow, and messaging, any kind of friction can reduce your engagement rate. Friction points can be anything from a form that asks for too much information or navigation that requires too many taps to get to a screen. Don't launch your app until you're certain that you don't have these kinds of technical bugs.
The best way to identify friction points is by reviewing analytics. If you notice that a user becomes disengaged at a certain point in your app's funnel, this may be a signal that you need to fix part of the flow.
It is important to keep your users engaged for their entire journey while using your app. Put all of your efforts into this endeavor, and they will pay off. Test, optimize, measure, and test again. Be as creative as possible — look at the great example below — and gather ideas from case studies.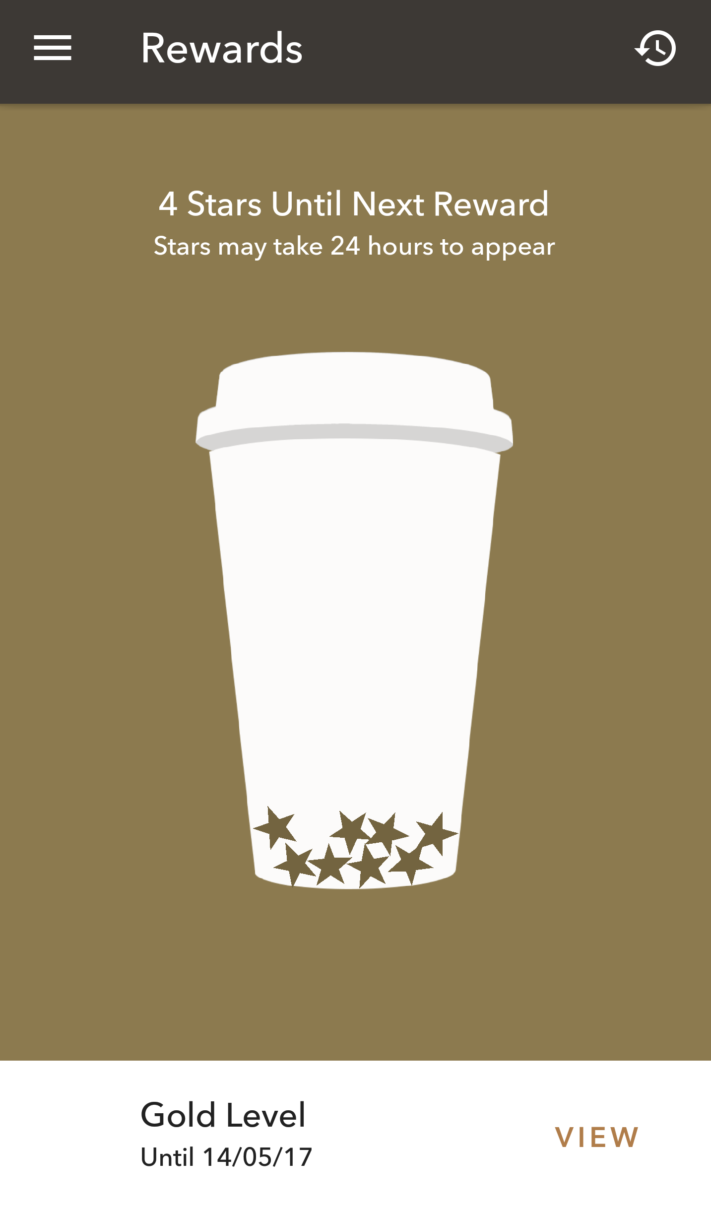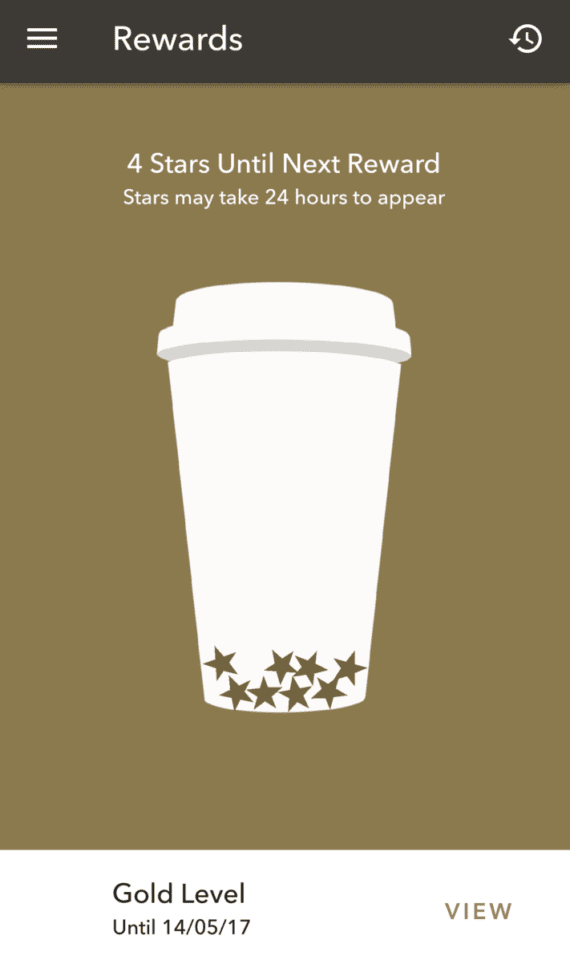 If you've read our guide thoroughly – you are ready to spice up your marketing game with some growth hacks! Go to our next chapter where we've prepared a bunch of case studies to get inspired from.
We compiled a list of app marketing growth hacks that brought great results for the mentioned brands, and we hope you can get some ideas from them.
Chapter 5 – Growth Hacks

1. Tinder's Product Design
"It's important to understand that when you're designing a product for mobile, the behavior for mobile – and the rules and expectations for users – are very different than on the web," says Tinder's founding team.
Tinder's design team used gamification, which, at the time, was not widely used by app developers. The left-right swipe resulted in engaging users to keep swiping until they did a certain action — in Tinder's case, to find a match.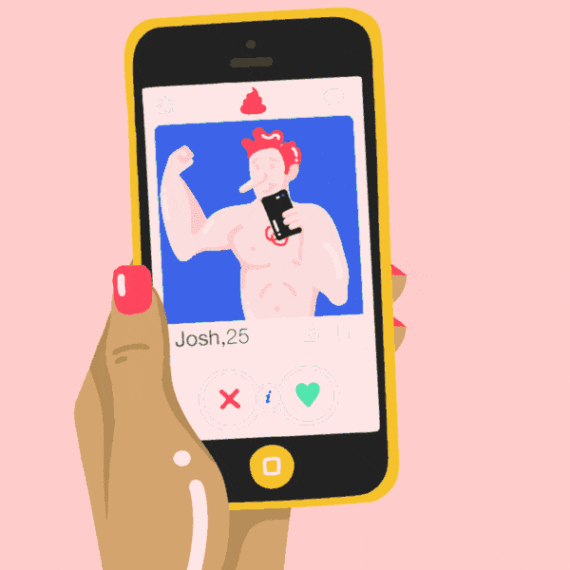 Source: Linktexting
This way, even though their product itself wasn't that innovative, with its great user experience (and engagement through it), they separated themselves from Baidu, Bumble, Match, and other dating apps.
2. Canva's Updates According to Their User's Needs
Although it is one of the most favorite tools used by millions of users daily, the Canva team constantly listens to their users' needs and plans growth accordingly. They've created an app and are constantly updating and improving its features.
Canva is an excellent example of how a web app grew so quickly that investing in a mobile app wasn't necessary at all. Nevertheless, the team from Canva noticed that their iPad app had over 2 million downloads, so they decided to build an app and offer their users a multi-channel experience.
Even though Canva is an established brand, it still had to compete against a bunch of similar apps. Their team decided to focus on providing only the best experience for their users, so they didn't stand out just by doing great marketing, but also by providing new features and constantly updating the app itself.
Canva is a successful business that still puts effort into basic promotions and SEO/ASO steps, like link building and guest posts, although they don't need to. But that's another reason why their tool is so popular! Kudos for their efforts.
https://gph.is/2JTjkLJ
Source: Giphy
3.Pinterest's Main Growth Metric
Pinterest is a great example of rapid growth due to the identification of a "main" growth metric.
"At Pinterest, our main metric is Weekly Active Repinners (WARs). Once you have your main KPI, you can break it down into different parts that affect that metric. With Weekly Active Repinners, we look at how many active users we have and what percentage of them are repinning," claims John Egan, Pinterest's growth engineering manager.
After Egan recognized this metric, it was easier to create a growth strategy that would impact it. This is another reason to set up your analytics, monitor your statistics, and act accordingly instead of investing in design updates or promotions.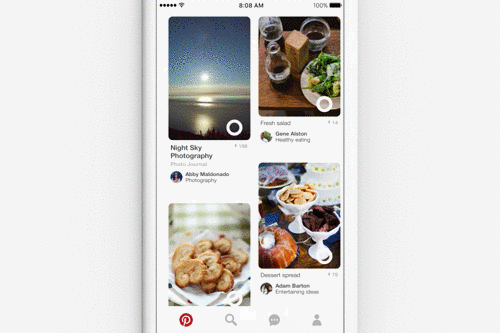 Source: Giphy
4.Spotify's Exclusivity Model
Spotify exemplifies how offering an invite-only beta is a great acquisition hack. They combined FOMO and exclusivity with great promotion, all of which created a buzz around their app.
The "exclusive invite" resulted in millions of new users in each new country they've expanded to. By 2017 they had 50 million users. Do you still think that beta invites are an outdated acquisition technique?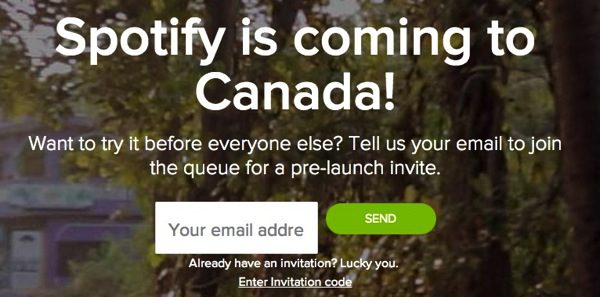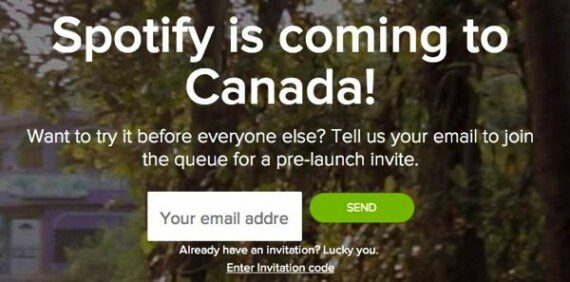 5.Guidecentral's ASO Tweaks
Guidecentral's team had a goal to increase its app's visibility and to drive more downloads. How? Through great ASO! However, they had a strategy-driven solution, and just by making a couple of smart edits, they boosted their organic downloads through ASO.
Basically, they implemented all the crucial ASO steps:
They changed their icon to a more attractive one that stood out immediately.

They did their keyword research homework and added "how to" in their app name because they noticed that a long tail keyword had good search volume.

They optimized their app description in accordance with the keyword description.

They added their unique selling points and a CTA in the description.
All of these "minor edits" resulted in an increase in their downloads by 700%.
Final Thoughts
We wrote this guide to share crucial steps and channels you should be aware of before starting work on your app growth marketing. Hopefully, the case studies we mentioned will give you additional ideas and encourage you to work towards your goals, no matter how good your competitors are.
Finally, we will be bringing you more insights on each app growth channel, and we strongly advise you to keep exploring this topic. You are more than welcome to share your thoughts and results in the comment section below