Having an engaged and broad audience is the dream of every podcaster. But the road to success is a rocky one.
Now that everyone has a podcast, it's hard to stand out. Of course, having great content is a must, but it's worth nothing without a good marketing strategy.
Maybe you tried something, but the exposure on platforms wasn't as you expected it to be. Well, it's time for some new tricks.
Keep reading to find out how to achieve the perfect podcast marketing strategy.
What is Podcast Marketing?
Before we get into step-by-step instructions on how to achieve it, let's define the term podcast marketing first.
Podcast marketing is a subgroup of marketing focused on marketing your podcast. So anything from content, merch, service, or whatever one podcast can include.
It involves a series of tactics podcasters should apply to boost their reach and audience size.
There are many podcast marketing strategies you can employ. Some might work, some not. It's essential to experiment and find out which one is the best for you and your niche.
Now, let's dive deep into some strategies to help your business enter a new dimension.
Why is Podcast Marketing Strategy Important
Relying solely on content and broadcasting channels to reach people and earn revenue is too optimistic. Instead, you need the right podcast marketing strategy to reach the target audience.
Like in all businesses, the marketing strategy can be the decisive factor in your success.
Take a look below to see what great benefits a great marketing strategy can bring to your podcast.
10 Benefits of Great Podcast Marketing
Reach broader audience
Boost brand awareness
Establish authority
Stand among fellow podcasters
Grow sales
Have high-profile guests in your show
Have higher exposure on platforms
Expanding your business
Earning with affiliate marketing
Collaboration with like-minded people and brands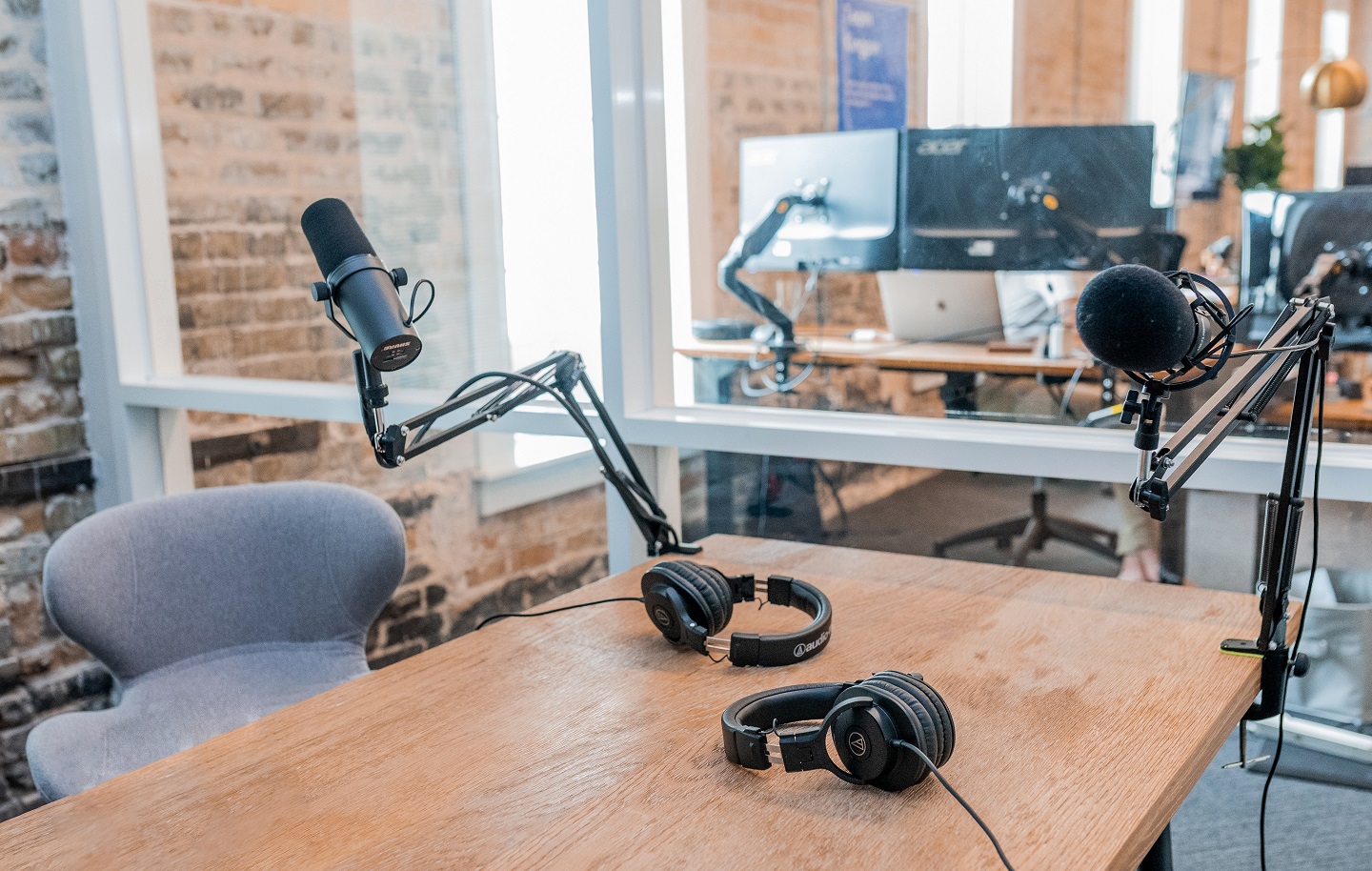 20 Amazing Examples For Podcast Marketing
Love and understand your content
Doing what you love is so rewarding. If you're passionate about the content you're creating, that will show. The audience will always recognize effort and expertise. Over time, this will make you an authority in the community.
Look up to other podcasters
Before starting your own podcast, you must have some idea what style of podcasting you like. There are many independent podcasters out there to learn from. Consider how they interact with the audience and guests, how they present their content, and what kind of equipment they use.
Have deep knowledge of the topic
What separates good content from a great one is the knowledge base of the topic. To achieve authority in the podcaster community, always investigate, learn and improve. Never talk in deep about topics you're not familiar with.
Concentrate on quality
Quality overthrows quantity every time. This applies to all aspects of podcasting, content, and technical parts. Even if you're just starting, invest in good equipment within your price range. This will immensely affect the quality of your podcast.
Keep in touch with trends
A lot of things in life are about good timing. Always keep in touch with the latest trends in your niche. Adapt the content and the guest appearances accordingly. This will make you more trending, especially on social media platforms.
Present the best guests
If you bring some guests into your podcast, ensure they are professional and relevant to the episode's content. Find the time to reach out to people who can bring significant value to you and your audience.
Measure your growth in numbers
To see your progress, it's sometimes best to turn to the thing we rational humans love the most, numbers. If you use some tools like Spotify ads, podcast ads, and such, you can see precisely how many people have reacted to it, and then adjust accordingly.
Be authentic self
In the world of overproduction, authenticity is priceless. Approaching a topic from another angle, discussing relevant, new problems with experts, or just giving your genuine opinion of the topic is considered authentic and honest.
Create a niche
Too broad is too much. Find a niche that suits you and stick to it. Try to niche down as much as possible. For example, if your podcast is about food, niche out to Italian food. Even more, niche to pasta dishes. There is more to talk about it than you might think at first.
Talk to your audience
Your audience is everything. They're the ones you need to impress to succeed. Feel free to use social media to find out if they like a specific topic. People love to express their opinion, and they especially enjoy being a part of a community of like-minded.
Start a podcast hotline where the audience can leave voicemails
Starting a podcast hotline with listeners' voice mails can result in more engagement from the audience. They like to feel included, and this is the perfect way to make your loyal audience a part of your show directly. This also adds to your authenticity.
Learn to edit well
Editing is one of those podcasting jobs that can be boring, but necessary. Even if you've never edited anything before, everyone can learn how to edit. Of course, in the beginning, it won't be perfect, but try to do your best. Consider taking a course or a mentor for optimal listening experience.
Make episodes ahead
Once you decide to launch your podcast, we recommend making at least five episodes ahead of time. This will help you in the long run as you won't have to worry about creating a new episode in a short period. Also, it will give you time to correct all the possible mistakes.
Publish regularly
Consistency is the key in the publishing business. The audience looks forward to their weekly, biweekly, or monthly episodes. It's crucial to find a publishing schedule that will keep the fans interested and give you some free time between episodes.
Write episode transcriptions
Think of the episode transcriptions as subtitles for your podcast. Some people prefer to read, not listen. Some are not native speakers, so it's easier for them to read while listening. And finally, writing the episode transcriptions is s excellent way to include listeners with impaired hearing.
Besides publishing your episode on the usual domain, try sharing it for more audience reach. Social media is an effective way to advertise your podcast. Data shows users are more likely to follow new episodes of their favorite show if reminded of it on social media.
Make a giveaway
Prizes and discounts are a proven way to attract an audience. If you're a beginner podcaster, this could be a great way to attract more audience. Giveaways could include free services, discounts to some of your classes, or any other products related to your podcast.
Make your podcast into a video
Although the podcast is mostly in audio form, more and more podcasters are transferring to a video format. This is because people tend to focus more on video format. Moreover, Youtube acts as a great SEO driver that will additionally help your visibility.
Pay for ads
It's always better to get your audience organically. But, to jump-start your podcast, paying for some ads might not be a bad idea. This will attract people quickly, which is exactly what you need when you're just getting started. This can be done via Facebook ads, Google ads, or similar pages.
Don't let people tell you email newsletters are not popular. They are still great and elegant ways to share new episodes, merch, advise and connect with your community and audience. Take all the necessary steps to expand your email list and choose the best email marketing service that suits your needs.
Enter into Shoutem app builder and start creating your app!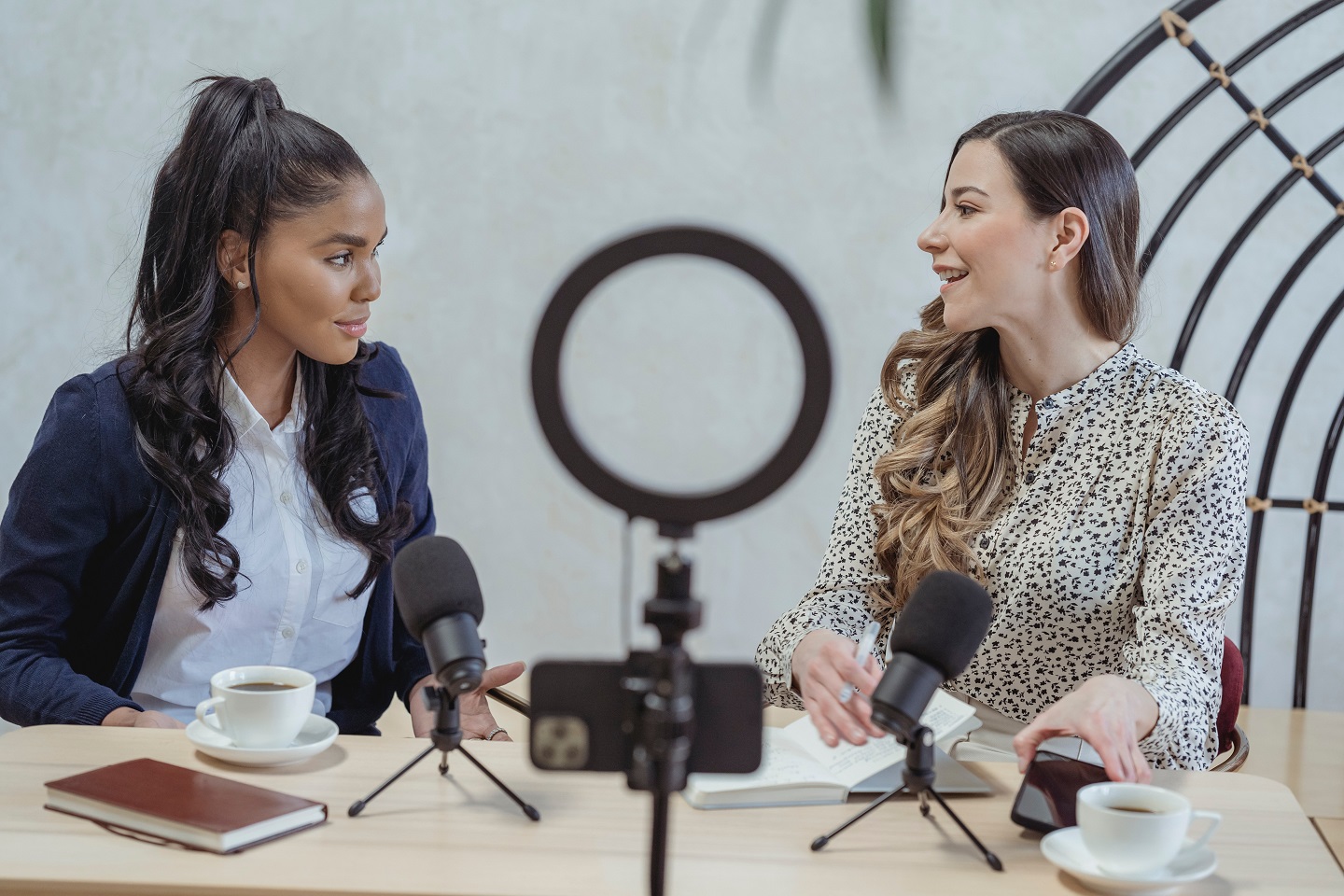 Bonus Tip: How to Promote a Podcast On Social Media
Social media should be a part of the business marketing strategy for any brand. Podcasts are no exception. On the contrary, social media can take your podcast to a whole new level.
It's a way to connect to your audience, speak up about things that matter to your, and regularly update everyone on new episodes.
There are two major things to consider to promote your podcast on social media.
Invite guests with big audiences
Collaborations are big things on social media. Having high-profile guests on your podcast implicates you're serious and professional.
Consider inviting guests that are experts in their area and have a lot of followers. They will share an episode on their profile, considerably expanding your audience.
Promote the podcast online
The primary purpose of social media should be to promote your podcast. So share every relevant detail, especially new episodes, as frequently as possible.
We even advise tapping into the power of paid ads on social media to reach as many people as possible.
Enter into Shoutem app builder and start creating your app!
Podcast Marketing FAQ
What type of marketing is a podcast?
A podcast can be used as a marketing strategy for your already existing brand. For example, if you have pills that specialize in female hormone regulation, a podcast that deals with just that would make a great marketing tool for your brand.
Does podcast marketing work?
Podcast marketing definitely works. It's only a matter of time. It's also important to find the right type of strategy for your podcast (not every strategy works for every podcast).