Surely numerous app notifications come to your phone throughout the day. Of course, not all of them are direct messages from your friends. Apps like to communicate with their users by sending them so-called push notifications. The newer marketing strategy includes them based on the principle of permission. Users can turn them off, but before you do that, read the article until the end. We will show you all you need to know about push notifications.
What are push notifications?
Push notifications are short pop-up messages that appear on the user's screen nudging them to take some action. Push notifications deliver personalized content to each user. You might receive a different message than your friend even though you are both using the same app.
Firstly, they serve as a great communication tool between the user and the app. Secondly, they don't get caught in spam filters, and always reach their destination. Also, click-through rates can be twice as high as email.
Other less frequent terms for push notifications include rich messages, actionable messages, automated messages, or personalized messages. They can appear even if you are not using the app or when your screen is locked. As long as your browser is running and you are connected to the internet, your gadget will be able to push notifications.
How do push notifications work
The process itself is pretty straightforward. Before we explain it, you must know that there are platforms such as FCM, which is short for Firebase Cloud Messaging. It is a cross-platform messaging solution that allows you to send notification messages to drive user re-engagement and retention.
The app server sends the content of the notification along with the subscriber's information to FCM. Then, FCM verifies this information and sends the notification to the end-user. Once the notification has been received, the device sends Click and Delivery data back to the application.
These data help websites and apps in tracking the engagement and performance of these notifications.

Types of push notifications
Customers love messages crafted just for them. For that reason, they are more likely to click on messages that pique their interest and emotions. The following list of push notifications keeps the users interested and entertained.
Informative messages are important for the accountability of the user's plans, activities, and dates. Their purpose is to update the user of any changes on their account and provide relevant news and changes within the system.
Geolocation messages function in a specific area only. You just found a match nearby on a dating app and want to buy them dinner? These notifications will help you solve that issue. Users will receive information about nearby events, weather forecasts, stores, restaurants, or any other activity that can be done in that location.
Promotional messages update the user on sales, special offers, or promotions nearby. They increase the number of purchases. Users can send coupons or special discounts sent to them through the app.
Catch-up messages remind users to keep up with their personal goals. They usually contain progress analysis, achievements, and future steps needed to be taken by the user.
Rating or survey messages are sent to users to collect feedback on the quality of the product or service. The aim is to see where is room for improvement to upgrade the app or service on another level.
The difference between push notifications and text messages
Although both of these go directly to the user's phone, they are not the same. The key difference is in the length of the text. A text message you can read entirely with the scroll option, even if it is long. The same is not the case with notifications. If they are too long, they get cut out from the screen which significantly lowers the conversion rates.
That is why notifications with fewer words have a higher click rate. It is desirable not to exceed 10 words within the notification.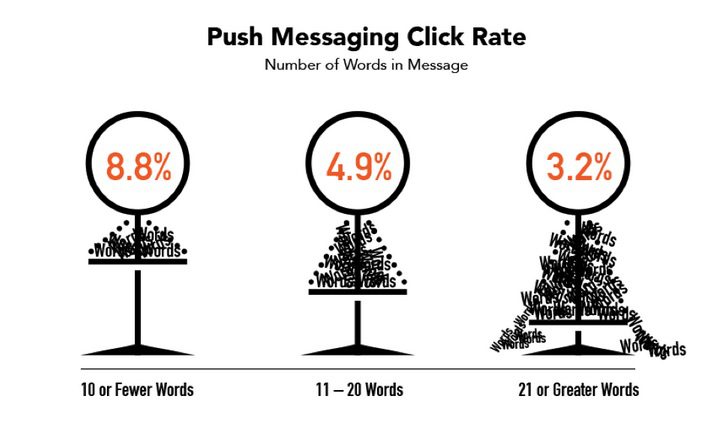 When you swipe to open a push notification, it will have the same effect as a text message. A push notification will bring the user to the app that sent the message, while a text message will bring you to your message app.
Automated text messages are mostly used for users who do not own smartphones. The downside of it is that you cannot push rich messages with emojis, GIFs, and animations which make texts more visually appealing.
The last notable difference is that you can opt out of push messages. However, you cannot do the same with text messages which might be intrusive if you are not interested in them.
Where are push notifications displayed on my screen?
Push notifications can be displayed in three locations on a mobile device and can alert the user with either a sound or vibration.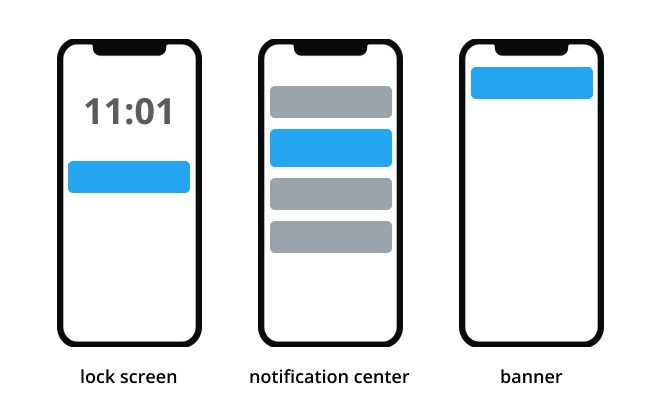 Push notifications consist of several elements. They have a title, the message content, mostly an image, and a URL. Choosing an image or emojis to add context is a great way to save space and use visuals that will attract the audience. Here is the outline of one push notification, so you get the impression of its parts.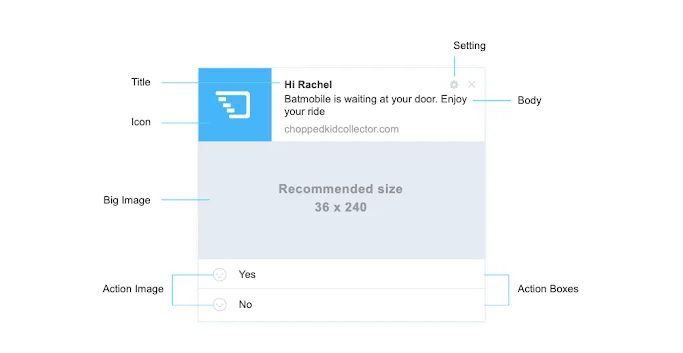 Push notifications statistics in 2021
Everyone loves a bit of trivia right? Take a look at these statistical data concerning push notifications.
Average US smartphone user receives 46 app push notifications per day
40% of web push notification senders belong to either the e-commerce or media, publishing & blogging sectors
The highest push reaction rate of 8.4% occurs on Tuesday
The highest Reaction rate is at 11 PM
31% of users do not like to find push notifications helpful at all; only 18% always find them useful
The high numbers indicate that push messages are a vital part of. They communicate with smartphone users even if they are not using the app.
They are a great tool for the promotion of any product or service online, but there are also ways to promote offline that are often forgotten.
Opt-in rates by industry type
Before analyzing the industries that use push notifications the most, there is a difference between android and iPhone push notifications.
According to Accenage's 2018 Push Notifications Benchmark, opt-in rates for push notifications are much higher on Android devices (91.1%) than iOS devices (43.9%). The reason for this lies in the fact that iOS has to actively consent to push notifications. Android, on the other hand, is automatically enabling push notifications.
Push notification opt-in is a process that enables managing push messages by either allowing or stopping the mobile apps from sending them. Usually, there is an opt-in prompt during the app installation to ensure that the user has permitted push notifications.
Accengage conducted colossal research in 2018. They analyzed whooping 50 billion push notifications sent to 900 million users over their platform. From there, they extracted opt-in rates within specific industries which use push notifications often.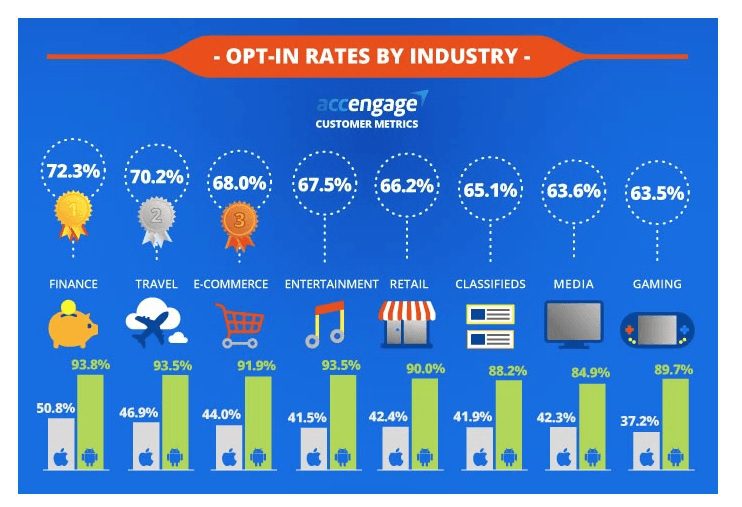 The aforementioned difference between the push notification rates for Android and for iPhone is immediately visible. Approximately twice as many Android users receive push notifications.
The first three industries that generate the highest amount of push notification traffic (finance, travel, e-commerce) belong to the YMYL sector. Classifieds and media would belong to YMYL as well.
Your Money Your Life (YMYL) refers to Google's campaign about webpage content. The website is YMYL if its content is important and if it can contribute to a better quality of life.
Strategic Marketing: Push Notifications Best Practices
As we mentioned above, push notifications have specific anatomy and are written in a specific way. Also, all push notifications should be personal, delivered timely, and engaging to take an action.
Below you will find 9 tips we chose to present to you as good push notification examples and best practices. Implementing them will certainly bring you the results you need.
Tell your users their input is invaluable

Everyone likes it when their opinion matters! This message is well-crafted. Realistically, the chances that millions of people will read your review are almost none. Nonetheless, such a message makes the user feel important and valuable for the business.
2. Help users meet their goals

Keeping the users aware, accountable, and informed gives a sense of a deeply personal relationship between the user and the app. Furthermore, push notifications like this one motivate the user to focus on keeping up with their goals. App also provides a dose of support, an opportunity to self-reflect, and create a plan for the upcoming period.
3. Make personalized suggestions

Giving out suggestions works every time. To users, it feels personal and relatable. The app knows what content each user consumes and offers something similar to increase engagement. That is especially applicable to users who are not as active anymore. The command at the end does not sound aggressive. The connotation from that would more likely be: "We recommended, it is your loss if you don't do it."
4. Make users feel like insiders

Messaging apps are among the highest-opened and notifying the user of the progress of their conversations is important. This one, in particular, gives insight into what is happening and the user now knows they might expect the call, a message, an email, etc.
5. Motivate the inactive users

If the user hasn't taken action for quite a while, an app might notify them to become active again. It is politely nudging them to open the app while providing the justification. It also provides the sense of urgency that something must be done, so let's reflect on that in our tip number 7.
6. Create a sense of urgency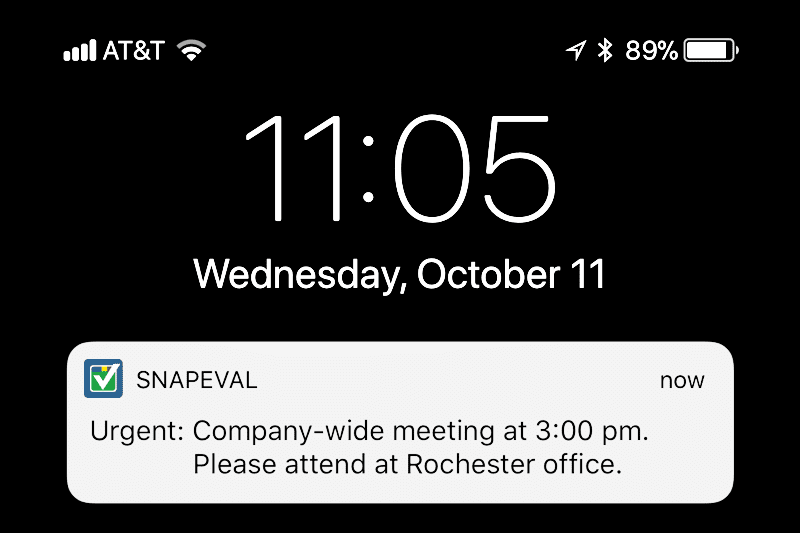 Even without "the urgent" at the beginning, the message seems like something you must not forget. Such reminders can help you build your schedule and let you know if anything has slipped your mind. Giving the exact information about the location and time also leaves an impression of having a personal assistant by your side. Who wouldn't like that?
7. Ask for a rating or review

Providing feedback to the app, service, or product is highly useful. Push notifications focused on the quality rating give clear instructions on what needs to be done. Finally, the goal here is quality improvement for future users.
8. Use emojis

This one is obvious. We all (mostly) like emojis. They make the message look less formal and more visually appealing. Emojis are great for conveying tone, facial expression, and emotion. The message containing emojis is considered to be more personal and friendly. It is not recommended to use emojis in every situation, especially if business correspondence or highly serious matters are in question.
9. Promote limited-time offers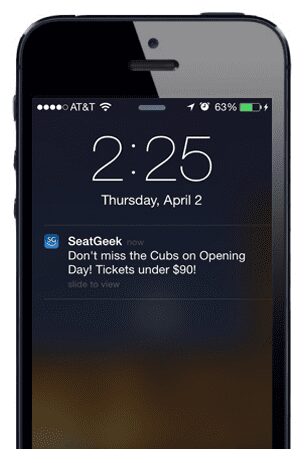 Notifications like this pressure the user to take action presenting them an offer one cannot resist. This is an example of strategic marketing and advertising that is often incorporated in "special offers" within the content of the push notification. The user is tempted to take the opportunity, and some of them buy whatever is promoted despite their needs.
How often should you send notifications
Knowing when and how often to push notifications might be crucial for the success of your app, especially at the beginning.
Let's start with how often one should send push notifications. If the app is new, three to four automatic messages in the first three-day period are acceptable. Why the first three days? From the moment the person downloads the app, a vast number of them delete the app within that period.
Therefore, your task in the first three days is to engage them, provide them with opportunities, and give them reasons why they should stick with the app.
Examples of first push notifications for such apps include registration or account creation protocols, and promotions of the app's key features.
The golden rule does not exist. It depends on the niche. While some favor more frequent push notifications, some don't.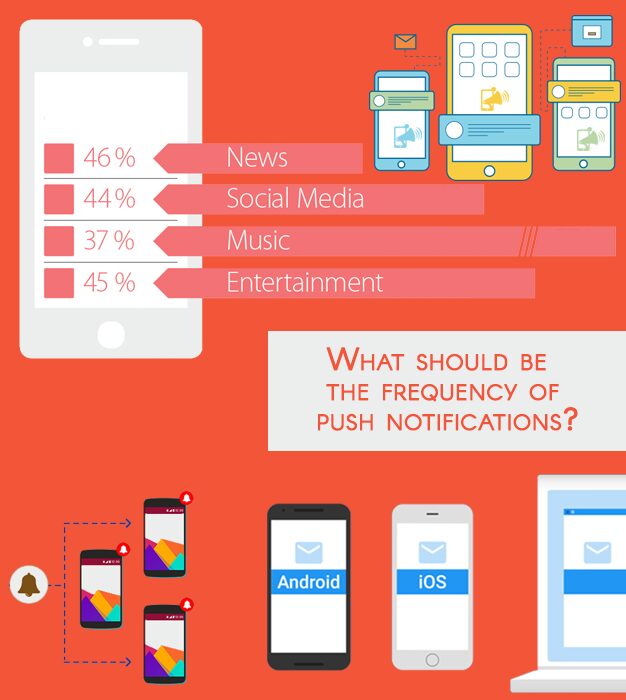 If you decide to send more than one push notification per day, make sure that the first one is the best. The click rates drop with every other message within the same day.
Also, be careful when during the day you will send them. You don't want to upset your users by waking them up at 3 am right? For that reason, according to the research, this grid shows the "most effective" times during the day for sending push notifications. Indeed, it all depends a lot on the industry and reasons for sending them in the first place.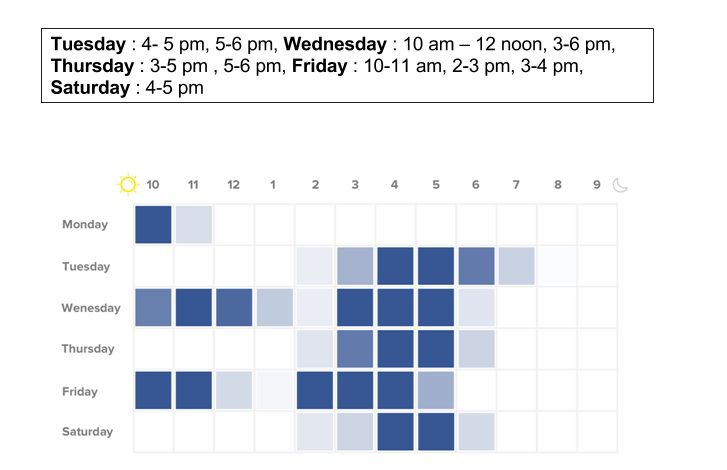 What makes users disable push notifications
One weekly push notification can lead to 10% of users disabling notifications, and 6% disabling the apps. This is alarming news. For that reason, understanding the app notifications is key.
VWO Engage surveyed subscribers of push notifications to find the reasons why they disable push notifications. Interestingly, over half of the sample is irritated by them. Almost the same amount of them find them distracting, and finally, a third of the sample is not into being disturbed at the wrong time.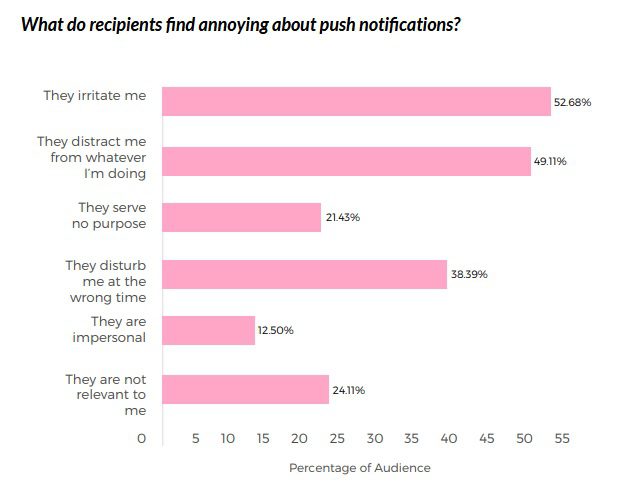 Push marketing strategy: increase user retention
App marketers hold the power when the success of the app or product is concerned and their marketing strategies can be crucial. In the early days, it is important to set strong foundations. If the users are happy with it, loyalty and retention can increase by 125% for opted-in users.
These three types of push notifications will boost retention in the first 30 days
The Welcome Message
Once they downloaded the app, users expect some sort of welcome message. In fact, it is crucial for setting the tone and establishing the relationship with the user.
Personalization
It always works, always. Sending suggestions specifically for the user in question will give them a sense of importance and they will connect with the app sooner. Don't forget to address the user by mentioning their name.
A special offer
Time-sensitive exclusive offers return the highest conversions for app push notifications. Hence, when paired with emojis, which increase push notification open rates by 85%, it gives a perfect combination for success.
Mobile Marketing strategy: Writing a push notification and the most frequent mistakes
Push notifications should be kept short and simple. They should be instantly readable by the user. As a rule of thumb — push notifications should be around 60–90 characters for Android, and less than 120 characters for iOS.
Each industry has a specific word range in which push notifications yield the best results. According to CleverTap, the health and fitness and travel industries should aim for 90 or so words. However, the educational sector uses only about 20 words per notification.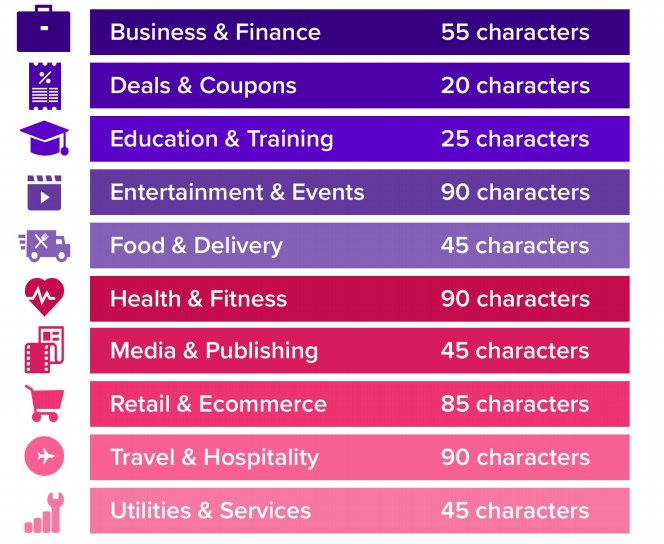 There are some red flags you should pay attention to and avoid at all costs. Even if you have made good choices so far, here it is where it may make or break.
1. Don't ask for enabling notifications upon the installation
Why? The app didn't earn the user's trust yet. Many of them don't know what they downloaded and need some time to see if they resonate with the app. Allow the users to experience the app before deciding if they want to receive notifications or not.
2. Not specifying the content of the message
Tell people what notifications will contain so the chance that they will accept your request increases. Consequently, knowing the details of your notifications will create an understanding of the app's nature. It will increase the perceived credibility and trustworthiness of your app.
3. Sending notifications in bursts
Instead of sending a tone of separate notifications, send one notification for each app. Add a numerical indication of how many different notifications came from that specific app. In conclusion, shift the focus to quality over quantity and you will be sure to see increased user satisfaction.
Build your App with Shoutem Pro
We understand that coding can be challenging. Not everybody feels competent and confident to tackle that matter. That is why we're glad to tell you we're going to do it instead of you!
With our Shoutem Pro option, we listen to your ideas and build great apps while implementing the best practices within the development sector.

Our mobile app experts will create an app strategy, build an app with our builder using premade features and integrations, and our Support team will continue to support your app as a trusted partner in your success.