Usually, when you ask somebody what their most common internet purchase is, the answer is most likely to be: books, movies, music, electronics, or clothes. However, there are online stores out there offering some pretty strange and unusual products that make you wonder – who would ever buy something like that? Still, other shops have a clear purpose, but they are intended for such a narrow circle of consumers that at first, they seem weird to us. Here are 10 interesting examples:
You want to pull a prank on a friend or a colleague at work? Everything you need you can get at Prank Place. You've got a huge selection to choose from; from giant vomit prank that is designed to look like real and stinky barf and a toilet seat that lets out screams, all the way to a fake pregnancy test (which is obviously always positive).
Everyone's got a person in their life who's crazy about far-out presents and useless gadgets. Thanks to the Shiny Shack online store, shopping for your twisted friends has never been easier. Here you can buy really original items, like a giant 38cm pen, a wristwatch that tells the time backward, a miniature finger drum set, glow-in-the-dark gelatin… There's also useful stuff to be found, like waterproof iPhone cases or USB sticks.
Bob Barker is a company that sells products and equipment intended for – prisons. It's been around since the 1970s and today in its online shop you can find prison uniforms and shoes, modified products for personal hygiene (like razors that can't hurt anyone), pest repellents, guard equipment and all the stuff that make a jail a jail.
In case you're thinking about getting miniature, realistic rubber heads, Ye Olde has a variety of them on offer. Perhaps you'd be more interested in a paper press made of see-through plastic with a stuffed bat inside? We think you get the picture what kind of things you might find here.
On this site you can buy an actual replica of the 1966 Batmobile. The price? Nothing, really – just a measly $200,000. But don't worry, you can also find some cheaper (although still luxury) items, like gloves with an installed heating system or make-up mirrors that can play MP3 songs. If you've got an extra $1300 lying around, you can also order a table 3D printer.
Most people can recall their favorite childhood candy that later on disappeared from all the shops. Old Time Candy specializes in the sales of just such "retro candy". What's the secret? How can you sell decades-old hard candy? It's simple: the founders of this site find old producers that are still in business and they agree on shipments of fresh supplies of candy with them.
Some people collect stamps, others collect postcards, and yet others still collect – weapons. Those people are the target demographic of the Texas online shop Collectors Firearms, which has a huge stash of antique but also modern weapons and ammunition. They also have cold weapons like swords and knives on offer. Pacifists might be best served to avoid this site altogether.
It seems morbid, but death means business, and any profitable business these days has an online site. Mortuary Mall is an online shop with funeral equipment, intended first and foremost for funeral homes. They also offer certain types of medical equipment.
Oxfam is what you'd call a slightly different kind of gift store. For example, you can use it to buy someone a live goat! However, the goat isn't intended either for you or your friends, but rather for someone in need and chosen by the special charity program. The person you're giving it to will still get a free e-card as proof they've helped someone. And it's not just animals that are on offer; there are also educational courses, clothes, books, etc.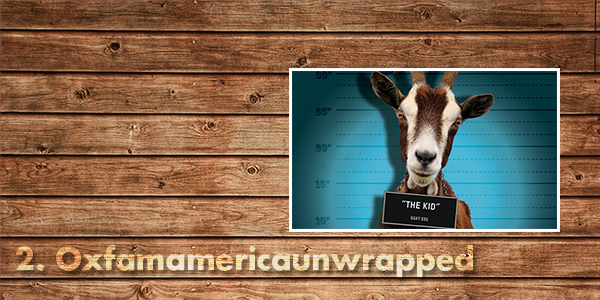 People all over the world have all sorts of eating habits, and acquired tastes obviously know no limits. If for whatever reason, you want to try some exotic food that contains termites, earthworms, or scorpions, this online shop is exactly what you're looking for. And with a bizarre dish you can do with an equally bizarre drink, just keep in mind that cobra whiskey is out of stock right now.
If you are more of weird games, than weird online purchases, look out for the Top 11 Weird Mobile Games you want to play with. We promise you won't be disappointed!