No matter your field of expertise or interest, you might consider skyrocketing your growth by investing in online promotions. If you want to make a website an app, it will mostly depend on your target audience, features, available resources, and intended purpose.
You might want to create a mobile application for users to download or a mobile website for browsers. These two are sometimes used interchangeably but there is the key difference that sets them apart.
In this article, we will discuss the main differences between them and give you an insight into opportunities you get by building your website app with Shoutem.
Mobile websites vs. Web applications vs. Mobile apps
Before we get into details of what you can do with Shoutem's builder, let's figure out the terminology and see what is in front of us.
A mobile website is similar to any other website but it is designed for a handheld device and touch screen interface. Websites are static, meaning they provide informative content but may not have input dependability.
On the other hand, a web app responds to user input and allows the user to perform a task. They can be accessed on any device through a browser. They don't take up any of the device storage, while mobile apps (also known as native apps) do.
Native apps need to be downloaded from an app marketplace, are tied to the specific device, and are pricy to create.
If you're interested in creating mobile apps, we wholeheartedly suggest you develop the minimum viable product of your app first. It will help you see whether your idea has substance and which way will lead you to your goals.
Create a Website App in 3 Easy Steps
After you have done preparations for your mobile app (market research, the concept of functionalities, etc.), you can start working on the app creating.
By using Shoutem no-code builder, you can create website apps and mobile apps easily and effortlessly, without any coding knowledge. Let us lead you through 3 easy steps to create your very own website app.
1. Get into the app builder
We know, sign-ups are not the user's favorite thing, but it has to be done. What we can promise is that it is easy and fast.
After you sign up, choose a blank project which opens the app dashboard which looks like this.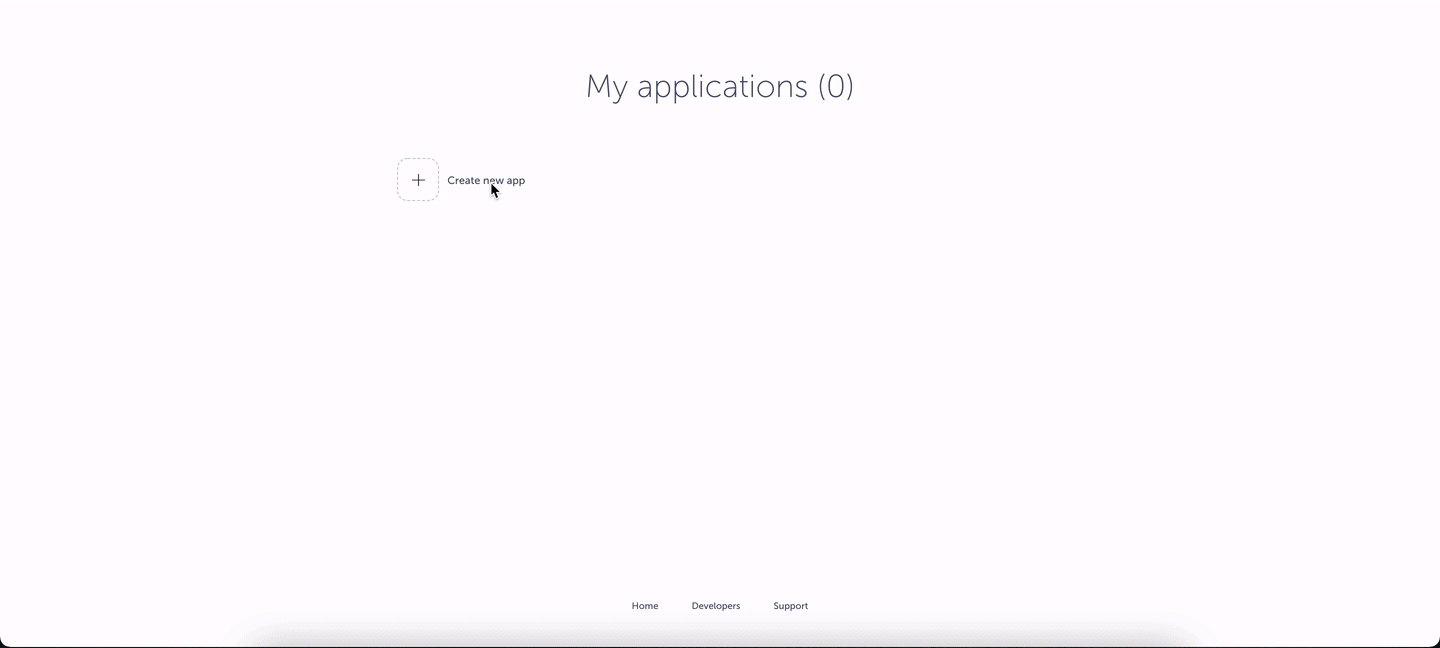 2. Choose your app template and set up all features
Shoutem offers a variety of templates for several app types. The most popular choices include news app, events apps, travel apps, radio streaming apps, to just name a few.
After choosing the type of website app you want to build, go through the build to see what pre-made features your app can have. Choose what you find the most important, what will reflect your website app's purpose, and design it according to your preferences. Be careful to incorporate the best app design practices and tips on creating an app logo
In this short video, see how to create News App from scratch. You will easily learn how to navigate through the builder and how to set up the most important features of your app.
3. Publish your website application
Before you press the publish button, there are still a few things that need to be done. In store metadata, you should enter the information necessary to publish your app to both iTunes and Google Play stores. Read the whole article and follow the instructions to prepare your app for publishing.
When you have added all the features, you're all set to push the publish button and you're done!

Important Integrations for Every Website App
Now that you got an idea of our builder, let's go over some important extensions you can integrate into your website app.
News RSS
News extension is content-friendly, bringing in any type of information such as news, blogs, articles, stories, fun facts, and so on. The system imports relevant content from other web pages and features them in your webpage app. You can import the list of articles directly from the webpage or add them manually.
Support News RSS article explains the step-by-step process behind adding News RSS extension to your website.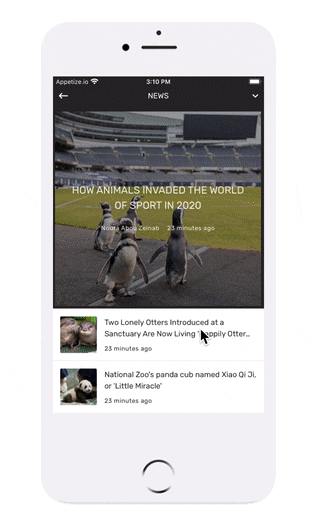 A cool feature worth pointing out is that News RSS allows you to push notifications to users as soon as the news story is released. Also, you can push local stories and news promoting them within your website app.
WordPress
By using the WordPress extension, you are able to display articles that are already on your WordPress-based site.
Important: The WordPress version must be at least 4.4 for integration to work. In case your WordPress is on version 4.4 to 4.7, use this plugin before continuing. All versions above 4.8 (+) don't need this plugin.
After installing WordPress extension into your web app through the screen option, insert the URL link of your web page.
The list of articles will pop up and you'll be able to categorize them if that is something you want.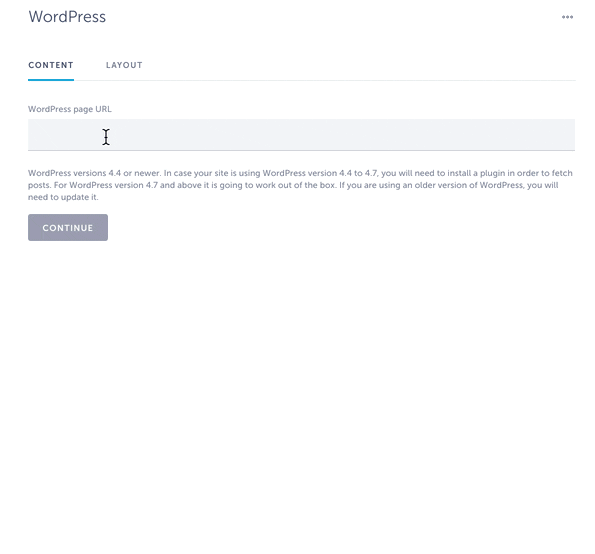 To do this properly, make sure you have assigned the category to every single article. Go through our blog list to see the categories you can use.
WordPress allows multiple layout templates you can choose from. Layouts provide a sense of personalization to the user.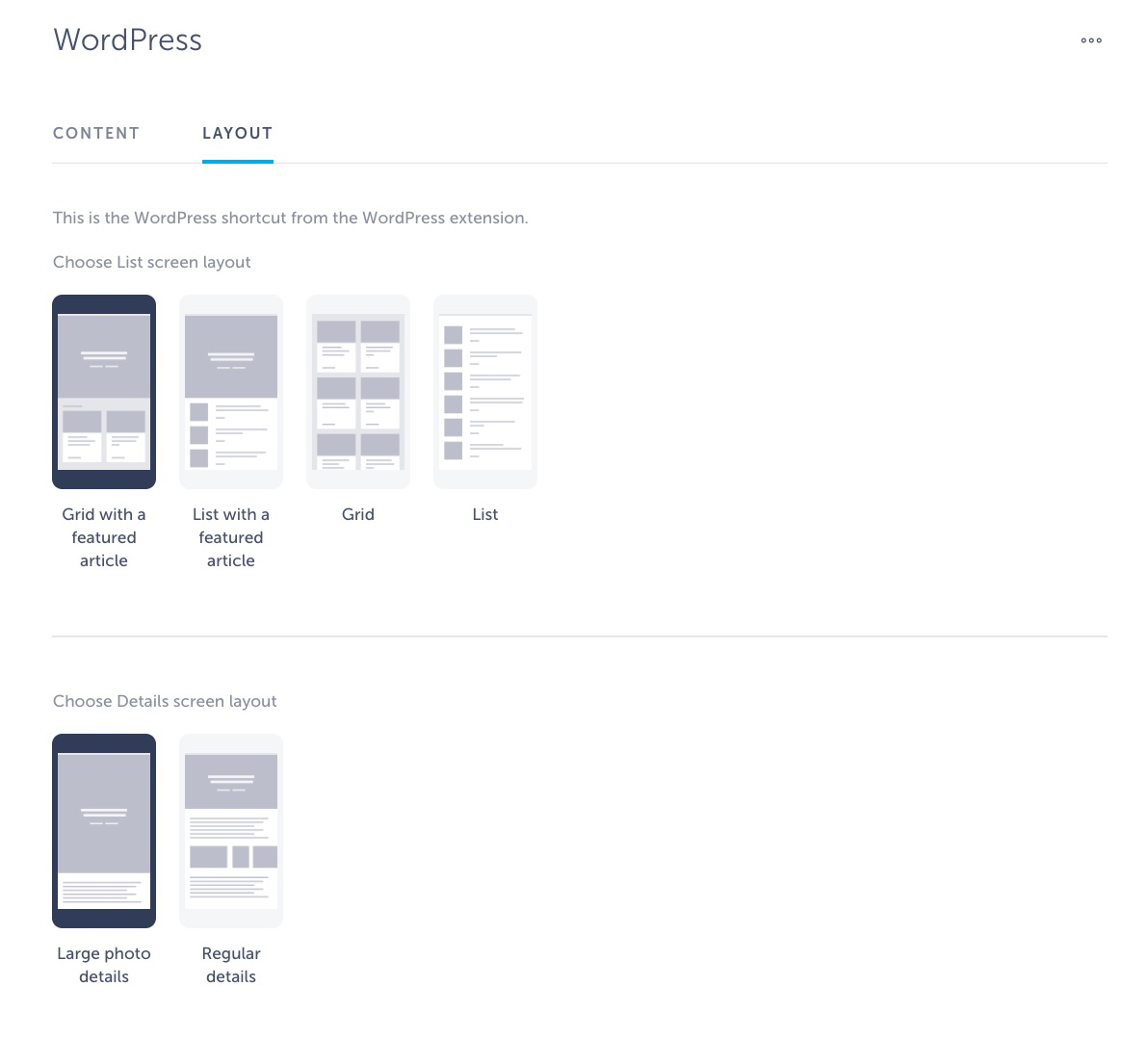 Shopify
Shopify extension grants you the ability to promote and showcase your products to potential buyers but also to sell them. Follow the procedure of creating product collections and obtaining Shopify tokens before continuing.
If that is taken care of, you can proceed to install the Shopify extension to the builder using the same steps as for the aforementioned.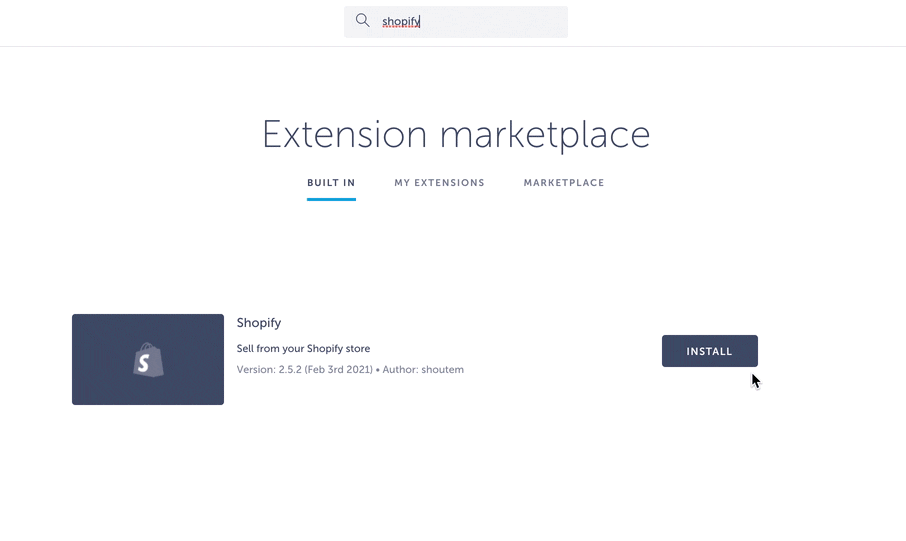 In order to set this extension up, go to the Settings (Extensions settings) and then to Shopify. Insert there your Store URL and Storefront Access Token. If you wish, you can (but don't have to) add a Discount code.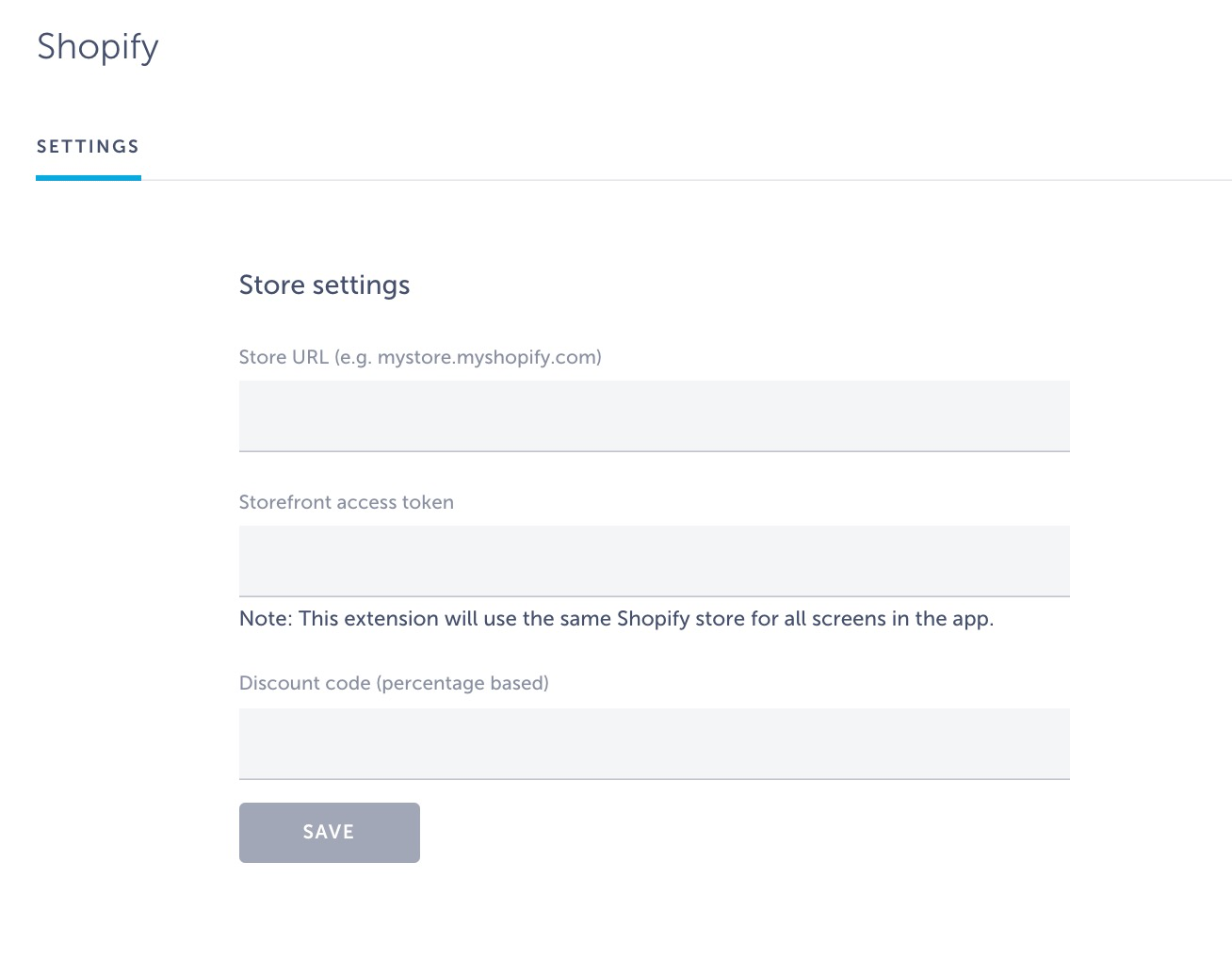 Here is the preview of what Shopify looks like on screen.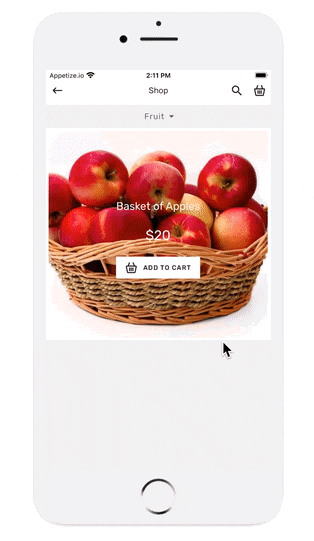 Events
This extension might be useful if your app runs on important dates. Inform your users by pushing notifications directly to their phones, reminding them not to miss the event.
After installing the extension, press "add item" to insert the new event. These are the possible information you can provide to your users for every event.
Name
Description
Image
Time start
End zime
Time zone
RSVP link
Location
This is what events look like in your app.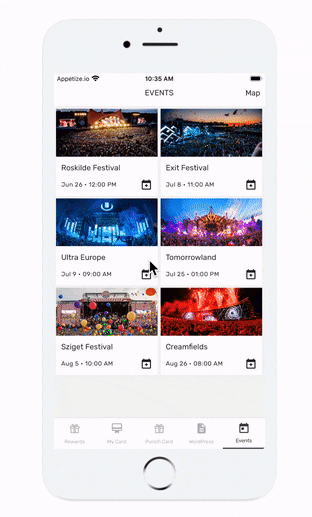 You can also import a CSV list to your app easily. For more information about the events extension visit event extensions.
These are not all extensions Shoutem is offering. We offer more than 30 of them, so check out our Features Support Blog for detailed instructions on all extensions available in our app builder.
Showcase: Shape Studio
Shapes Studio is a digital fitness, wellness studio, and pilates dedicated to achieving a healthy and lean body for their clients.
The fitness studio owner, Paola Langella, states:
At Shapes, I want to help busy people like you, design their ideal fitness schedule to empower you to be able to train at any time of day, wherever you are in the world.


Check out this amazing fitness app on Google Play and App Store.
Our Shoutem Pro experts created the app in Shoutem's builder and this is just one of many successful apps created with Shoutem Pro. We are proud to present several apps rating over 4.0 on App Stores which is proof of the quality work and effort of our talented and diligent developers.
Let's turn your Website into an App
Everything good (well, and bad) on Internet started just as an attempt to become the greatest idea ever.
If you are not sure how to handle technology, or just don't have time to learn the dashboard and features, etc., let us handle your app project. Our team will take care of your app design and layout, as well as the features and content import.
Contact our experts for free consultations regarding your idea. Whether you want to turn your website into an app, or just create a similar one.