App updates are great for both app users and apps – updates mean that developers are always working on improving the app, keeping in mind a better customer experience with each update.
Minor updates usually introduce some minor bug fixes that bring a better experience for app users. To describe these changes, developers usually add notes like "-minor bug fixes" or "-various bug fixes". However, before these strict rules for app descriptions and updates, some app updates emerge with silly/funny descriptions of the new version.
One of the most interesting and unusual descriptions was the Tumblr app in 2015., with app version 4.3.1. App Store update description included a short story about a discussion within Tumblr's Board Room.

Tumblr app update.
So what seems to be the issue with these types of updates?
While we love to see creative solutions being applied to tiresome problems (i.e. App update descriptions), they bring little value to end-users. They usually don't care enough about reading these updates to make it worth your while. On the other hand, it might prove to be great PR. But here lies another issue.
As you can see from the screenshots above, this particular app update description doesn't contain a single word of actual app improvements or bug fixes in this version. Regardless of the fact, few minor bug fixes were included in the new app version, we'll never know for sure, fixes were never mentioned anywhere. Tumblr is not alone in this; we saw these types of updates before from Medium and GrubHub Food Delivery.

Medium app update is displaying Slack communication.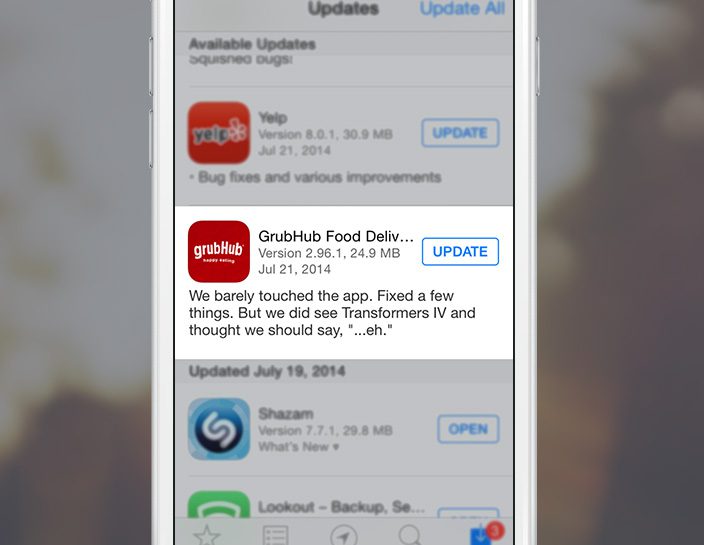 You can try and guess what's new, good luck with that.
Don't get us wrong, it's awesome to see some creative work in-app update descriptions, but don't exaggerate. There are some good examples where humor and description of the new app version made us smile and went viral for days or weeks. One instance even had a timeline.
It all started with the Wallapop 1.8.1 app version on the 8th of April 2015. They've stated that one of their engineers, Peter, is missing. After two days, on April 11th, a new app version update was available for download with details explaining what improvements were added, and what happened to Peter (sorry mate).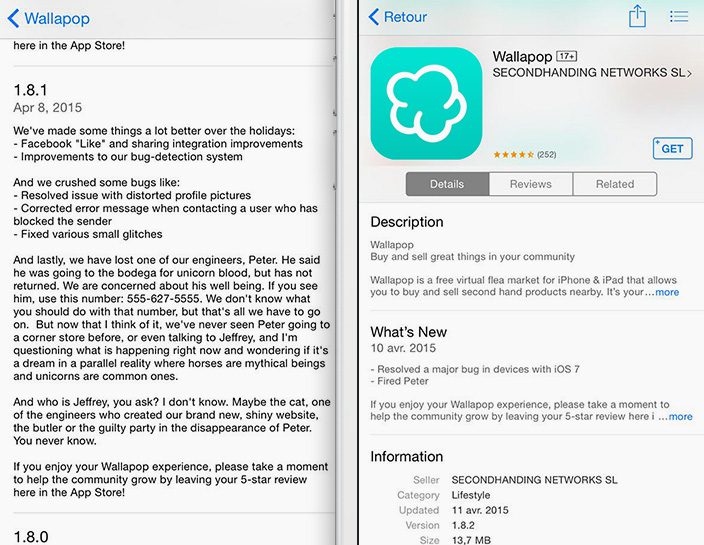 Peter is missing, but just after two days, we've found out what happened to Peter.
It gets even better – other apps joined the "Peter party", even though we don't know for sure if Peter was a fictional character or a real person. It seems like, after Wallapop, Peter joined Medium for what only seemed like a short adventure, just like the one with QuizUp.

Wherever Peter goes, bugs apparently follow.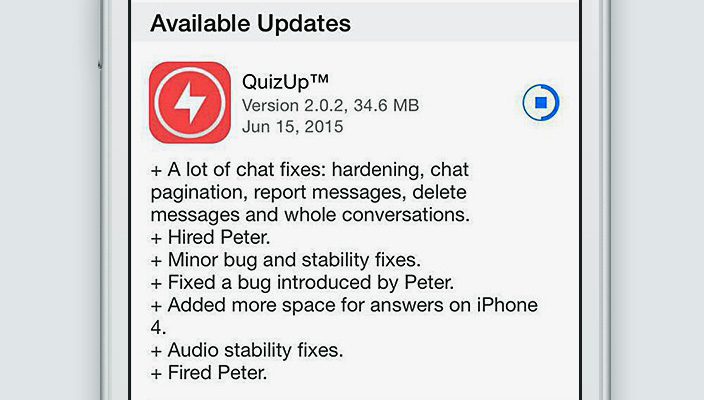 Oh, Peter…
So, what have we learned from all this? App update descriptions can be used to have some fun and get creative. It's important not to leave your users in the dark, regardless if most of them don't read your app description. Always be transparent and clearly state all fixes and updates, while considering all other content as readers bonus.
So, how to write an app update description?
Think about the changes that have taken place in the application, even the smallest ones.
Will the user experience change after the update? If so, it is necessary to instruct them in detail on how to use the app after the update.
Mostly, people choose to update mobile apps -automatically, but if you must push them to do so many people will think about something like this: "Is this app worth the update?"— or even "Do I even need this app anymore?".
Optimize Your App Store Update
We already wrote how important it is to Optimize an app for both Google Play and Apple App Store, but that doesn't end there – it is important to continue optimizing with each app store update.
1. Write about new features and fixes
Your app update description is a great way to highlight the mobile app enhancements or fixes you've added. Reddit is a great example of how to do that.
With each mobile app update version, they categorize fixes and write down what was improved.
2. Tell users how to use that new feature
So, you decided to go with a new feature. App update description is the best way to introduce it to your users, as well as to guide them through the feature.
Fishbowl had a few announcements for their new feature (Live events), and then they wrote more on how to use it.
3. Write about benefits for your users
Mostly, businesses do not improve something that has no value to the end-users, it is good to explain what and why you have done something even when doing something very obvious. You perhaps persuade someone to use a feature they didn't even know they needed.
WordPress has it all: new features, how to use them and how can they improve your website. Check it out!
This is all great in theory, but many times we are just fixing some minor issues and improving user experience. When that situation occurs, write something interesting instead of "Minor bug fixes". Medium is doing a great job with that: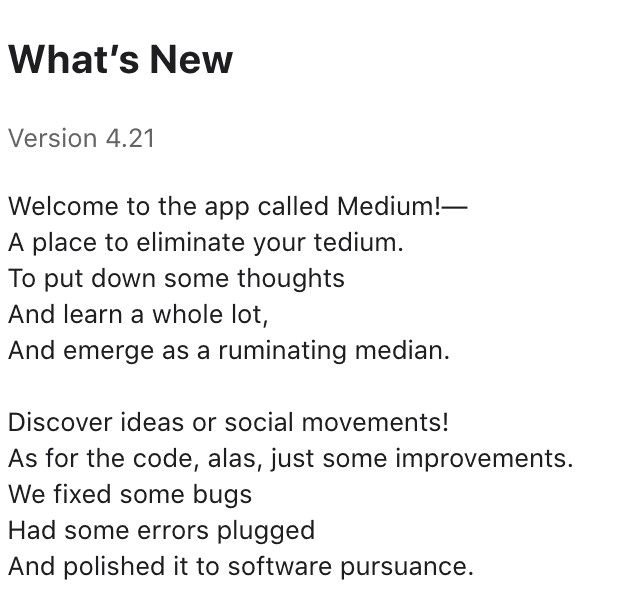 Each business has its own approach, and it is best to follow your own guidelines on that. But, be creative, that is the best way!