There is a high chance you have some products or services that you favor over the others. Would you be surprised if we tell you that 36,5% of shoppers said they will spend more on products if they are loyal to a brand even if the cheaper options are easily available? The extensive research on the topic of brand loyalty showed the impact loyalty has on the growth and sustainability of any business. Let's walk over the key features of brand loyalty which can get you frequent and loyal customers in no time.
What Is Brand Loyalty
Brand loyalty represents the positive emotional association consumers attach to a specific product or a brand. No matter the competitor's efforts, a loyal customer stays devoted to a product or service of their choice. They demonstrate that by repeating purchases, despite the numerous, more affordable, or accessible options.
One research asked the respondents what would, in their opinion, be a brand loyalty definition.
67,8% of the respondents define it as a repeat purchase
39,5% of the respondents define it as "love" for the product
37,7% of the respondents define it as a preference of one product over the other despite the price
Consumers are loyal to a brand because they believe you offer a better service and higher quality than anyone else. Such consumers are rarely triggered by the price. If any brand offers more than one product or service under their name, a loyal customer is likely to, at least try them all out, if not buy and use them all regularly.
The consumer perceives that the product meets their expectations and identifies with it on a personal level. When a brand is in question, the buyer behavior is built on trust that the product will meet those expectations.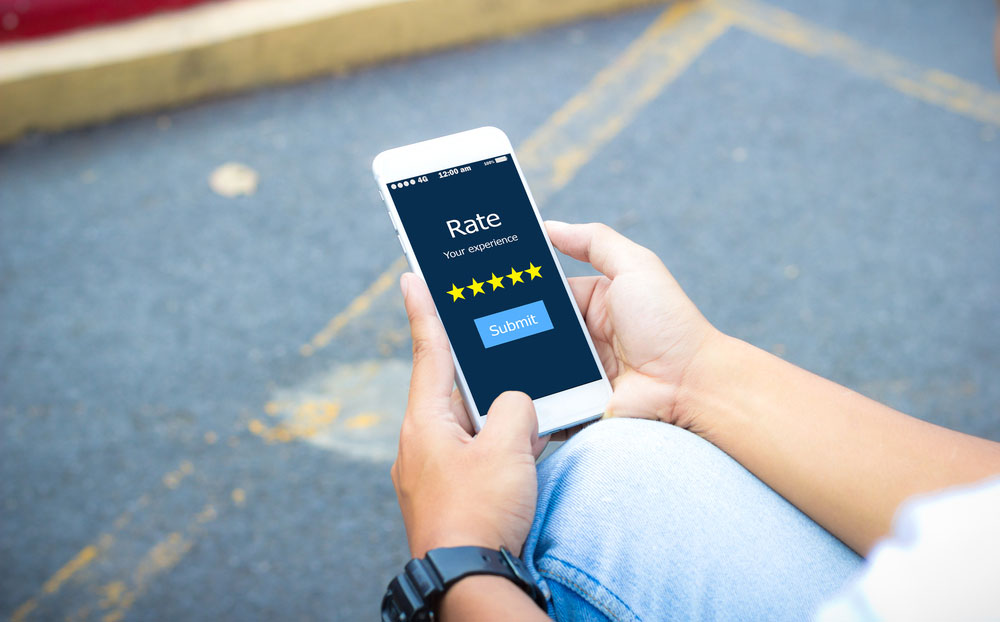 We mentioned the emotional charge between the customer and a brand. A consumer feels that the brand fulfills some kind of physical need in a unique way. For example, using a specific brand of toothpaste. While you are using a brand you love, you feel safe that your teeth are protected and clean at all times.
However, if your brand is unavailable, negative emotions and insecurities might occur just from the thought that you will have to switch to another toothpaste brand you don't fully trust.
Did you ever go to the store and couldn't find your brand? A true brand loyal customer wouldn't immediately take a substitute product, but would rather visit another store, searching for their special product. This is what separates a frequent buyer from a loyal customer.
How would you feel and what would you do if your brand is sold out? Would you immediately reach out for the substitute brand, or would you visit another store? How do you feel about imagining using another brand? It is uncomfortable or weird? Answers to these questions will help you out determine if you are loyal to your brand or not.
In other words, what you read about now is referred to as brand affinity. In a nutshell, brand affinity definition refers to the feelings and emotions the customer feels while interacting with the brand. Those feelings are the driving force that keeps the customers loyal. The emotional connection is strong and overcomes other factors such as the price. Because of that, you can easily implement any brand strategy you find most suitable.
If your brand is sustainable, it can survive unexpected changes in the market. Whether there may be a recession at the macro-level or a corporate re-organization at the micro-level, your brand can still thrive.
You can count on loyal customers to keep buying your brand and spreading the positive word around. Brand loyalty is an indicator of quantifiable measurement of your brand's success and predictions for the future.
Customers who are loyal to your brand work as your ultimate marketing channel. Imagine the number of people they will inform about your brand. Family, members, friends, co-workers, all of them are potentially new buyers. Hopefully, they will become your new loyal customers.
This will not only positively reflect on your sales, but also your customer base. All things, considered, that will give you a competitive advantage over similar brands.
5 Characteristics of Brand Loyalty
An empirical research study has determined five characteristics of brand loyalty. Those include customer perceived value, brand trust, customer satisfaction, repeat purchase behavior, and commitment.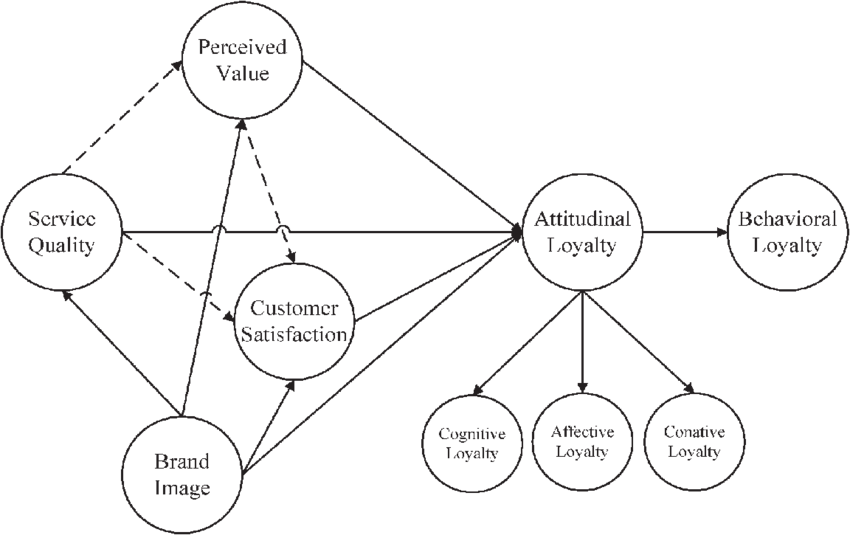 Let's go over them in more detail.
perceived brand value
The term refers to the assessments customers make according to the quality and price of products and services after purchasing. When a customer buys a product or a service, they want to get more value than they paid for. When the perceived value is high, customer satisfaction is high as well.
perceived brand equity
Brand equity is an intrinsic value a customer places on a product, including all they know, think, and feel about the brand. Perceived brand equity affects brand satisfaction.
perceived brand equality
Brand quality reflects the conformity to customer's expectations. It is the general assessment of a customer regarding the product or brand quality, its conformity to the standards, and fulfilling its functions.
satisfaction and trust
Satisfaction is a positive attitude a customer develops as a result of evaluating his consumption experience. Trust is expressed on both sides – consumers trust the brand will fulfill its function, while brand trusts the customers will stay loyal to the brand. A customer who trusts the brand will be also satisfied and more willing to commit to it.
Affective and continuance commitment
Here, commitment refers to an enduring desire to continue the relationship with a brand. However, there is a key difference between the two. Affective commitment is based on the identification and shared values with the brand. On the other hand, continuance commitment is defined as the consumer's weak feelings for a brand. If they perceive high cost that doesn't meet the quality, they switch to another brand.
The Impact of the Internet on Brand Loyalty Today
Before the digital age, the way of building loyalty was through the interaction of the salesperson and a customer. Consumers are nowadays more empowered to conduct independent research and compare competitors' offerings.
As the choice is unlimited, companies shift from a brand-focused agenda to a customer-centric model. To gain market share and retain customers, emphasis is placed on building customer relationships, providing excellent customer service, and delivering value.
As we mentioned already, brand loyalty is more than a repeat purchase. About 36.4% of survey respondents reported that they don't consider themselves brand loyal until they've made five or more purchases from a brand.
Millennials, on the other hand, usually follow their parents' footsteps, more precisely 63% of them. Interestingly, 78% of them say brands today have to work extra hard to earn loyalty than they did to earn their parents' trust.
Social media accounts can promote the brand, enhance its customer relationships, and accept feedback. Reading reviews have become common before buying a product or a service. The brand is accessible to a massive pool and it has never been easier to reach potential customers.
The downside of this is the high competition in almost every industry and niche. It is hard to stand out from the mass. One way to win in this cyber competition is by knowing how the internet works, what is SEO, and how to optimize your content for the best result. Despite your brand's quality, if you can't get your webpage on the first page of the Google search results, you will feel it in your brand's performance and profits.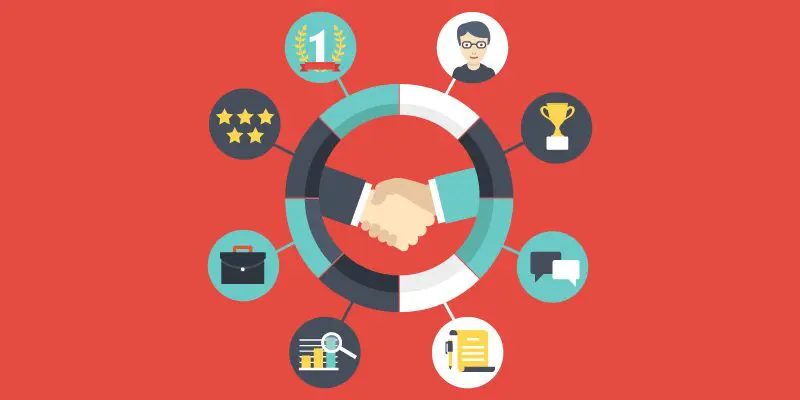 3 Successful Brand Loyalty Examples
To give you an example of successful and reputable brand loyalty, we will present you with three well-known brands and how they paved the way to the top with their loyalty programs.
Starbucks loyalty program
One of, if not the most successful coffee shops worldwide, Starbucks has built one of the most recognized brand loyalty programs.
Starbucks' rewards program led to a 7% increase in sales in 2019. Let's see how Starbucks created a loyalty program that helped them to secure a dedicated customer base whilst boosting their revenue.

Starbucks' loyalty program consists of two primary levels, green and gold. The tiered system uniquely rewards customers based on how much they have spent. Customers earn stars that can, later on, be redeemed for free products.
As Starbucks cares for its customers' feedback and follows market trends, in 2016, they introduced a value-based loyalty program that rewarded customers with 2 stars for each dollar spent. After collecting 125 stars, one can redeem them for free food and drinks.
Starbucks continued to improve, so in 2019, they started rewarding with as little as 25 stars which significantly increased the interest of customers.
Today, customers can use Starbucks Rewards App in stores. Members can access the menu and place orders before they even get to the cafe.
Push notifications remind users not to miss special offers and to visit the shop during their break from work, or to take a break from work.
What exactly makes Starbucks Reward Program so fruitful?
57% of consumers want to engage with their loyalty programs via mobile devices
Starbucks communicates the benefits to their customers via the app or over the landing page on their website
Customers can view their star balance and possible rewards any time
Starbucks offers free drinks on customers' birthday
To boost engagement and customer acquisition, Starbucks allows sending gift cards through the app
65% of customers are looking for a personalized offer and that is exactly what they get as Starbucks analyzes purchase data over the app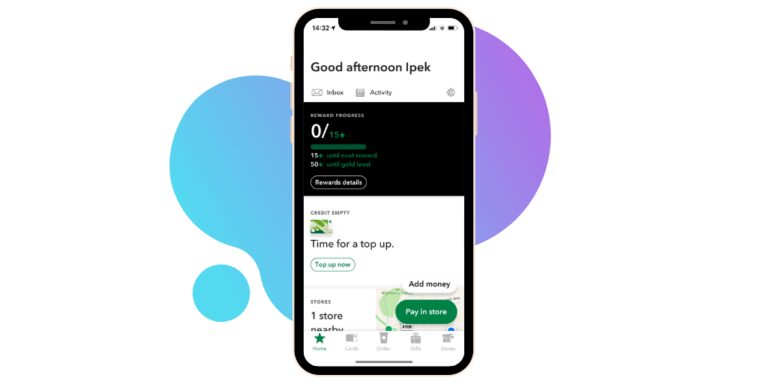 Nike loyalty program
Forbes reports that Nike has a brand value of $15 billion. Just in 2019, the annual global revenue totaled $39.1 billion.
One of the ways Nike managed to achieve this profit is, among other ways, by leveraging its loyalty scheme. In 2017, the program had 100 million members who spent about three times more than the guest customers on the website. Nike of course has their app that is the main hub of rewards and events.
Some of the benefits of the Nike loyalty program include:
Priority access to tickets to sporting events
Exclusive products
Rewards for being active
Expert advice on training and exercise
Birthday presents and special offers
Early access to product launches
Free delivery
Nike's loyalty program features 4 key values, offering them to their customers. We can call them the 4 pillars of Nike's loyalty program success story.
Exclusivity reflects in benefits like reviewing special offers, buying limited edition items, shopping before the official public release, and access to early tickets for sporting events. 79% of customers got motivated to become loyal customers due to unlocking exclusive benefits.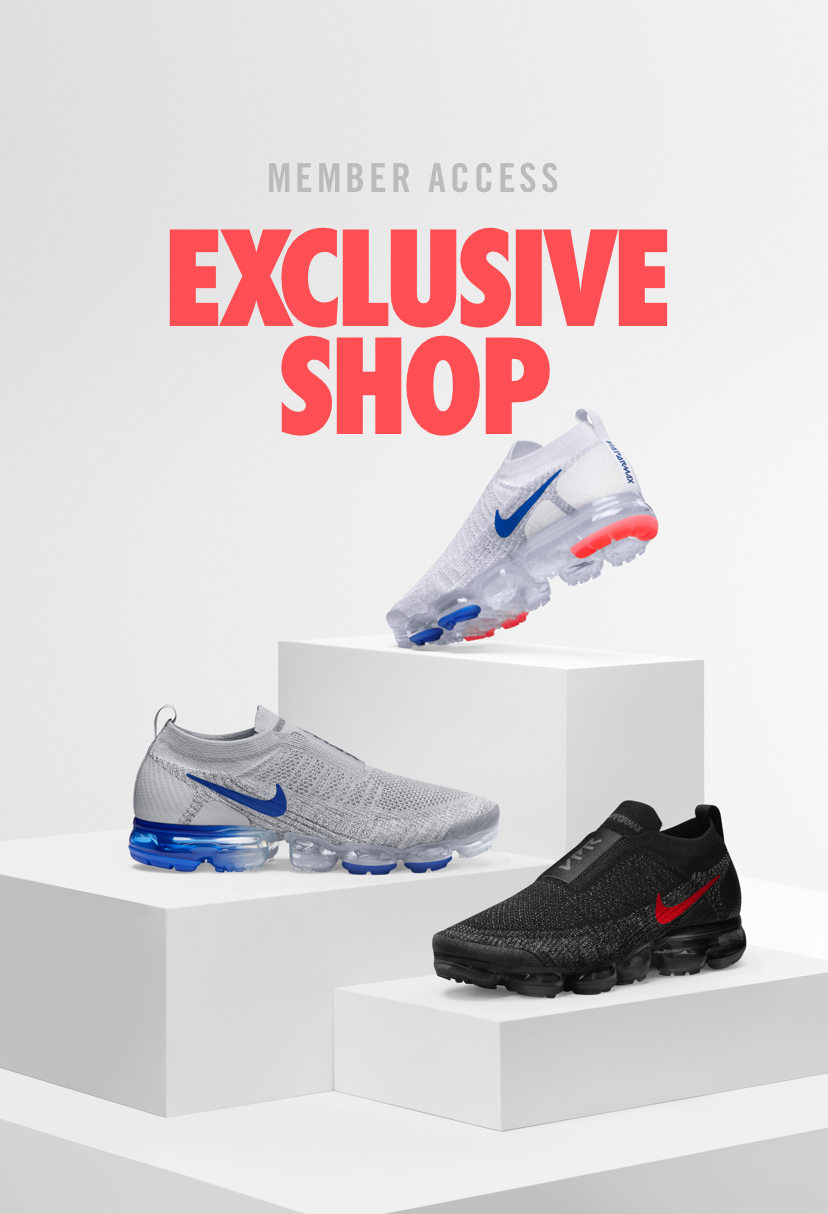 2. Community allows meeting new people and learning from each other. Membership gives customers access to free workout classes, training support, and educational content. Togetherness and unity are also transparent in Nike's messaging style. The program's call-to-action reflects this with powerful language like "Belong" and "Join Us", which urges shoppers to become members.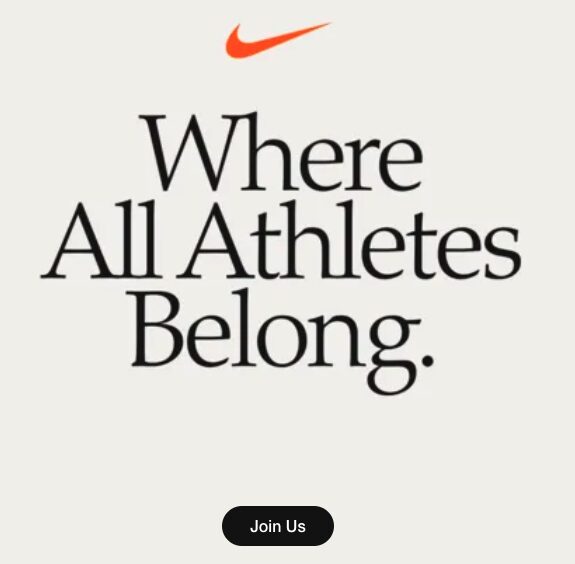 3. Personalization plays a major role in one's perception of a brand. Loyal customers receive gifts for birthdays and member anniversaries which makes them feel special. Not only that, but they also receive recommendations from Nike based on the purchase history. The reason for that is 61% of shoppers whose said they will return to a brand if they are shown personalized product recommendations.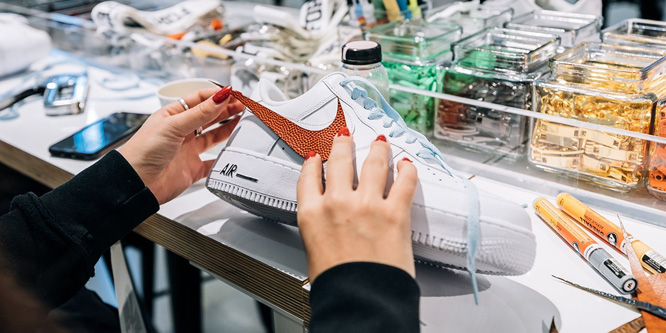 4. Omnichannel Experience means there is no matter where customers choose to shop, their loyalty will be recognized and appreciated. It means that customers can shop in-store, on-site, or through one of four Nike app, they can connect easily connect to their membership account.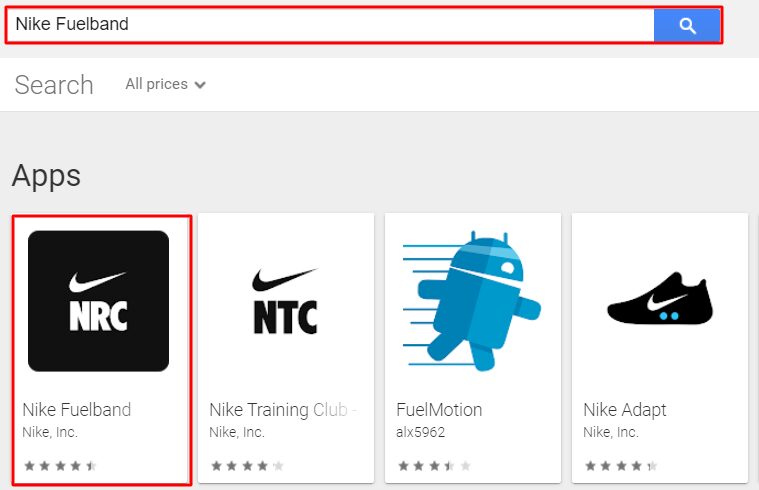 Sephora loyalty program
Beauty Insider – cosmetic brand Sephora's loyalty program – is among the most talked-about loyalty programs in retail.
Allegra Stanley, Sephora's vice president, and general manager of loyalty says:
"The way we think about loyalty is that our clients are the core of everything we do. We are driven by what our customers love and want more of. So it's not about what their loyalty demonstrates to us, but what we can deliver to our clients that creates the most meaningful and connected experience with our brands."
The program was first launched in 2007 as an innovation in the retail industry.
In 2009, it expanded and became more diverse, introducing a tier system. Only those who spent more than $350 a year could enter the "Very Important Beauty Insider" tier.
Another level-up to the "Rogue" tier was introduced in 2013 and it required at least $1000 spent over a year. It included the first access to new products, limited edition products, and invitations to special events.
Furthermore, in 2017, the company shifted from purely transactional behavior with the introduction of the Beauty Insider Community. The goal was to re-orient the community and use emotional drivers that motivate customers to shop.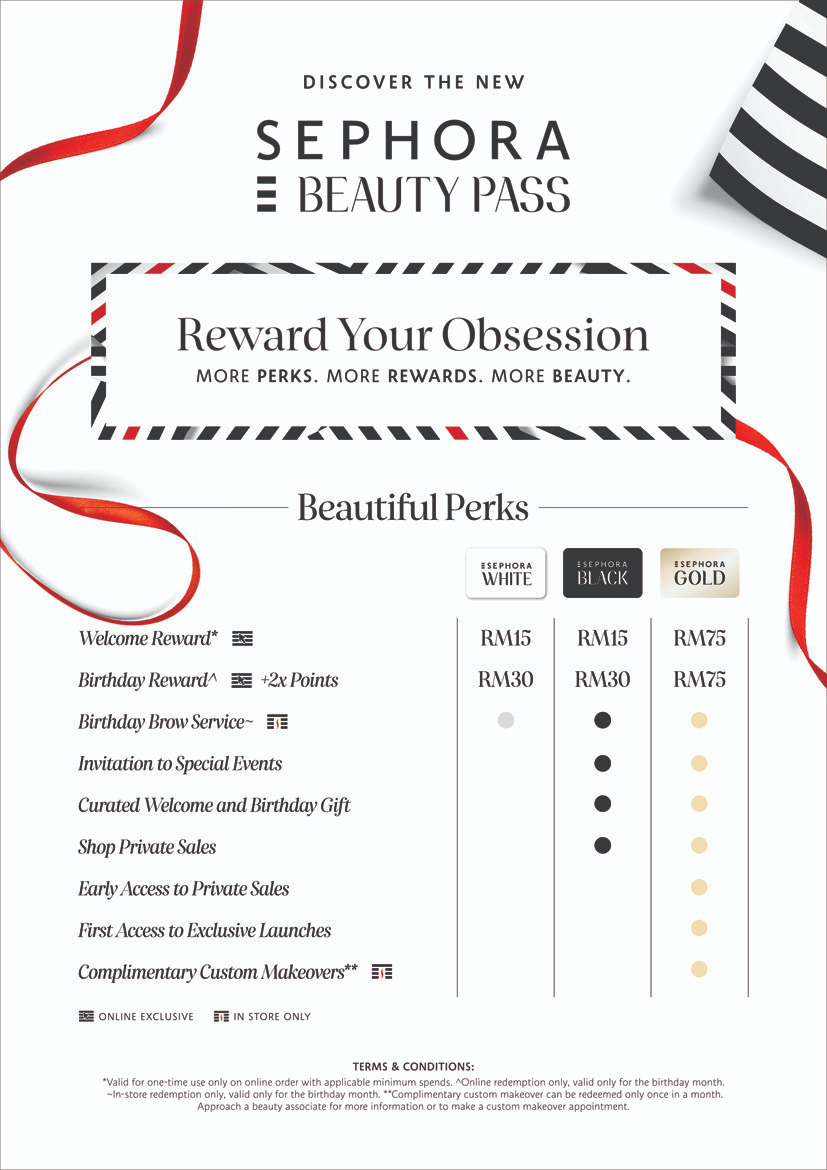 Also, members can optimize their perks, ensuring that the program is adaptable to each member's needs.
The Sephora loyalty program attracted 17 million members in North America alone. These members are responsible for 80% of the total company's sales. Results are visible online as well. By bringing more and more potential customers, Sephora managed to achieve a 22% increase in cross-sell and a 13-51% increase in upsell revenue.