The cannabis industry has seen a massive exponential rise over the past few years. There is no indication of how the market will continue to grow but many predict that by 2027 the overall sales will reach $47 billion. It sounds like easy money, but the reality is totally different. The industry is a gold mine, but on the way, one must know about government restrictions, guidelines, and penalties. To avoid that, knowing the business is crucial. Do you have an idea about advertising your dispensary as any other shop? Forget it… Usual marketing strategies hardly apply to the cannabis business.
Cannabis marketing has its own regulations beyond the law. Traditional advertising channels such as TV or radio are unavailable and even online advertising is severely restricted. So what do you do? Where do you go and how do you spread the word about your store or products?
This article will introduce you to the list of successful cannabis marketing plan strategies for your business. You will learn about the obstacles on the way and how to successfully avoid them. Let's start with some valuable information regarding legislation and social media.
Legal Challenges for Cannabis Marketing Business
No industry or field undergoes legal changes as often as the cannabis industry. According to the research, over 90% of Americans support the legalization of cannabis for either medical or recreational use. That is an increase of 28% from the research in 2019.
At this point, 33 states have legalized medical cannabis and 13 legalized both medical and recreational usage of cannabis. This map clearly shows the status of cannabis in every state in 2021.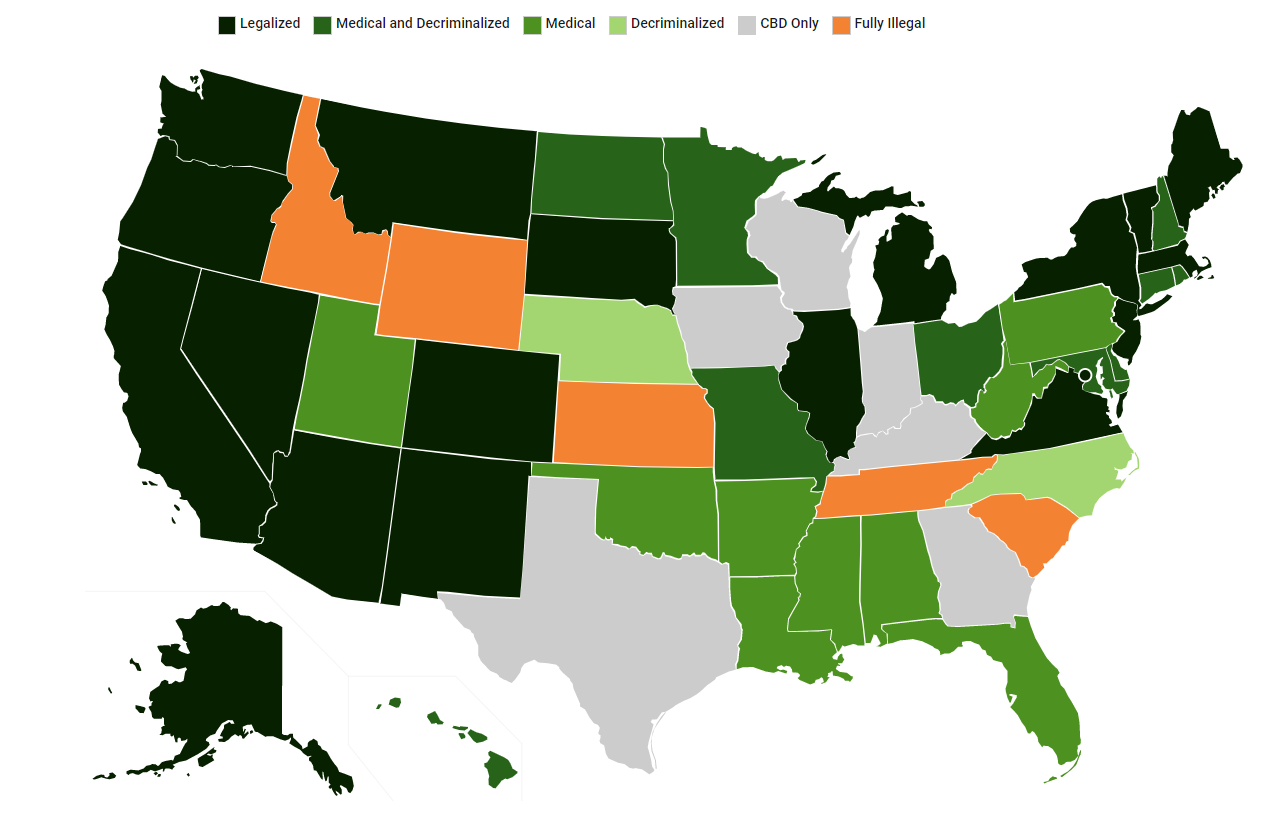 Despite this, cannabis is still illegal under Federal Law and this is where the conflict and confusion arise. The Federal Communication Commission (FCC) prohibited cannabis companies from advertising on radio or TV stations. Cannabis laws are different from state to state, for example, HIPAA, TCPA, or CCPA. You need to ensure that you're ready to navigate the upcoming legal obstacles. As it is still considered illegal, banks mostly do not help entrepreneurs when starting their businesses.
Make sure to research your state regulations concerning the cannabis business. States differ even in the approach to marketing relating to cannabis. In Maryland, billboards are forbidden even though most of the remaining countries where it is legal, do allow it.
Medical and recreational product sales increased by 46% from 2019 to 2020. The reason for the change is partially the COVID-19 pandemic, partially the changes of legislation around cannabis legalization.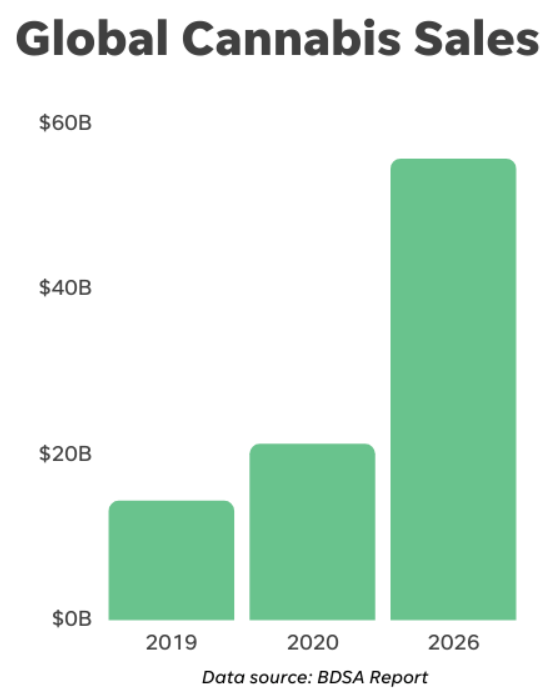 Social Media Restrictions and Rules within the Cannabis Business
Wouldn't it be easy to just upload a photo of your product on social media and wait for the likes, and comments of the happy customers, and eventually send orders online to your customers? It would, but it doesn't happen in the cannabis industry.
Social media platforms have harsh policies regarding the advertisement of cannabis products.
On Facebook "ads must not promote the sale or use of illegal, prescription, or recreational drugs."
According to Instagram: "Our policy prohibits any marijuana seller, including dispensaries, from promoting their business by providing contact information like phone numbers, email addresses, street addresses, or by using the 'contact us' tab in Instagram Business Accounts."
Twitter "prohibits the promotion of drugs and drug paraphernalia."
On LinkedIn, "ads related to illegal, prescription, over-the-counter or recreational drugs are prohibited."
YouTube is a bit more lenient. While the community guidelines don't clearly mention anything about cannabis marketing, it does state that harmful content is prohibited.
Reddit's Content Policy states that you can't post content that promotes illegal activities. However, cannabis-related content isn't directly mentioned. Reddit's advertising policy mentions that sale of recreational drugs or substances is not allowed.
Pinterest doesn't allow ads that promote the use or sale of recreational or illegal drugs. However, the social media platform is open to ads that promote CBD-only byproducts of cannabis that don't have THC.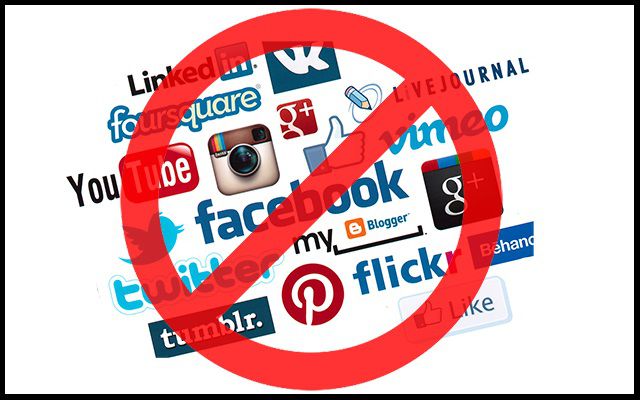 Obviously, this is not good news for anyone who wants to promote their business. This can prevent you from implementing your cannabis marketing strategies. Luckily, there is a way to avoid these restrictions, to an extent at least. Even though it is forbidden to post photos of your products, depict the usage of products, or recommend it for health reasons, you can still spread the word indirectly. We will talk about it more later.
No matter what you post on social media accounts, make sure that you are following the terms of service of that platform.
Google Restrictions on Cannabis Advertising
If you think social media is tough for the cannabis business, know that Google's policy is not more merciful. On the list of dangerous products or services, among other categories, you can find "recreational drugs" which clearly state what is not allowed to be promoted on Google.
The following is not allowed:
Ads for substances that alter mental state for the purpose of recreation or otherwise induce "highs"
Examples (non-exhaustive): Cocaine, crystal meth, heroin, and other illegal opioids, marijuana, cocaine substitutes, mephedrone, "legal highs"
Ads for products or services marketed as facilitating recreational drug use
Examples (non-exhaustive): Pipes, bongs, cannabis coffee shops
Ads for instructional content about producing, purchasing, or using recreational drugs
Examples (non-exhaustive): Forums to exchange tips or recommendations on drug use
Despite that, some find their way around all these restrictions and policies, succeeding in successfully advertising their business. Let's explore safe ways how to develop great cannabis marketing strategies you can start using today.
Best Practices for a Successful Cannabis Marketing Plan
As we already mentioned, you can't leverage the most popular marketing channels as other businesses. Don't worry, there is a way to advertise your cannabis business if you know how to. We will present you with the best marketing strategies you should implement as soon as possible to skyrocket your cannabis business to the next level.
1. Build your cannabis marketing strategy around the right audience
As in every other business, it is futile to create marketing plans without knowing your customers. What are their spending habits? What are their demographic characteristics? For what purposes do they buy your products? Without knowing the answers to these questions cannabis marketing strategies might be a huge miss.
Your goal is to develop specific cannabis marketing strategies around your targeted segment. Such an approach to marketing strategies will keep the products relevant and should translate into increased sales over time.
The cannabis market can be divided into four major groups: baby boomers, frequent shoppers, affluent families, and acceptors. Every group has different preferences and motivations for buying your products.
Just to exemplify, affluent families use cannabis to help manage stress, gravitating towards content from local news sites. On the other hand, baby boomers use cannabis as a pain management solution and seek information via newspapers or online.
Knowing what they look for and how to appeal to your audience is crucial to even start thinking of the ways of promotion and marketing for your business.
2. Build a strong foundation by investing in a quality website
According to the American Journal of Preventive Medicine, online searches for marijuana have increased by 98% from 2005 to 2017. In other words, if you are not online, you will struggle to get the attention of customers.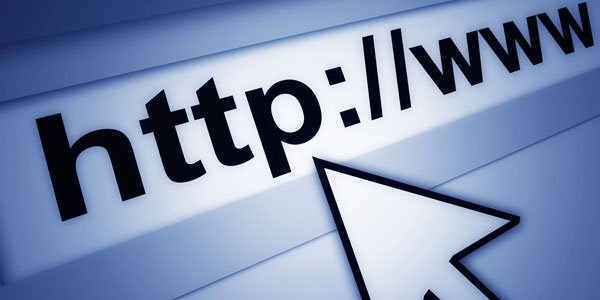 When creating a website make sure you are paying attention to several things. Must-haves of your websites are:
Location and contact information
Working hours
Products, services, and special offers
Frequently asked questions
You want a website that is easy to navigate and includes all the relevant information a prospective cannabis consumer would need to become a customer. Don't forget to create a website that represents your brand. Think of the web page design, color schemes, logo, and overall website aesthetics.
Is your new website optimized for search engines? Is it usable across all devices? Be sure to engage the visitors by adding call-to-action buttons across your website. You strive to convert the visitors into customers and then retain them with special offers but we will come to that. For now, think of the website content and design as it can boost your sales severely.
3. Engage cannabis customers with your brand story
If you want to stand out in the mass of other cannabis businesses, you need to create a unique brand story that will attract customers. Do you have a story behind how the business came about? What makes you different from the others?
Once you have a story that you can share with others, you can differentiate your cannabis business brand from others and attract customers who resonate with what you are offering.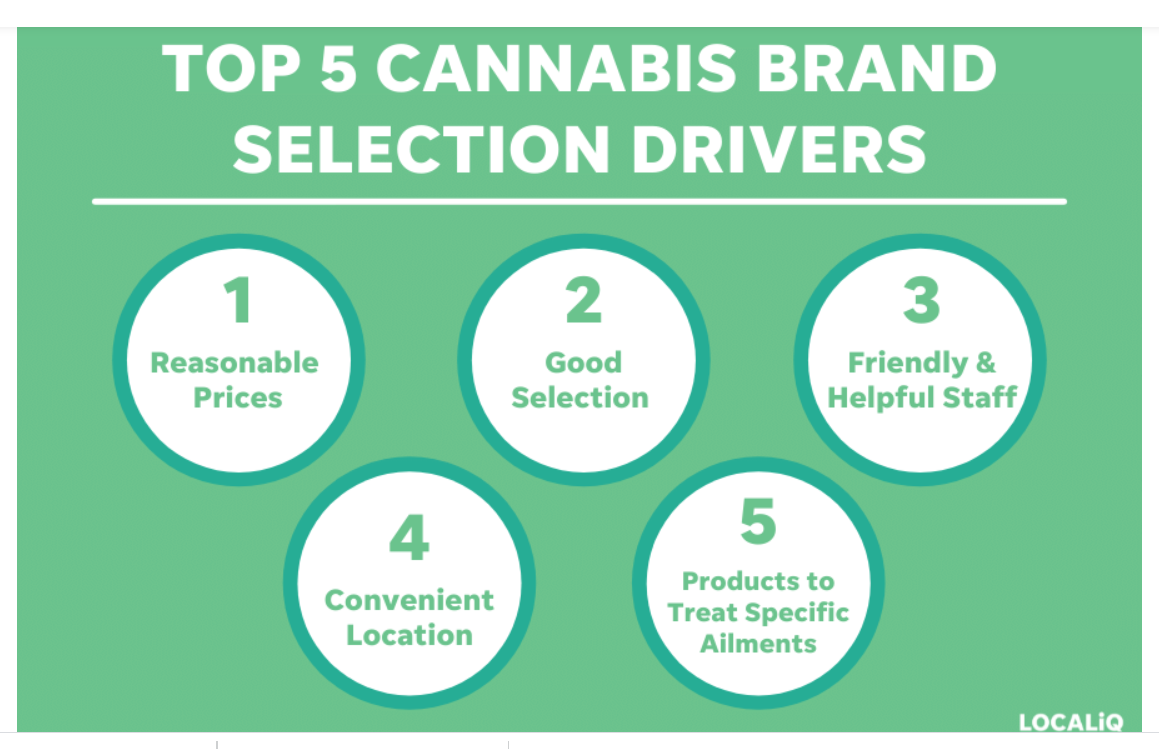 We already mentioned the importance of the logo of your business. Make sure to make some merchandise items with your logo that you can sell on your website or give to your loyal customers. The possibilities are endless. Key chains, mugs, T-shirts, hats, pens, house decorations, and many many more. Everybody likes a little gift and merch items are a great way to show appreciation but also subtly promote your business.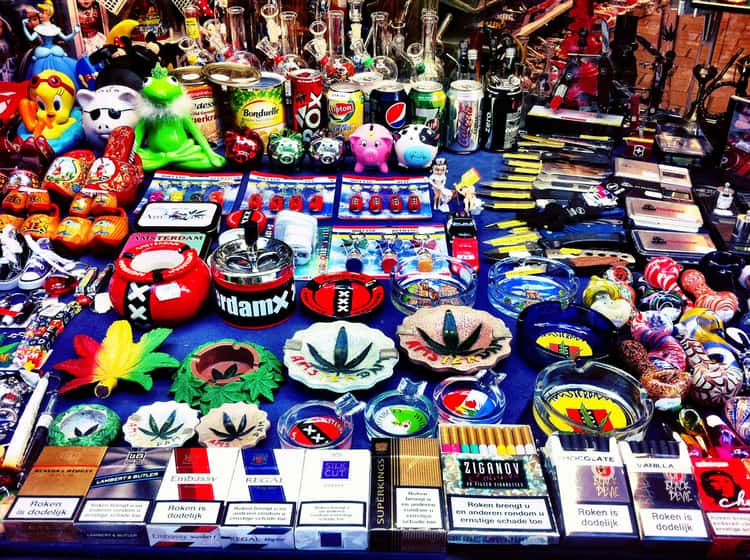 4. Collaborate with cannabis-friendly ad networks
Getting media coverage is a cost-effective way to get into the spotlight, build credibility, and boost your brand's reputation. We already mentioned how strict social media is towards advertising cannabis-related products and services. You cannot pay for an ad on social media or the Google front page.
There is a solution! What you can do is contact specific cannabis marketing platforms that display ads on medical or recreational marijuana. Here are several networks that accept and publish cannabis ads and that can help you promote your cannabis business.
Furthermore, you can find a partnership with another cannabis business and cross-promote each other's business. That way, you are developing lucrative business relationships and possible business partners while getting promoted and attracting new customers at the same time.
For example, Caliva made the first beverage partnership with Mood33 to deliver THC-infused beverages to California-area dispensaries.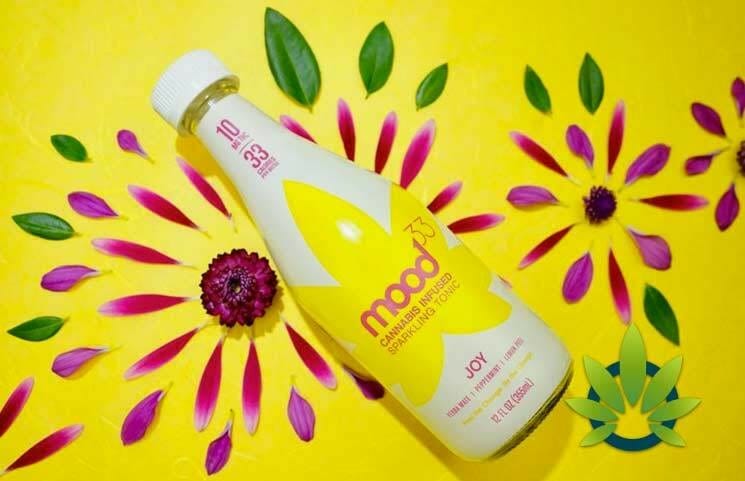 5. Leverage the influencers and their followers
We've all heard about influencers and we have an opinion about them. The power they have should not be neglected, especially on teenagers and young adults. Even though we may feel negative about the way they earn money, partnering with influencers is a smart decision for several reasons.
Firstly, they probably have a huge amount of people who follow them. If the influencer promotes a product, some of their followers will buy it just because they "recommended them". Influencer marketing can be a lucrative business if you find the right influencers. Make a thorough research on their audience. You want to find someone with similar values and interests and then reach out to them to get the attention of their followers.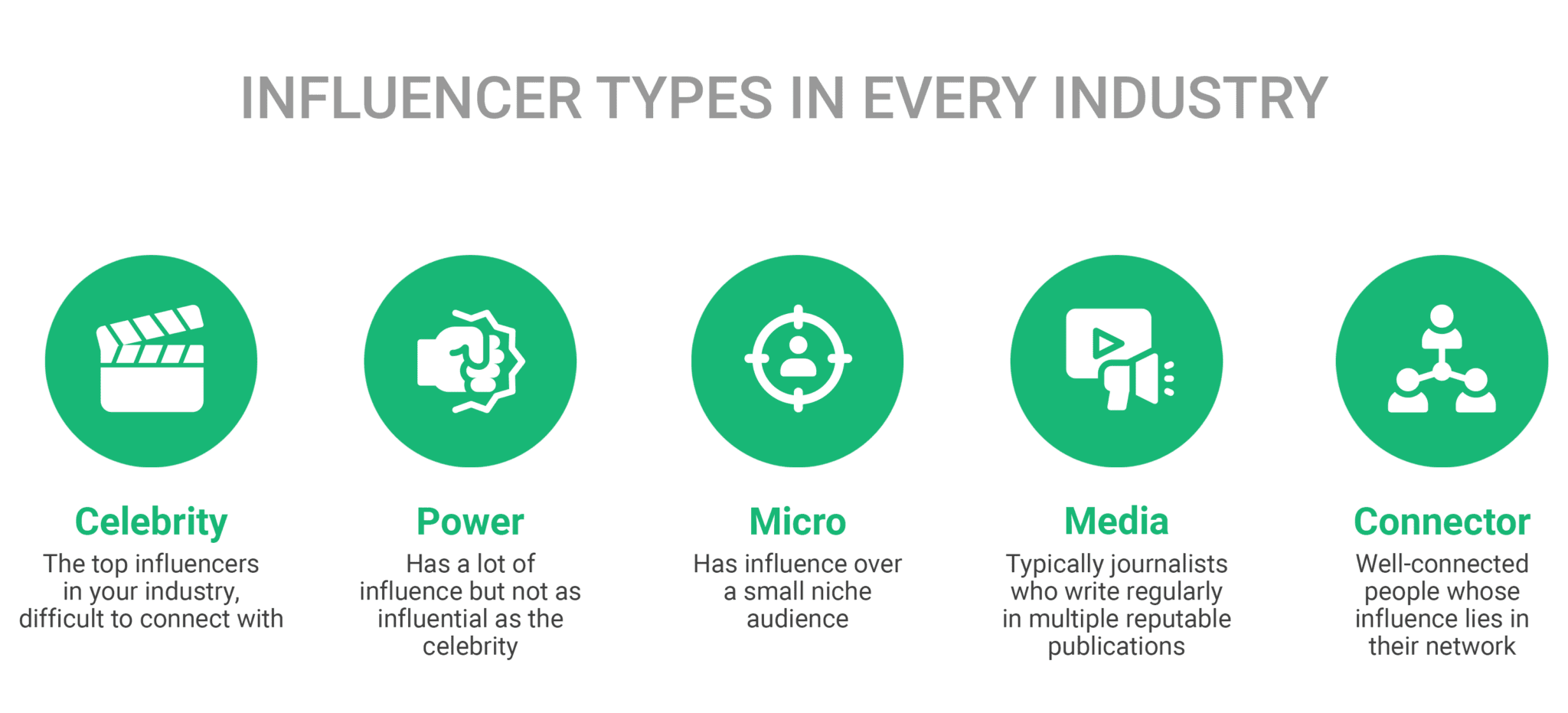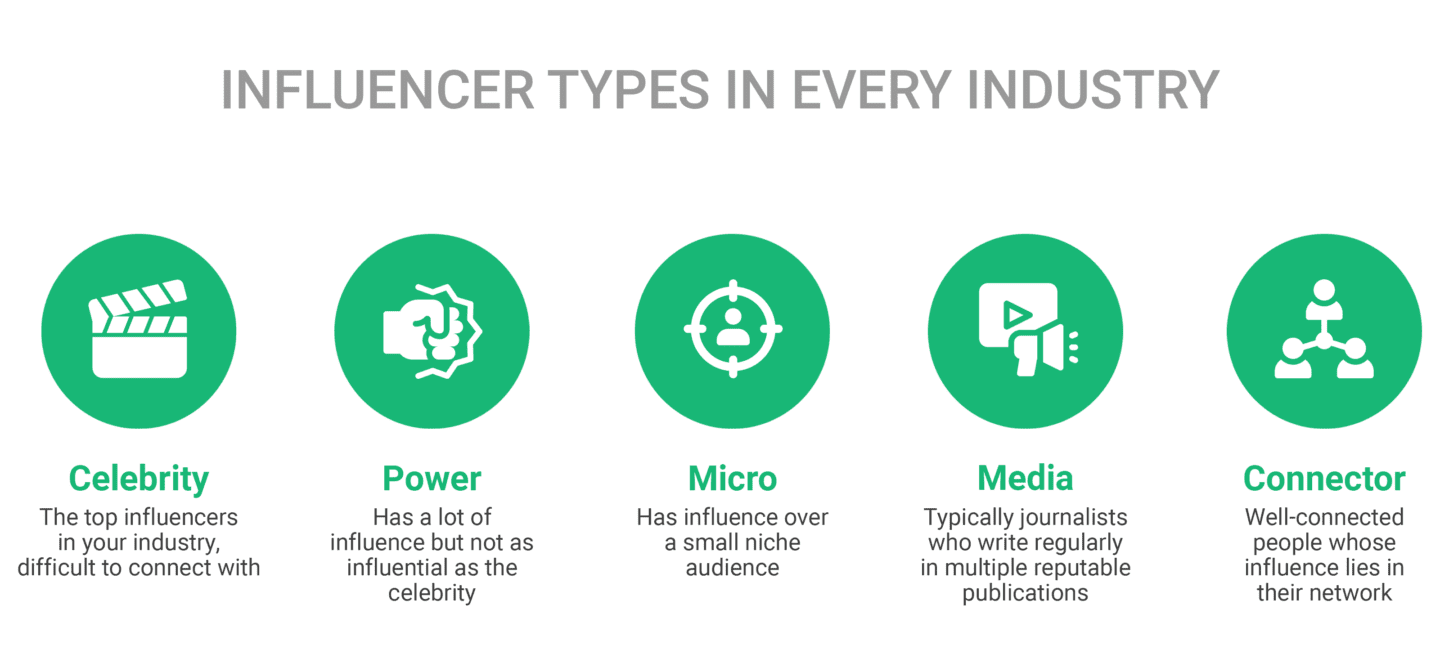 6. Focus on relevant keywords, quality content, and strong SEO
If you have a website, it is crucial to know how Google functions and how to get more visibility on the search results. Content marketing is a search engine optimization (SEO) approach that focuses on delivering quality content through the usage of relevant keyword searches your audience will search for.
Content marketing can boost your SEO, generate new leads, and establish authority. You can enrich your content through blog posts, case studies, ebooks, podcasts, whitepapers, webinars, videos, and many more.
The findings from content marketing research state that:
Content marketing costs 62% less than paid content marketing
Conversion rates are 6 times higher for those who choose content marketing over other alternatives
To find the best content marketing strategy, think of your strategy as the funnel. Of course, you need to start from the bottom and climb higher.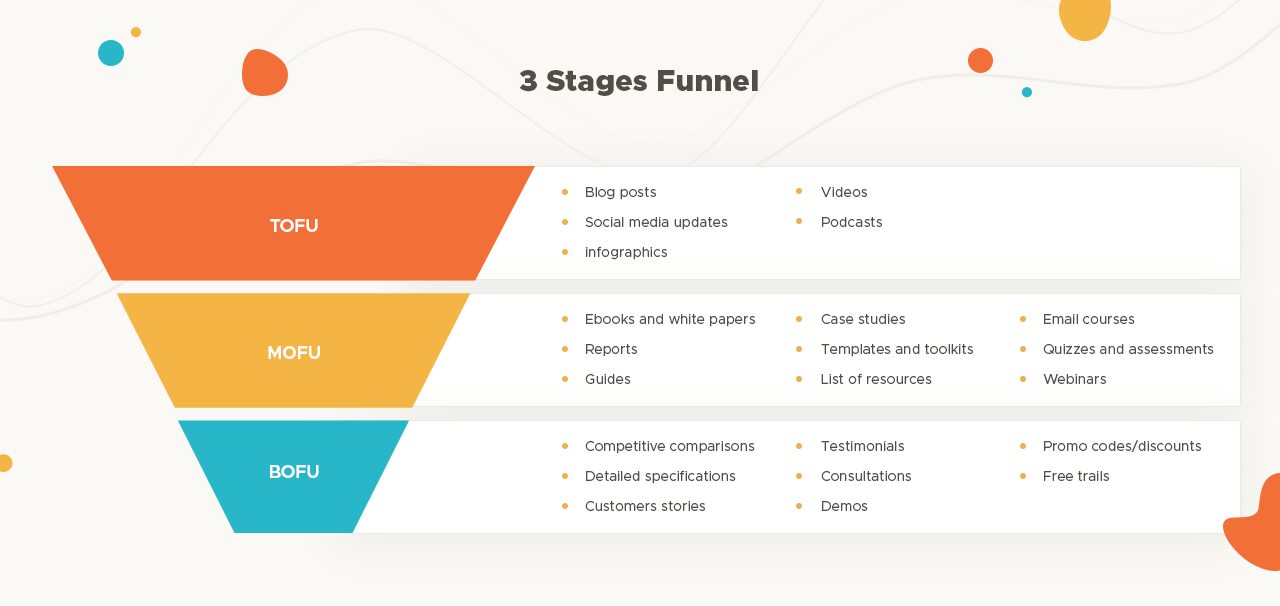 Bottom of the funnel – you need essential information on your webpage (request free consultation, live demos, published pricing information, customer testimonials)
Middle of the funnel – what content do you have to offer prospects who are on your site and considering their options? (whitepapers, demo videos, product catalogs, free samples)
Top of the funnel – now that you have the necessary content to bring leads through the funnel and convert them into customers, you can focus on how you'll get them to visit your site (blogs, videos, product demonstrations…)
To optimize your SEO, make sure to follow the following steps:
Create and update GMB accounts
Solicit quality reviews and backlinks
Use relevant keywords in your metadata description, copy, and URL
Use long-tail keywords
Long-tail keywords when combined with high-quality content, can dramatically increase your conversion rates and organic traffic.
When searching for keywords in Google Keyword Planner for cannabis-related topics, you might have some trouble as it says no data is available. Truth be told, data exist, but they don't want to show it as cannabis is considered "prohibited content".
Strong SEO, quality content, and focused long-tail keywords will help you get higher rankings and consequently improve your visibility and sales.
Due to constant changes in regulations, uploading on social media can easily result in your account getting banned. Despite that, you can still use social media but with other purposes which will indirectly help you with the growth of your business. We suggest you focus on educating your audience instead of promoting or offering your products.
Consumers are 131% more likely to buy a product after reading educational content about it. You can focus on video material concerning the benefits of cannabis for pain management or stress relief. A Video marketing strategy can help you reach an audience while building trust and awareness. Also, you can write blog posts on frequently asked questions, fun facts about cannabis, stereotypes and misconceptions regarding the industry, news from the industry, etc.
Image-centered platforms are the best option for the cannabis industry. Good examples are Instagram and Pinterest. You can share images of merch products, graphs, news, etc. Be careful not to use words such as cannabis, marijuana, and similar. Also, refrain from publishing photos of products or photos of cannabis products in use.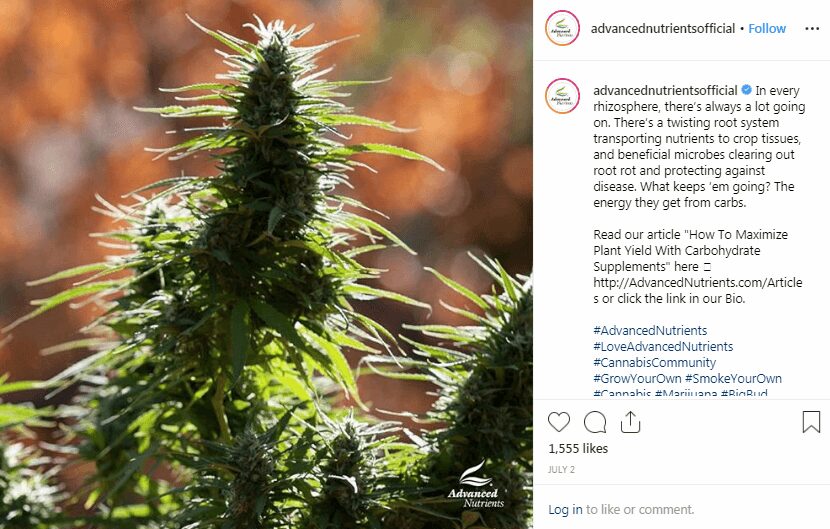 Furthermore, there are cannabis-specialized platforms where you can promote your products. They are an amazing ally for sharing within the social media space. Having profiles focused on marijuana is allowed but while respecting the law and all regulations. Such profiles help the community to grow and spread their ideas and vision of cannabis products.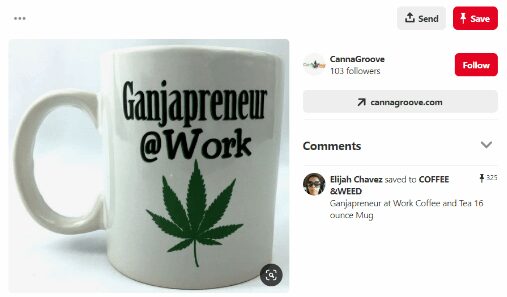 8. Create clothes with your cannabis logo or brand
One common way of promoting your brand is through clothes and fashion. Many people wear cannabis-related pieces of clothing to showcase their support towards breaking the stigma that is still present in society.
The visual elements you use for branded materials, from color schemes to typography, will make or break your branding strategy. They need to express the essence of your brand and communicate what your product is all about through graphics, color, type, and shapes.
If you need concrete tips about designing your clothing brand, here are a few suggestions. Rounded lines, hand-drawn imperfections, and brighter, warmer colors are friendlier, more relaxed, and more inviting. On the other hand, straight lines, clean edges, and cooler, neutral colors are more formal and give the impression of professionalism and effectiveness. You can choose what works best for you and what you want to achieve.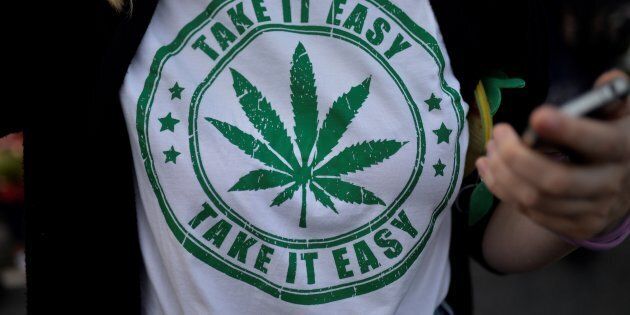 Green is by far the color with the strongest associations to cannabis, not only reminiscent of the plant itself but also of the "natural" and "ecological" properties that come with organic products.
9. Keep in touch through push notifications
Once the customer has bought your product, it is essential to keep them coming back. One way to show appreciation to your customers is by contacting them frequently via push notifications or email as an alternative. The downside of email communication is that many people disregard emails, delete them before opening and reading the content, or simply ignore them. People are more likely going to read the push notification on their phone than an email.
Communicating frequently, but not too often, can help you retain customers. Presenting special or time-limited offers works great. You can offer a discount and promo codes through push notifications, inform about future products or services, present current offers, or simply remind the customers that they should visit your dispensary again.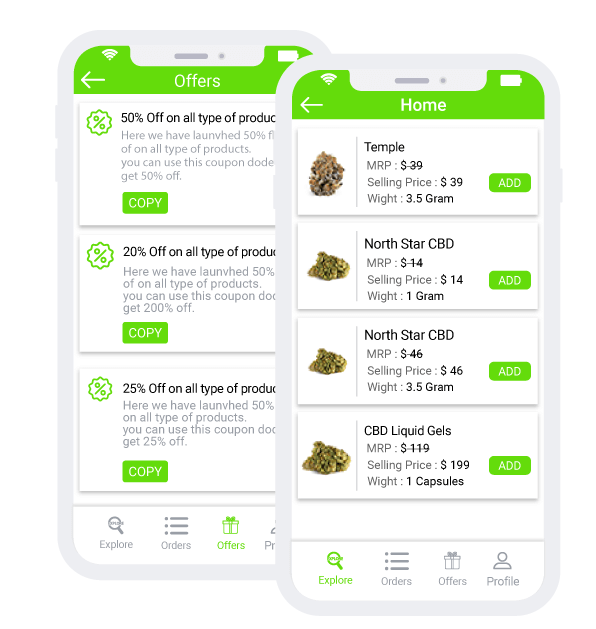 Pro tip: Address the users by their first name. That will create a feeling of connectivity between the two of you. Customers will feel their opinions and contributions matter and will come back.
10. Use OOH advertising if it is possible
Another great example of a cannabis marketing strategy is out-of-house (OOH) advertising. Have in mind that your state might prohibit it, so be careful if choosing this option.
Maryland doesn't allow billboard advertising. A cannabis billboard must be at least 1000 feet away from a daycare center or K-12 school in California.
Billboards are an easy and effective way to grab your customers' attention and leave an impression on them with your message or design.
Make sure to respect the following:

Don't put it near schools
Don't depict the product
Refrain from depicting the product consumption
Avoid making health claims
For example, here is one billboard from Oklahoma.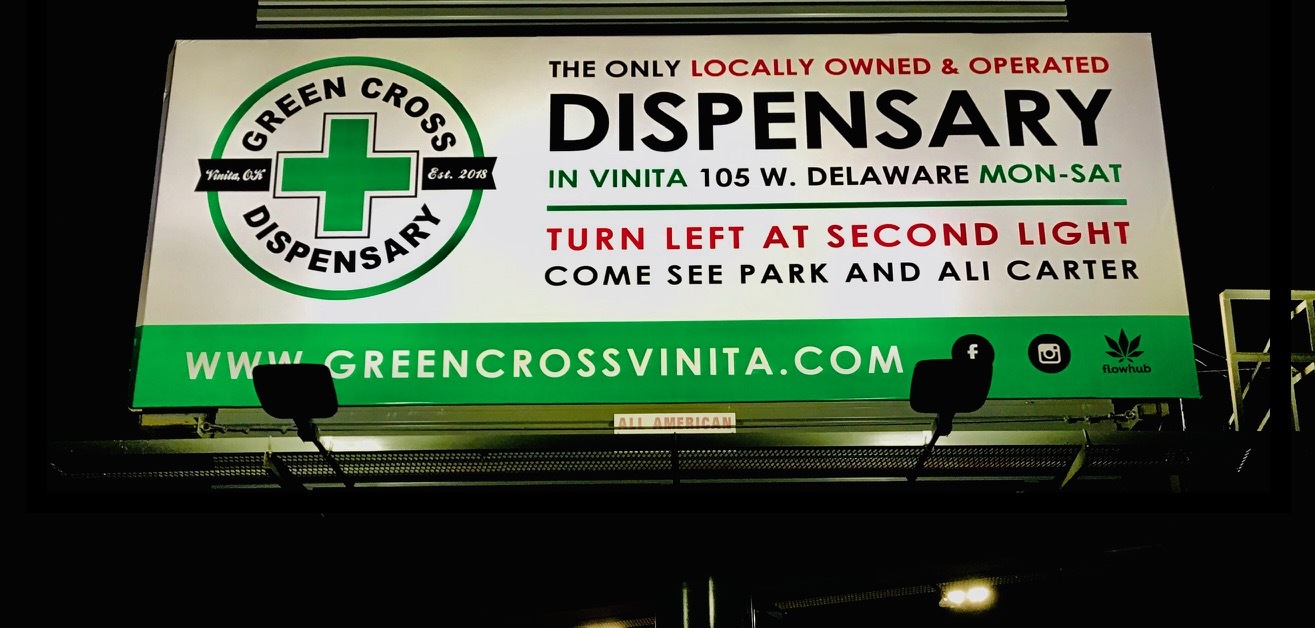 Or, another example is from San Diego, California.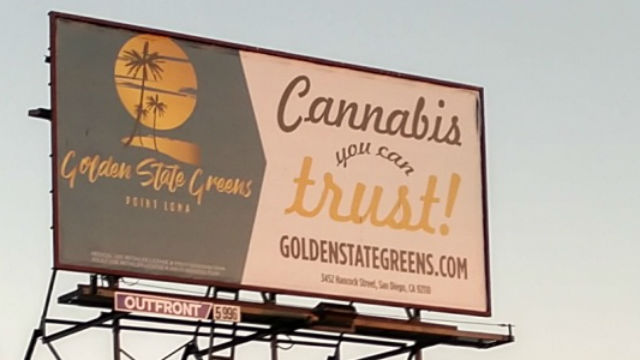 Billboards were effective right after the legalization of cannabis in a specific state. If you live in a country where cannabis is legalized, you must have seen many examples of billboard advertising. It is one of the most simple cannabis marketing strategies, but it gets the job done.
11. Reward customers through loyalty programs
Another way to retain customers and show them how important they are is by introducing loyalty programs to your cannabis business. Rewarding customers each time they visit or based on the money they have spent is a great motivation to come back to your dispensary and not some other, right?
Not only loyalty programs will retain the customers, but they will also help you in the promotion of new deals, products, special offers, and overall accessibility of your business. Referral programs can be helpful as well. If someone speaks positively about your business and brings a new customer, reward both of them, and you've killed two birds with one stone. You got a new customer and retained the other who is motivated to continue bringing you new customers to get the bonus.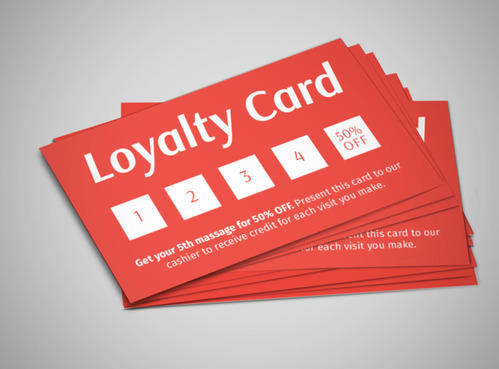 You can offer free samples, coupons, discounts on specific products or services, early access to new products, and much more. The key is to show how much you appreciate your customers and keep them coming back for more. It is great PR for the reputation of your business.
12. Encourage reviews and offer case studies
Customers love to be heard. For that reason, allow them to share their experience by writing a review of your product or services. Having enough reviews will also help you with your SEO ranking, and visibility, and future customers will have a reference for your business.
Don't forget to engage with your customers. Reply, no matter whether the review is positive or negative. Validate your customers' opinions, consider it, and move forward.
A cannabis case study tells the story of your product and how it helped one of your customers improve their business. It's a targeted story of how the product reduced costs, saved time, increased revenue, or improved quality.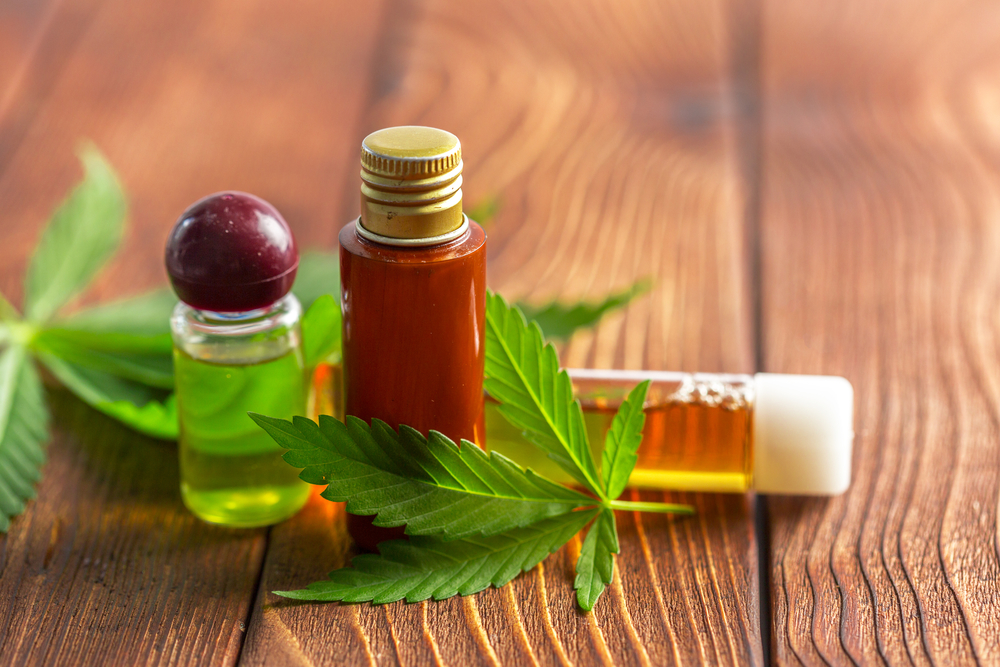 Think about these cannabis marketing strategies and see which fits best with your business plan.
13. Building an app will help you reach out to more customers
Having your app in the App Store or Google Play Store will further improve your chances of attracting new customers. Take Eaze as an example. Even though it has existed since 2013, Eaze, the first app that can facilitate the purchase and delivery of cannabis in the United States, became massively popular overnight. Eaze has over 2 million registered customers and delivers joints, vapes, edibles, concentrates, and other marijuana products to consumers.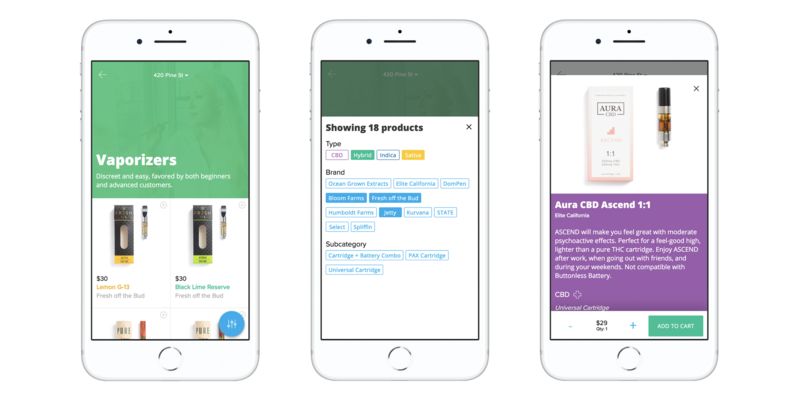 An app will serve as a nice and practical overview of your business and the services you provide. Not only you should include all important information about your dispensary or business, product pricing, and description, but also make sure it looks good. What we mean by that is to invest in quality UI and UX in the rise of positive reviews for your app and more users.
Utilizing several of these cannabis marketing strategies will positively influence the trajectory of your business.
Promote your Business with Shoutem
If you have a product or business that needs promotion or push in the marketing sector, we can help you! We implement the best cannabis marketing strategies while working with our clients.
Shoutem is experienced in collaborating with cannabis businesses. With Shoutem PRO, we published one cannabis app and three are ready to go and get published.
Our mobile app experts will come up with a detailed app strategy. Next, we're going to create an app in our builder and push further to the publishing process (Google Play Store, Apple App Store, both…). In the end, our Support team will continue to be by your side as your apps get to the top by using Shoutem v5. We guarantee exceptional quality if you decide to contact us.
If you have any questions, contact our experts for a free consultation session. Think of the possibilities that can arise from just one phone call. You can make a change.