What features should a perfect restaurant mobile app have? We bring you 5 essential features for boosting the restaurant business in the mobile era.
Due to the increasing concentration of people in their homes because of the lockdown and the closure of restaurants, food ordering apps experienced a boom.
Many restaurants closed due to unprofitability, but many restaurants and bars did not have to – they tried with delivery mobile apps.
Food delivery app
A food ordering app is a mobile app intended for restaurant users and is used to order food that a restaurant or third-party delivers to the doorstep. Customers need to select an item, enter the quantity, and place the order. Many restaurants give the opportunity to pay within the mobile app.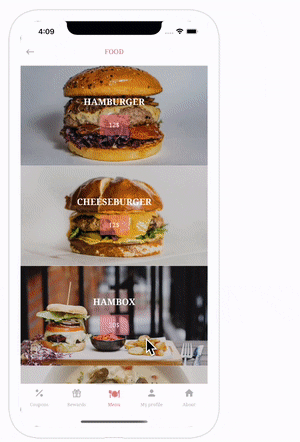 Restaurant app features
Restaurant owners are starting to recognize the value of a dedicated restaurant mobile app that can bring to their business. Restaurant mobile app is a perfect tool to launch campaigns, inform your guests about special events in your restaurant and new items on the menu, and share the contact of your newly opened location.
But, what features should you add to your app to acquire new customers, retain old ones, and boost your revenue? Here are 5 essential features that you should add to your restaurant mobile app.
1. Build a relationship with a loyalty program
Customers are the core of every business; without them, there would be no one to use your services or buy your products. Companies with a customer-oriented approach must treat loyal customers and make them feel special, and eventually, they will be your best brand ambassadors.
We're not talking here about expensive rewards, but a carefully planned Loyalty program that can boost customer engagement and increase transactions. Choose a Loyalty program that fits best with your business needs; use Single-Card Loyalty program for a single location or a Multi-Card Loyalty program for multiple locations. Statistics module will help you understand user behavior and improve your app to achieve better results.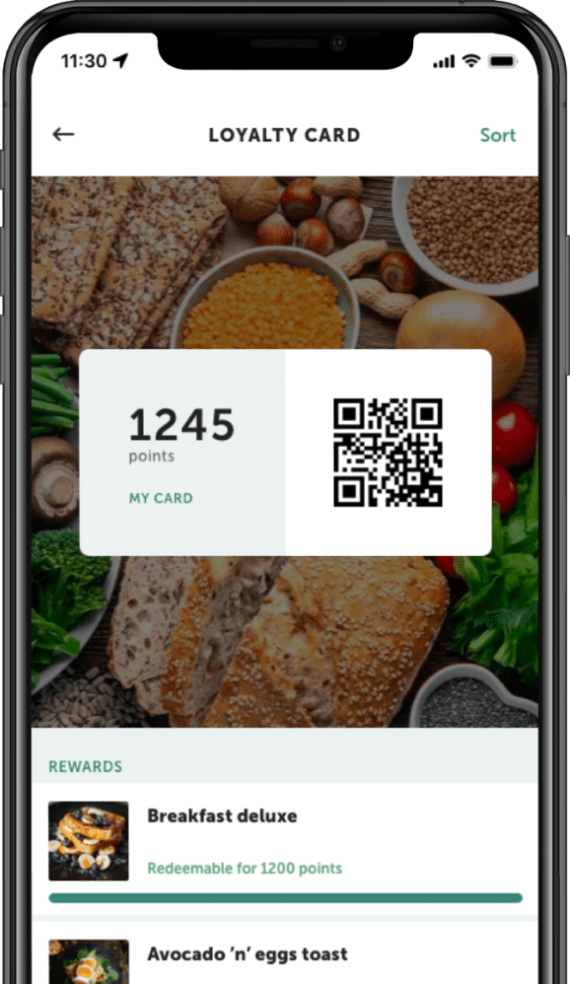 Starbucks Rewards
Starbuck Rewards created a Loyalty program for all users. All users need is to sign in with their info and join the mobile app to get access to the full range of Starbucks® Rewards benefits. Of course, you can be part of the loyalty program without the mobile app, but you'll miss many features. After signing in, use cash, credit/debit card or save some time and pay right through the app and collect Stars all ways. With each purchase, you earn Stars that can later be redeemed for Rewards—like free food, drinks, and more.
Simple and easy, right? Starbucks created a huge user database because of their loyalty mobile app program and now has information about users like – which items are the most popular among each demographic, what time is the best to marketing some items, what payment method is the best for each segment, etc.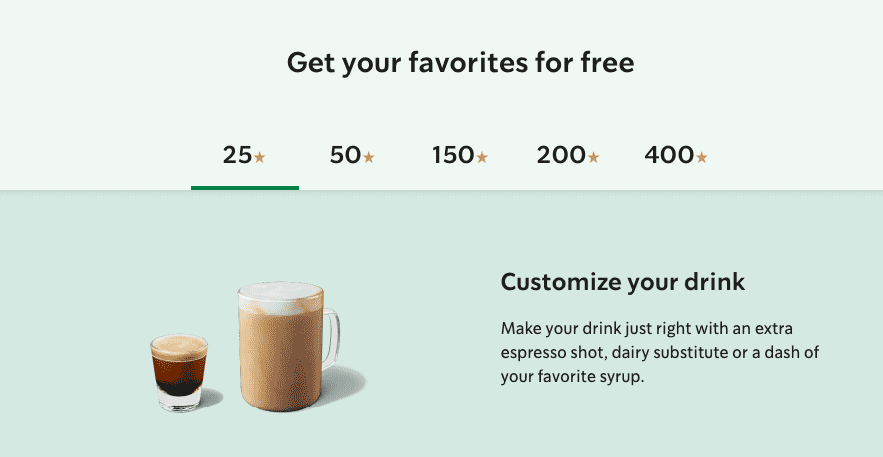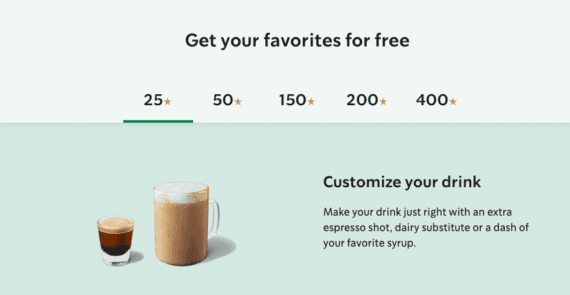 HHOnors
Another great example of a loyalty program is definitely Hilton Hotels that created a Loyalty program named HHonors and enable users to do everything with their mobile app. With their mobile app users can book a stay within any of the Hilton Hotels, check-in and check out with a tap in the mobile app, open doors using their Digital Key feature, choose a room as precise as choosing a seat on the flight, and much more.
Hilton Hotels used the advantage of mobile apps and Loyalty programs to improve their overall service and create an even better user experience. With that, they gained a lot of new fans and a lot of information on their users to evaluate and create new business strategies.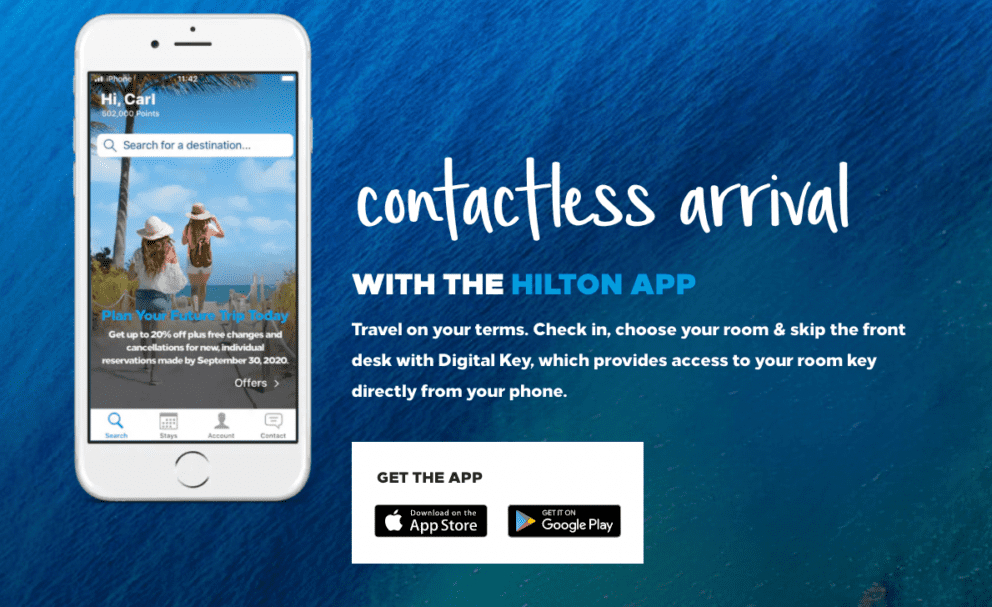 2. Digital wallet / Mobile payments
Give customers an option to pay directly from their phones and let them enjoy the meal without wallets! In 2021, the global mobile payments market volume will amount to $1,326 billion (as opposed to $ 1,100 billion in 2020). Its growth is due to the convenience and security of smartphone payments.
Upserve, a restaurant management software, says that a restaurant can only benefit from integrating a payment system as it takes data from each transaction and tells a restaurant owner more about its customers, as well as it can serve as a tool to turn that data into something a restaurant can act on.
We saw that during COVID-19 contactless payment got a lot of attention since safety became most important. One of the platforms that happen to be most used is OpenTable – a platform that is used for a restaurant table reservation and online food ordering.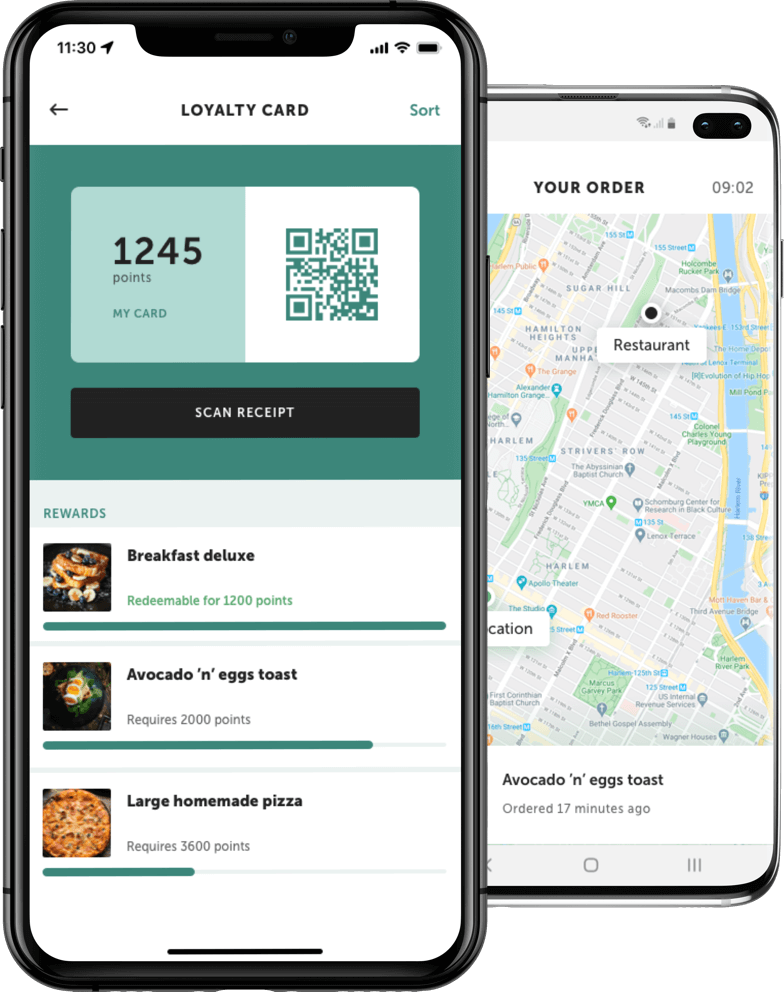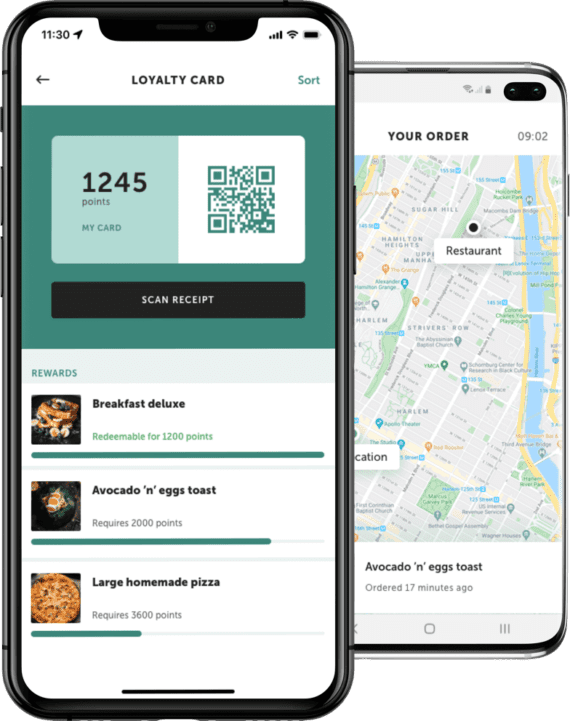 3. Geotargeting aka location-based marketing
Location-based marketing is a process of planning and implementation of marketing activities that use and are based on geolocation.
Give the opportunity to your customers to try special meals, discounts and try the new food before it's on the menu. With perfectly timed marketing promotion and with these guides on how to use push notifications to promote your app's content, products, and services, purchase with the mobile coupon is almost certain.
4. Ordering
Even before the lockdown, statistics said that almost 60% of U.S. consumers order delivery or takeout once a week! Convenience is becoming increasingly important to customers, especially for younger generations, who are becoming a larger portion of the consumer population. Millennials prefer to consume their favorite foods wherever they want, as well as order and pay for them with the click of a button.
For the purpose of food ordering, it is necessary to have the entire restaurant menu written in the mobile app so that users can see what is available. Humans are visual beings, which is one of the reasons why it is necessary to have pictures of all the dishes. Also, McDonald started with writing nutrition within each sandwich title, so people know how many calories they are taking in!
What else?
create categories (sandwiches, fast food, desserts, etc.) so mobile app users are easier to navigate
write prices (don't be one of those restaurants that hide their prices)
make beautiful pictures (don't skimp on photos because they are exactly what entices people)
allow users to enter a new page for each item and write all the ingredients or nutrition values
allow users to choose more than one piece of each item
use filters (many people are intolerant to lactose, gluten, etc. – with this you will show them you care)
Shoutem allows you a seamless cross-platform experience to browse and purchase food and beverages via mobile apps. Integrate Shopify in the app with one-click integration and present your restaurant to app users; Shopify makes it easy to sell food and beverages online.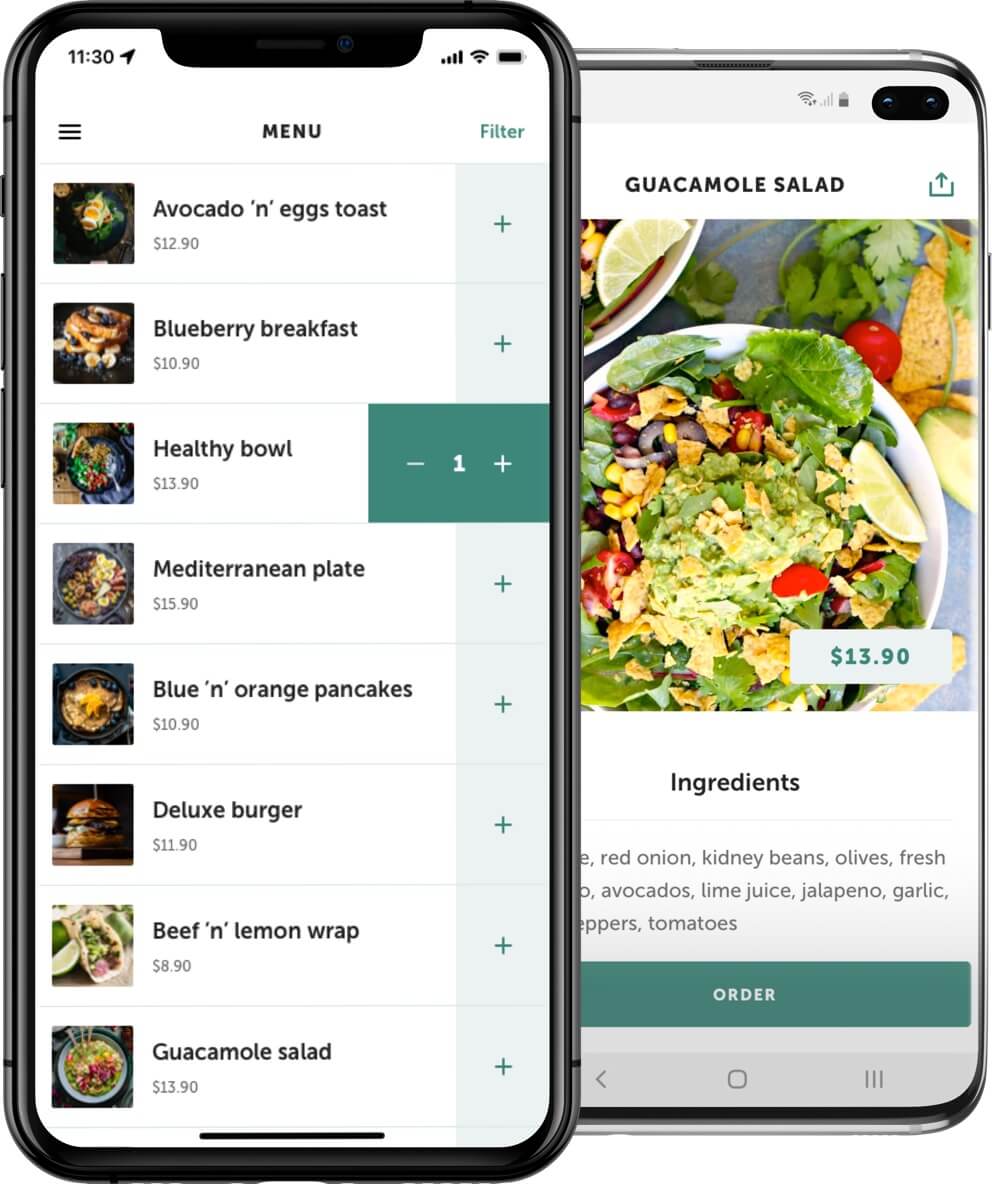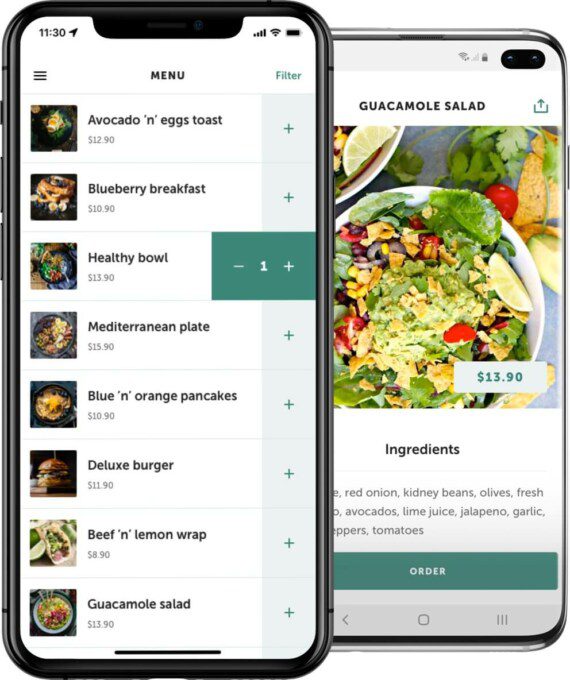 5.Behind the scenes & Social Media
Don't be a stranger to your customers. Show your "human side" and add Instagram, Twitter, or Facebook profiles together with news, updates, or videos from your Youtube channel. As much want to learn about your customers, try to make strong bonds with them and you'll turn them into brand ambassadors even without asking.
Share funny stories, pictures from the venue, create a video on how a dish is made. Also, many restaurants have an option to tag them or to create a location that users will tag on their photos. Create hashtags and use them in order to make fun prize games. That will come in handy when it comes to marketing, and the most important marketing is the one that users are making!