What features should a perfect restaurant mobile app have? We bring you 5 essential features for boosting the restaurant business in the mobile era.
Restaurant owners are starting to recognize the value of a dedicated restaurant mobile app that can bring to their business. Restaurant mobile app is a perfect tool to launch campaigns, inform your guests about special events in your restaurant and new items on the menu, and share the contact of your newly opened location.
But, what features should you add to your app to acquire new customers, retain old ones, and boost your revenue? Here are 5 essential features that you should add to your restaurant mobile app.
1. Build a relationship with a loyalty program
Customers are the core of every business; without them, there would be no one to use your services or buy your products. Companies with a customer-oriented approach must treat loyal customers and make them feel special, and eventually, they will be your best brand ambassadors.
We're not talking here about expensive rewards, but a carefully planned Loyalty program that can boost customer engagement and increase transactions. Choose a Loyalty program that fits best with your business needs; use Single-Card Loyalty program for a single location or a Multi-Card Loyalty program for multiple locations. Statistic module will help you understand user behavior and improve your app to achieve better results.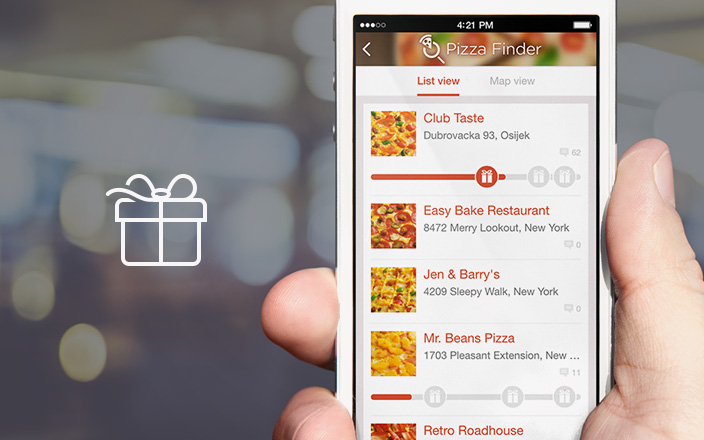 2. Payments
Give customers an option to pay directly from their phones and let them enjoy the meal without wallets! By 2019, mobile payment transactions will reach $210.45 billion and you don't want to miss that opportunity, do you?
3. Location-based marketing
Give the opportunity to your customers to try special meals, discounts and try the new food before it's on the menu. With perfectly timed marketing promotion and with these guide on how to use push notifications to promote your app's content, products, and services, purchase with the mobile coupon is almost certain.
4. Ordering
Hungry consumers are turning to smartphones and tablets to place online orders for pick-up or delivery, 69% of consumers order food online using a mobile device, according to the IAB & Viggle study "Mealtime Goes Mobile".
Shoutem allows you a seamless cross-platform experience to browse and purchase food and beverages via mobile apps. Integrate Shopify in the app with one-click integration and present your restaurant to app users; Shopify makes it easy to sell food and beverages online.
5.Behind the scenes & Social Media
Don't be a stranger to your customers. Show your "human side" and add Instagram, Twitter, or Facebook profiles together with news, updates, or videos from your Youtube channel. As much want to learn about your customers, try to make strong bonds with them and you'll turn them into brand ambassadors even without asking.
To summarize these 5 essential features and to prove they make a difference, take a look at the infographics below.