When starting a massive project such as app development, you know a lot is ahead of you. What happens then? Some become rich, or popular, or both… while others stay with zero or an insignificant number of downloads in the app store. All your effort, time, money, all can be in vain if you make some crucial app publishing mistakes. App publishers have launched millions of apps and did many mistakes we can learn from. Make sure your app launch stays on track to success by avoiding these 10 most common app publishing mistakes made by new app publishers.
Pre-Launch App Publishing Mistakes
1. Rushing in without a clear plan and a good strategy
You cannot build or develop an app without a good planning stage. People rarely realize how much work they actually do at that initial stage. You can set clear goals, create a detailed plan of the development process, delegate tasks, and put on paper all possible red flags that might appear as you go through it.
People love to skip planning because they want results immediately. It is a common and often deadly app publishing mistake, not just in app development, but in any event or project in life. Did you know that 6.5 million businesses launch every year? The downside is, up to 90% of start-ups fail, and only a few new businesses survive the harsh competition.
It is okay to anticipate various scenarios, to have a plan B, or even a plan C if needed. Planning will help you keep everything in the right place even if something goes south.
Pro Tip: Think about the release day for your app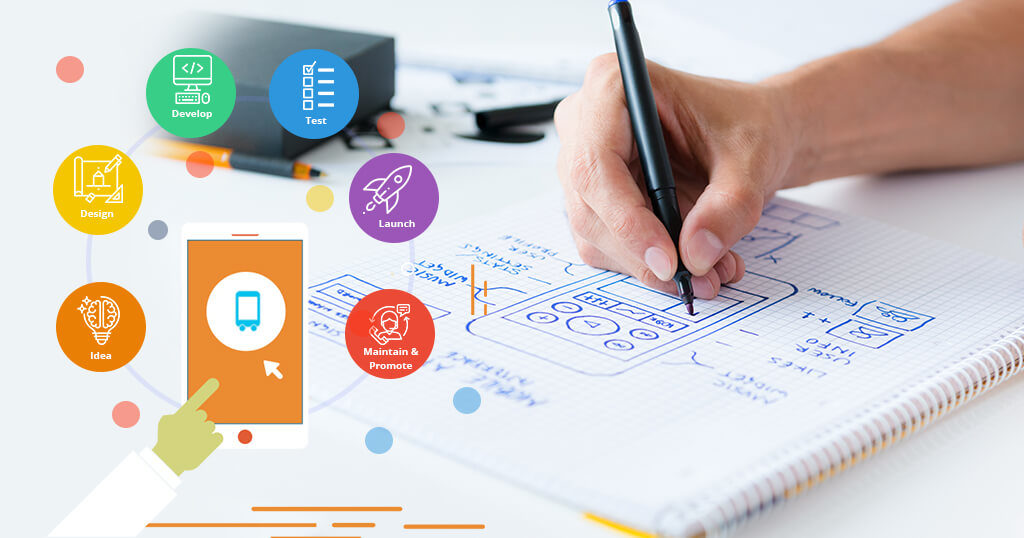 You may wonder why would the release day be important. It simply is. You don't want to release your app on a day when another big tech event is happening, right? The lower the competition, the bigger the focus on your app. That will increase the expected public's response to your app.
2. Not knowing your audience
Who is going to use your app? Why would they download it? What is it that they gain from having it? If these are the questions you don't have an answer to, you might be in trouble.
It is necessary and crucial to do some research before you even start planning. Is the app worth your time? Why would you go through the tiresome and expensive process of app development if there is nobody to use it afterward?
Once you get the idea of the demographics of your potential users, their spending habits, how do they behave, and what is their experience with similar apps, you can proceed.
Pro tip: develop an mvp and test the grounds
Developing a minimum viable product can save you both money and time. It will also test the ground for your new app. Real users will give you direct feedback on the functionality, user experience, and suggest all possible improvements for the actual app.
If one would ask for an MVP definition, the most accurate would be to cite Eric Reis – the founder of the MVP concept from Lean Startup. According to him, MVP is "a version of a new product which allows a team to collect the maximum amount of validated learning about customers with the least effort."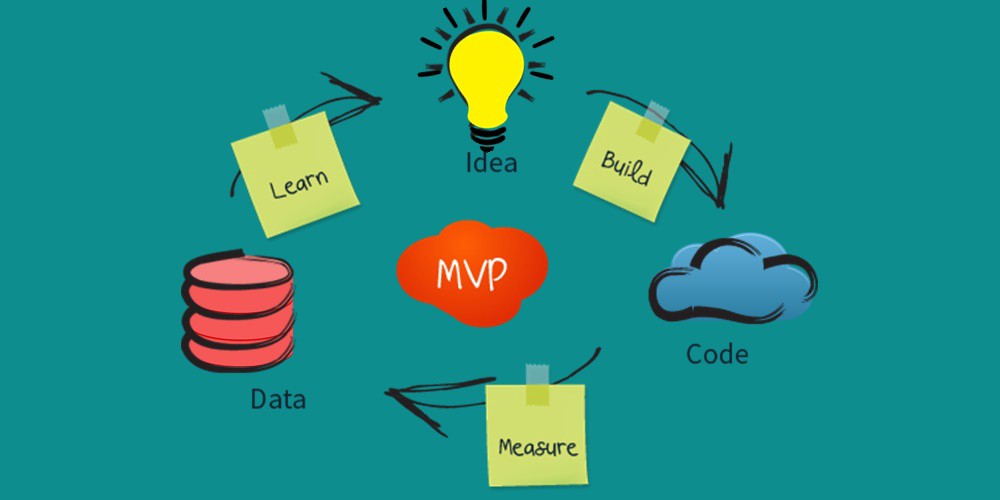 You may think that creating an MVP is costly. Nope, that is called an investment. Costly would be finishing an app that will be dysfunctional or utterly useless. MVPs are a great communication tool between developers, you, and ultimately, end-users.
3. Not starting early with the promotion
Sometimes people simply wait for too long. If you think promoting your app after it launches is a good option, you're on the wrong track. The goal is to create the hype around your app before it launches. Just think about it. If your app is mentioned everywhere, people are buzzing, social media talks about it, random people talk about it, and the app is still nowhere to be found. That means many people will be interested in it once it gets published.
However, don't get carried away that easily. Without a doubt, one of many app publishing mistakes is wanting too much too early. Start small and build on that. You can't expect that your unknown product will end up in all the media, but you can do something about its promotion early on. Create a landing page with the most important information about your app, or send newsletters to current or potential users. Use your social media accounts to present the app. Visit the local radio station and ask for an advertisement or ask influencers in the area to help you with the promotion.
pro tip: implement offline marketing strategies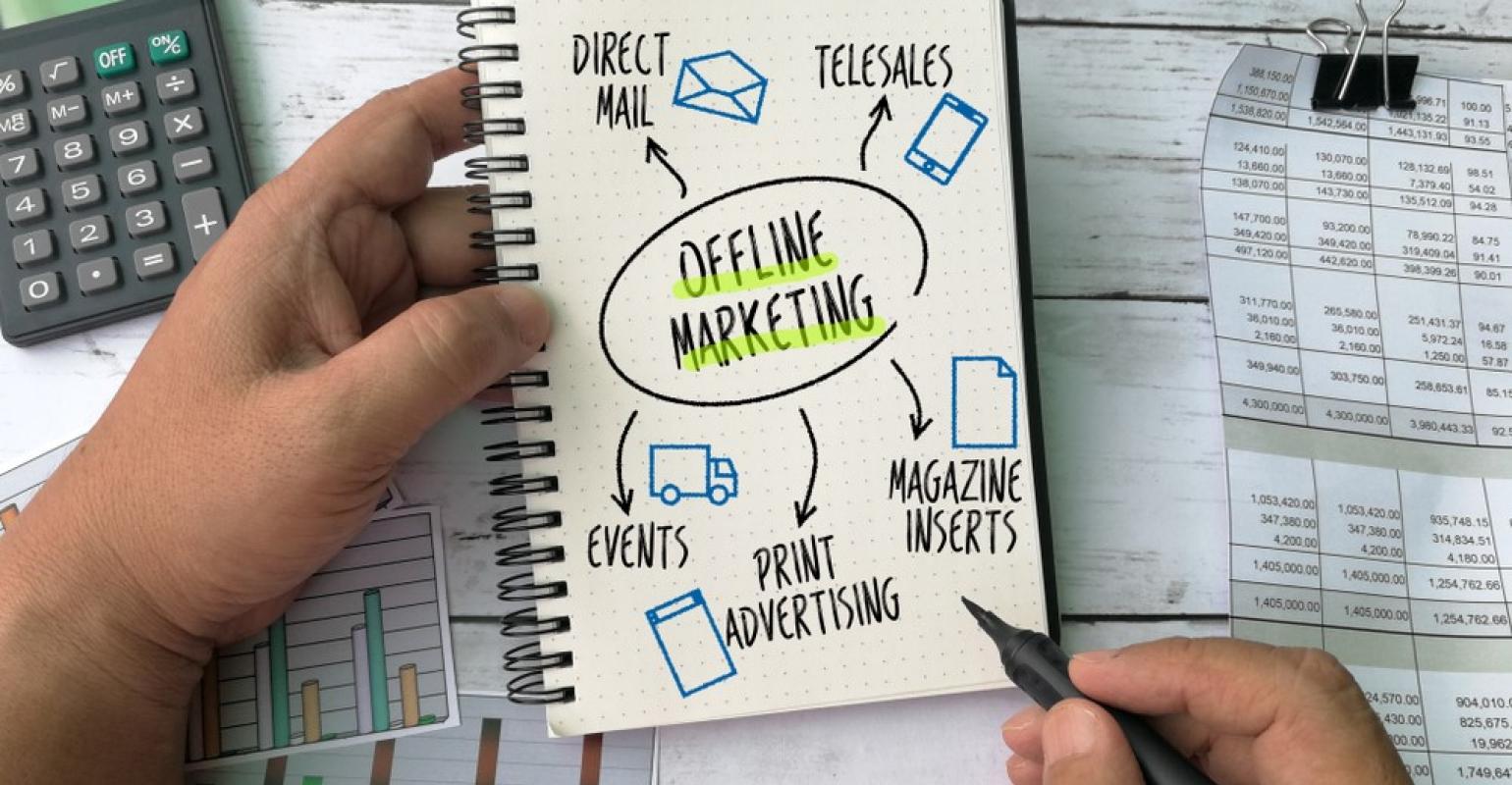 We're so occupied with technology that sometimes we forget the old ways. What about the offline promotion? You can host an event in your local community or even wider and invite people to the promotional event. When they are there, share some merchandise as a memento. It can be anything, just make sure it has the app logo or the name on it. Giving out promotional codes with discounts is always a good option. People like it when they can get more for less.
4. Insuficient or poor marketing strategy
The next app publishing mistake is kind of related to the previous one. If your marketing strategy is not on a high level, the success of your app is in question. You cannot rely on luck. Focus on planning a strategic marketing plan which involves an outreach plan, blogs on the development process, keywords, and beta test plan.
Utilize everything at your disposal, email marketing, social media, offline marketing strategies, and many more that come after the app has been launched.
KPIs (Key Performance Indicators) measure the performance of your app, so include them in your campaign. Such measuring will provide a clear view of where your app is performing well and areas for improvement.
pro tip: invest in the paid acquisition and set your budget properly
Remember how we said planning is extremely important in mobile development. We really meant it because if you haven't planned your resources at the beginning, you're going to struggle with balancing the finances needed for promotion before and after you launch an app.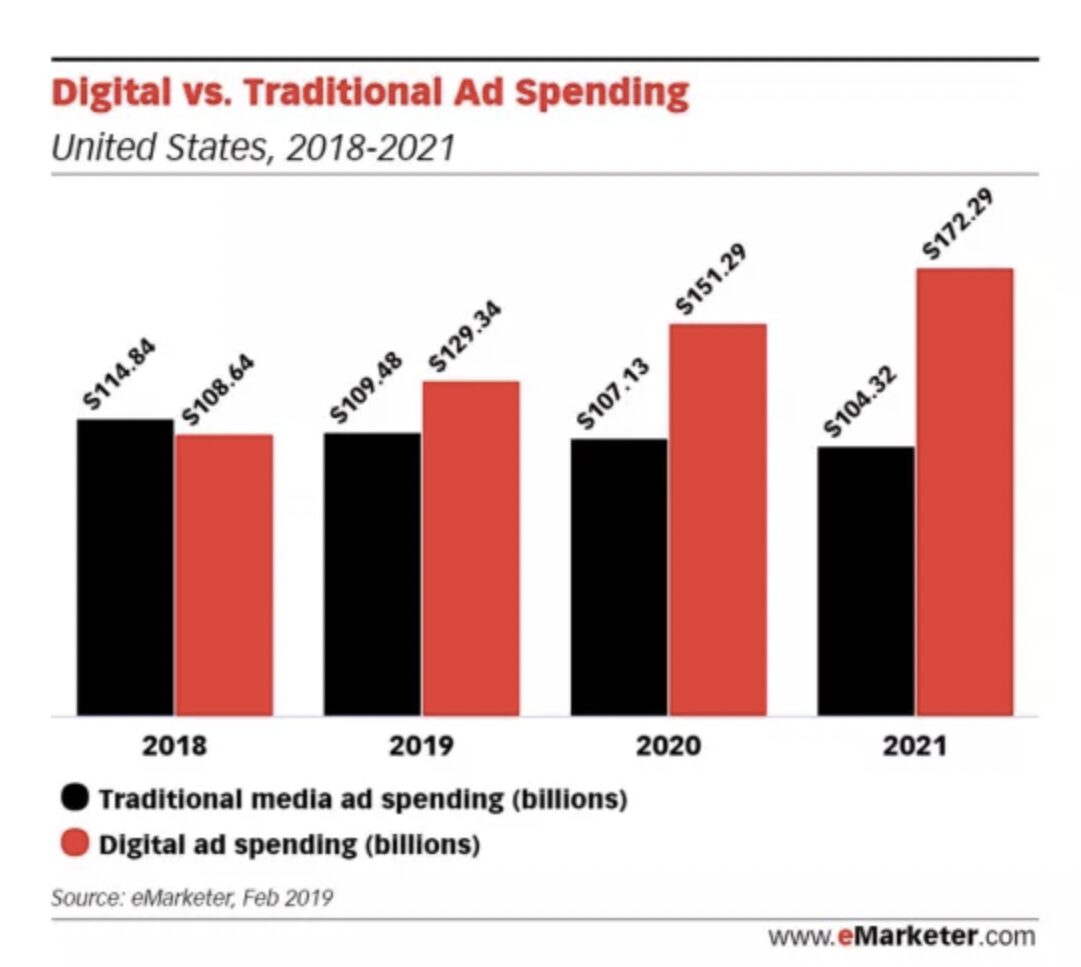 This graph shows the exponential growth of paid ads over the years whilst traditional media advertising is slowly declining.
Paid acquisition is the practice of bringing new users to your app through paid ads. You need to set up campaigns and adjust your ad funds to be spent over time for best results. It is important to know what type of user your want to attract so you can calibrate your ads and tactics accordingly.
5. Not understanding the importance of App Store Optimization
By now, you should know that without a good App Store Optimization strategy, your app will not be recognized at all. App Store Optimization (ASO) is the practice of defining the app as per guidelines laid out by app publishing platforms.
The Google Play Developer Program Policies provide the policies your app must follow.
The Google Play Developer Distribution Agreement is basically the full set of terms you agree to before distributing apps on Google Play, including pricing and payments, use of the Google Play store, product takedowns, and more.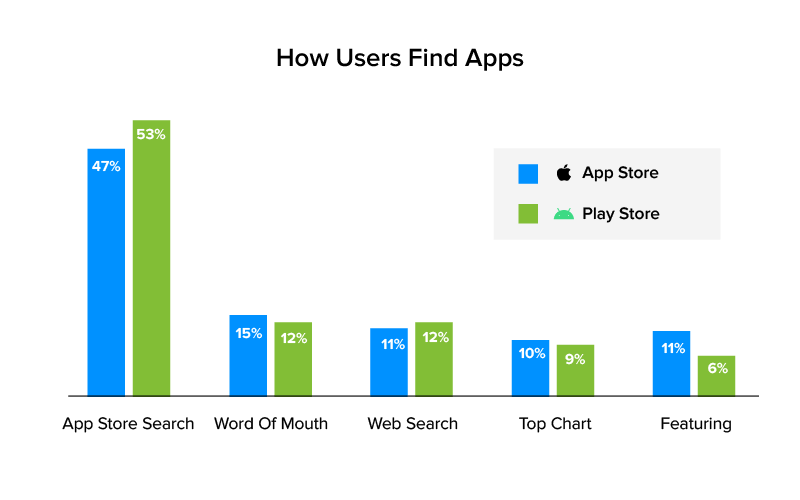 Because your app will mostly be found through "search" on the Google Play Store, it is important to optimize app store keywords, visuals, titles, etc. There are several things you need to take into consideration, so let's start with each separately.
pro tip: optimize with care
Starting with the name of the app. You mustn't use trademark names and if you use them, it is best to use them at the end of your app's title and prefix them with "for". For example, instead of naming your app "RandomThing Browser", call it "Browser for RandomThing". Also, make sure that your title is catchy, easy to remember, and preferably short.
The keywords you are going to use will determine a lot. You have to choose the category for your app in the Google Play Store, as well as all relevant tags which will help in the app's discoverability. Writing a compelling and quality app description will give the idea to potential users of what the app is about.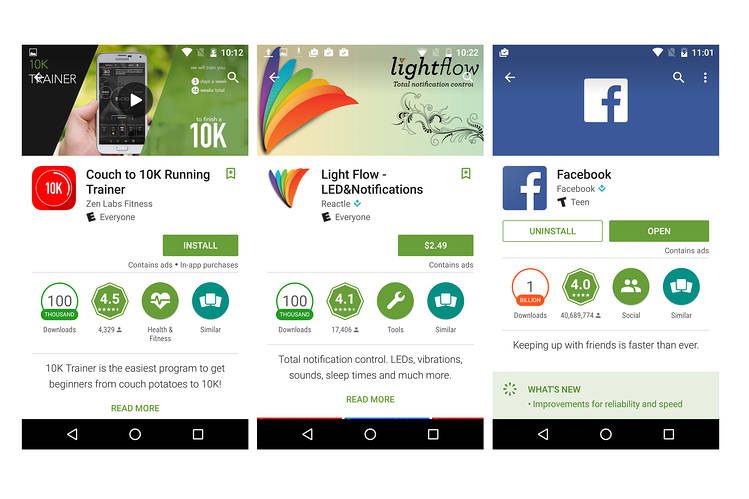 Lastly, there are the visuals. The first thing people will notice in the app store is probably the icon of your app. Give your best to make it visually appealing, original, but also reflective of your app's purpose. Screenshots in the app store give users concrete examples of the user interface, colors & layouts, and roughly display the possibilities of your app.
Post-Launch App Publishing Mistakes
6. Disregarding your web presence and engagement
Once everything is set and done, your job is not finished. Now, you need to do everything in your power to accumulate organic traffic and boost the rank of your app. Do you remember the landing page we talked about at the beginning? If yes, that is great because it can be helpful again. Add a call-to-action button somewhere on the landing page, redirecting the users directly to the Google Play Store. From there, hope your ASO strategy will yield the results and that they will download your app on their android device.
Besides that, your app promotion strategy should include other forms of content marketing. Increase discoverability by writing blog posts. We wholeheartedly suggest backlinking as well as that will increase the trustworthiness of your blog or website.
pro tip: be active on forums and write about your app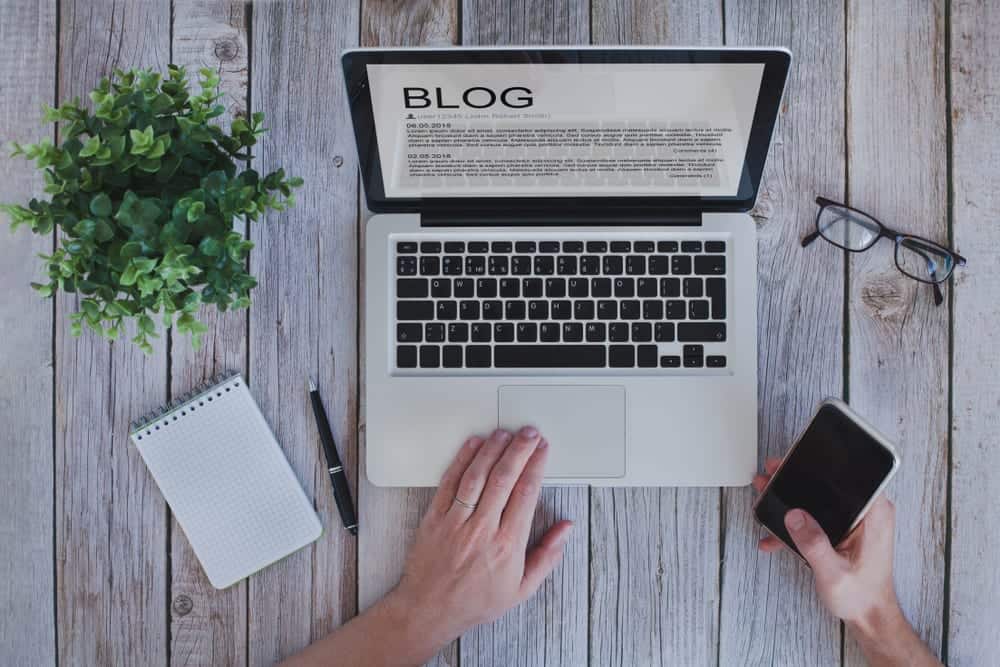 There is so much you can do simply by writing about your app in various forums such as Quora, Reddit, or Twitter. Research has shown that the blog post shared on Reddit has a higher chance of becoming an evergreen, meaning it will accumulate traffic months if not years after being published. The same goes for the posts about your apps. Publishing and sharing content not only boosts your SEO, but these sources will continue to send engaged traffic to the app store over time.
7. Not investing in a good customer support
This might be more suitable for larger companies than individuals trying to publish their apps. Know that each user is important and you want to provide them with the best service possible, without exception. Inefficient customer care can lead to inconvenience and a bad influence on the users, degrading the app value. Good customer support service listens to the user's issues, answers them properly, and efficiently fixes issues on the spot, providing advice and suggestions to the user.
pro tip: Be at your users' disposal at all times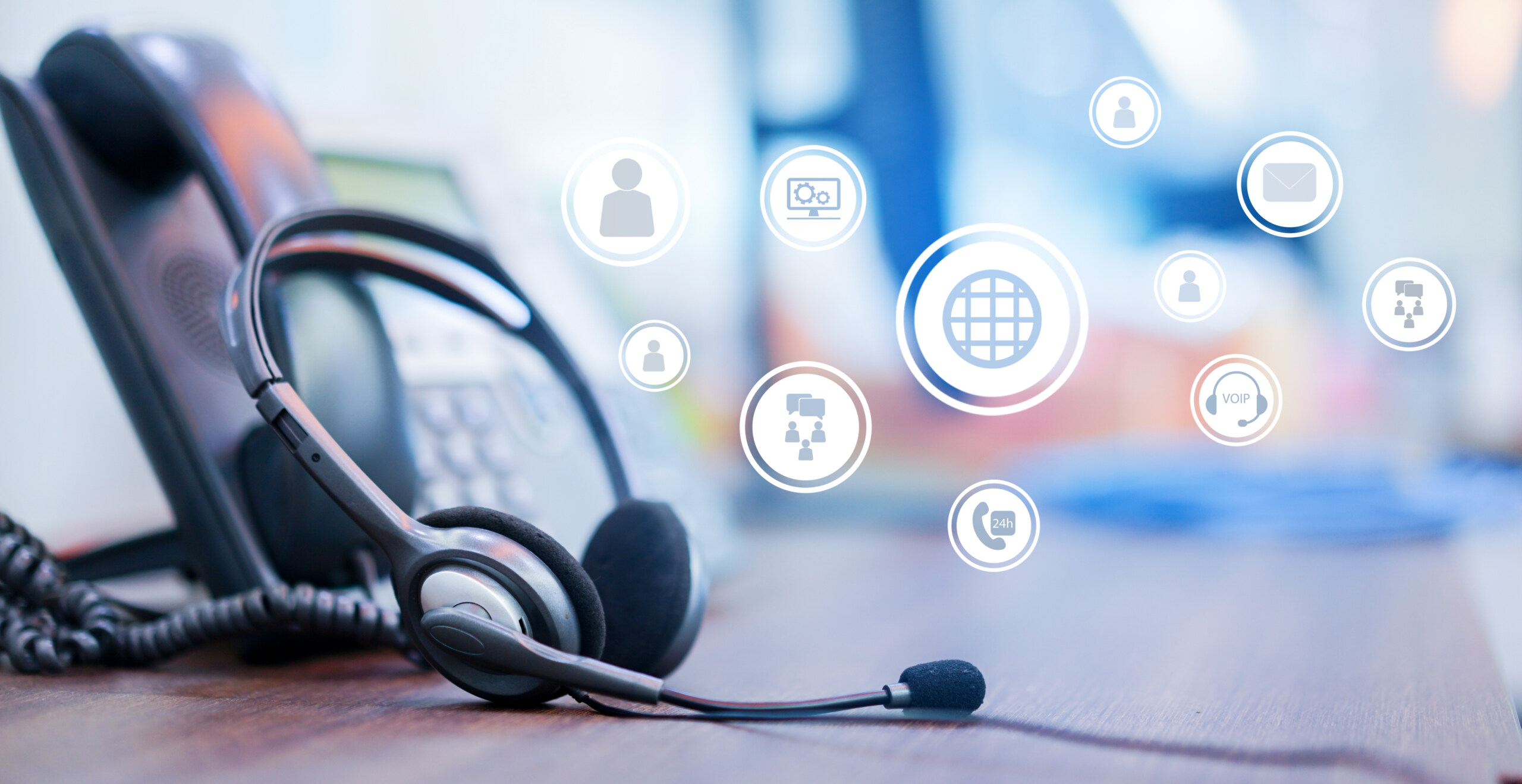 If live chat with support assistants is not an option, at least write a support guide for your users and upload it on your blog website. Answer the FAQs, write about the app, how to use it, and how to troubleshoot or fix the most common issues. You will know something about it if you have developed your MVP and have tested it on real users.
8. Not paying attention to reviews and ratings
You have surely seen a low rating for an app or several negative reviews and at that moment you decided it is not good and you moved on. Ratings and reviews can be slightly deceiving as someone's experience doesn't have to be everybody's experience. Nevertheless, we tend to believe what we read in the review section. For that reason, it is important to collect as much positive feedback as possible. App publishing mistakes include disregarding the power of reviews and ratings.
Android apps are influenced by the Google Play algorithm which takes into consideration your ratings, scores, and reviews, all influencing your final app ranking.
Getting the first reviews might be tricky, so you can always reach out to your beta testers, advocates, and customers via email to leave a positive review at the very beginning, just to get things going.
pro tip: Invite them via push notification system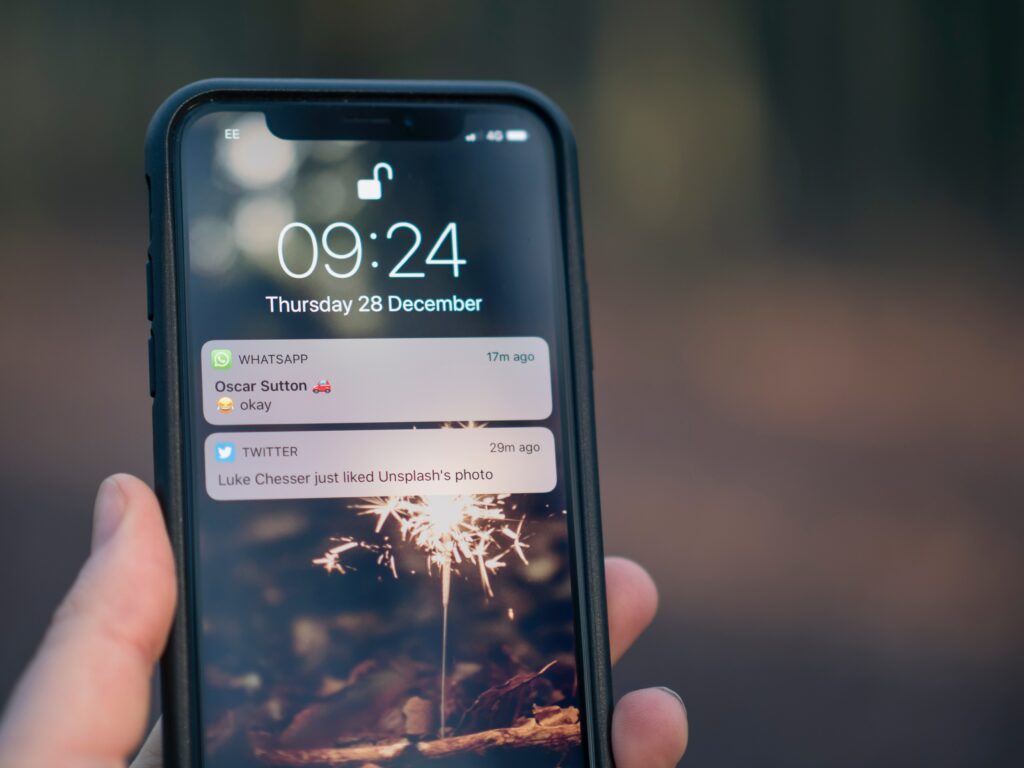 Implement a strategy to continue generating positive reviews by asking active app users to review your app. You can send them notifications after they have used your app for a while (not immediately after they installed it!) or after completing a specific action. You can offer some incentives or users to rate your app. For example, those can include discounts, unlocked app features, and such.
9. Not understanding the numbers behind your app's traffic
To successfully follow your app's performance, you must know how to interpret the numbers and percentages related to your app. Many app developers either don't know how to do it or just don't pay attention to it as it is not in their primary focus. Analyzing parameters such as user retention rates, user engagement, and conversion rates will help you improve your app and keep the influx of new users.
The global average website conversion rate based on multiple marketplace conversion rates is 4.31%. Industries with undeniably high conversion rates are arts & crafts (4.01%), food & drinks (3.58%), and health & beauty (3.08%). If your app is in one of these niches, that is great news for you.
pro tip: hire a marketing professional to help you out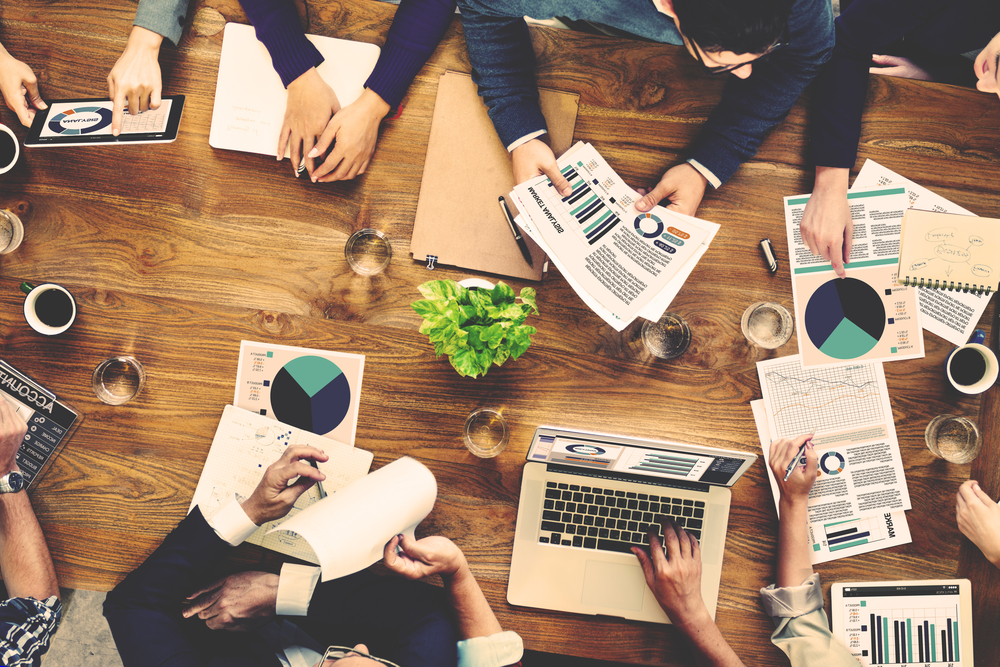 Consulting with a marketing professional may be more than beneficial for your understanding of the business. You will learn what you can do after the launch of your app to influence its future success. Learn how to keep track of daily or monthly users, features that attract app usage, and app performance index.
10. Not updating your app or ASO
The app update is a more demanding task but sometimes even that is necessary if you notice your app is not doing according to your expectations. On the other hand, what you can easily change and manipulate as you please is ASO. Don't hesitate to change the app description or change the app category, even though you must be sure in that decision before you do it as it brings some consequences if not done correctly.
If you notice malfunctions in your app, or you read in the review section that several users have the same issues, reconsider updating. Some common issues include bugs, lacking core functionality, and high battery usage.
pro tip: stay present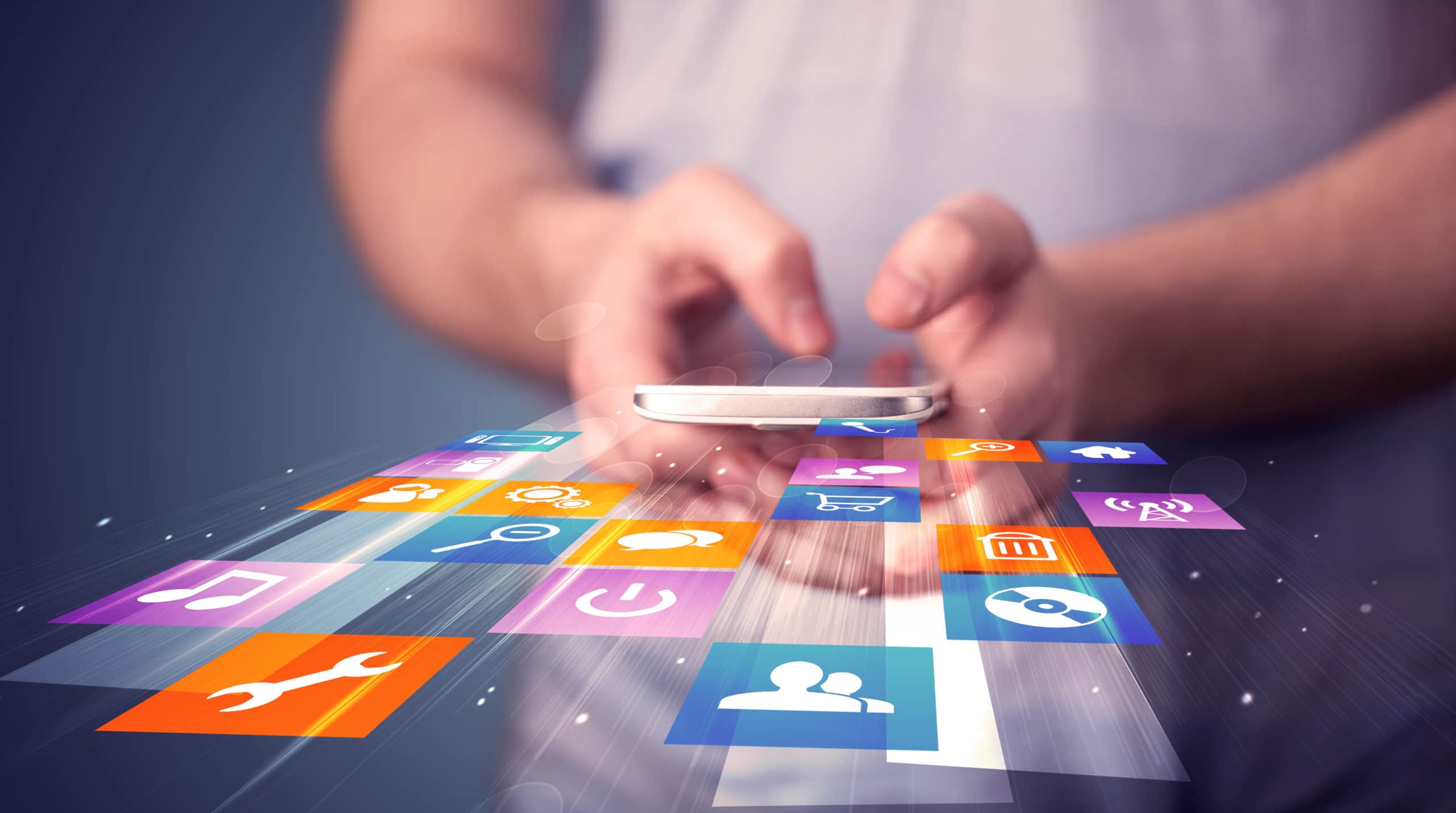 Once your app is launched, stay in contact with your users. Keep an eye on your app's progress and make sure you've done all you could to give it a push.
In conclusion, app publishing mistakes done by the website and mobile app developers may be costly. If you are an app developer, make sure you're implementing the tips and avoiding app publishing mistakes for maximum efficiency. If you are a client who wants to build an app and is looking for a competent team to develop your app, we are happy to be at your service.
Shoutem Pro is an all-inclusive mobile app creation service to get your application published and live with ease. Our mobile app experts will create an app strategy, build an app with our builder using premade features and integrations, and our Support team will continue to support your app as a trusted partner in your success.
Count on our 10 years of experience, 10 000+ apps, and 100M+ happy users to ensure your app's success. Contact us for a free consultation session to discuss your idea. We're waiting for your call.