The number of smartphone users is exponentially growing. Having a phone close to us at all times became a habit, as well as unlocking it too frequently. Why do we take smartphones in our hands? What do we use, browse, download, and explore? In this article, we will present answers to these questions, all supported by facts. We will present trends and the state of mobile app development in 2021. Lean back and enjoy this app usage statistics compilation.
Mobile App Downloads and App Usage Statistics
According to App Annie, in 2019 a whopping 204 billion apps have been downloaded from app stores. An average person has about 40 apps installed on their phone. That is a lot, isn't it?
Three out of four respondents in a survey answered that they have at least 11 apps downloaded on their phones. Pre-installed apps did not count in this research. Despite that, downloads are not the most reliable metric of success as many apps just stay on the user's phone untouched.
We don't use all apps equally. Some users rarely open specific apps, if ever. When time spent in apps is in question, 89% of the time is split between 18 apps, meaning that half of those apps remain mostly unused.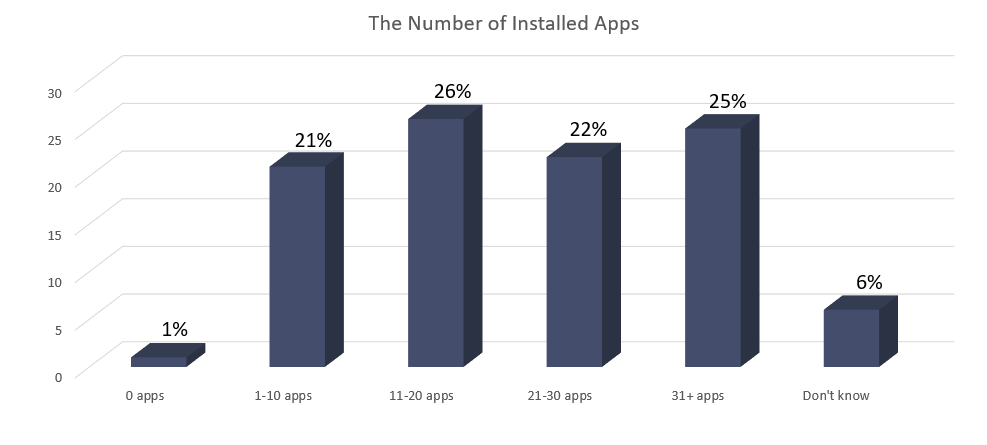 For that reason, getting rid of the unwanted apps or apps that are not in use is recommended. You will gain on the available storage and your device won't suffer from being cluttered.
Time Spent on Mobile Apps
According to eMarketer, adult smartphone users spend about 4 hours per day using mobile internet, and 88% of that time is spent in mobile apps, rather than a browser.
For that reason, it is important to optimize website apps, but also create native apps as they are much more popular and convenient for users. App Makers gained popularity in recent years and a no-code approach to app development has shown to be a major success.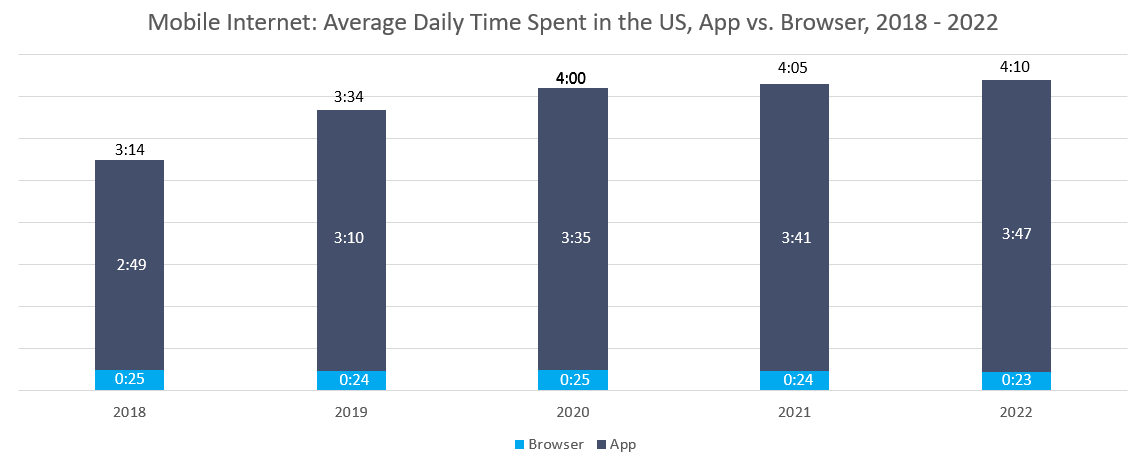 If both a webpage and an app are available, most users will choose an app as it, usually more often than not, gives a better user experience. Browsers tend to be slow and laggy at times which is rarely the case with mobile apps.
Also, it is easier to navigate the app and there is less intrusive content such as unwanted advertisements, pop-ups, and apps tend to be more aesthetically pleasing and appealing.
Choosing the right color for your app can help or hurt your app, so be careful and research how colors affect our brain and stimulate emotions and actions.
Global Mobile App Spending Forecast
Just one glance at the annual revenue of the leading App Stores reveals that mobile app spending reached a whopping $111 billion in 2020. According to SensorTower, revenue growth is predicted to rise by 19.5%.
App Store and Google Play could cumulatively reach $270 billion by 2025. Comparing the two app stores, it is apparent that The App Store had almost double the revenue in 2020 than The Google Play Store ($72 billion compared to $39 billion respectively). The trend is estimated to continue in the future as well.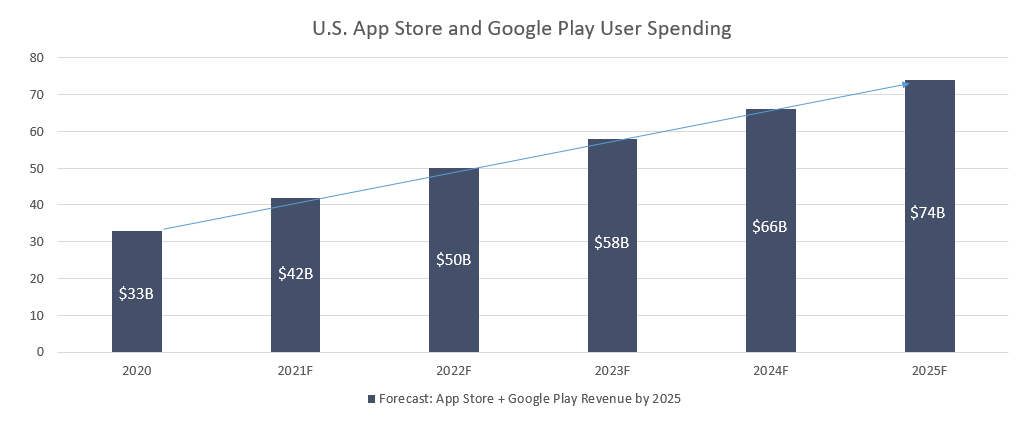 App Store optimization for both app stores is essential if you want to get noticed by potential customers. Understanding ASO for the app store enhances your chances of success. Finding relevant keywords with low competition and high search volume will make your app stand out.
Think about the icon for your app as you want to have a unique but appropriate icon for your app. It must reflect the app's purpose, be visually appealing, and follow all guidelines and principles of the app store of your choice.
App Categories in Mobile App Development
In both the Apple App Store and Google Play Store, categories represent the internal organizational system. Apps are clustered together based on their mutual features and overall purpose.
Aside from the category, you can also assign tags to your apps. That will further increase searchability and describe your app to potential customers. Tags significantly affect ASO, so make sure to pick them wisely. App trends in 2021 might be different than app trends in 2020, so make sure you see how things change from year to year.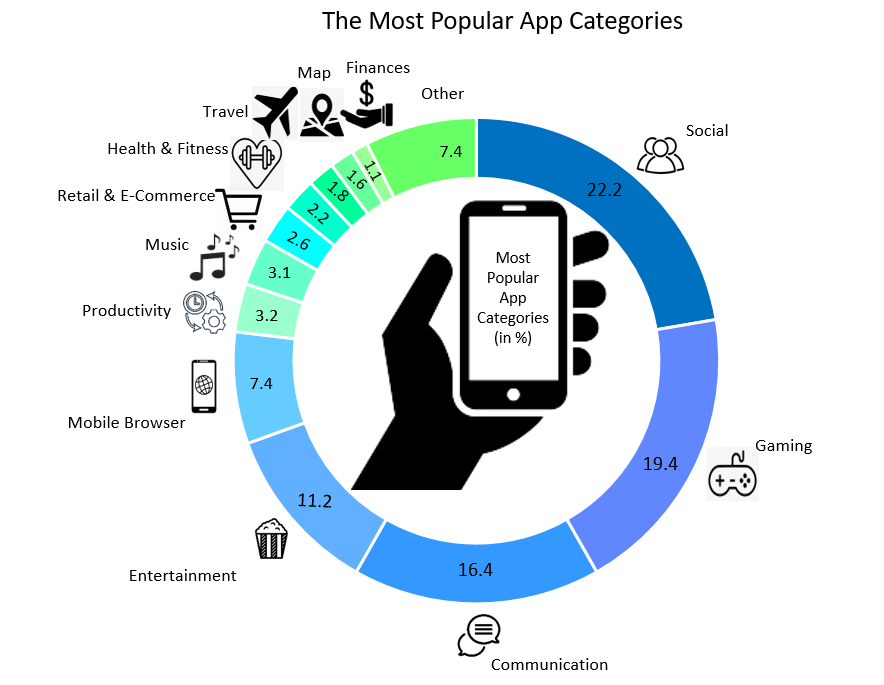 Social media has taken over, being the most popular and most used type of app category. Here are several more insights from Simform's state of mobile research.
About 58% of users said that Social, Gaming, and Communication were their top 3 most used app categories
App categories with usage below 4% such as Productivity apps, Map apps, or Finance apps are mostly used on a need-basis
Three out of four respondents claimed that they engage with their top 5 app categories daily
Comparing the same categories based on the time of usage, one can notice that the same app categories are at the top, namely Social apps, Gaming apps, and Communication apps.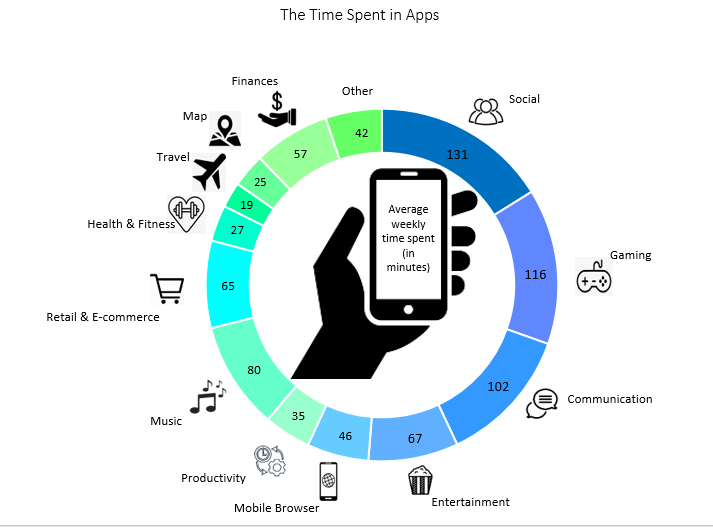 On the other hand, even though some categories are need-based, such as E-commerce or Travel, the usage in minutes is higher than expected. The reason for that is that customers take time to make their decisions. Similar, if not the same conclusions stand for Music and Finance apps.
People like communicating with each other so high numbers for Social, Gaming, and Communication are justified and expected. Especially now after 2020 when distance communication was a must. Such apps usually send push notifications that can greatly enhance the communication experience.
According to App Annie's state of the mobile report, in the United States, Gen Z, Millennials, and Gen X/ Baby Boomers spent 16%, 18%, and 30% more time in their most-used apps than in a year before.
The Most Popular Social Media Apps in 2021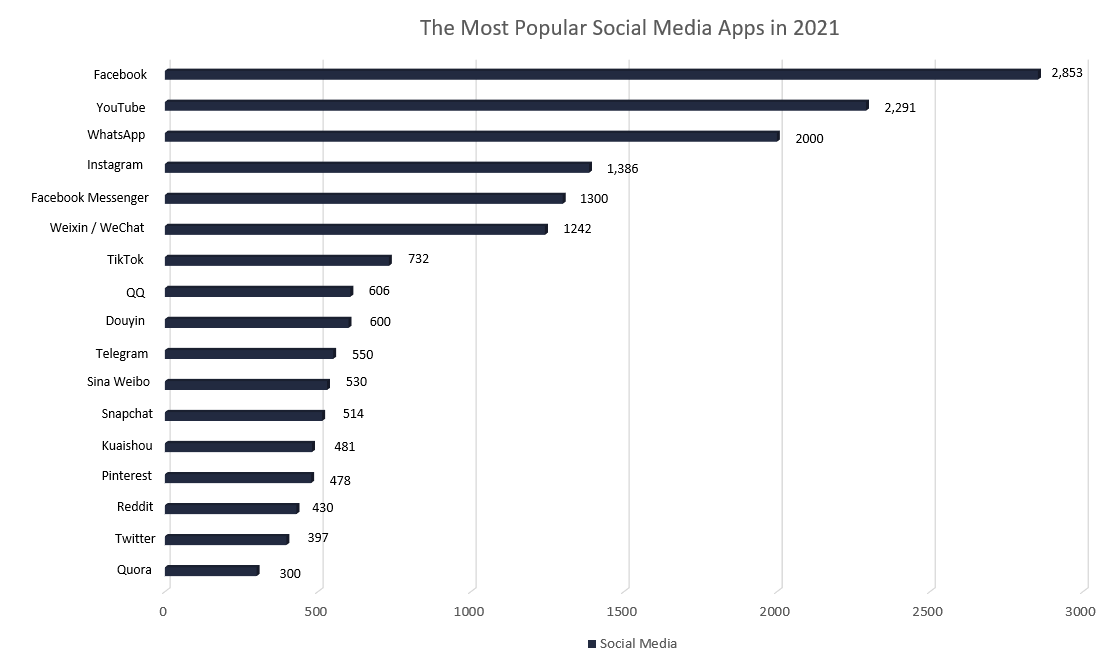 Even though some new, quickly rising apps such as TikTok have taken the spotlight at the moment, the top of the chart is still secured for the giants of social media. Facebook, with more than 2800 billion users is still the most popular social media platform as it gained popularity with Generation X and Baby Boomers in recent years.
Youtube is still the top video streaming platform, while WhatsApp rose above Facebook Messenger when texting and communication are in question.
Top Performing Game Apps in 2021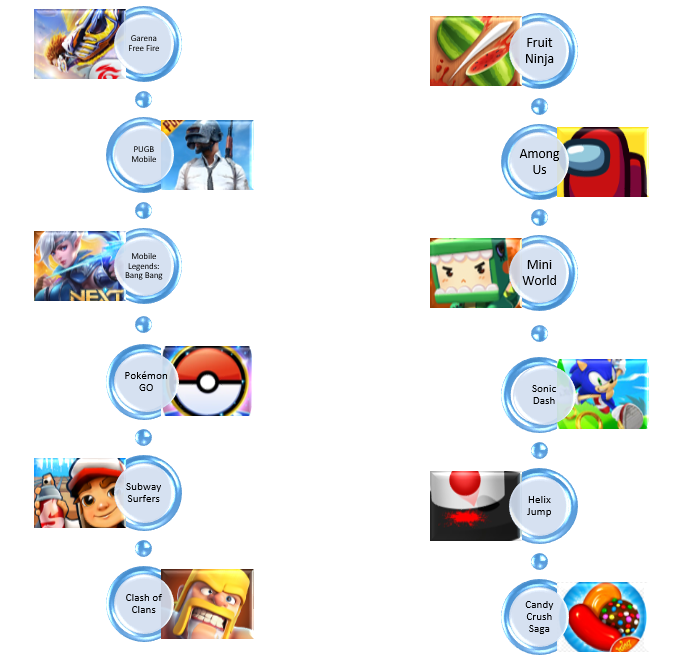 For games, it has always been tough. Both Google Play Store and App Store launch new apps daily, which makes a highly competitive environment. Fighting for the top spots is hard but some games manage to stay on top for quite a while.
Garena Free Fire with more than 1 billion users is currently at the top, being the most popular game app in 2021. Other popular games keep up the pace, even Pokémon GO, which had crises at the time. Implementing novelties such as virtual reality made it so popular and earned its place among the game classics such as Candy Crush Saga or Fruit Ninja.
Millennials & Gen Z App Usage Statistics
Millennials and Gen Z are the two most tech-savvy generations with rapidly growing purchasing power. Younger audiences prefer apps that differ from apps used by older generations. While creating an app, whether through an app builder or by hiring an app developer, think of your target audience. Adjust the features and visuals according to your customer profile and their preferences.
According to MindSea, nearly 70% of Millennials say social networking apps are the ones they use the most.

Right behind are messaging apps and games. As we can see the pattern among the younger users, they prefer communication apps. Incorporating features in your app that allow users to connect with their peers will help you attract younger users.
State of Mobile Daily
Most of us are using smartphones and apps all the time, even while doing something else. This attachment to smartphones and apps has become a habit many are struggling with.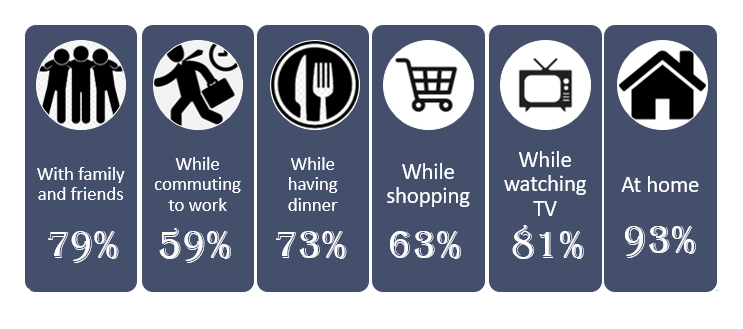 What's the point of watching TV if 81% of respondents use their phone while watching it? Also, using your smartphone around your family and friends can be considered impolite. Over 70% of people use smartphones while having a meal and 59% while commuting to work.
Take precautionary measures when using a smartphone simultaneously with another action.
Final Thoughts on the State of Mobile App Market in 2021
As our state of mobile app development in the 2021 article has shown, people are not ready to give up on their smartphones anytime soon. The growth of the market is predicted to last, so make sure you have adjusted your business strategies accordingly. Mobile app development trends do change over time, so take that into the equation as well.
Shoutem has been providing mobile solutions for years and we have rich experience in custom mobile app development. With the Shoutem Pro option, we will start working on your app from scratch, choosing only the best features, and implementing the best development practices to deliver high-quality results.
Do not hesitate to contact our experts who will gladly share more details with you. You might be one step away from the breakthrough that will skyrocket your business.