Here @shoutem we talked with Samantha Martin, web developer and PhD student, who offered iPhone and Android apps as tools to help people with Coeliac Disease or Gluten Intolerance easily find places in Paris offering gluten-free meals and drinks. She shared with us best practices for building successful SoLoMo apps and the main advantages for the end-user.
1. Would you like to say a few words about your mobile strategy?
The main strategy for building this app was to supply those with Coeliac Disease or Gluten Intolerant, with a mobile tool that would allow them to easily access places where they could safely eat when visiting Paris. Having Coeliac Disease means to avoid painful symptoms like severe stomach cramps, headaches, aching joints, other debilitating symptoms and the possibility of cancer of the small bowel, those diagnosed must completely remove gluten from their diet to stay healthy.
Unfortunately, Gluten is present in the majority of foods in the Western diet in the form of flour and grains in cakes, bread, soup, cereals, beer, lager, some sauces and thus lots of dishes in restaurants, cafes and bars.  One of the problems for Coeliacs when they travel is finding places where they can safely have a meal without the risk of  being glutened (the painful effects of which can last from days to weeks).
As a busy freelance Web Developer and PhD student who is constantly on the move, when diagnosed with Coeliac Disease three years ago, I was  determined not to let my need to change to a completely gluten free diet disrupt my lifestyle, and decided to see if I could find a way to put together an app that would help me and others like me access all the relevant information needed to do this and stay independent while out and about in the city.
Shoutem proved to be the perfect tool for this.  After trying many other platforms, including using my web skills to build a basic HTML5 app (which was good but not as packed full of the features I needed), I came across the ShoutEm model, which gave me a much easier way of quickly building a location based app by entering Gluten Free venues and relevant menu information and then linking them to specific places in the city.
2. What are the main features included in app?
The app contains 3 key sections listing Gluten Free Restaurants, Cafes and Stores where people can find gluten free meals, snacks and food supplies when they are out and about in Paris.  Each section lists the name, address, map and directions to each venue, as well as what kind of gluten free food you can find at each venue.  I decided to add a Stores section because as well as eating out in cafes and restaurants, people may also want to just make a picnic or lunchbox for a day out, or buy supplies if staying in Paris as a student or on a work trip for a while.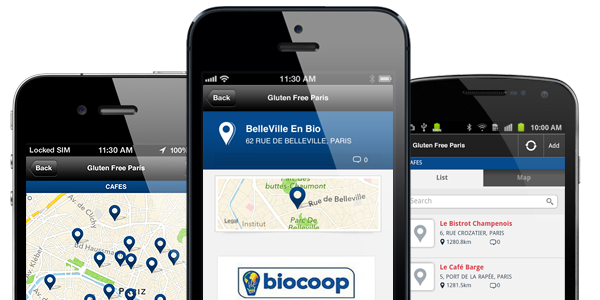 3. What are the main advantages of mobile, social and local for the end-user? 
For Coeliacs who need to follow such a specific Gluten Free diet, it's always great to have access to this information at your fingertips while on the move so you can get on with your life and think about other things than worry about where your next meal is coming from.  Mobile tools that give them access to local information and the ability to share this socially vastly increase the rate of independence they have when travelling around the city, as well as giving them the anility to share this information with others across social media networks.
In this light I also loved Shoutem's social wall feature, which means people can share images of their Gluten Free meals in the app, or even check-in on FourSquare, Tweet or update their Facebook status with any great meals they have enjoyed at any of the venues listed.  They can even add new venues they find by using the '+' button, and add to the already growing list of gluten free places in the app.  The ease at which ShoutEm makes it possible to utilise these features, makes it the best tool for making a location-based and social media app.
4. Could you please share with us your best practices for building successful mobile, social and local apps?
Best practice is to make the app as easy as possible to use for your clientbase.  Think about the reason why you're building the app, what you want your user-base to get out of it, and then make sure the model you are using is doing this. Sharing info from your app to other social media channels is key, as this is great for them, but it also gets information about your app out there on the web.
Make sure you use a clear and striking design so that you stand out among the crowd of the app market place, but also so that it is fun and easy to use from the very start.  Be aware that the most time-consuming parts with building location apps like this is building the database content and keeping it current.  Having Shoutem's feature of user-added content is a great addition as users are involved in sharing information as well as you.
My next projects include a Gluten Free London app that includes over 700 Gluten Free places in London, including pubs, restaurants and cafes where people can pop in for a gluten free meal or cider when out and about in the city.
Ultimately, I want to enable the use of mobiles and social media by people with health issues, so that their lives and independence is made as easy as possible.  I also want to find out how sharing information makes it easier to self-manage illness.  In this light, I am also doing a collaborative PhD with Coeliac UK and Warwick University, where I will be mapping the use of Twitter to manage Coeliac Disease and the Gluten Free Diet in London & New York.
People's use of mobile apps and social media to navigate the city and manage their health while on the move is becoming more prevalent as technology advances, enabling them to do this, and finding out what works and how this can enhance quality of life is becoming more important each day.  Tools like Shoutem make it that much easier to do this and take things to the next level.