Though the Shoutem app builder is intuitive and easy to use, there is a range of features and options that you might not know exist. These lesser known functionalities have been compiled into a list by our support team who communicates with current, future, and potential customers.
1. Speak the language you want
The names of the keys and functionalities of the application are extremely important. One entire profession, microcopy, focuses on creating labels that help users to click easily on each link, button, or action. Although we often mention the importance of titles, email subjects, and similar items, it doesn't hurt to discuss this again.
Just look at the title of point 1: As a title, 'Speak the language you want' is more compelling than just 'Language.' That's exactly why you should take full advantage of our language editor benefits. It is located within the builder (My account or Settings-Language-Regional Settings-Manage languages ), and it's mostly used for translating into another language. But it can also change the button names or other titles in the application. You'll save time by not having to translate everything but only the buttons and functions you are using in your app.
2. Get feedback with form options
One of our frequently asked questions is how to integrate the contact form in the application. Whether it's the user satisfaction questionnaire, survey, or simply registering and collecting additional information, contact forms are extremely useful for communicating with users. It is no wonder that it is desirable in the application.
The form is not integrated into the app builder but can be integrated with the responsive form via the Website module. If you don't know how to make the form yourself, use some of the existing ones, like www.typeform.com or www.wufoo.com. Integration is very simple: in the Content tab, click on Add content -> Website, then in the website field, enter its form (e.g., www.typeform.com/use-cases#employee-satisfaction), and if necessary, change the name of the form. After that, simply add the form through the Design to the Home screen from the content popup window. Then, check how it works in Mobilizer.
3. Make money with your app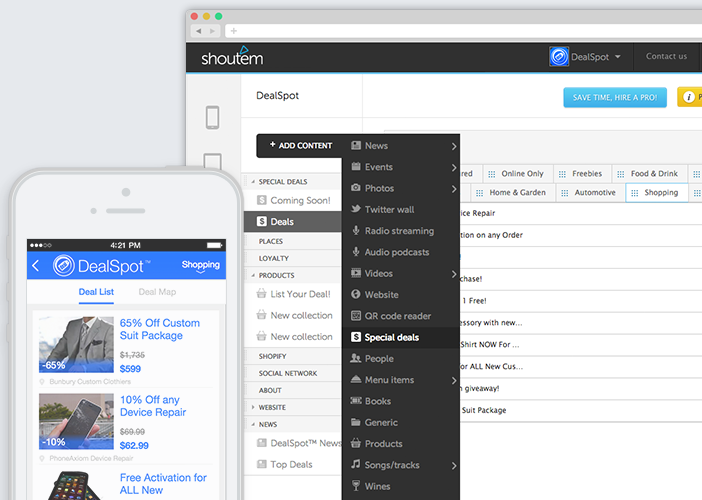 According to a Portio Research survey, 4.4 billion people will use mobile applications by 2017. Yours might even be one of them. Once your application is finished from beginning to end, it's time you did something to realize your potential revenue. Shoutem app builder has excellent options to help you in this endeavor. Among the "lesser known" features are deals and coupons. Adding a deal is very simple: within the app builder, click Add Content, check Special Deal, and click Add Item. A pop-up window will appear; fill in the information that is needed. And if you want to see how it looks in practice, an excellent example can be found in the Cigar Dojo application (intended for cigar lovers, of course). Read an interview with Cigar Dojo founder.
Besides Deals, Shoutem supports most mobile advertising networks in which you have 100% control over what happens. It also allows you to open your own shop within the application, whether it is branded or integrated with Shopify.
Another way to earn income may be to reserve space within your free app for other people's ads. Those ads can bring you income with every click on the ad. This is possible through integration with an XY service.
4. Get social
In many ways, we live dual lives. One physical, and one digital. Social networks, often accessed through mobile applications, are ideal venues for different communities to gather. The already mentioned Cigar Dojo has 16,000 downloads with 6,000 die hard fans! Your application made with Shoutem can easily be linked to a social network for which you have complete control. Of course, among the most popular social networks are Facebook and Twitter, so current integration enables users to log into the application with Facebook and Twitter accounts and share statuses and check-ins. Additionally, you can add an RSS feed profile or a Facebook page as a link in the Web module.
5. Analyse this
Measurement and figures are an extremely important part of every job, and so it is for mobile applications. Shoutem uses Flurry to track application activity. Based on the analysis of user behavior, the "behavior" of applications is modified and, if necessary, optimized. With proper analysis and conversion optimization, you will directly and positively affect sales results.