Mobile app market is maturing
The app market is maturing–and so are users. The demand now is for rich mobile experiences and real benefits in exchange for time spent in the app.
We can find evidence of this trend by simply looking at how we're using apps these days. How many apps are we using on daily basis? How many new apps do we download in a month? Not many.  
Mobile apps must serve a specific purpose, either to solve problems, fulfill customer needs, or simplify their lives. It's important to communicate and illustrate the clear value to end-users.
If that alone is not hard enough to deliver, on a market today there is also a fierce fight on the cost of development and maintenance. Everyone is facing the challenge: deliver a high-quality app for less money.
Previous changes in Apple Store and in Google Play Store are only making this market shift faster – and we have to be equipped with the right tools and knowledge to be able to compete under these conditions.
Shoutem v5: ahead of the curve
Shoutem has kept pace with the app market life cycle. A few years ago, we started developing a new version of the platform – Shoutem v5.
With v5 we fundamentally changed the ways you create mobile apps, empowering you to build beautiful native, cross-platform, no-code mobile apps. Briefly, what we did is:
Completely changed architecture. We introduced

Extensions and Extensions Marketplace

. Similar to WordPress, but for mobile apps, you can get a head start in creating your app by simply reusing a number of ready-made extensions. Adding functionality that would otherwise take days or even months to develop.

Shoutem v5 is completely open for developers. To bring the really unique app to market, often there is no off-the-shelf solution. With v5 you can change every existing extension and write the new ones. We worked really hard not to impose any constraints when it comes to customizations. Like with WordPress, you can change anything.
Native UI and performance. Apps are now made in

React Native

, a cross-platform framework that is trusted by the world's best developers and used by many of your

favorite apps

: Facebook, Instagram, Airbnb, Tesla, Skype… This means that apps now combine the best from hybrid and native worlds: have iOS and Android for the cost of one and have a beautiful native UI and performance.
Now you can provide your users this same exceptional mobile experience, design, and performance as the most popular mobile apps, and all of that within a reasonable budget
Headstart your mobile app development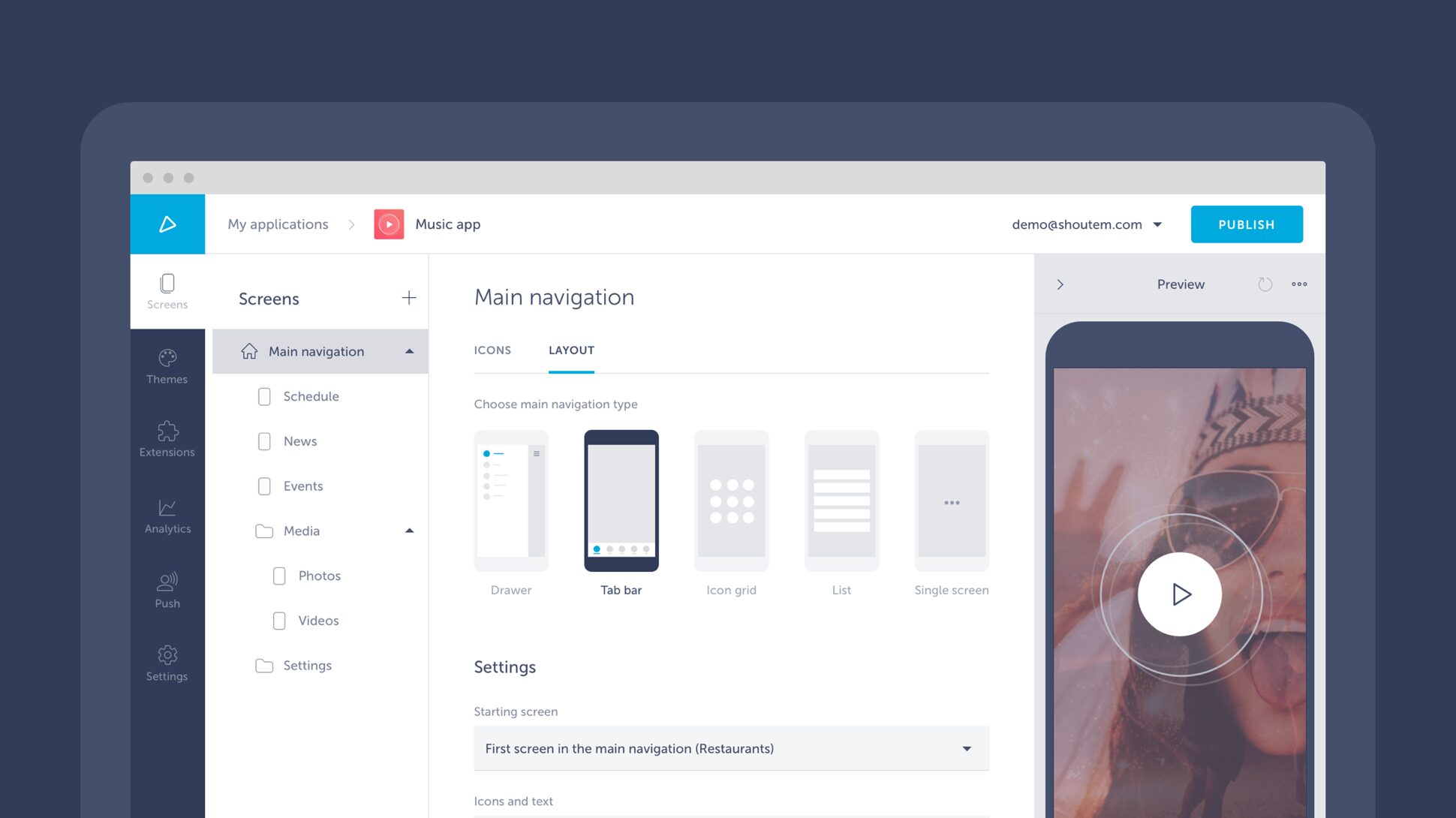 The Shoutem v5 has plugin-based architecture. Think of it as WordPress for mobile apps.
This means that your apps are created using small building blocks, or plugins, called Extensions.
When was the last time you heard of someone building an eCommerce website from scratch? With solutions like Shopify, BigCommerce, WooCommerce, there's no need for it. So why build an app from scratch?
We solved the complexity of mobile app development just as eCommerce website solutions do. Shoutem is a scalable, feature-rich, all-in-one solution with all the tools you need to build a great app and generate value for your users.
Extensions marketplace gives you a head start. They save you time and money and mean you can focus on providing a better user experience, specifically targeted to your business case.
To run your app, all you do is:
check our marketplace of ready-made extensions;

plug the extension into your app; and,

configure it for complete functionality and designed screens.
To differentiate yourself from competitors, you need to provide a unique look and feel to your users. So, we've stepped up the design game.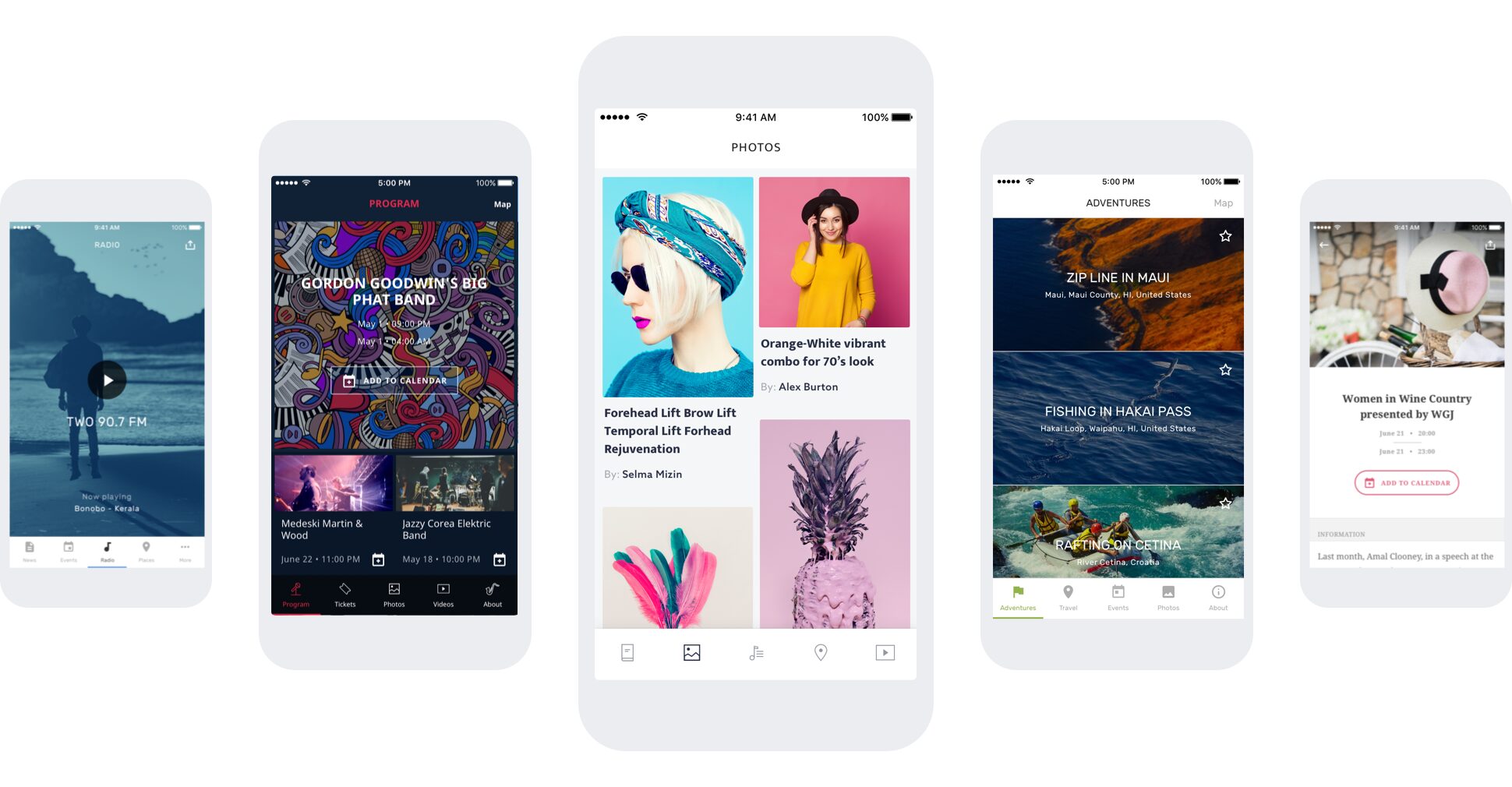 With 200+ customizable layouts, building an app with a unique look and feel has never been easier. If you want to go above and beyond our themes and layouts, you have total freedom to change and customize the UI. Set your imagination free…!
Developer-friendly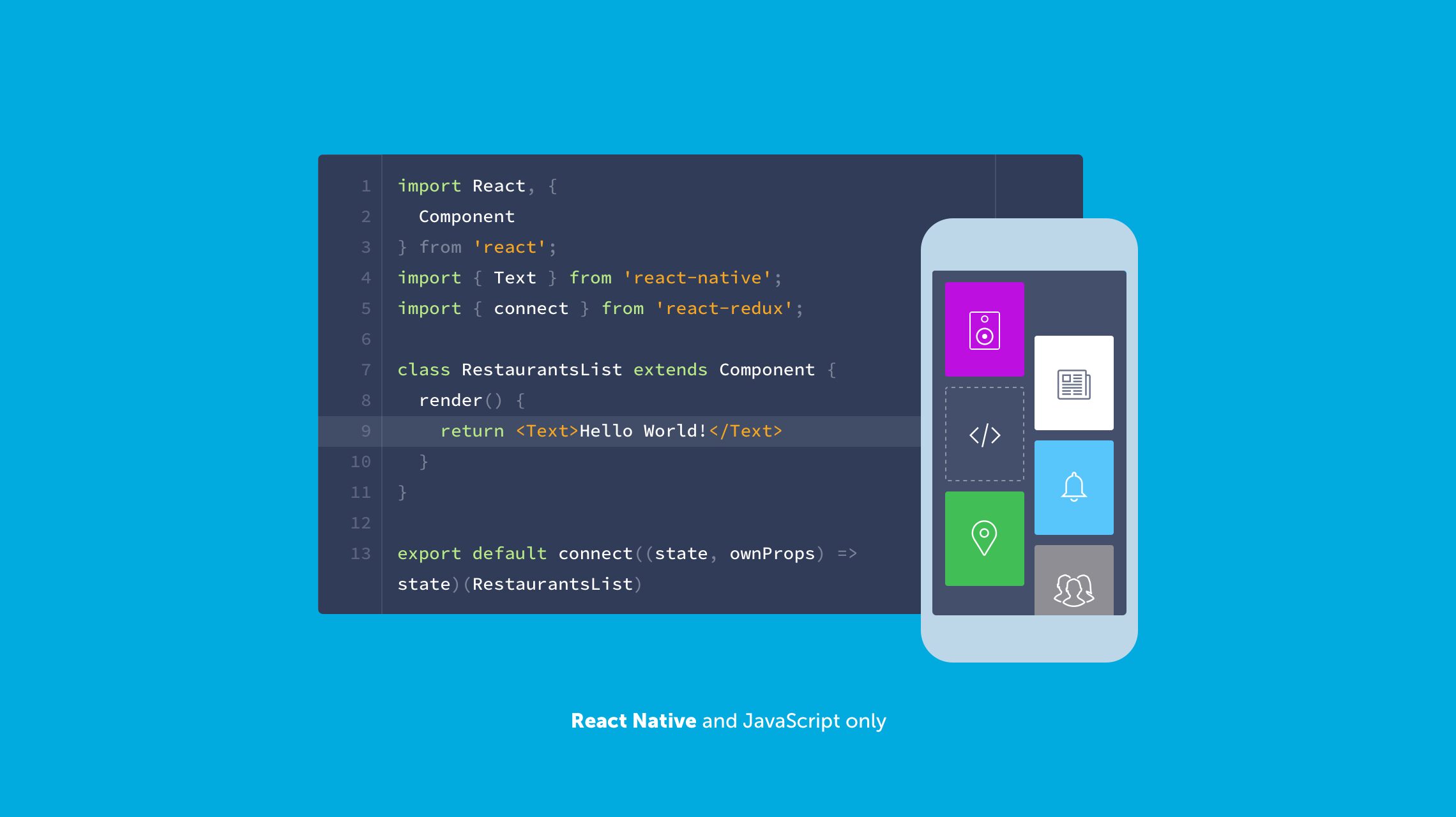 WordPress allows developers to create new functionalities and plugins for websites; Shoutem allows developers to create new functionalities and add them seamlessly into apps.
With Shoutem, you can build apps without any restrictions on how you use React Native. We've opened our platform so developers can supercharge their mobile app development process with React Native. All functionalities are open-sourced. You'll never get locked in.
Shoutem provides a complete development environment, tools, and documentation to build React Native apps, which means that developers have the freedom to change any existing functionality or create something completely new.
You can do this in 2 ways:
Directly modify the extension code

– take the code of an extension, modify it and push it as your own extension.

Create a new extension

– write the new functionality, and connect to any API or utilize any and all 3rd party packages that you would be able to use with your regular React Native projects.
Who is it for?
Our new platform empowers a variety of clients to make great mobile apps with real value for their users. Mobile apps must serve a specific purpose; either to solve problems, fulfill customer needs, or simplify their lives. It's important to communicate and illustrate the clear value to end-users.
Shoutem v5 gives anyone with a business idea the opportunity to create perfectly targeted, high-value mobile apps. Stand out and keep users coming again and again by taking advantage of Shoutem's new modularity, tools, and unlimited customizations.
Entrepreneurs
Entrepreneurs need to develop mobile apps rapidly. When you're starting a business, resources (especially money!) are scarce. Shoutem provides the advantage of multiple pre-built features, so you can test your idea and get user feedback, quickly. Shipping an MVP and testing your app on the market with real users has never been quicker or easier.
Extensions speed up development time and provide you with the most common functionalities. You can focus on your MVP and on developing whatever specific functionality will allow you to most effectively test your idea in the uncharted waters of the market. 
While looking at all the apps that are already made with Shoutem mobile app builder, we decided to bring a new solution for business owners – different app templates. Here you can find the most common Supported Apps that can be seen in our builder, with the most valuable features.
Mobile and web developers
Shoutem is the first mobile app creator completely open to developers. All functionalities are open-sourced. You'll never get locked in or waste development time on common functionalities. Put your focus on innovation.
To give you a head start on mobile app development with React Native, we created extensive documentation for our platform and open-sourced our React Native UI toolkit. React Native is very interesting for web developers, as it uses ES6, making it a familiar environment and easy to learn for anyone familiar with JavaScript.
Resellers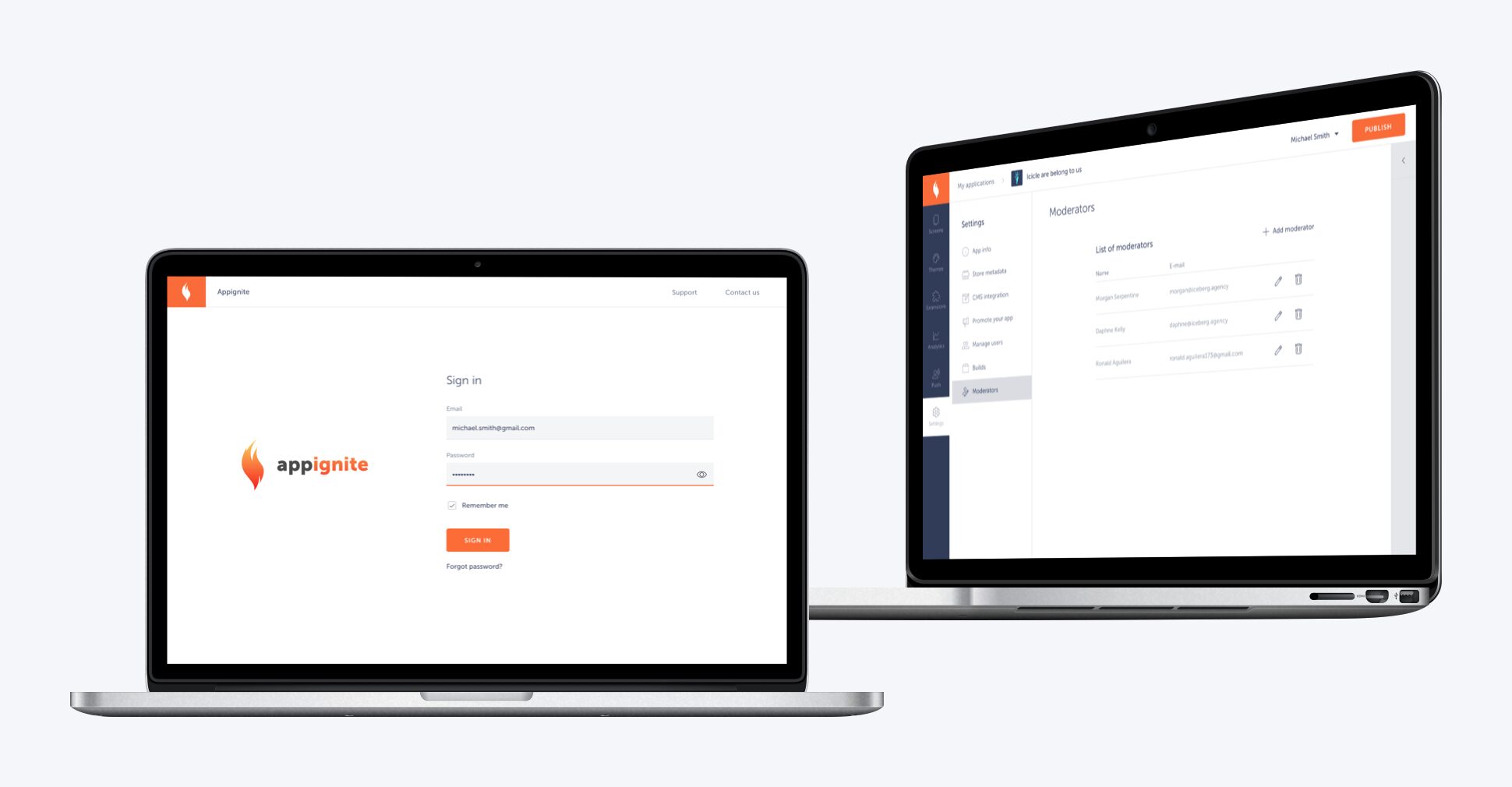 If you decide to start an app-building business and become a reseller, check out our white-label reseller program where you can completely brand anything built on the Shoutem platform as your own. Manage clients' apps with ease, or, give clients direct access to their apps through the agency dashboard.
Growing your mobile business has never been easier. Our white-label reseller program allows lightning fast app development for any niche, and opens upsell opportunities. This is a change from the past when resellers were able to upsell only minor custom changes.
Amplifying your business and opportunities for upsell are straightforward:
Premium apps

– Upgrade your clients from hybrid to native mobile apps. Always-fresh themes are a great way to upsell the native performance and beautiful native UI interface.

Extension customization

– Clients will always demand more. They continually ask to adjust functionalities to their business needs. Now, making tweaks to a specific part of the functionality is painless. You simply download the extension source code, change it, and plug it back into the app.

Creating new functionalities

– How many times have you found yourself unable to close the deal because of a platform's limitation? There are those few features the client desperately needs and which you can't provide? Never find yourself there again. With Shoutem you can develop new functionality, and plug it into the app in the same way you add pre-made extensions.
Let us build your app
What if you can't find the functionality you need, don't have the coding skills to customize the app exactly as imagined, or simply don't have time to build it on your own? Take advantage of our specialized, in-house agency.
With Shoutem v5 we provide custom app development services to build and design apps for any of your business needs. 
Our expert team of designers, developers, and dedicated project manager will work with you through the whole process. We'll take you from research and design all the way to celebrating your app's success once it goes live.
Save more than 50% on the standard budget and time needed to launch and maintain your app. Developing on Shoutem is 2.5 to 10x more efficient than custom development from scratch.
Besides custom app development, where we can develop new features and modify an app on your demand, there is also a Shoutem Pro App Development option. Shoutem Pro app development is a service where we will create your app using our mobile app builder with ready-made extensions and features, and you can change it any time you like – without using any code. Because of reusing features and design layouts, your business mobile app will be ready in a week(s), not months – saving you both time and money!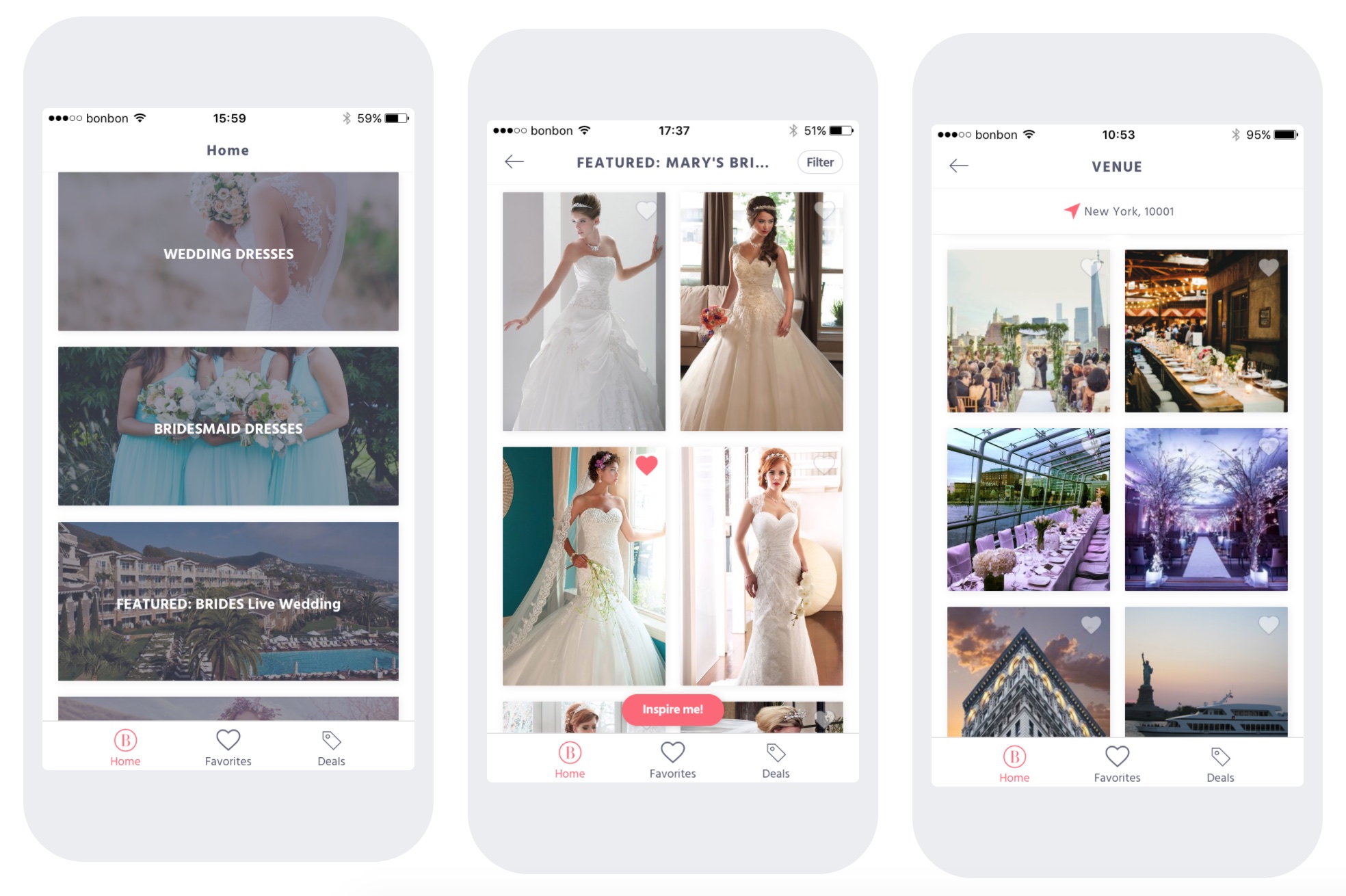 What happens to my current apps?
Two things to know:
All apps will remain active on v4 until we migrate the service to v5 entirely

All new users will need to use the new version (v5) of the platform to build their app

Shoutem will cease support for the former v4 platform in early 2021
Migration is done by our Support team, therefore is you wish to become a part of the v5 community, you can contact the Support team 
New users
Due to the inevitable market shift that's already here and the required quality of the apps by app stores, we believe that only by using our new platform you will be able to provide an exceptional mobile experience and create high-quality custom mobile apps.
The time of apps built only by drag and drop actions, while providing zero or little true value for users is over. We're witnessing the new era of apps.
Mobile apps must serve a specific purpose, either to solve problems, fulfill customer needs, or simplify their lives. It's important to communicate and illustrate clear value to end-users.
With that in mind, Shoutem platform is pivoting from drag and drop app builder to a tool for building custom native, high-quality mobile apps that help you grow your business in the mobile landscape in a more efficient way.
Also, we are proud to be in the Top 20+ App Development Software In 2020!  Check it out here: