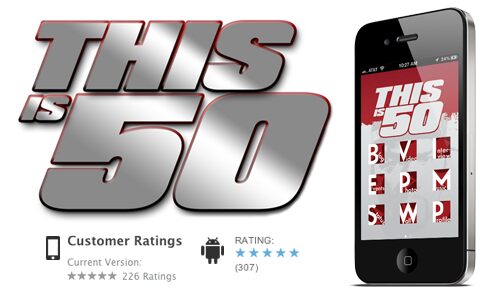 Not long ago ShoutEm helped launch the official ThisIs50 mobile app, which is where fans of the artist 50 Cent gather to share photos, watch videos and comment on hip-hop related stories on their mobile devices. As one of the most active Ning communities, there's always something new to discover or discuss in the app.
Built entirely using ShoutEm technology, the ThisIs50 app has received tremendous reviews from the community for its fantastic content and user experience. The app current touts a 5-star rating, based on 226 reviews on iTunes, and a 5-star rating with 307 reviews in the Google Play store. Here are some comments from the iTunes community:
"This app is on point! No bugs, accurate and doesn't jump offline…"
"This is a really cool app.. Big fan of G Unit and this app keeps me on track with what they're doing… I love it…"
"This app is vital for any true lover of hip-hop. This app is easy to operate and has all the up to date news that you need. New music, videos, and more, ThisIs50 has it. Everything else, get down or lay down."
"I go on here instead of the website now, its better, faster and easier to access!"
From the ShoutEm team, congrats to 50 Cent, ThisIs50.com and the G-Unit crew on a great app! If you haven't checked it out yet, you can download the ThisIs50 app on iTunes. Users can find the Android version here.
To begin building your complete mobile solution, sign up with ShoutEm today.